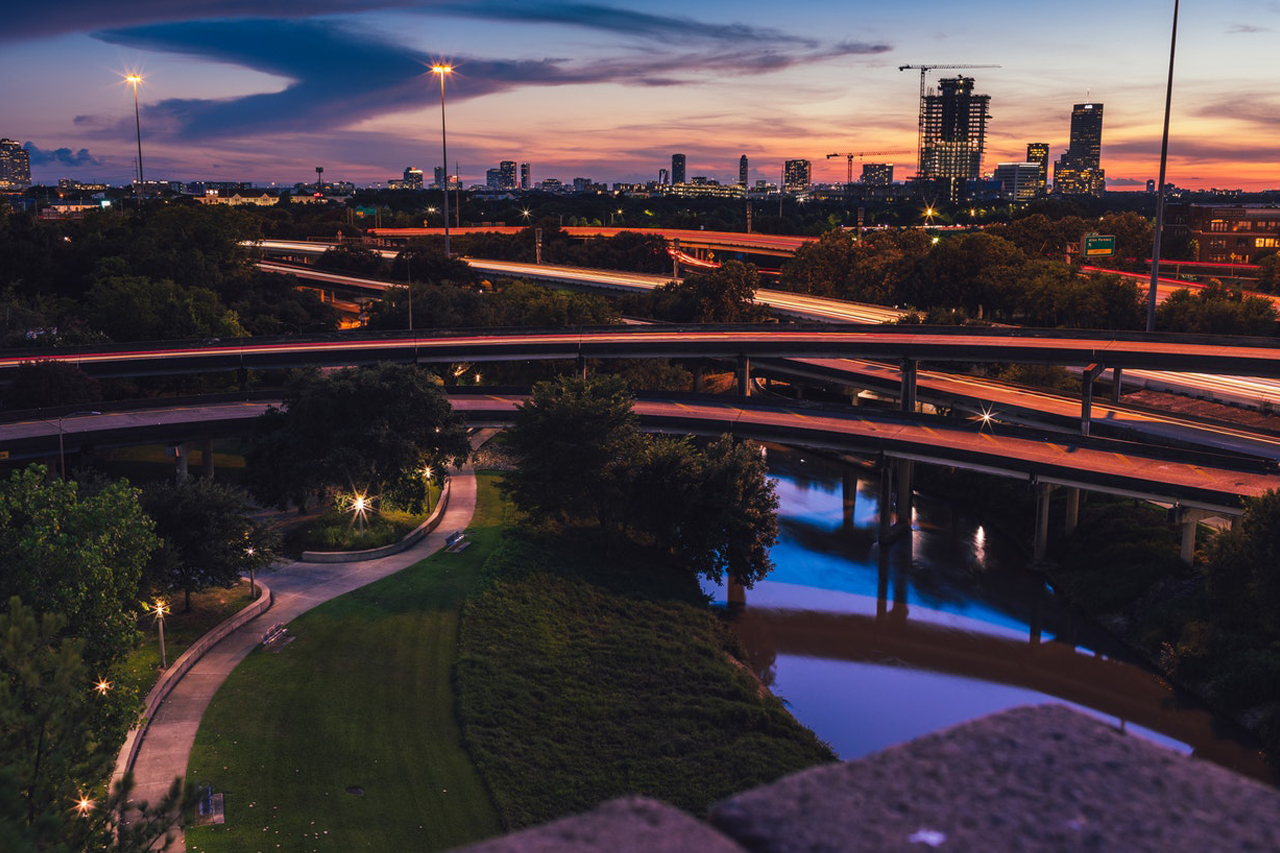 Houston, Texas, has numerous things to be proud of, from its world-famous rodeos and Texan BBQ to its global commitment to space and science.
The central metropolitan area in Harris County is known as "The Space City" and is one of the world's recognized Global Cities. This dynamic neighborhood stretches an array of tourist attractions and destinations, particularly in its vibrant downtown core, spanning over 671.67 square miles.
These hotspots are accessible to avoid needing a car to get around renowned art and museum districts that enclose shops, galleries, and dining spaces. Public transportation is available, or you can walk from one spot to another.
It is easy to explore Space City; all you must do is follow our top selections for the most noteworthy things to do if you want to enjoy your weekend or leisure trip here.
1. Color Factory
Just thirteen minutes from Houston's downtown, you will find a fantastic attraction to entertain and educate you.
The Color Factory is an interactive art showroom on Kirby Drive that I wholeheartedly suggest you see. The place will engage you in the love of color through interactive installations, engaging chambers, and carefully curated encounters. You will enjoy a one-of-a-kind experience in their Houston location.
If you want to avoid the long lines and have a hassle-free entry, reserve your ticket online, as we did. It was enjoyable with interactive activities and a background narrative to educate you in each room.
It also takes photo taking to the next level by providing you with a QR code card to enroll your information and sending your photos to your email every time, which I think is fantastic. So, if you happen to visit Houston, do not forget to include this space.
2. Cullen Sculpture Garden
The famous Cullen Sculpture Garden is in the center of the Museum District, around Montrose Boulevard at Bissonnet Street.
This calm haven of art and nature presents 20th- and 21st-century sculpture masterworks by artists including Louise Bourgeois, Pietro Consagra, and Henri Matisse.
I got to view this lovely spot in the district and was impressed by the sculptures. The Cloud Column was my favorite. It is not as big as "The Bean," but it is a genuinely excellent sculpture in the neighborhood. There are areas for everybody to have a picnic and photo opportunities.
Cullen Sculpture Garden is a remote destination, but it is an excellent place to stop for lunch. I was able to observe activities such as yoga and Zumba lessons here. Furthermore, you will like this less congested park nestled away in the city center. Come check out this spot if you have not already.
3. Houston Botanic Garden
Houston Botanic Garden, an iconic urban garden in the Space City, is tucked away at One Botanic Lane.
The Houston Botanic Garden enriches lives through the plant and natural environment protection, discovery, and education. This space encourages appreciating the unique biodiversity in the core of the town.
I like and recommend seeing their Culinary Garden, which displays edible and medicinal plants that you can cultivate in your backyard. People were there on the weekend, but it was not too busy. I bought my ticket online to prevent huge queues, and I suggest you do the same.
The Woodland Glade, with its magnolia trees and sculpted hedges, is another favorite. Houston Botanic Garden hosts periodic events for all ages, but they do not allow outside food here, as per their house rules.
Overall, this spot needs considerable recognition, and you need to include this in your checklist.
4. Cidercade Houston
Another warehouse district treasure I recommend visiting while in town is Cidercade Houston.
This arcade bar on Canal Street is the best in the metroplex. It is a family-friendly place and a 21+ establishment at night. The establishment is among the best, and locals will also recommend it.
There were not many people at Cidercade Houston when I arrived on a weekday. You get to have an endless play on 275+ games in the arcade for a single entry. If you enjoy arcade games, this is a fantastic price.
In addition, I get to experience picking the best out of their forty-eight taps of alcoholic beverages. They will let you try cider and suggest the best so that you will not buy what you do not like.
There is no food choice available inside, but food trucks are outside. This place is a gem that you need to see.
5. RISE Rooftop
Rise Rooftop is yet another Midtown hotspot that you should check out.
This location was once known as Proof Rooftop Lounge, Houston's innovative retractable rooftop music venue and event space, and it opened in 2012.
When you approach the area, you will notice a large room with approximately 13,000 square feet of spectacular design, beamed ceilings, and colorful lighting. I arrived over the weekend to see a concert by my favorite local singer, and RISE Rooftop set the tone for my perfect live music experience.
There are also occasional EDM shows, and if you are a fan, you will need to save your spot. They serve mixed drinks, and the staff is quite friendly. Going here and seeing a live show also gives you a magnificent perspective of the beautiful downtown skyline.
Overall, the setting is fantastic, and you should grab your tickets to visit RISE Rooftop.
6. The Menil Collection
The Menil Collection is one of the excellent museums in Houston that are well worth your time.
This 30-acre art museum in the heart of Houston promotes public understanding and enjoyment of art, architecture, society, religion, and philosophy. The Menil Collection is a compilation of five art institutions and green spaces in a residential district.
There is a lot to see around the compound, so I had to get a map to help me navigate, and I recommend you do the same. What surprises me the most is that this collection is a sequence of distinct buildings with different displays, all within walking distance.
If you are in the Space City zone, you should add this to your list of must-sees. The displays are entirely free, and they accept donations. The staff is quite pleasant and helpful, and it adds up to the wonders of the place.
7. Best Bites Houston
Food enthusiasts will like the incredible deals that Best Bites Houston offers. If food is your love language, this should be on your list.
The Best Bites Houston offers exclusive walking food tours that explore Houston's culinary and cultural variety one taste at a time. The company began its first tour in October of 2018 and has continued to undertake excursions.
I adore Texan cuisine and did not pass up the opportunity to participate in this tour. Brunch at Rustic (my absolute favorite) and the Brasserie was our visit's highlight.
Star, our tour guide and CEO, was extremely fun to hang out with as she will teach you anything, whether it is about the restaurants and their histories, the culture of downtown Houston, or a glimpse of the local artisan cooks.
Best Bites Houston is undoubtedly the best tour in which you should participate.
8. Houston Zoo
The Houston Zoo is in the famed Museum District of Space City, which offers everybody a wonderful attraction.
This Hermann Park Drive resident cares for over 6,000 permanent animals, providing shelter, food, medical care, and education. Around 1.84 million people visit Houston Zoo every year to see the remarkable range of animals and ecosystems.
You may view animal exhibits here, such as the Birds Habitat and my favorite, the Carruth Natural Encounter, where you can observe animals from the river's side and the coral reef. Just take note to book your tickets online to avoid the inconvenience of lining up at the entrance.
However, parking in the area is a headache, so you will have to do walking or public transportation to get here. There is a Cypress Circle Cafe and Twiga Cafe nearby that serves fantastic meals, and there are also food trucks nearby. This gem is a must-see if you are in town.
9. POST-Houston
If you are searching for a lively and peaceful dining venue in downtown Houston, locals recommend visiting POST-Houston.
This commercial strip on Franklin Street is one of the hidden gems in Space City's downtown area. Aside from the various restaurants and shops, I am sure the most incredible draw here is the stairway that leads up to the rooftop. I came over here to look around, and it was well worth it.
POST-Houston has various dining options on the ground floor, including Asian, European, and American food, plus sweets to satisfy your sugar cravings. I highly suggest trying banana pudding cake at Lucy Pearl's desserts. Dining here also provides excellent views of downtown.
Finally, this zone is ideal for food vendors and customers who wish to relax and enjoy the magnificent city center setting. Make sure to include POST Houston on your rosters.
10. Sable Gate Winery
This weekend another Houston institution you should visit is Sable Gate Winery in Midtown.
The dining establishment on Travis Street is a family-owned micro-winery founded in 2015. Serving Houstonians with professionally created wine for over six years, this establishment attracts customers since they make great crafts to fit your lifestyle.
My wine bar search led me to Sable Gate Winery, and surprised by how they set up this establishment. It was a lovely evening, and only a few diners were there. I selected the Classic Charcuterie Board and the Smokehouse Pizza, complementing the Bella Bianco. Everything was delicious, and it was well worth the stop.
You can also make your wine here if you like. So, if you want to taste the most refined wines, Charcuterie Board, with a great dining atmosphere, then put Sable Gate on top of your Houston bucket list.
11. Contemporary Arts Museum of Houston
The Contemporary Arts Museum of Houston is another Museum District gem. This exciting gallery, located at 5216 Montrose Boulevard, offers a variety of contemporary art that makes a visit worthwhile.
What is remarkable about this zone is that it is one of the few exhibitions in town that is entirely free to enter. It is becoming more of a focal point for community participation too.
The Museum, founded in 1948, takes pride in displaying modern work, so I came here on a weekend trip. Through exhibitions, talks, innovative publications, and various educational activities and events, CAMH depicts current life.
When I went here, the Dirty South was a powerful exhibit.
It sends a strong message to everyone. You need to anticipate occasional and upcoming showcases of other art items every month. Visit CAMH if you want to view free sites in the heart of Houston.
12. Hermann Park Conservancy
Hermann Park Conservancy is only a two-minute walk from Houston's famous Museum District. This nonprofit citizens' organization, founded in 1992 as Friends of Hermann Park, provides support to the maintenance and improvement of Hermann Park.
What is remarkable about this location is that it is just adjacent to the zoo, Japanese garden, and Miller outdoor theater, so that you can visit all the tourist sites in one day.
I visited the area on a beautiful afternoon, and it was as serene as it appears, with only a handful of individuals roaming around. You can ride on a train to explore a sizeable portion of Hermann Park Conservancy, an excellent break from the zoo stroll.
There are also sculptures, fountains, and water displays worth visiting. If you want to go for a nice walk around town, this is the place to go.
13. Rooftop Cinema Club Uptown
The legendary Rooftop Cinema Club Uptown is one of the best outdoor cinemas in Houston that you should not miss.
Without a doubt, this theater complex immerses every viewer in the city's finest realistic skylines. The location is excellent and provides a one-of-a-kind movie-watching experience.
I wanted to check what this place offers, so I booked a ticket to see a movie here. Each viewer acquires a pair of headphones to listen to the film for a more personalized experience.
To have a hassle-free admission here, you need at the very least to reserve your movie tickets online. I wanted the most satisfactory experience possible, so I booked the best seating, limitless popcorn refilling, and canned beverages, and it did not disappoint me.
Rooftop Cinema Club Uptown is perfect for a date night with family and friends. Furthermore, the uptown picture is spectacular. Include this outdoor movie theater on your schedule if you find yourself in Space City.
That sums up all our top picks in Houston for you to check out during your visit. Like we said earlier, you can access the best zones here with transport alternatives. The best part is the collection of additional hotspots that you should attempt even if you do not have a car.
We hope you can visit every good place on our list so that we can learn from your adventures. Do leave your insights in the section below if you have any thoughts to share or suggestions.
Thank you, and we will see you in our next city!