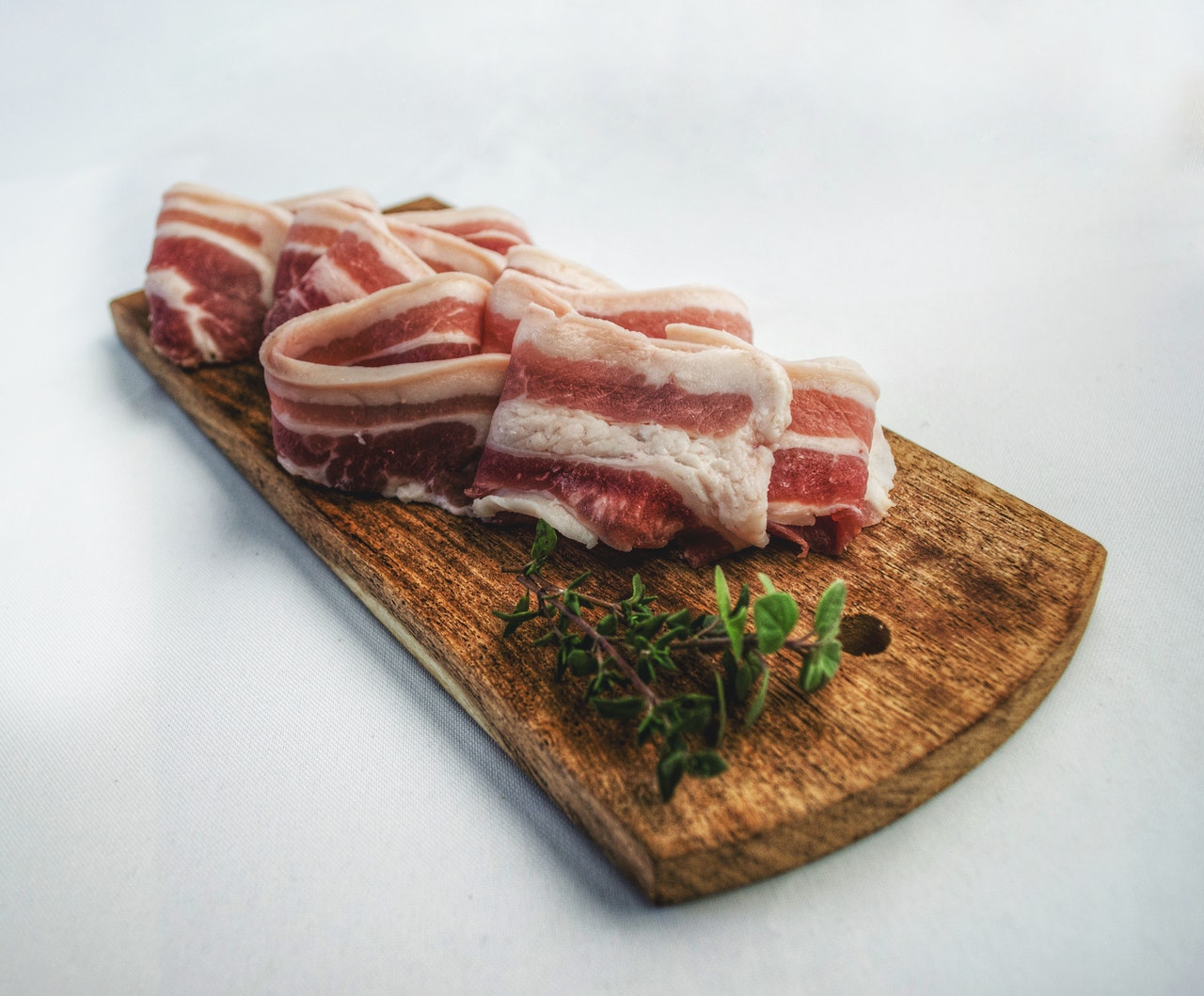 It is allowed to eat bacon in Dubai. Pork sausages, ribs, loins, and other pork meals are also available. Several licensed supermarkets and restaurants sell pork around the city.
The United Arab Emirates (UAE) is a Muslim-majority country, and Dubai is one of its seven emirates. In the UAE, Muslims make up the majority of the population.
When visiting another country, it is vital to respect their culture and laws.
You may have heard the saying, "When in Rome, do what the Romans do."
This saying applies to every tourist or ex-pat who wants to visit or live in another country.
It would help if you observed what they consider illegal and non-illegal, no matter how short or long you plan to stay.
People who look forward to eating bacon in Dubai may think that pork is illegal. Great news! Dubai does not prohibit the selling and eating of pork. You can eat your bacon without worrying about being apprehended or imprisoned.
The consumption of pork is only for non-Muslims. Muslims are not allowed to eat pork. Under the UAE Federal Law Article 312, Muslims caught consuming pork will get fined or jailed.
Muslims that eat pork may be unlikely. However, there may be instances that triggered them to create a law for it.
Even though Dubai is an open country, it is better not to consume bacon in public. It is wiser to eat bacon and other pork meals in private. The following are the reasons why you should avoid eating bacon and other pork meals in public:
Muslims consider pork haram (forbidden) in their culture. Muslims believe that consuming pork is a sin and impure. Eating bacon or any pork products in public may easily offend them.
The consumption of pork is only allowed in private and licensed places. You may face fines if you consume pork products in public.
Eating pork in private and licensed places shows courtesy and respect to other cultures.
Due to the increasing demand for tourists, pork is not illegal. However, concerning other cultures and religions, it is wise to show courtesy and observe their practices.
Can restaurants serve pork in Dubai?
It is not illegal to serve pork dishes in Dubai. Only those restaurants and bars with a license from the Food Safety Department are permitted to serve pork. If they want to include pork cuisines on their menu, they must acquire a Pork Permit.
Serving pork dishes is not illegal in Dubai. The Food Safety Department in Dubai is strict in ensuring that restaurants and bars comply with the regulations.
People who wish to open a restaurant that serves pork dishes must check the Dubai Municipality Portal. For additional measures, these restaurants and bars must have a pork permit as well.
The Food Safety Department of Dubai issues requirements that restaurants must follow. If a person wishes to build a restaurant or bar, they must submit the requirements to obtain a food license.
Most restaurants and pubs that serve pork dishes are inside the hotels.
Here are the top 6 restaurants and bars we recommend that are permitted to offer pork dishes in Dubai:
JB's Gastropub

You can find JB's Gastropub on the lobby floor of Amwaj Rotana hotel. The restaurant has a vintage-themed design. JB's Gastropub is the best pub in Dubai and the 2021 Time Out Dubai Restaurant Award Winner.

They offer a Pork Board platter which consists of smoked ham, crispy Pork Grinds, prosciutto, Spanish chorizo, and scotch egg.

Location: Amwaj Rotana Hotel lobby area

Opening Hours: Saturday to Wednesday: 12nn to 1 am; Thursday to Friday: 12nn to 2 am

Contact Details: (04 438 3131)

Crown & Lion

Crown & Lion is a British-themed pub located in Al Barsha. You can play billiards and watch your favorite footballs games here.

Crown & Lion offers pork dishes from breakfast until dinner. Some pork dishes they offer are Pork burger and chips, pork bangers, pork ham & eggs, and many more!

Location: Byblos Hotel, Barsha Heights

Opening Hours: Crown & Lion is open daily from 11 am to 3 am

Contact Details: (04 448 8000)

Bussola

Bussola is a high-notch al fresco restaurant with informal located on the upper floor and upscale dining options on the lower floor. This restaurant offers authentic pork dishes and a traditional menu.

Bussola prides itself as an Italian and Pizzeria restaurant. These are some of their pizzas with pork ingredients: Andalucia, Hawaiian, and Amatriciana.

Location: The Westin Dubai Mina Seyahi Beach Resort & Marina, Al Sufouh

Opening Hours: Sunday to Thursday from 12nn to 3 am and 7 pm to 11 pm; Friday to Saturday from 12nn to 4 am and 7 pm to 11 pm

Contact Details: (04 702 2455)

McGettigan's

If you want to eat pork in an Irish pub in Dubai, McGettigan's is the best choice. This pub chain gives the liveliest night in the city. They serve Irish pork dishes such as Irish fry-ups, Banh mi pork belly roll, and McGettigan's burger.

Location: Bonnington Jumeirah Lakes Towers, Cluster J, Dubai. They operate in various areas since they are a pub chain.

Opening Hours: Sunday to Wednesday: 12pm – 2am; Thursday & Friday: 12pm – 3am; Saturday: 11am – 2am

Contact Details: +971 4 356 0470

Miss Wang

Located in Bur Dubai, Miss Wang offers a picturesque hip-style artwork-themed restaurant. Miss Wang offers classic Asian cuisine. At night, they have a live band from Tuesday to Sunday and karaoke on Mondays.

You can order Pork Dishes in Miss Wang: Pork & Shrimps, Pan Fried Dumplings, Sake Bbq Pork Skewers, Crispy Pata, Spicy Bbq Pork Belly, and Classic Lumpiang Shanghai.

Location: Mankhool Rd., Bur Dubai, Dubai, UAE

Opening Hours: Daily from 6 pm to 3 am

Contact Details: +971 (0) 4 359 8888

El Sur

If you are looking for Spanish-style pork dishes, El Sur is the best restaurant for you. El Sur is known for its breathtaking terrace and funky style. Spanish-style pork dishes included in their menu are

Location: The Westin Dubai Mina Seyahi, Dubai

Opening Hours: Daily: Jaleo: 6 pm – 8 pm |Dinner: 6 pm – 10:30 pm; Fridays: Fiesta Brunch 12:30 pm – 3:30 pm | Dinner 6 pm – 10:30 pm; Saturdays – Sies ta Brunch 12:30 pm – 3:30pm | Dinner 6 pm – 10:30 pm

Contact Details: +97145117373
These restaurants and bars have rules that they need to follow. Other than securing a license and a pork permit, there are rules that they need to follow in handling pork products.
According to a circular released by the Municipality of Dubai last 2009, pork products should not touch the surfaces of utensils or equipment used for other food products. There should also be separate cutting boards and knives in pork products.
Restaurants are also required to have a separate area where they handle pork products. If they intend to use kitchen utensils to handle pork products, they must disinfect them first.
Restaurants that fail to adhere to these rules will have to pay Dh5,000 and above, depending on the severity.
What food is banned in Dubai?
It is best to know what food is not allowed upon entering the Dubai Airport. Below is the list of food you cannot bring on your trip to Dubai:
Home-cooked food and food bought from restaurants

Dubai Customs prohibits the carrying of home-cooked food and food purchased from restaurants.

Food products with poppy seeds

Poppy seeds are not allowed in Dubai. You must check your food if it has poppy seeds sprinkled on them.

Baby food

Baby food needs to be sealed and carried separately. Although you can bring baby food in Dubai, verifying it first with the governing authority is better.

Alcohol

Only people ages 18 and above are allowed to bring alcohol in Dubai.
You can only bring a maximum of 2 cartons and 4 liters of alcoholic beverages. Each can contain 355 ml of beer, and each carton has 24 cans.

Pork

The restriction of bringing pork in Dubai may be subject to changes depending on Common Customs Law. The ban usually happens when there is a threat of Swine flu. Before traveling, you can check with Dubai Customs regarding their updated policies.

Liquids for consumption purposes

Liquids such as juice, stew, soup, sauces, and pastes are allowed; however, they should not be more than 100ml. It would be best if you store liquids in a see-through re-sealable plastic bag. Only one bag is allowed.
The UAE government also limits the number of personal food items that you can bring with you. As of 2021, here are the following foods that are affected by the enforced limit:
30 kg of cereals, grains, and red meat
100kg dates
500 gm of saffron
10 kg of fish and seafood
5 kg of juice concentrates
20kg of yogurt
20 liters of drinks and syrups
500gm of caviar
10 kg of a variety of fruits and veggies
11 kg eggs
25kg canned food
50 liters of oil (including olive oil)
5 kg for herbs and spices
20 kg for sugar products and honey
10 kg of special-purpose food, including children's food, is allowed
10 kg sweets and bread
People who do not abide by the regulations will face the consequences of being imprisoned or deported. Whether you plan on traveling to Dubai for a short or long time, make sure not to bring illegal items to avoid getting into trouble.
Where to buy bacon in Dubai?
Bacon is allowed to be sold in supermarkets in Dubai as long as they have a license. Luckily, there are a lot of supermarkets in Dubai that are licensed to sell pork products. There is a designated area for the pork section in these supermarkets.
These supermarkets are easy to identify since their counters have this marking: "Pork Section: For non-Muslims."
There is a separate area and a separate counter for supermarkets that sell pork. The purpose is to show courtesy to Muslims and to adhere to the rules.
The following is our recommended top three largest supermarkets in Dubai where you can purchase pork:
Waitrose Supermarket

Waitrose Supermarket is a British-owned supermarket that has a lot of branches spread throughout the city. They have the largest selection of pork products in the UAE. However, their pork products are expensive yet of high quality.

Waitrose Supermarket Branches in Dubai: Dubai Mall, Dubai Marina Mall, Al Thanya Mall, Motor City, Nakheel Mall, Al Barari, The Meadows, Fountain View, etc.

Spinneys

Spinneys is another supermarket chain that sells pork products in Dubai and Abu Dhabi. Their prices are lower than Waitrose Supermarket but higher than West Zone Supermarket.

The downside in buying at Spinneys is not all branches sell pork. It is better to confirm with their nearest branch in your area.

Spinneys Supermarket Branches in Dubai: Downtown Dubai, Jumeirah Village Circle, Al Barsha, Motor City, Jumeirah Lake Towers, Umm Suqeim, etc.

West Zone Supermarket

The West Zone Supermarket offers diverse and affordable pork products. For 250 grams of bacon, you can pay for about 10 Dhs only.

West Zone Supermarket Branches in Dubai: Discovery Garden-1 & 2, Meena Bazaar, Al Qusais, Dubai Silicon Oasis, Downtown Dubai, etc.
Other supermarkets you can add to your list are:
Carrefour
The Philippine Supermarket
Choithrams
WeMart Asian Market
New Era Supermarket
Baqer Mohebi Supermarket
Al Maya Supermarket
These supermarkets offer a variety of pork cuts you want to buy. You can visit the supermarket branch nearest to your location.
Can you import pork into Dubai?
As of 2021, Dubai Customs prohibits the importation of live swine. If you ever think of importing pork products or live swine, you must double-check with the regulatory bodies first: Dubai Customs and Common Customs Law.
The UAE can prohibit importing products in case of a threat like a Swine flu, bird flu, etc. Not only the UAE but other countries as well. The purpose is to take action necessary to protect the people and their livelihood.
Take note that this country has a rich Muslim culture. It is practical to conduct extensive studies to have a successful trip to Dubai.