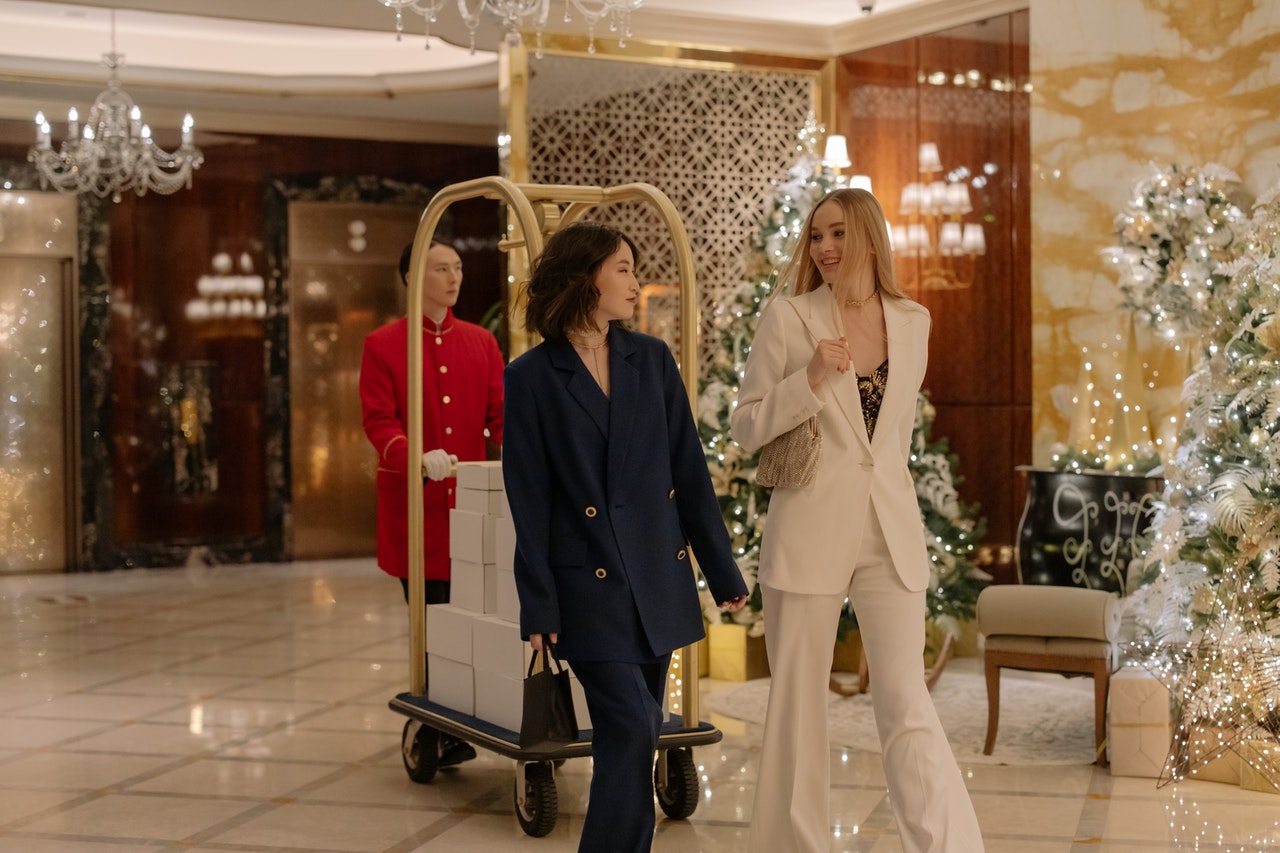 American hotels usually charge based on double occupancy with a maximum number of people allowed in a room. In Hilton, a second guest and a few children can stay in a room free of charge. The rate would increase, around 10 USD, for every other adult.
As an example, you are looking to book a double queen bedroom in Hampton Inn in Florida. The maximum number of people allowed in that room is four. And you are traveling with two adults and one child.
The flat rate is 170 USD.
The hotel will not charge extra for one of your adult companions and the child. However, the other traveler will cost you an additional 9 USD, making the total rate for all of you only 179 USD.
Different Hilton Hotels would charge differently based on their policies. One hotel in New York might charge more for an extra guest than one hotel in a smaller city.
It is more common in Europe to charge for an additional person than in the US.
Hotel charges for more because as there are more people in a room, wear and tear increases. Not to mention the additional work that hotel staff would have to do.
Money-Saving Tips for Booking in Hilton
If you frequently stay in hotels and want to save money, you could spend that cash elsewhere. Or if you don't want to pay more when you don't have to.
You've come to the correct section.
Use Hilton's Price Match Guarantee

First off, Hilton's price match guarantee works. Booking directly with them can save you a decent amount of money through you wouldn't always easily submit eligible claims.

They will "try" to give you the lowest price on their website or app. But if you happen to find a lower offer, they will provide a 25 % discount after matching that price. You have to bring it up to them before making the reservation or within 24 hours after you make it.

The factors of your reservation would include but are not limited to:
The type of room
Number of guests
Dates of stay
Room type
Cancellation policy
A significant advantage of using Hilton's Price Match Guarantee is that you can submit a claim over the phone. The tactic takes less time than submitting forms and waiting for the site to check.
Partake in Hilton's Honor's Program
It's literally up for the taking with minimal hassle, and it's completely free. You gain points for staying in their hotels, and you can use these points to purchase a stay in their hotels.
You can also get premium WIFI when you become a member. There's a lot more it than WIFI, though. The more you stay in Hilton, the more perks you'll get.
There are varying tiers in Honor's program. The highest level, Diamond, will give you benefits such as a 48-hour room guarantee, elite status gifting, and more.
Also, you should know when to spend and when not to spend your points. A low value for your issues is 0.4 USD, while 0.7 USD is on the upper side.
Maximize Your AAA Benefits (If you're a member)
Being an AAA member means you are eligible for a discount. Seniors, government employees, and people serving in the military also get deals (10%). So, don't forget to click that additional discount box if applicable.
Does Hilton Charge for Parking?

Before 2018, Gold and Diamond members would be exempted from parking fees. Now, the exemption would only apply to high-level members after a five-day stay. At San Francisco Hilton, parking overnight with in-and-out privileges would cost around 55 USD without taxes.

The parking fee is 25 USD without taxes for motorcycles. Major cities will typically have higher parking charges, and different properties will have varying prices.

Parking in hotels is an excellent way to lose money fast. So, plan and opt for other parking spots. Use parking apps or websites and Google Maps to find convenient and cheaper options. You could also try to search for hotels that have discounted parking rates.

Lastly, you could flex your Gold or Diamond membership at the front desk and ask them for a waive.

Does Hilton Charge for pets?

Hilton, and many other hotel brands under its portfolio, allows dogs and cats in their hotels. However, they will charge a non-refundable cleaning fee of around 75 USD. Service pets are free of charge. There are varying sizes and weight limits for bringing in non-service pets.

There are many brands under Hilton that are pet-friendly. But even for those properties that do not allow furry friends to stay, service pets will always be an exception. The fact that they make this consideration says a lot.

Anyways, if you are traveling with a pet, we've listed some of the best Hilton brands perfect for you and your companion.

Home2 suites by Hilton – They are one of the most pet-friendly brands under Hilton. The fee is around 50 – 75 dollars depending on the property. These are budget-friendly hotels that are great for the family.
Tru by Hilton – Their fee is around 35 USD. Tru by Hilton is a fun brand aimed at millennials. It has game rooms, a 24-hour snack bar, and a place to work. You can say that the interior design is clever, fun, and different than most hotels.
Canopy by Hilton – They allow pets in all their properties, and the average fee is only around 50 USD. They also partnered with Barkbox- which is a subscription service for dogs. This hotel makes them arguably, the most pet-oriented hotel within the portfolio.
DoubleTree by Hilton – It is one of the most popular pet-friendly hotels in America. Their non-refundable fee is 75 USD. The good news is that Double Tree allows two pets per stay.

As always, call in advance to let the hotel staff know about your pets. A call could also make you avoid unexpected price changes in their fees.

Does Hilton charge for late checkout?

Hilton Honor's members can extend their checkout until 3 pm at the most for free though that depends on availability. You can open your checkout until 6 pm, but there would be a charge of around 75 USD.

As another example, Hilton Americas – Houston would charge around 50 USD from late checkouts before 3 pm and 100 dollars after 3 pm.

There's a lot of ambiguity regarding this issue. The Diamond Tier members often ask why, even though rooms are available, the Hilton hotel they are staying in declined an extended checkout.

It might be because the subject is mainly in the hands of the individual hotel. Different hotels managers have different rules as the general policy of Hilton is quite open for interpretation.

The best way to know is to call the hotel. Ask them whether or not a late checkout is available and how much they would pay the price.

Ways to Get a Late Checkout

As mentioned before, getting late checkouts is not set in stone, especially in Hilton. But there have to be proven ways that could take up your chances, right? In this section, we'll discuss some of the tactics you apply to land a late checkout.

The higher the tier, the higher the chances – Diamond members are most likely to get a late checkout. It's just the way it is, although sometimes they get declined.

So, if you think that you are the type of person who usually ran into delays, consider becoming a Diamond tier member.

Ask three times – And you shall receive. It all comes down to factors we may never know. But asking before you make your reservation during your stay and on the day of the check out will undoubtedly increase the likelihood of getting a late checkout.

Aside from calling and making your intentions known, you could send an email to the hotel. Make it seem that you're going to have a good stay but that you would need a late checkout.

If you can, send the email to the hotel manager and compliment the hotel.

Give a legitimate reason – Hotels are supposed to care about their customers. So, giving a valid reason for why you would need an extension would earn some understanding from the staff. As people, they'll be compassionate, and as a business, they'd think twice about disappointing you.
As late as possible – If they ask how long you're going to need a late checkout, tell them that: as late as possible. Of course, the staff probably won't, but at least the hotel would give more priority to you.
Be polite – Travel can sometimes be frustrating. A tight schedule, then a delayed flight, and you have a bad day. But resist the urge to take it out on the staff.

Instead, be friendly and polite. Try to build rapport while asking for a late checkout. Also, hotel staff is trained not to be rude, but they have a specific command over your stay.

Be strategic – If you anticipate a late checkout for your next hotel stay for some reason, then it's probably best to be ready for it. Certain days are more suited for late checkouts – Sundays in most cases. It depends on events and other factors.

Best to inquire directly to the hotel.

If you can't get a free extension, then consider just outright paying for the fee. It'll save you time and energy. The hotel will charge you half, but at least you'll be comfortable until the time you're ready to depart.

Does Hilton Charge for Coffee?

Most hotels give complimentary coffee and creamers. Hilton Garden Inn offers k-cups and Keurig® K130 single-cup brewing system in rooms. From 6:00 – 10:30 am, coffee is also available in their lobbies.

Tru by Hilton and Tapestry Collection by Hilton also offers complimentary coffee.

Also, one can purchase Keurig pods at the desks of Hilton Garden hotels and make the coffee yourself if the free coffee is not enough. There's a lot to choose from their Pavilion Pantry.

In Hilton Garden Hotel, a guest will receive 4 Keurig cups that vary depending on you. In the USA, the varieties are:

2 Diedrichs Regular Coffee
1 Diedrichs Decaffeinated Coffee
One Bigelow Black Tea K-Cup packs

Some of Hilton's brands may or may not charge coffee. The only way to know for sure is to call them.

Does Hilton charge for water?

Hilton, like any other hotel, can and will charge you for overpriced water. Gold and Diamond members will get two water bottles for free for each stay in selected Hilton hotels. Most American hotels will give you at least one complimentary bottle of water in your room, though.

It would be unsurprising if hotels and resorts would charge you 5-10 USD on a bottle of water. Make sure to read the label or ask someone whether or not the water is free. Sometime

Tap water in American hotels is usually safe to drink, and you could always stack up on bottles of water at a convenience store. These are alternatives to buying expensive water.