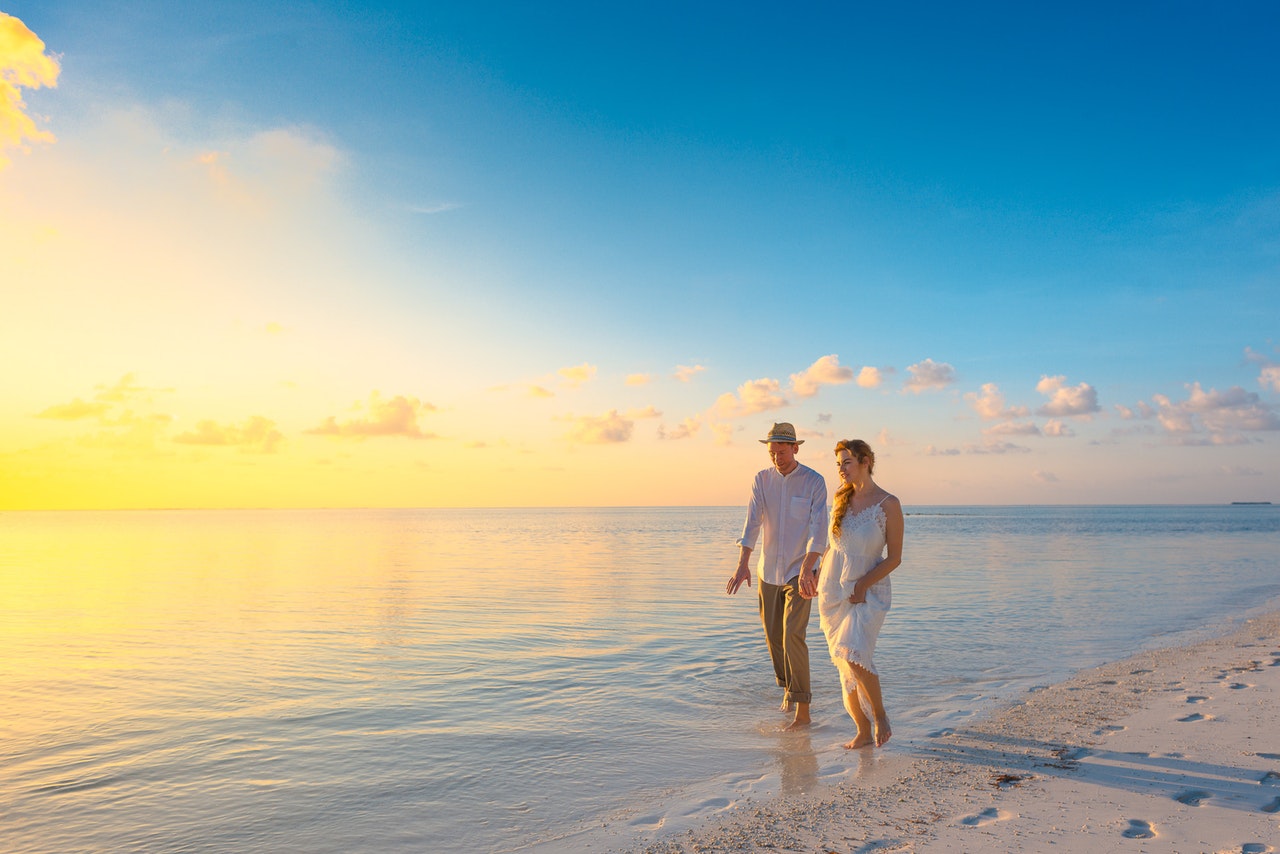 Couples traveling for the first time can tick off a lot from their bucket lists in Costa Rica. Adventure is waiting in Iceland as well as some relaxation in Bali. Italy and Scotland are two ideal destinations for couples on their first holidays.
Traveling with your partner is exciting. Everything you do to prepare is bliss, from deciding where to go until you board the plane together!
And so, to ensure your first holiday together goes smoothly, there are a few things you should take note of.
What's your ideal destination?
Are you for relaxation, or would you rather explore and be more adventurous?
There are a lot of questions you should consider. Lucky you, tailor-made destinations for couples already exist.
These destinations should go handy, especially if it's your first time to travel together.
So, ditch the stress of preparation. Make this an exciting endeavor.
Here are a few suggestions on destinations for couples traveling for the first time.
Costa Rica

If you both love the outdoors, Costa Rica should be on top of your list.

Here, you can experience whitewater rafting, fishing, and snorkeling. You can also zipline your way from one side of the cliff to the other.

Costa Rica offers more adventures than you can think of.

And not only that, when you get tired of all the snorkeling, you can laze your afternoons away in one of the country's pristine beaches.

Costa Rica is a destination that is perfect for those that seek the balance of thrill and relaxation. And that should be perfect for your first travel together.

Iceland

Another destination that can satisfy your adventurous side is Iceland.

From hot springs to active volcanoes, Iceland and its beautiful landscapes will never fail you.

You can both try a dip in the popular Blue Lagoon.

And at night, why not camp outside and wait for the Northern Lights to appear?

No matter your activities, Iceland is a destination that never disappoints.

Bali

Known for a combination of relaxation and culture, Bali is perfect for your first holiday together.

The island is dreamy and is a destination that assures you of relaxation in its pristine beaches. Prepare to spend the afternoon swimming in its crystal-clear waters.

And beware because your Instagram followers will be jealous of all the Instagram-worthy photos you can take.

Italy

Home to the world's best cuisines and jaw-dropping coastlines, Italy is comfortable in its slot on our list.

Here, you will never run out of romantic activities that you and your partner can do.

As soon as you arrive, prepare to experience everything Italian. There is the matter of red wine tasting, gondola rides, and even gelato.

There are ruins to see and heaps of pasta to consume.

What more can you ask for?

Scotland

Scotland is another destination that will never fail to blow your mind away when it comes to history and culture.

It has untouched natural reserves, to add.

In your hiking shoes, visit castles that may even be as old as time.

Take a photo of the Isle of Skye. And spend the night away in some local pub with your beau while you enjoy a pint of beer.

If you are the type of couple who loves adventures in the wild, visit Scotland.
What is the best vacation for couples in the United States?
The US has many romantic corners that couples can visit on their first holiday. Savannah in Georgia is charming. Unexpectedly, Washington DC is also an ideal destination. Also, you can try out Saint Augustine in Florida.
If the five choices abroad are too much for you, why don't you start with options at home?
Surely, there are romantic getaways perfect enough for your first holiday as a couple in the US.
If flying out of the country is out of the picture, try out these US destinations.
Savannah, Georgia

A city embossed in draping Spanish moss is romantic.

A place of beautiful architecture and charming squares, Savannah is an ideal destination for anything romantic in the US.

A 3-day holiday in the city is enough to immerse yourselves in the city's culture and beauty.

Take a stroll while you hold hands in Savannah's Historic District. Admire the magical mansions and historical squares. Enjoy all these activities before you sit down for a lovely afternoon at Forsyth Park.

If there's one thing I must suggest, you can have the to-go alcoholic drinks at the Historic District. Have a sip and bring your drinks as you and your partner take a walk.

The Olde Pink House is perfect for a romantic dinner. It remains to be one of the city's best restaurants.

After dinner, do something exciting like a ghost tour.

Yes, you read it right.

Savannah has an image of being one of the most haunted cities in the US. And yes, the city holds ghost tours where you and your partner will visit some of the most haunted areas in the city.

Now, isn't this activity the best opportunity to feel cozy with your partner? Hug your partner when you get scared!

Washington DC.

Most people may not expect the nation's capital to be where romance sparks. Let me tell you this.

Washington DC is as romantic as any other place in the country.

It is a city of historical significance. Such makes Washington a destination worth visiting with your partner.

Spend your day in Georgetown shopping with your partner. Have dinner at the Barcelona Wine Bar. You can also spend some time at the Filomena Ristorante.

After dinner, check out some shows at the Kennedy Center.

Just like the locals, you and your partner can also have fun at a picnic lunch at the National Mall. Bring a bottle of wine and take in the sights of the city's monuments.

You can also try out visiting the city's many museums. Check out the Smithsonian National Museum of National History. Or if museums are not your cup of tea, head on to famous restaurants like the Founding Farmers.

By the way, if you can, the best time to visit would be during the Cherry Blossom Festival.

See the city bathe in pink as the city's cherry blossoms start to bloom. This happens around March to April.

Saint Augustine, Florida

What I love about Saint Augustine is that visiting is a walk back in time.

This is Florida, in case you forget. You see ancient streets and amazing architecture. Not only that, but if you feel like it, the beach is just nearby.

It's historical. It is romantic.

Saint Augustine is one of the oldest cities in the country. It has many quaint corners that you would love to explore with your partner.

It has sumptuous dishes served by amazing restaurants. The city also has beautiful streets.

Walk these streets holding hands. The city is one of the ideal cities to spend some quality moments with your partner.

Another notable place to visit is the Castillo San Marco.

And if you get tired of exploring, spend some time at a beach somewhere.

Just like Savannah in Georgia, there are also ghost tours here. Try it. You might like it.
Are vacations good for couples?
According to studies, couples who go on vacations enjoy healthier and happier relationships than couples who don't. Partners tend to communicate well with each other. It is thus important for couples to go on vacations occasionally.
There are many benefits to couples that travel. One of these benefits is that it helps in building and maintaining relationships. Also, traveling as a couple can ignite more romance and foster intimacy.
The Long Term Benefits
As mentioned earlier, traveling makes partners more satisfied with their relationships. This is when compared to couples who don't travel altogether.
When traveling as a couple, it is as if romance is always kept alive in the relationship. Couples who travel together feel closer than those who don't.
We can attribute such aspects to the quality of time that couples spend together when traveling. Also, the planning stage contributes to the couples getting closer to each other.
Couples who travel together start to share similar goals. They also tend to know the perfect time to be together. They can also identify the ideal time to be apart.
When traveling, couples expose themselves to each of their differences. Such exposure helps them to accept the other's flaws and begin to understand each other.
Traveling Helps Couples Communicate
Couples that travel together take advantage of the holiday to spend some alone time with each other.
There are no friends or family members that can squeeze in on schedules. As a traveling couple, you are both in a different place with nobody else but yourselves.
Being by yourselves helps the both of you to communicate well with each other. It is because while traveling, you don't have anybody else to rely on but your partner.
Long-Lasting Relationships
Traveling makes it easier for couples to communicate with each other. Because of good communication, relationships tend to last longer.
Good communication between partners is essential to maintain a romantic relationship. And because traveling fosters good communication, traveling also encourages long-lasting relationships.
Do couples take separate vacations?
Couples can also take separate vacations. Doing so can help you appreciate your partner more. The absence of your partner during your travels can, as they say, make the heart grow fonder.
I mentioned the importance of couples traveling together.
But in this section, I will also be telling you a little bit about how traveling solo can also help.
As a couple, can you take separate vacations?
The answer is always yes.
One of the things that couples need is to foster their development as partners. Part of that development is their individual growth or their growth as a person.
Traveling is one way for a person to grow and mature as an individual. As mentioned earlier, traveling together can do wonders for you both as a couple. But the same is also true for traveling separately.
Separate travels can make couples get closer together. On many occasions, traveling apart can also make the relationship grow stronger.
Here are the reasons why, occasionally, you should also take separate holidays.
The first thing to accept is that personal growth is something very essential. But within a relationship, personal growth is always hard to manage.
Traveling can help you with this.
To travel is to nurture yourself into growing. To travel is to re-discover some aspects of yourself that can help you mature as a person.
Solo traveling is empowering. Besides, we all need a "me" time occasionally.
Another advantage of traveling alone is that it allows appreciation of your individuality.
You must admit that it is not all the time that you and your partner align with your travel wants. It is normal. Traveling solo would allow you or your partner to discover a place they like.
The Purpose of Separate Holidays
First, identify your purpose of why you are traveling solo.
This is the part that you must be mindful of.
This may be a bit of a problem if you take separate holidays just to get away from your partner.
Otherwise, having separate holidays bring more value to the relationship.
Your personal adventures would feel more like a celebration of who you are as a person. It grows you. It fosters maturity. It allows you to discover yourself.
And this is also the same with your partner.
Celebrating your individuality can make you understand each other more. It can help you strengthen your relationship as a couple.
Of course, you can always travel together. There is nothing wrong with that.
I still hold firm to what I said about traveling together making relationships stronger.
The point of this section is to normalize traveling separately as well. I wanted to normalize that whether you are traveling separately or as a couple, it is fine.
I wanted to emphasize that traveling apart should never be a threat to a lasting relationship.
You can travel solo.
Or you can travel as a couple.
I leave it to you.
Because either way, it makes you, as a couple, stronger.