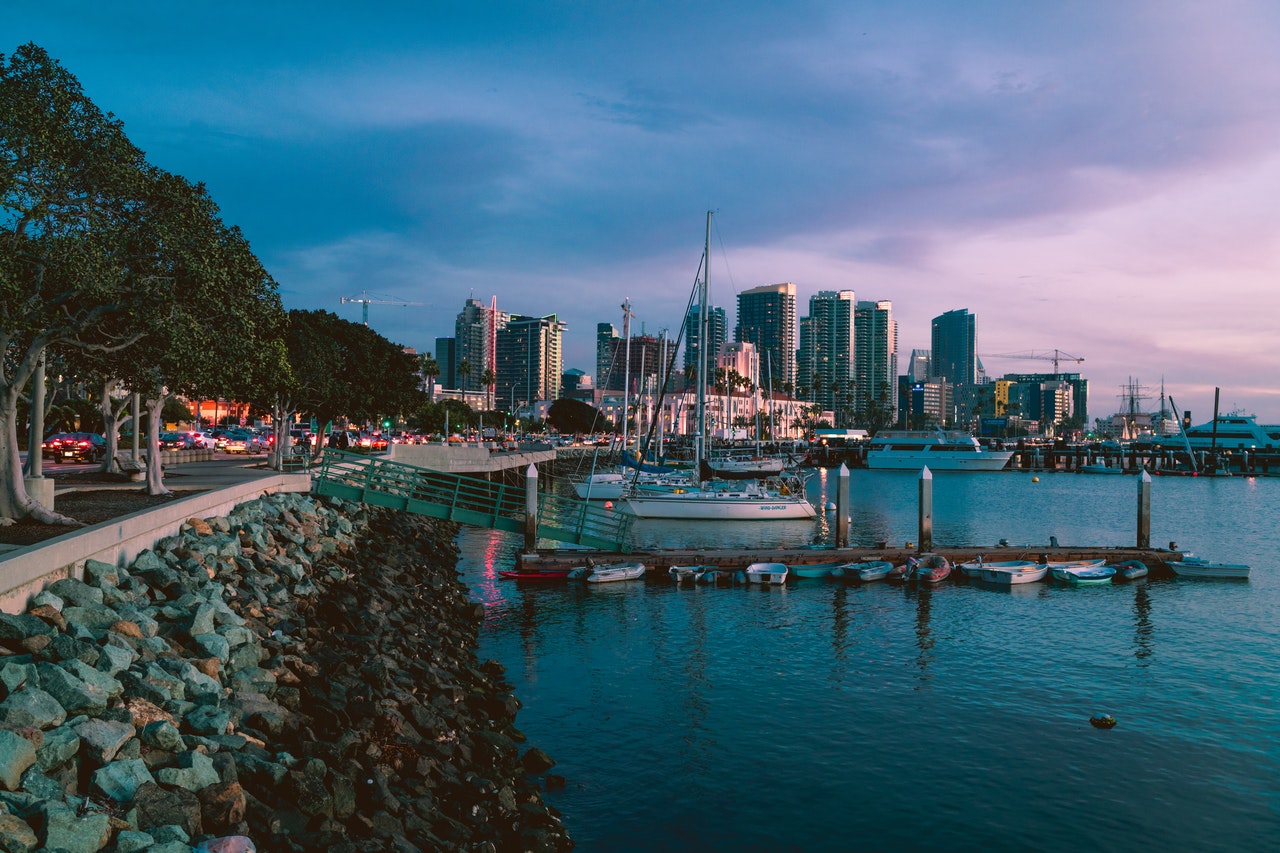 San Diego is known for its beaches and culture, while Austin has a thriving music scene and, considered the best place to live. Both cities are popular vacation spots and attract many permanent residents as well. But in terms of living expenses, San Diego has a higher cost than Austin.
Austin, the state capital, is nestled amid the Texas Hill Country. Its unofficial motto is "Keep Austin Weird," encapsulating its unique culture and alternative spirit in a tight center with several spreading suburbs along the highway.
In addition to vibrant nightlife and weekend activities, the school's significant student population helps give the city a young vibe. Aside from that, the city is the country's "live music capital." Many music venues and bars along 6th Street are in the heart of the city's entertainment district. During the summer, there are several free outdoor concerts.
On the other hand, San Diego is located in southern California, near Los Angeles, and has a great climate, beaches, and culture. It has stunning scenery and promotes animal protection and green living.
Many people regard San Diego as a calmer, more peaceful city, free of urban chaos despite its size. It also boasts a flourishing economy and several universities.
This cost and overall comparison can assist you in deciding between Austin and San Diego. If you're unsure where to go next, we collected information from reliable sources to present you the average costs, pros and cons, cost of living in these cities, and other factors you might consider.
What Are the Pros and Cons of Austin vs. San Diego?
The reputation, unemployment rate, music and art, varied population, and cuisine are positive aspects of living in Austin; transportation, entertainment, sports, and job competition are the most significant drawbacks. On the other hand, San Diego offers a culture, high yearly wage, lifestyles, and schools, but its living expenses, city parking, traffic, and seasons may not suit your preferences.
Living in Austin
Pros
Listed as the Most Acceptable Place To Live

Austin is Texas' most progressive city. According to US News and World Report, the city ranked the best place to live in Texas in July 2021.

Austin placed 5th in the Best Place to Live in the USA, indicating its remarkable growth over the years. Austin ranked 13th among the nation's fastest-growing cities and 29th among the best places to retire.

Low Rate of Unemployment

The Texas Workforce Commission reported in November 2021 that Austin's unemployment rate fell from 3.5 percent in September to 3.4 percent in October, totaling 44,568 unemployed.

Austin's unemployment rate remained lower than the state's (4.8%) and national (4.3%) averages.
TWC reports that the Austin region created 18,300 jobs between September and October 2021. Since October 2020, the area has increased by 7% annually, adding 77,300 jobs.

With the inflow of technology businesses from Los Angeles' "Silicon Valley," Austin is now known as "Silicon Hills." Tesla, Google, Facebook, IBM, and Dell are all big tech businesses in Austin.

At the same time, Austin has become a hub for new firms. In Austin, the surge of IT businesses led to increased job vacancies and a reduced unemployment rate.

Vibrant Music and Art Scene

Living in Austin is known for its vibrant music and art culture, attracting newcomers and locals alike. A significant music festival or art fair occurs in the city at least once per month. Over 100 establishments are supposed to have live music every night.

Diverse Population

Austin has rapidly become a place where no ethnic or demographic group dominates. The percentage of Hispanic and Asian families has risen dramatically in the last year.

With more non-Texans relocating to Austin, the city's ethnic diversity is likely to grow. The beauty of expanding diversity is the different viewpoints and ideas it offers.

Delicious Food

Austin is known for its delicious meals, including barbeque. People in this city wait in line for BBQ or tacos. You can enjoy a Texan barbecue at food trucks, casual eateries, and fine dining establishments across the city.
Cons
Insufficient Public Transport

Austin's public transit is confined to buses. Austin is built for driving, unlike major towns with public metro or rail systems. If you don't enjoy taking the bus, you can get a vehicle. Because many individuals choose to drive, traffic may be frustrating.

Congested Traffic

Traffic is an external cause of aggravation that residents cannot remedy. If you're moving to Austin for employment, aim to reside as near as possible to your employer. Otherwise, expect to travel twice or even three times as long. You can compare Austin's traffic to New York, San Francisco, and Los Angeles.

Limited Museum Entertainment and Sports

Austin is a music lover's dream, yet it lacks athletic events and art institutions. If you appreciate any of these cultural immersions, you may need to travel the entire city to search for them.

High Competition in Employment Opportunity

Austin residents must adapt to the enormous number of high school students. It will make employment competitiveness difficult. It also implies that many enterprises cater to this group of people.
Living in San Diego
Pros
Rich Culture

Balboa Park is America's most prominent urban cultural park. In addition to the Old Globe Theatre. The San Diego Zoo, gardens abounding, and over 7000 restaurants provide every cuisine imaginable.

It is home to the San Diego Space and Air Museum, the New Children's Museum, the Museum of Contemporary Art, and more. The San Diego Symphony Orchestra's enormously popular Summer Pops event outdoors every year. Plus, no one will ever forget the Beatles' August 1965 performance at Balboa Stadium! San Diego has culture covered.

High Average Yearly Salary

As of January 2022, the average annual salary in San Diego is $68,564, whereas, in Austin, it is $55,190. Despite its high living costs, San Diego is still inexpensive due to its expanding tourism and IT businesses.
If you want to relocate to San Diego, you will find more career options with a guaranteed high yearly average wage.

Top Beach and Surf Lifestyle

The Pacific Ocean is a surfer's dream, and San Diego has some of the top surfing beaches in the country. The laid-back mood pervades the city. Other sections of California are faster and more chaotic. Many locals live and breathe surf. Even if you don't surf, the water is warm enough to swim most of the year.

Best Schools

San Diego public schools are among the finest in the country, with five districts ranking in the top 30! If you want to start a family, sending them to school in San Diego ensures an excellent education.

Plenty of Bike Routes

San Diego has many riding routes that provide breathtaking views of the Pacific Ocean. The Pacific Beach Boardwalk is a favorite for people to watch and relax.

San Diego's bike-friendly destinations include Fiesta Island, Silver Strand, Mission Trails Regional Park, and Torrey Pines State Natural Reserve. Cycling to Cabrillo National Monument offers spectacular city views. Sure, it's not easy, but the beautiful sights are worth it.
Cons
High Living Expenses

Sadly, San Diego has a higher cost of living than the rest of the US. Home prices have risen dramatically in recent decades, and studios are costly. But, still, other California cities are more expensive.

Poor City Parking

Many San Diego residents ride scooters or motorbikes due to the city's unsatisfactory parking situation. Finding parking isn't as tricky as in New York City, but it takes time and effort. If you intend to look for a free spot, give extra time.

Jammed Traffic

Like in Austin and any city with many residents, San Diego has its traffic share. Despite being rated #40 among the nation's major metro regions, the benefits and drawbacks of living in San Diego are nonetheless manageable. The city is highly walkable, so once you're downtown, you can at least get some exercise while avoiding traffic.

No Recognizable Seasons

Winter, summer, spring, and autumn aren't very distinct in southern California. Luckily, Big Bear, Mammoth Mountain, and Julian are easily accessible by automobile. If you're evaluating the benefits and disadvantages of living in San Diego, we believe this one is up to you!
Austin or San Diego – Which Is More Expensive?
Austin, Texas, is 19.3% less expensive than San Diego, California, on average. The most remarkable element in the cost of the living differential is the median home cost.
The table below shows the cost-of-living indices written in percentage:
| | | |
| --- | --- | --- |
| Living expenses | San Diego | Austin |
| Housing | 279.1% | 159.6% |
| Food & Groceries | 109.7% | 96.7% |
| Health | 89.0% | 94.4% |
| Utilities | 102.8% | 99.1% |
| Transportation | 120.2% | 109.9% |
Data is 100 = US National Average
>100 means more expensive than the national average
<100 means cheaper than the national average
Housing Cost
The cost of housing in Austin is 42.8% less expensive than in San Diego. The median home cost in Austin is now $551,200, while San Diego has $812,100.
The median home cost in Austin is 32.1% less expensive than in San Diego, saving up to $260,900.
Utility Cost
The cost of utilities in Austin and San Diego differs by 3.6%. The utility data include the regular electric bill, natural gas per 1000 cu ft, electric Rate per kWh, propane per gallon, and heating oil, per gallon.
Food and Groceries Cost
The cost of food and groceries in Austin is 11.9% less expensive than in San Diego. The food and groceries indexes include ground beef, meats, vegetables and fruits, eggs, milk, sugar bread, coffee, and beer.
Transportation Cost
The cost of transportation in Austin is 8.6% less expensive than in San Diego. The considerations for the transportation index include gas prices, commute times, car insurance premiums, and traffic congestion.
Healthcare Cost
Austin's healthcare costs are 6.1% higher than those in San Diego. The considerations to calculate the health index include local insurance premiums, medical procedures in retirement, and traditional surgery.
Taxes
The taxes in Austin are 22.5% less expensive than in San Diego. Taxes include sales taxes, state and local income taxes, auto sales, property and registration taxes, real estate transfer fees, corporate taxes, and federal, state, and local consumer taxes (gasoline, liquor, cigarettes, beer). Also, participants used an online tool to customize the estimated tax burden.
Is Austin Bigger Than San Diego?
San Diego, with 1.41 million residents in the city itself and nearly 3.3 million in San Diego County, outnumbers Austin. In Travis County, Austin has about 2 million people, making it somewhat smaller than San Diego.
San Diego is California's second-largest city and the ninth in the US. San Diego County's 4,200 square miles include 18 incorporated cities, neighborhoods, and villages, including the Gaslamp Quarter, Little Italy, Coronado, La Jolla, Del Mar, Carlsbad, Escondido, La Mesa, Hillcrest, Barrio Logan, and Chula Vista.
The 600,000-acre Anza-Borrego Desert State Park, located in San Diego's East County, offers nature-lovers limitless possibilities to walk, camp, fish, view animals, and more. The North County agricultural community provides beautiful flowers and food. Some of the region's most beautiful restaurants and resorts feature wines grown and harvested by local wine producers.
Aside from 92 golf courses, San Diego County has a vibrant downtown, year-round special events and holiday festivities, multicultural festivals and celebrations, diverse neighborhoods and towns, solid military heritage, and more.
The most difficult choice when planning a San Diego trip is deciding what to do and see. San Diego County offers unforgettable vacations for anyone.
On the other hand, Austin is Texas's fourth-largest metropolitan region with a land size of 319.94 square miles. Austin's population density is 3,162 persons per square mile.
Is Austin Safer Than San Diego?
In 2021 data, San Diego is listed as one of the safest major cities in the US, despite being a central Mexican drug entrance point. San Diego's crime rate is 10% lower than the national average, at 2,244 per 100,000. In comparison, on average, Austin has 7 out of 100 crimes. San Diego has a 2% crime rate, and therefore, is safer than the 7% of Austin.
San Diego's crime rate fell 1.3% in the recent data, making it the safest city in America. The property crime rate in San Diego resembled the 1950s, but the violent crime rate reached the 1970s.
The San Diego Police Department's crime map can help determine the safest San Diego areas.
Meanwhile, statistics show that property damage and theft account for the bulk of yearly crime in Austin, whereas its violent crime accounts for 8%.
Remember that "crime" doesn't always mean "danger" and that staying aware of your surroundings and not actively looking for trouble is an excellent way to keep safe.
Is Austin Warmer Than San Diego?
Austin and San Diego's warmest month is August. San Diego has an average temperature of 80.2°F (26.7°C), colder than much of California. In contrast, Austin has 96.2°F (35.6°C), making it warmer than most Texas. Thus, Austin is warmer than San Diego.
San Diego has seven pleasant months with temperatures between 70-85°F. July, September, and August are the most pleasant months in San Diego. Austin has four excellent months in the same range, but April, October, and March are the best.
Austin, Texas' climate is subtropical humid. Summers are hot, with temperatures regularly reaching 90°F, but Austinites have learned to love the hot weather. Nighttime summer temperatures may dip into the 50s depending on the wind, cloud cover, and other factors. Austin also has a lot of natural swimming pools.
Austin also has pleasant winters; it snows in the region. Every year, on average, 25 days are sub-freezing. A few warm days in the winter are not unusual.
Its annual rainfall averages 33 inches, although it can be heavy at times. May and September recorded the highest rainfall.
Overall, the weather in Austin, Texas, is suitable for the area's many outdoor activities. Unlike the Texas Gulf Coast, where excessive humidity is average, they have low humidity.
Is Austin Better Than San Diego?
Austin is the place for you if you want a city with more job opportunities and a less expensive cost of living with a sophisticated economy. Meanwhile, San Diego is an excellent place to live if you wish for aesthetic beauty and plenty of outdoor activities.
Tourism is San Diego's second-biggest business, bringing in an average of 35 million people every year. Tourists pay nearly $940 million in taxes yearly, most of which goes back into the city to improve San Diegans' quality of life. Accommodations, transportation, attractions, museums, restaurants, and shopping are all impacted by tourism in this region.
San Diegans are health aware and want to enjoy the city's natural beauty, and their favorite pastimes include surfing, wind sailing, riding, and hiking.
Like San Diego's, Austin's economy features various sectors. The top four industries are government, tech, manufacturing, and tourism.
Austin's lack of state income and corporate income taxes has attracted significant giants like Amazon, Google, Dell, Facebook, or Apple for those in technology, manufacturing, or software. Because of the region's favorable economic environment, over 35 large tech businesses have migrated in the last decade.
Austin employs about 62,000 people and has over 450 high-tech industrial enterprises. Samsung, Ericsson, and Bae Systems are just a few well-known computer manufacturers with manufacturing facilities here.
As the world's live music capital, Austin made over 30 million tourists annually. Like South by Southwest and Austin City Limits, these events bring in millions of dollars every year.
Austin and San Diego have so much to do. Both cities provide year-round warmth, great activities, and lots of beauty. In other words, you can't go wrong in San Diego or Austin.
So, can you see yourself kicking either of the city? Did you find what you were looking for, or is something missing? Let me know in the comments below.