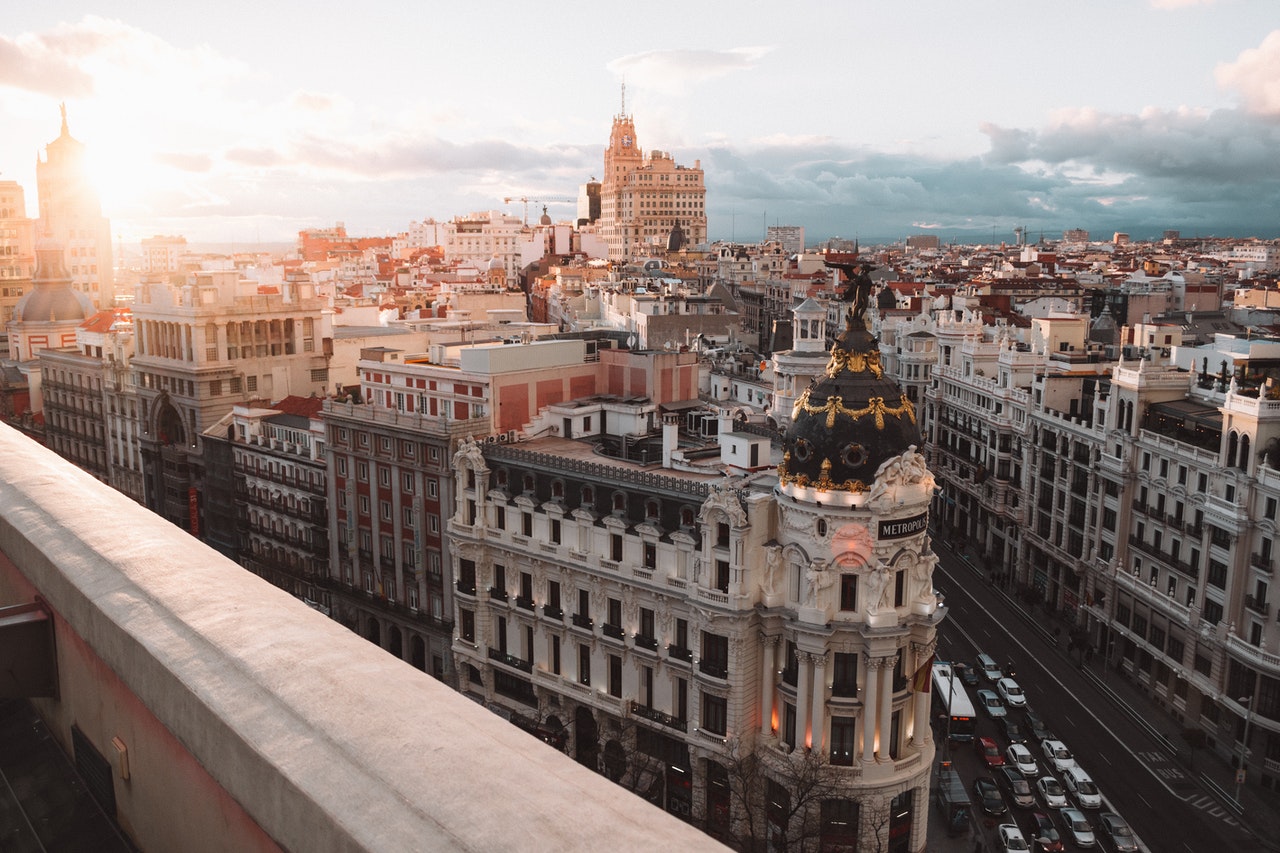 Barcelona provides you the sea. It also brings about better weather. Barcelona is more beautiful. It has a broader scope when it comes to cultural heritage, this is because it is older than Madrid. Plus, it's cheaper, too!
So, Barcelona, as mentioned, brings about a combination of the city and the sea. It is a lot older than Madrid. As such, the heritage is much more defined in Barcelona than in Madrid.
But in general, both cities are amazing. Both have something valuable to bring to the table. Both are special as well.
So, is it Madrid for you? Or is it Barcelona?
While both are great, both have characters and attractions that differ. It would be tough to choose just one.
Madrid is the capital city of Spain. It is also the country's largest.
The city has a lot of history and is filled with museums and many famous galleries. The place is the gateway to many medieval towns and cities. These are all located in the central and southern parts of Spain.
Barcelona, on the other hand, is on the northeastern coast. It is for those who love to live beside the beach. Some fewer people live here compared to Madrid.
The Differences
While both are amazing cities, there are certainly differences between the two.
Madrid has fewer tourists than Barcelona. What's in it for you? Madrid may be less crowded with tourists. While Barcelona has fewer locals than Madrid, what makes up for the crowd in the city are tourists.
Madrid is also a landlocked city. So, if you love being near the beach, this is not for you.
Another difference is when it comes to food. Both cities have their offerings of sumptuous dishes, but Madrid delves more on authenticity. It has more authentic and less-expensive food than Barcelona.
There is also a difference when it comes to dialects. Madrid speaks Castillian Spanish. Barcelona speaks Catalan.
The Things They Have in Common
Despite their many differences, both Madrid and Barcelona also have things in common. And there are a lot.
For example, both Madrid and Barcelona have a lot of amazing cultural attractions. Madrid is popular for its many art museums and galleries. On the other hand, Barcelona has great architecture.
When it comes to nightlife, both cities also have their own offerings. Although we must say, when it comes to this aspect, Barcelona is more raucous. But whether you are in Madrid or Barcelona, your nightlife will never run dry.
Both cities are also accessible. They both have major international airports. Plus, these airports bring with them good connections to the rest of Spain. Not only that, but these airports can also connect you to the rest of Europe and the world.
Both cities also have great train services. One can easily access the rest of Spain from both cities with their high-speed train services.
And finally, both cities have an extensive network of public transportation.
But aside from these major differences and similarities, let's take a closer look at each city.
Madrid
Madrid is the capital of Spain. It is where the national government is. You would also find the royal family in this city.
The city is popular for its palaces. It is also famous because of its parks as well as its great museums. One such example of these museums is the Prado Museum. Another example is the Reina Sofia Museum.
Both museums house hundreds of artifacts that set them apart from any other in the country or the world.
When it comes to parks, there is El Retiro Park. This is Spain's version of the Central Park of New York.
Geographically, Madrid is also close to many locations. It is close to Toledo. One can also easily access Segovia when in Madrid. And who would ever forget Avila? Also, the city is just a ride away from Salamanca.
All of these locations have offerings of their own. A city has UNESCO-listed Roman aqueducts, and another has medieval sites. Aside from these locations, Andalusia is also an easy reach destination from Madrid.
And finally, there's the region of La Mancha. If you are familiar with Don Quixote, you would, for sure, know about La Mancha.
Madrid provides easy access to these locations and more. This is the reason why some move to Madrid. Because when in the city, one never runs out of options to explore.
Barcelona
On the other hand, Barcelona is the capital of the Catalonia province. Catalonia is famous for being so independent. The province is so independent that it has its language they call Catalan.
Aside from this, the province also brings with it its own cultural identity. And finally, it has, for many years, been campaigning for independence from the region.
The Catalonians are proud of their identity. This is the main character of Barcelona. Aside from that, the city is more quirky. It also brings with it an unassuming vibe, more than the city of Madrid.
But if there is something to know, it is that Barcelona attracts more tourists. This makes it more crowded than Madrid.
Aside from the crowd, there is one thing about touristy spots mostly in Barcelona. Family and friends would always visit you. There is always something to recommend in Barcelona. Madrid, on the other hand, is more about lazy weekends spent sipping wine somewhere.
Barcelona is the ideal city, especially for those wanting to live in a city beside the beach. It is also famous for its amazing architecture in all of Spain.
The most central beach is Barceloneta. This is also one of the most famous in the city. But aside from this, the city also has other pristine beaches. These are Nova Icaria, Bogatell, as well a Mar Bella.
When it comes to transportation, cycling is the most popular model.
While Madrid has great neighbors, and so is Barcelona. Nearby, there is Costa Brava. The location has amazing beaches as well. It also has quaint towns. Plus, the Spanish culture and heritage are alive in this part of the country.
There's also the Dali museum in Figueres. Plus, there's wine tasting and coastal caves combined.
Barcelona is also near some Balearic Islands. This would include the islands of Mallorca and Menorca. More relaxed compared to Ibiza, these islands are about an hour away from Barcelona by plane.
And oh, Barcelona is closer to France than Madrid is. This means that you can easily take a short flight to Bordeaux when you get tired of Barcelona. Madrid, on the other hand, is easily connected to some parts of Europe.
Either way, this is an advantage.
Food
If there is one thing about Spain, it is always that the food is great. Both Madrid and Barcelona have great food. Both have your usual taverns as well.
There are actually thousands of restaurants all over these two cities.
But when one thinks about food in these two cities, Madrid's dishes may not be par with Barcelona's. Sure enough, Madrid has more authentic food than Barcelona. But when it comes to the taste, Barcelona is winning.
In Madrid, there's cocido madrileno and callos a la madrilena. These two are very popular options.
The Catalan taste buds, however, are all fiestas in your mouth. Bomba Catalana is an example. Esqueixada, also popular as the Catalan ceviche, is another famous dish in Barcelona.
But when it comes to diversity, Barcelona is also better than Madrid. Despite being the capital, it appears that Barcelona has more diverse cuisines. This is perhaps because of the city's diverse communities.
Its diverse population resulted in the birth of diverse restaurants all over.
Is it more expensive to live in Madrid or in Barcelona?
As the capital city of Spain, Madrid is the more expensive between the two. Barcelona and Madrid are actually more expensive than other cities in Spain. But between the two, Madrid is more expensive.
For a start, Madrid and Barcelona are two of the most expensive cities in Spain. Both of these cities can be about 40% more expensive than other locations.
Before moving to any of these cities, one should be aware of these facts. This is why in this part of the article, we are going to touch on the cost of living in Spain.
We will tackle the major expenses as well as the prices. This way, you would have a good estimate of your monthly costs. As a future ex-pat in any of these cities, we think this is something you need to know.
As we previously mentioned, living in Spain has its disadvantage. And that is its high cost of living.
As we already know, Madrid is more expensive than the two, especially if you live in the city center. The cost of rent is just too much.
Rent
The difference when it comes to renting may not be much between the two cities. As we mentioned before, both cities are expensive. In Madrid, for example, a one-bedroom apartment may cost you 903.89 Euros. In Barcelona, it would be 903.84 Euros.
This is just a matter of a few cents if you look at it.
The big difference, however, is when you rent a three-bedroom apartment. When moving in with family, this is more of a practical choice.
An apartment of this size in the city center of Madrid would cost you 1,600 Euros per month. In Barcelona, the same apartment in the city center is at 1,500+ Euros. On average, the difference is at around 5%.
When outside the city center, Madrid's cost would be around 1,108 Euros per month. In Barcelona, the difference is not much. It would cost you around 1,101 Euros per month to rent a three-bedroom outside the city center.
There are, of course, properties for rent for about 500 to 700 Euros per month. But expect these properties to be way out of the city center.
Utilities
Basic utilities are also more expensive in Madrid.
In Madrid, you could expect to pay around 141 Euros per month for basic utilities. This would already include heating/cooling systems, water, and electricity bills. This would also include garbage disposal services.
In Barcelona, the same amount of services would cost you around 136 Euros per month. This is about 3% cheaper compared to costs in Madrid.
Transportation
When it comes to transportation, Barcelona may be a bit more expensive in some aspects. One such example is a cab ride which is about 6% more expensive than Madrid. The same is true with a one-way ticket. It is 51% more expensive than Madrid.
What is interesting, however, is when you get a monthly pass. A monthly pass in Madrid would cost around 54.60 Euros. In Barcelona, it is way cheaper at 40 Euros.
Food
When it comes to food, there is not much of a difference between these two cities. Dining in restaurants would cost you anywhere from 12 to 50 Euros. This would have to depend on the restaurant you're at or the food you'll have.
In addition, groceries may also be more expensive in Barcelona. Milk is 7% more expensive while the bread is 39% more expensive in Barcelona than in Madrid.
On the other hand, cheese, chicken, and beer are cheaper in Barcelona than in Madrid.
Salaries
Madrid has more job opportunities than Barcelona. It is also one of the country's most important economic players. The salaries may also be higher in Madrid than in Barcelona. But the cost of living in Madrid is also slightly higher.
The higher salary in Madrid makes up for the higher cost of living as well.
Overall, one needs a salary of around 3,400 to live comfortably in Barcelona. In Madrid, it would be around 3,420. Again, the differences may not be that much.
But overall, Barcelona is cheaper between the two.
Which city is safer, Madrid or Barcelona?
Both cities are safe. And when it comes to recorded crimes, it would mostly involve pickpocketing. This is the same as in major tourist destinations in the region. As you already know by now, Barcelona is more touristy. This means the crimes, both petty and not, maybe more in Barcelona than in Madrid.
When it comes to crime rates, both cities have acceptable numbers. But the percentage is lower in Madrid than in Barcelona. The reason for this is perhaps because Barcelona is more touristy. As such, more pickpocketing and petty crimes happen in Barcelona than in Madrid.
The increase, however, is more when it comes to Barcelona. Compared to last year, the level of increase is at 72% in Barcelona. Compared to Madrid's 52% increase, the level of increase is significant.
Barcelona also has higher possibilities of robbery. This covers home robberies and even car robberies. Drugs and petty crimes are also more rampant in Barcelona than in Madrid.
Finally, in terms of crimes, there is also a much higher possibility of bribery in Barcelona.
In general, both cities are safe. But when comparing the two, Madrid has fewer crimes than Barcelona.
—
At the end, which city is better?
The answer would have to depend on you. Which of these things matter? Do you like the beach? Would you fancy a short flight to France once in a while? If so, Barcelona is for you.
If you feel like you can live your life without seeing the beach for some time, choose Madrid. If you are for career advancement more than anything else, this should be your city.
In the end, it is your heart that chooses the city. Listen to it.
Good luck!