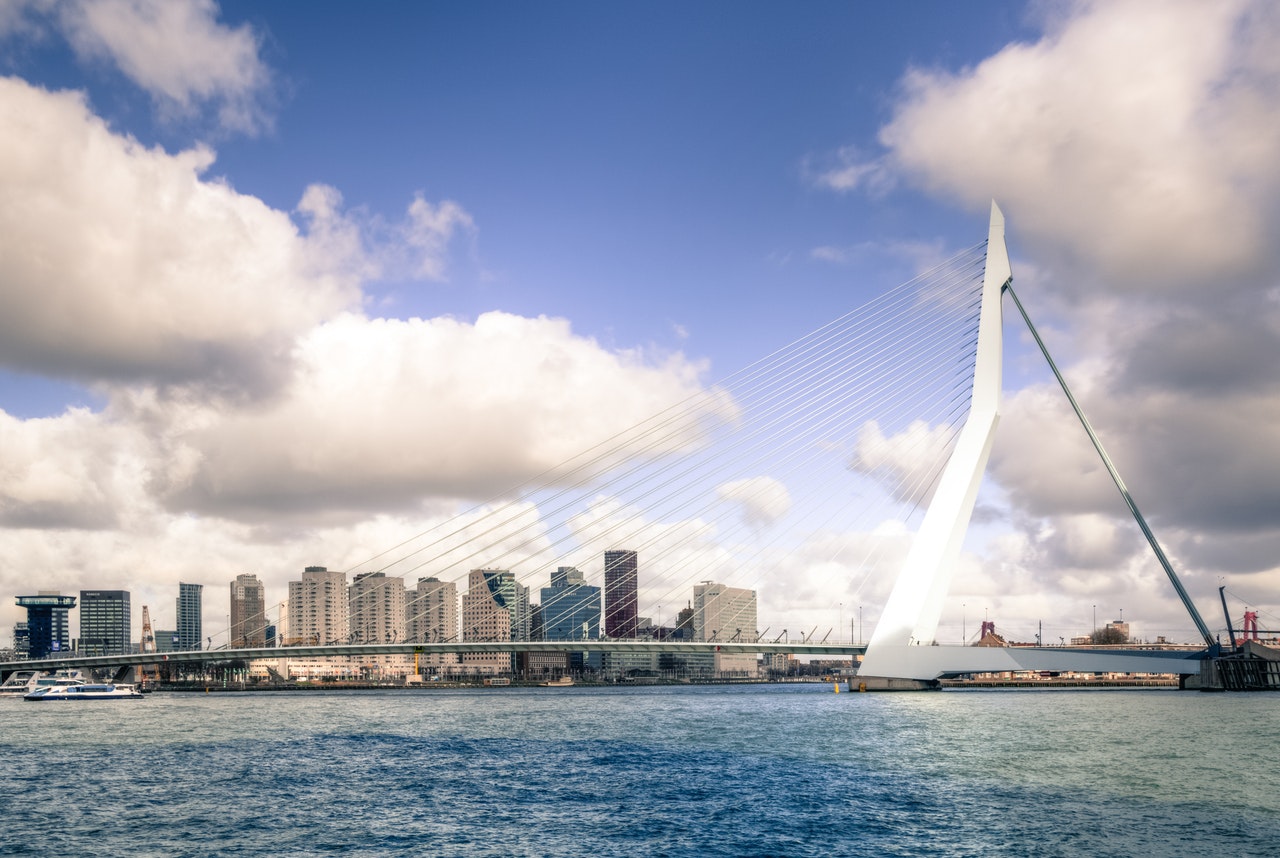 There are many differences between Rotterdam and Amsterdam. The differences range from the vibe, their respective architectures, and even their taste in football.
We always tend to compare big cities.
I often compare New York with Los Angeles and such. And that's normal.
In the Netherlands, the comparing game involves the capital and its second city – Amsterdam and Rotterdam. And yes, the rivalry goes back to as far as the 13th century.
Personally, both cities are great. And you should visit both.
But to give you additional information on each city, here are five major differences between Amsterdam and Rotterdam.
The Vibe
Every place has a vibe. And no, it isn't something you can see. It isn't something you can touch or taste.
It comes with the feeling a place gives you. And it stays with you even days after you leave.
In the case of Rotterdam and Amsterdam, one of the major differences is the vibe.
Perhaps because Rotterdam is way larger than Amsterdam, it has a less-populated feel to it. And this is true. Rotterdam feels less densely populated.
Rotterdam has a city vibe. Amsterdam has the feel of a town.
Naturally, you can expect Rotterdam to have modern architecture. It has top-notch dining offerings. And a laid-back feel as well.
On the other hand, Amsterdam has an architecture that dates back centuries past. It has coffee shops. And ironically, despite its hometown vibe, the attitude of the locals seems to be more liberal.
The Port
Rotterdam is famous as the Gateway to Europe. And this is for a good reason.
Because when it comes to the port, Rotterdam has a huge port. Amsterdam's is huge as well. But Rotterdam's is much, much bigger compared to that of Amsterdam.
Over the years, Rotterdam was able to establish great connections with different ports. It was able to connect the Netherlands with the rest of Europe (and the world) when it comes to trading.
Tourism
Rotterdam is a multicultural city. It is, in fact, one of the most multicultural cities in the world. To date, residents of the city have their roots that stem from more than 173 nationalities.
Despite this, Amsterdam gets more tourists every year. Rotterdam is not as popular as the nation's capital.
Perhaps it is because Amsterdam has better tourist attractions. And these attractions draw the attention of tourists to the city.
On the other hand, Rotterdam has more modern events. It has a jazz festival. It has the Rotterdam Marathon. It has an international film festival and a summer carnival parade as well.
Architecture
One of the things you should know is what happened during the war.
During World War II, Rotterdam was badly destroyed. This paved the way for newer buildings and architecture in the city.
Amsterdam is more traditional. You can see the glaring difference in architecture between the two cities, from buildings to canal houses and gabled facades in Amsterdam to modern and high-rise buildings in Rotterdam.
Football
Not only is there a rivalry between cities. But both support their football teams to the very core of their hearts.
What can you expect? Football is the national pastime in the country.
Amsterdam has the team Ajax. Rotterdam calls their team Feyenoord.
And when discussing the rivalry between two football teams, the talks can heat up. Make sure to have enough time and ears to listen. The discussions will be endless.
Is Rotterdam better than Amsterdam?
Both Amsterdam and Rotterdam are beautiful cities. But there is less chaos in Rotterdam. The city is also better organized compared to Amsterdam.
If you were able to visit The Netherlands, you would know that the cities of Rotterdam and Amsterdam have always rivaled each other.
It is, as I observed, just a friendly rivalry between cities. But rivalry, it is.
Which one of the two is better?
We'll find out here.
Amsterdam versus Rotterdam
The Dutch always call Rotterdam Roffa.
As you already know, Rotterdam was next to nothing during World War II. Because of its destruction, it paved the way for the city to rebuild itself.
The rebuilding resulted in a more modern, more organized set of structures that make living in Rotterdam easier.
I am not saying it is not easy in Amsterdam. In fact, it is easy just as well.
But Rotterdam has a more organized layout to it compared to Amsterdam. As such, life in Rotterdam is less chaotic compared to Amsterdam.
From traffic jams to bike lanes, it is easier in Rotterdam.
But I would have to be clear.
I am not complaining about Amsterdam. Living in Amsterdam is a blast, and so is living in Rotterdam.
Culture blends in both cities. But much of culture and diversity is in Rotterdam.
Aside from the more than 173 nationalities living in Rotterdam, the city is also full of students. This, in turn, makes Rotterdam a city with a much younger population. The population's influence on the city's lifestyle is starkly obvious.
The Cities and their English Proficiencies
As you already know, Amsterdam attracts more tourists every year. With this statement, you would expect the city to be more proficient in English than Amsterdam.
Surprisingly, Rotterdam is more proficient when it comes to the English language.
The reason is that the universities in Rotterdam are many compared to Amsterdam.
From masters to Ph.D., and everything else in between, Rotterdam has it. With most ex-pats and students who go to Rotterdam for their education, it is natural for the locals to catch up when speaking the language.
Most of the locals and the student population would usually use the English language in communicating. This results in their higher proficiency compared to Amsterdam.
Now, will you have a hard time when you only speak English in Amsterdam?
The answer is NO.
This is because Amsterdam's residents also speak a high level of English.
One reason for this is because it is the capital. Being the capital, you would expect international companies to put up businesses here. And put up, they did.
Because of the many businesses in Amsterdam, people are so used to speaking in English as well.
I should make this clear.
Both cities speak English. And both cities speak English well.
But when it comes to proficiency, Rotterdam is higher compared to Amsterdam.
Rotterdam and the Red-Light District
No, it doesn't exist in Rotterdam. There is no such thing as a red-light district here.
The red-light district is only in Amsterdam. And you should not ask for it when in Rotterdam.
Is Rotterdam safe?
Generally, Rotterdam is a safe city to visit. The crime rates here are low. Your biggest worry would be on pickpockets. But these worries should be out of the window if you play the usual precautions.
Rotterdam is one of the most popular cities in The Netherlands.
With a past that involved a bombing of almost everything, the city rebuilt itself from the ashes.
Currently, it has modern architecture and high-rise buildings. It also has a port that is the largest in the whole continent of Europe. Such a port is also the fourth largest in the world.
Rotterdam is also welcoming to tourists.
It is presently home to more than 170 nationalities from around the world. Aside from that, the city hosts world-class events like a marathon, a jazz fest, and a film festival.
But when it comes to safety, how safe is the city?
Generally, it is safe. It is also one of the safest places you can visit in The Netherlands.
As previously mentioned, most crimes in the city are petty crimes. These often happen in more touristy destinations where pickpocketing thrives.
For the rest of the city, see below:
Transportation
In Rotterdam, transportation is always reliable. It is also safe.
But when in public transportation, it is always essential to be on guard, especially with your valuables.
Make sure to keep your wallets and gadgets safe.
Public transportation in Rotterdam is another area where pickpocketing exists.
Pickpocketing
As I mentioned earlier, most of these pickpocketing incidents happen in more touristy areas.
When you are in popular tourist destinations, take the necessary precautions.
Keep your valuables safe, and do not carry all your money with you all the time.
Just take the amount that you would need, plus a few extras. Also, do not carry all your money in just one place. Make sure to put your valuables in parts of your outfit that is not easily accessible to probing hands.
Disasters
As you already know by now, the Netherlands is mostly built on water.
It is only on the Dutch ingenuity, especially in engineering, that they could create infrastructures that keep water out.
And they still do until now.
There may be reports of the country being susceptible to flooding. But this should not worry you.
The Dutch can drain them all.
This should not worry you one bit when it comes to earthquakes, tornadoes, and all other natural disasters.
Mugging
Mugging, kidnapping, and the likes are not common in Rotterdam.
But of course, you just need to be careful when you are in the city (or wherever you may be).
Make sure not to go out alone, especially at night. Avoid badly lit streets. Do not take drinks from strangers, although much of this is common in the country.
Just make sure that when you accept drinks, you trust the person. And if you decide to decline, do so politely.
Terrorism
There has never been any violent terrorist attack in Rotterdam. But just be careful.
Geographically, the Netherlands is near France and Belgium. And both these countries have always been targets of attacks.
You are safe in Rotterdam. But it also pays to be aware of your surroundings.
Scams
There are no major scams in Rotterdam.
Surely, there will always be scams. But these are minor.
Check your change all the time. Try to haggle on the price of services before paying. And make sure to research the costs of products and services before buying them.
Solo Women Travelers
As a woman traveling solo, you will be safe in Rotterdam.
Just like in the earlier discussions, avoid dark streets. Do not walk alone at night. Take the usual precautions.
The city is friendly. The city is safe.
But it won't hurt if you watch out for whatever is happening around you.
Rotterdam and Safety
Compared to rural areas, the latter is safer.
But for a big city, Rotterdam is super safe.
What more can you expect? The Netherlands ranks 16th when it comes to the safest countries in the world.
And just like everywhere else in the Netherlands, you will be in safe and friendly company.
Do they speak English in Rotterdam?
The English Proficiency Index of Rotterdam is the highest in the whole country. As such, it is safe to say that the locals of Rotterdam are the best non-native English speakers in the Netherlands.
Based on the latest numbers, it scored high when it comes to English proficiency. The Netherlands being one of the highest scorers out of more than 100 countries, it is natural to expect citizens to speak English well.
The same studies show that Rotterdam residents speak better English than those from any other Dutch city.
Amsterdam sits comfortably in second place, with The Hague in third place.
Other cities in the country also fared well with their rankings. Eindhoven is in fourth place. Fifth is Nijmegen, followed by Breda and Arnhem.
According to the same study, it is the women that speak better compared to men.
Overall, the country showed great statistics in the study. Sweden, Norway, and Denmark closely follow the Netherlands.
Rotterdam, The Netherlands, and English
Now, what do these numbers have to say about Rotterdam and the whole of the Netherlands?
It means that you will not have a hard time communicating when you visit Rotterdam or any part of the Netherlands.
Do you need directions? No problem.
Do you want to ask for some advice? Sure, you can always do.
Rotterdam and the rest of the Netherlands speak English well.
And so, if you speak nothing but English, communicating in this country will never be a worry.