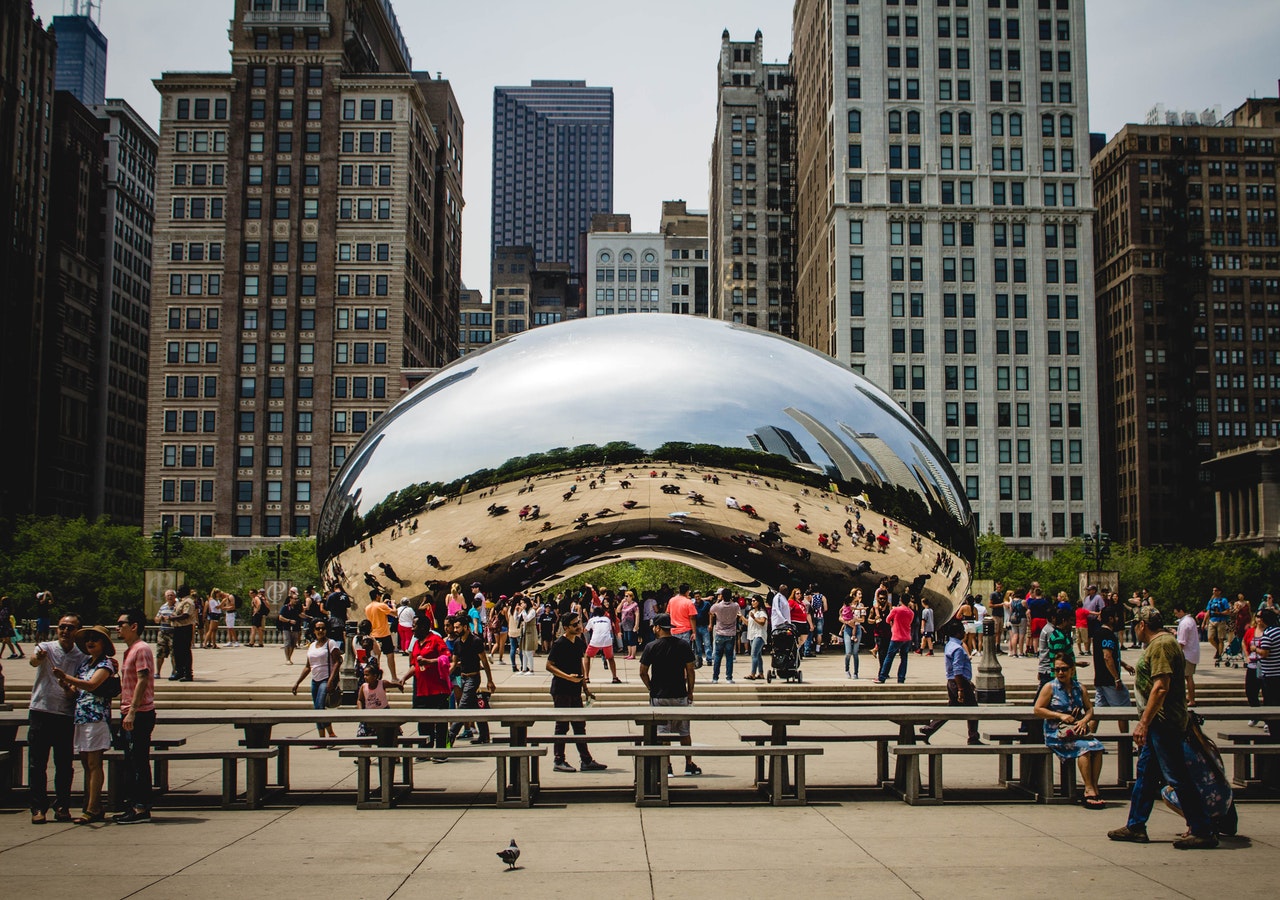 Chicago is better to live in compared to Austin. Chicago's housing and rent costs are 37.9% less expensive than Austin's. Also, health-related expenses are cheaper in Chicago, about 4% lower than in Austin.
Chicago has a lower real estate cost compared to Chicago. When it comes to job opportunities, Chicago also aces Austin as it has a 3.9% unemployment rate, and over the years, they have an increasing and positive job growth in the percentage of 3.1%.
Chicago is known for its big city vibes with high skyscraper buildings, financial hub area, good public transit. At the same time, Austin is an ideal city for its good education quality, low gas price, and better job growth.
What Are the Pros and Cons of Chicago Versus Austin?
Chicago offers better deals in its transportation and economy yet got difficulties with its contrasting weather and crime rate. Austin's strong points are its quality education and better job opportunities, but the weather and real estate are not promising.
Here are the advantages and drawbacks of living in Chicago and Austin.
Living in Chicago
Pros:
Good Public Transportation

Chicago ranks second next to New York City to have the best public transportation system. The city also has almost 129 bus routes and approximately 145 train stations.
Another perk of living in Chicago is that almost every neighborhood has everything they need within their boundaries. If they opt to run some errands, they can go to their nearest convenience stores on foot or bike.
Having a car is somewhat optional to the people living in Chicago. Thus, it is easy to move around the place.

Strong Economy

Chicago has a robust economy resulting in job opportunities here and there. The city ranks third next to LA and NYC in the national economic ranking in the United States, garnering about $770 million in the gross metropolitan product.

The city has almost 400 major corporations, including about 36 fortune 500 companies in the metro. Even stores are operational 24/7 to cater to the needs of the people living around the area.
This increase shows that the economy in Chicago is non-stop because it operates continuously.

Decent Real Estate Prices

Chicago might be one of the top cities next to LA and NYC, but it has a reasonable real estate price, including housing and rental in the metro. The place is only a tiny percentage of the national average to date.

The average monthly rent in Chicago costs $1,708, and the median selling price of a residence costs around $289, 000 with an average home costing around $222,000. The place is cheaper compared to purchasing houses in Austin, Texas.

International Sports and Entertainment Scene

If you are an entertainment and sports enthusiast, Chicago is the place to be. It earned its position as the Best Sports City in the United States.

There are two Major league baseball teams to see: the famous Cubs and White Sox. Their NBA representative is the Chicago Bulls, and the hockey team's name is the Chicago Blackhawks. The Chicago Bears are the NFL team, and you can still hear about their 1985 Super Bowl victory in the city's bars.

World Class Libraries

The Chicago libraries ranked first in the National Selection and third worldwide. The library system is vast and encompasses all Chicago's communities, with over 80 community branches.
These structures provide a safe environment and activities, particularly important in Chicago's poorer neighborhoods.
Cons
Weather is Rough

Winter in Chicago is rough and quite frustrating. There are snow, gale-force winds, and long periods of dark gray sky in Chicago. The city of Chicago experiences below-freezing temperatures for the majority of the winter. The town was even given the moniker "Windy City."

Summer weather is warm and humid, while winter weather is bitterly cold and snowy. When summer arrives, temperatures that exceed 100 degrees Fahrenheit are not uncommon. It is not unusual for temperatures to fall below zero during December and January, with wind chill factor ratings in -the 30s.

Taxes Are High

The metropolis belongs to the highest taxes in the whole of America. They have a 0.25% tax on restaurants and even got 2.25% tax on groceries. This tax hurts people as it has a combined sales tax of 10.25% in the city alone.

High taxes in the city affect the people's cost of living in the area. The town even got 25 special taxes and fees that are not evident to some states and cities in the United States. These unusual taxes include parking, beverages, and even on your beloved streaming videos like Netflix.

Crime Rate is High

As seen on national television, Chicago has many gangs and gun violence, where 60 are gang teams with over 100,000 members. The murder rate is 18% out of 100,000. It also graded 28th in the national ranking.
Much of the city's violence happens in specific places, such as Englewood.

Traffic

Traffic in Chicago is considered one of the most flawed globally as it ranks 7th. You need to allot almost two hours extra if you want to go to a specific location because it will always take a lot of time to navigate the side street when many cars clog on the highway.
Congestion costs drivers in the metropolitan area 138 hours of productive hours, which is the third-worst rate in the nation.
Living in Austin
Pros
No Income Tax

One of the good reasons Austin is also an excellent place to live is that it does not have any income tax for working individuals. Not just Austin, but Texas does not charge any taxes on every income. Thus, you can fully enjoy your hard-earned money every year without thinking that the State wants any portion from it.

Gas Prices Are Cheap

One of the cheapest finds in Austin is their gas costs. The average gas price in the place costs only $1.50 to $2.85 per gallon. You can save up many bucks living in Austin regarding dirt-cheap gas costs.

The highest gas price per gallon in Austin costs around $3.33. The national average cost of gas is around $3.27, and Austin can still keep up with its pricing.

Education is Premium

Forbes designated Austin as one of the "brain-magnet" cities. This recognition results from a metropolitan-wide survey in terms of quality education. The University of Texas in Austin also got recognition as one of the "best values in public education."

The city gained famous recognition which they belong to the top five cities with a highly educated workforce. Austin is also ranked first in higher education, and local schools are just one of the main reasons people stay long after graduating.

Better Job Opportunities

Austin City is one of the top places to have better job opportunities. The technology sector is booming in the metro, and many of the top tech companies include Oracle, Apple, Google, Dell, Amazon, and the world's number one social media platform, Facebook.

Graduating students, especially those with technology-related courses, opt to stay and jumpstart their careers in Austin. The better things included in these job opportunities are that the salary is favorable that can live within the cost of living in the place, and the State does not charge any income taxes.
Cons:
Weather Is Scorching

If you are not a massive fan of humid and hot weather, Austin is not an ideal place for you. Most people opt to splurge themselves in AC or go to lakes to beat the heat. During summer days, the expected temperature falls over 100 degrees Fahrenheit.

If you want to enjoy a good amount of now during this cold season, Austin is not ideal for now boarding. The place has a humid climate, while winter is relatively mild. The snowfalls are vividly occasional as well.

Traffic Is Quite Not Good

Traffic in Austin is also not that good. With the number of infrastructures in the central metro area, congestion on the road is a headache. The increasing population in the city also contributes to why you need to allow extra time to go to a distinct location in order not to be late.

Rush hours are the worst, and Austin keeps up with the top cities having heavy traffic.

Real Estate Cost Much

In comparison to Chicago, the Austin housing industry is pretty complicated. The average property in Austin costs $347,000, which is significantly higher than the moderate residence around the State, $185,000.
Austin or Chicago – Which is Cheaper?
Austin house prices surge to 61.0 % more than Chicago's housing costs. Chicago is 11.6% cheaper than Austin. Chicago also has an overall index more minor than the national average in its overall cost of living.
Comparison Table of Living in Chicago, Illinois and Austin, Texas
| | | |
| --- | --- | --- |
| Living Expenses        | Chicago, Illinois | Austin, Texas |
| Housing and Rent | 99.1% | 159.6% |
| Utilities | 92.8% | 99.1% |
|  Food And Groceries | 97.2% | 96.7% |
| Transportation | 138% | 109.9% |
| Health | 90.6% | 94.4% |
| Miscellaneous | 107.3% | 100.4% |
Based on the Data of which 100 = US National Average
>100 means more expensive
<100 means cheaper than the US average
Housing and Rent Costs
Chicago only has a median housing average cost of $229,100, while Austin has $369,000 with a significant difference of $231,200. Austin has a booming 159.6% compared to Chicago's 99% housing cost. It exceeds the national average and can go as much as double in the coming years.
It is one of the strict reasons moving into Austin because of the prices of their homes.
Utility Costs
Chicago has an average of 92.8% in the utilities included in its cost of living. These essential utilities include rental expenses, electricity, water, and even internet connection. Austin also has a score of 99.1%, which is greater than Chicago.
Even if the gas price in Austin is low, it does not eliminate that most of its utility fees are high.
Food And Groceries Costs
There is a slight difference between the percentage of Austin and Chicago in terms of its food and groceries. Chicago puts taxes on major groceries and nutrition, even to their restaurants.
Chicago puts several taxes on their necessities, even including water. There is still a slight difference of 0.5% between the two cities.
Transportation Costs
Both cities exceed the national average, but Chicago is relatively more expensive than Austin. Chicago's single-pass cost for its public transportation has a fee ranging from $1.75 to $2.75, averaging approximately $105 per month.
On the other hand, Austin costs about $1.75 to $2.50, given that they have a restricted mode of public transportation.
Chicago has a varying price because of the numerous public transits, thus making it more expensive to use public utility than Austin.
Health Care Costs
Austin edges Chicago in terms of health care cost by only 4.4%. In Austin, there are 229 physicians, while Chicago has 261 physicians for every 100,000 people. The average number of doctors per 100,000 people in the United States is 210.
Taxes
Texas levies high sales and use taxes but does not levy income taxes. Austin has a combined tax rate of 8.25 percent, while state taxes are 6.25 percent.
While Chicago receives a generous combined tax rate of 10.25 percent, the sales tax rate in Illinois falls to 6.25%. Its county's sales tax is 1.75%.
Is Austin, Texas Safer Than Chicago?
Austin is safer than Chicago. Austin City acquires only a 24.9% violent crime rate compared to Chicago's 49.9%. Chicago also has the most shooting incident compared to any other city in the United States.
Chicago is significantly higher than the national average regarding forceful and property crime rates. Its violent crime rate is marginally greater than Austin's.
Comparison of Crime Table
Crime
Chicago, Illinois
Austin, Texas
Violent Crime
49.9%
24.9%
Property Crime
46.3%
55%
Note: Crime ranks from 1 being the lowest to 100 being the highest
Gang members are prevalent, particularly in some areas, such as Austin's southside. There are a bunch of gangs in Chicago, and there is a lot of gun violence. Even if the city has a gun law, shootings continue to rise over time.
Is Austin Bigger than Chicago?
Austin is more significant in terms of its landmass compared to Chicago. The city has 305.1 square miles compared to Chicago, which only acquires 234 square miles.
Austin has 7.2 square miles of water out of a total area of 305.1 square miles. The population density in Austin is 12% higher than in Chicago, and the median age in Austin is 8% higher. Chicago has a population of about 2,677,643, while Austin only has 995,484.
Austin has a 12% higher population density than Chicago. Austin's population density per square mile is 13,355 compared to Chicago's 11,938. Austin's population density is also bigger than Chicago's, even if it has a doubled population.
Is Austin Better than Chicago?
Chicago is better than Austin. In the overall cost of living index and better quality of life, Chicago edges Austin. The city has a strong economy that benefits everyone looking for an excellent place to live.
Chicago is an ideal place to settle in. It has a strong economy and excellent public transportation, and the cost of living is reasonably favorable. People looking for a fantastic place to have better job opportunities will list this place as one of their best options.
Living in Chicago will be of worth because it has an excellent real estate deal and because it has one of the best sports and entertainment scenes to seal the bargain of a great community.
Are you considering moving to Austin, Texas, or Chicago, Illinois? Let me know your thoughts and concerns below.