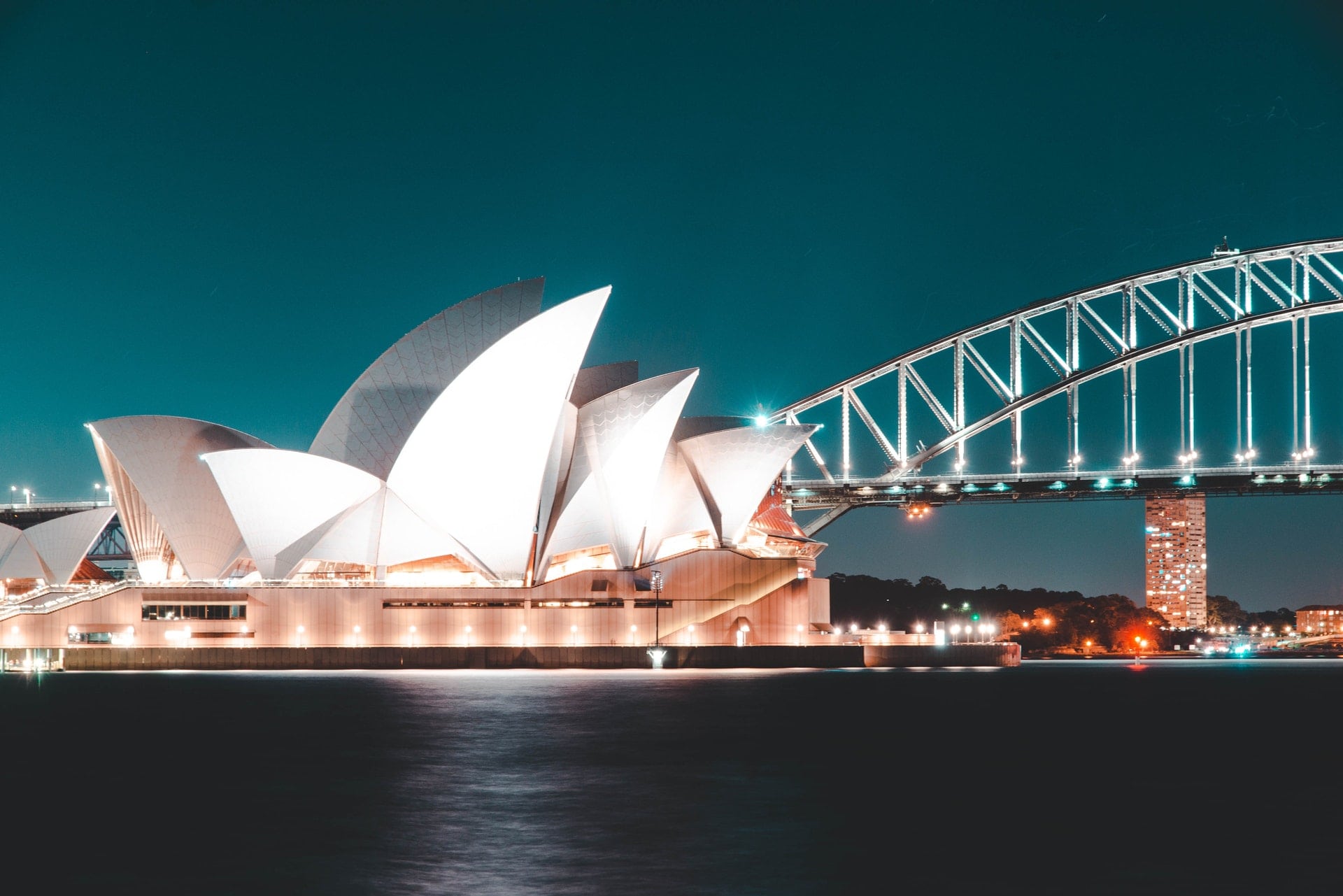 Sydney, Australia does not receive snow. Sydney has a temperate climate with warm summers and mild winters. Though, people living in Sydney experience four seasons. They have winter, spring, summer and fall. Snow in Sydney does not occur. The coldest Sydney can get is as low as 7.0 °C or 45.9 °F not low enough to produce snow.
The closest thing to snow in Sydney is hail. Yet, hail storms rarely happen in the city as well. Winter in Sydney is quite different from other countries with winter. In winter, the temperature can drop around 7.0°C. It never goes down to negative zero temperature.
But there was a record that snow did happen in Sydney. Almost 180 years ago, Sydney and the sands of Bondi Beach had been covered in snow. During the winter of 1836, The Sydney Herald reported on the morning of June 28, 1836, and people woke up to snow an inch deep. The temperature dropped to 3 degrees Celsius or 38 degrees Fahrenheit that time. The Sydney Monitor reported that it was a once-in-a-lifetime event that year. It never happened again in present times.
Is Sydney cold in winter?
So, now that we know that snow rarely happens in Sydney, how's winter in the capital of New South Wales? Is Sydney cold in the winter? How cold can Sydney get?
We all know that Sydney is one of the top destinations for tourists because of the weather. The weather here is pleasant almost throughout the year. There is plenty of sunshine. Some people would even call it Sunny Sydney. So, let's see how Sydney during the winters.
Sydney can be as cold as 7.7 °C or 45.9 °F, while the lowest recorded minimum is 2.1 °C (35.8 °F). Even though it is not as cold as in London, winter in Sydney is extremely tolerable. People can still go outside, and experience a lot of winter activities. Some even swim in the beaches during winter.
By London standards, winter here that runs from June to August is not too cold. Unlike in the United Kingdom, the weather can be freezing. Winter in Sydney is a great time to visit Australia. If you prefer milder temperatures and less intense sun, it is the most preferred time to see Sydney. The weather can drop as low as 55°F during the day and 45°F at night.
Different parts of Sydney experience varying winters as well. In the Sydney Harbor, it is a foggy winter most of the time, while Liverpool and Richmond have temp below two °C (36 °F).
On the other parts of the city, the inland suburbs generally receive radiation fog. Coastal areas have advective moisture. You can also expect rain and cloudiness in Sydney during the winter season.
Where can I see snow in Sydney?
Snow in Sydney is not present. It never snowed in Sydney since 1836. You cannot expect actual ski resorts or other winter cottages in Sydney because the city does not receive snow. It has less precipitation. In order to see snow, there are a lot of ski resorts near Sydney where you can see actual snow.
Ski resorts in New South Wales are considered one of the best places to ski in Australia. It is just a few hours away from Sydney, and you can experience a fun way to ski in the country. These ski resorts are perfect for everyone – family, friends and loved ones. You can build a snowman or even go snowboarding, depending on how you experience winter in NWS.
Mount Selwyn

It is sitauted in the northern part of the Snowy Mountains of New South Wales. The Selwyn Snowfields is near the town of Adaminaby, the highest village in Australia.

Mount Selwyn near Sydney is ideal for beginners and intermediate skiers. It is the best place to learn ski and snowboarding as well. It is perfect for a family holiday getaway where there are lots of activities for all ages.

Blue Mountains

Another excellent place to celebrate holidays is in the Blue Mt. Family, especially kids, will enjoy the Blue Mountains. The weather here can be cold, perfect for the holidays. Yet, there is no guarantee that snow will occur when you visit. Cold winds and occasional snowfall can be present, though. Aside from being an ideal spot for the family, friends and large groups can enjoy it. Friday and Saturday night are made for festive dinners in the Blue Mountains.

Thredbo

It is one of the most sought-after ski destinations near Sydney, Australia. Thredbo is the highest peak in the area and has the largest vertical downhill drop for about 672m. When you passed the beginner phase in skiing, Thredbo will now be perfect for you. Intermediate ski learners will enjoy the slope of the place. During the night, there are plenty of activities you can choose from, like music.

Perisher Resort

Another place where you can see snow near Sydney, Australia. Many travellers who want to visit Sydney and take some time off visit the Perisher Resort. The location is perfect for snowboarding and other winter activities like a ski. Besides being an ideal place to play around with the snow, you can enjoy restaurants serving food. The food in the resort will add to your perfect winter experience.

Charlotte Pass

It is an excellent winter getaway in New South Wales. The place is quiet and less crowded. It even has a reputation of giving an authentic alpine experience' because of its above sea-level location of 1 760m. When you reach this part of Australia during the month, you will be greeted by fields covered by snow. It is indeed a great place to travel to Australia during the winter.
Sydney has no actual snow resorts to experience the best of winters. Yet, it provided tourists access to the ski mentioned above alternatives through transportation. You can easily access the said resorts by car or boarding a bus.
What is the coldest city in Australia?
Miena, Tasmania, is considered the coldest city in Australia. It has a year-round average of 6°C. It is colder than Oslo, Norway or even Ottowa, Canada. Tasmania is home to plenty of lakes. Winter brings snow to Tasmania, including Miena, Liawenee, Derwent Bridge and Bronte Park. On average, Miena's temperature runs from a maximum of 6°C and a minimum of -2°C.
Other parts of Tasmania, like Mount Wellington, exhibits sporadic snow in the winter. Ben Lomond and Mount Mawson are also great places with snow and ideal for occasional skiing.
Yet, Miena, Tasmania, is not as populated as the big cities of Australia. Few people chose to live in the area due to weather and temperature. If you are looking for big cities with cold climates, Melbourne has a year-round of 16.2°C. Adelaide has 17.4°C.
These cities, however, are prone to heatwaves and experience severe hot weather. Melbourne experiences extreme heatwaves every January and February are averaging to 46°C, too. Sydney and Perth, even Adelaide, have heatwaves around 45°C at the average. Brisbane can feel heatwaves as well and hotter than other big cities of Australia. It has an average temperature of 21.5°C. In terms of heatwaves, there are no large scale fluctuations in Brisbane.
What months does it snow in Australia?
Some of us might not think that there is snow in Australia. We are used to headlines about heatwaves and forest fires, concluding that the county tends to be very hot.
It is a little known fact, especially among other nationals, that it can snow in Australia. But, yes, it does snow in Australia.
Winter in Australia usually begins in June until August. The season lasts for almost three months every year. Snowy regions like the Victorian Alps and the Snowy Mountains of New South Wales snow. It can get icy in these regions. Mountainous areas in Australia can go down to 5°C. It can go lower, too.
The weather in Australia does not go below 6°C. Yet, the Australian Alps and those that I mentioned can get very cold. The alps regions have a mid-latitude mountain climate. It means that the alps have no dry season or even balmy summer.
If you travel higher, the temperature can get colder as well. Comparatively, for every rise in the altitude, there is a drop in temperature as well. One of the highest points in the country, Mount Kosciuszko, can be very cold like Mt. Everest.
Does Australia get more snow than Switzerland?
Now, we know that it does snow in Australia, how does it compare to other countries?
Well, it is also a known fact that Australia has delightful weather. Most of the tourists would choose the country because of the weather. The beaches and parks in Australia are superb, and it is popular among tourists.
Even during the winters, the temperature in Australia does not drop to the negative. Unlike other countries, it does not experience a negative zero degree when winter. If that is the case, does Australia get more snow than any part of the globe? Or is snowless in Australia than in any other country?
So, does the country get more snow than Switzerland?
Switzerland, for a fact, is very stunning when it is covered with snow. When Zurich is dusted with snow, tourists come over. From December to February, people flock to Switzerland. Tourism is at its peak, where prices in the mountains tend to go higher. Most cottages and lodges in the alps are filled with tourists who want to experience winter.
Switzerland winter is more popular than in Australia. But Australia gets more snow than Switzerland. Not only that it does snow in Australia, but it gets more snow than Switzerland every year. Of course, this is a fact about Australia that few people know about.
So, how does it happen? Australia, not every part of the country receive snow, but there are regions in the country that snow.
The mountains in Australia receive more snow than the alps of Switzerland. They are near coastal regions receiving more precipitation than inland mountains in Switzerland. In this part of Australia, it is cold enough to get more snow than in Switzerland. At an average snowfall every year, Australia receives more snow than Switzerland.
The highest point of a mountain in the country is around six thousand feet. Thus, it is high enough to get snow, especially during the winters. There are more mountains in Switzerland. Yet, the location of peaks in Australia is more strategic.
There are a lot of things we do not know about the 'land down under.' It may be a country that most people find a little bit odd, yet it has interesting facts about its geography. Even though it is famously known for beaches and picnics, snow does happen in Australia. There are mountains and mountainsides in the country that produce snow in winter. It is a fact that surprises a lot of people, making the country more enjoyable.