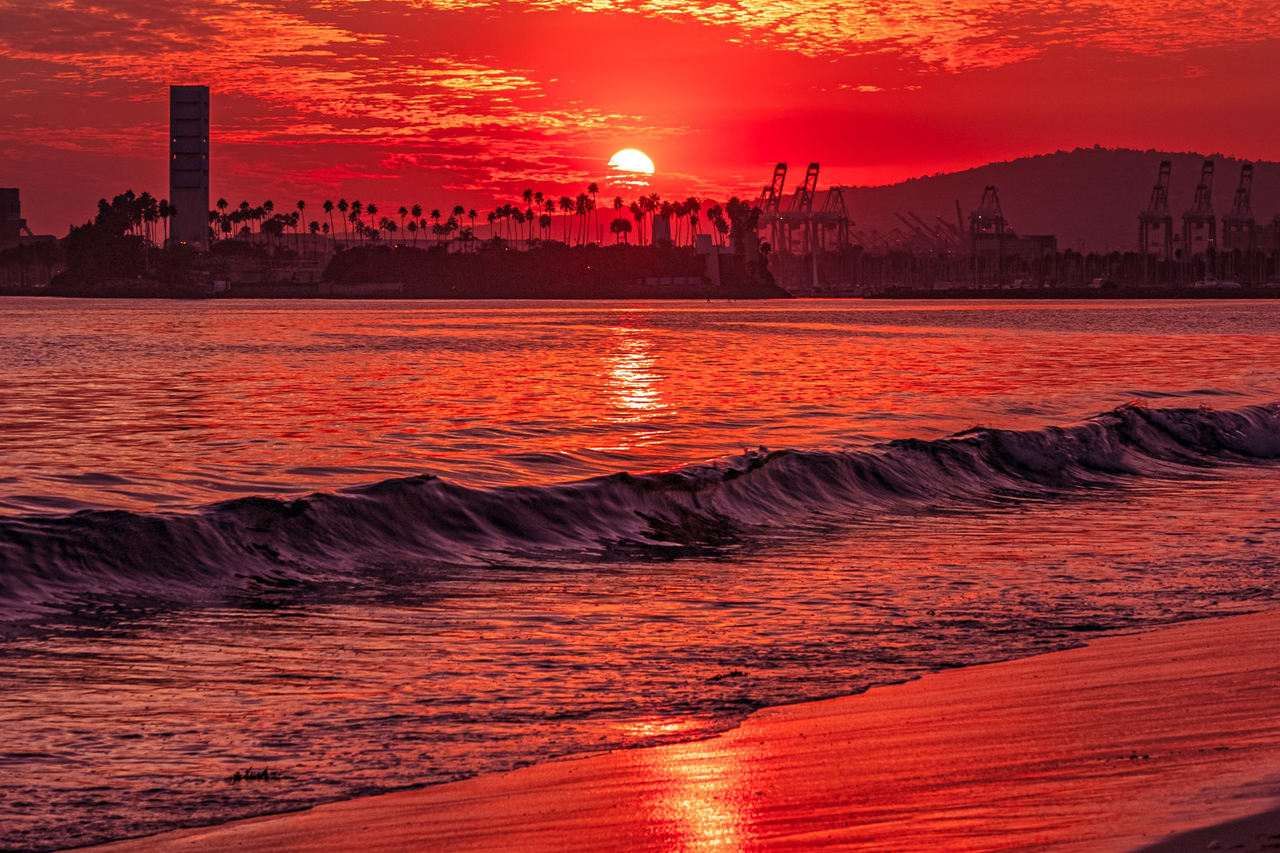 You're probably considering residing in Long Beach, California, or you are simply curious about the city's lifestyle. To assist you, we have compiled a summary of the pros and cons of living in Long Beach.
Long Beach, the sixth-largest city in California, has a population of about half a million. The city provides its citizens with an urban yet small-town atmosphere, friendly neighbors, and a rich culture.
It is also a major port city with a bustling shoreline of engaging activities located about 30 minutes from downtown Los Angeles. The town is a haven for swimmers, cyclists, and runners due to its beautiful weather nearly 365 days a year.
Of course, all of that sounds wonderful, but what is life like in Long Beach, California? Here, we'll discuss the major pros and cons of living in Long Beach so that you can determine whether it is a great place to live.
Is Long Beach A Good Place to Live In? – The Coastal Gem of California
The Good Side
Home To Finest Beaches
This location is not named Long Beach for no reason. The city was formerly known as Wilmore City, but due to the city's proximity to numerous beaches, it's now called Long Beach.
Long Beach, California, is home to some of Southern California's finest beaches! Its 80 miles of shoreline give ample room for picnics, sunbathing, swimming, and gatherings with friends and family.
What's better?
There are even designated dog beaches for your pet companions to run free!
Not only does Long Beach have its sandy beaches, but it is also close to other renowned Southern California beaches. Malibu and Huntington Beach, for example, are only minutes apart by vehicle.
The city of Long Beach does an excellent job of maintaining its beaches and making them fun, safe places to visit.
Living here, you can enjoy neighboring basketball courts, playgrounds, and piers at several more popular beaches. Also, there are walking and bike paths along the shore.
You can also quickly discover a beach regardless of which region of the city you choose to reside.
So, you will find this place ideal if you prefer spending time on beaches.
Long Beach Is a Recreational Paradise
One of the best aspects of living in Long Beach is the abundance of excellent outdoor activities you can enjoy, thanks to the city's beautiful weather and surrounding landscape.
It is home to numerous city and regional parks, including Rainbow Lagoon Park, which offers paddle boat rentals, strolling routes, and lush, gorgeous landscaping.
The city is also an excellent area for an evening stroll with the family. Explore the 105-acre nature center El Dorado Park, a fantastic spot to go fishing, and receive a free archery lesson.
You can also take a stroll around Bluff Park, a 13-acre park with spectacular views of the Pacific Ocean, or bring the family to Marina Vista Park to play sports such as soccer and softball.
Consider visiting the 7.3-mile Long Beach Shoreline Bike Trail or the 13.5-mile Los Angeles Bikeway if you're looking for something a little more challenging. Bicycling and jogging are both popular pastimes.
You will find more options for hiking and exploring nature reserves and other scenery as you head northward along the coast.
For those seeking excitement, the beach is the ideal location. Numerous firms offer cruises, harbor sailing, scuba diving, jet-skiing, and surfing instruction.
Living here, you can go kayaking, boating, and do every other type of aquatic activity you want.
It Is a Hot Spot for Amazing Food
Long Beach's assortment of eateries and food establishments reflects the diversity of its population.
Its seaside position ensures an abundance of fresh seafood, and the frequent shipping into and out of this port city makes it possible to obtain practically any ingredient or cuisine from across the globe.
The city boasts some of the finest Pacific Coast lobster, crab, and oysters.
Try the Lobster Clams Pasta, Crawfish, or Salmon Sandwich if you live in the city and order a wonderful seafood dinner at Big Catch Seafood House.
Another advantage?
Long Beach, California, is famous for its world-class Cambodian cuisine and abundance of Asian-influenced restaurants, but the city represents every country's cuisine.
Those following specific diets can also find an abundance of vegan, raw, and health food eateries across the city.
So, if you are seeking pure indulgence, this city has numerous possibilities that will satisfy you.
The City Is Close to Los Angeles
Long Beach is the seventh most populous city in the state of California. However, its large size is incredibly close to Los Angeles. The drive time between the city and downtown Los Angeles is only 25 minutes.
Due to their close vicinity, you will be able to reap the benefits of both cities. Long Beach has easy access to Los Angeles' unequaled entertainment scene and opportunities to work and dine in the city's finest restaurants.
Undoubtedly, Long Beach has a selection of eateries and stores. However, Los Angeles is relatively close if you become bored with the city.
The Bad Side
The City Is in the Disaster Zone
As a part of the disaster zone, California experiences an average amount of natural catastrophes.
In South California, however, wildfires have been prevalent in recent years. Long Beach is in this section; thus, you should know that this directly affects you if you intend to live here.
However, the risk is low because of Long Beach's proximity to the coast. Probably the worst you'll have to deal with is smoke which can become quite serious.
However, the state has additional hazards, like earthquakes and drought. The environmental repercussions of these disasters could, among other things, impact air quality.
405 Highway Is Congested
The 405, a major city-serving freeway, is infamous for its daily traffic congestion. The traffic is typically terrible because surface roadways are the only other choice for everyday commuters, and these streets also become congested.
This problem implies that if you don't work in town and commute to locations like Los Angeles, you will spend a significant amount of time sitting in traffic.
If you want to visit Los Angeles, you can reach it through public transportation, but it will typically take longer than driving. Ride to Greater Los Angeles is available through bus and Metro light rail.
You can also use The Blue Lines to travel from Downtown Long Beach to Downtown Los Angeles.
However, there has been a significant decrease in traffic within the city proper. It has a Walkscore of 72, making it the 10th most walkable city in the United States. It also has a BikeScore of 69 and a TransitScore of 52.
It Has a High Rate of Crime
Even though Long Beach is not the most hazardous city compared to other comparable places, the crime rate has grown over the past few years.
While California has a lower crime rate than the national average, Long Beach has a higher violent and property crime rate.
The city's crime rate is 17% higher than the national average, while property crime is 14% higher. Similarly, violent crimes are 33% more prevalent here than the national average.
If you reside in Long Beach, you have a 1 in 35 chance of becoming a victim of a crime. That is why you must be constantly vigilant of your surroundings.
Always remember that there are many safe places and communities, but it is also essential to know the city's danger zones.
Recent months have seen a rise in the number of thefts, stolen vehicles, and muggings in the downtown area. If you park your automobile in a place for an extended time, you should not leave any valuables inside.
Despite this, there is no reason for you to be afraid because the city is safer than 18% of American cities, and the crime rate has been falling in recent years.
.
What Is the Cost of Living in Long Beach? – Affordable Living in the Golden State Area
The Good Side
Low Cost of Living
What makes Long Beach a desirable place to live? As a Los Angeles suburb, living in the Los Angeles metropolitan area is convenient and economical!
Long Beach's typical home price of $448,800 is cheaper than Los Angeles' median home price of $496,300. Also, finding significant localities to live in this city is not difficult at all.
Popular Belmont Shore is situated directly on the Pacific Ocean and is ideal for beachfront living and watersports. Park Estates, one of the most incredible places to raise a family in Long Beach, is a vibrant, walkable neighborhood with an abundance of parks and lovely homes.
East Village, located on the eastern outskirts of Downtown Long Beach, is popular with singles and young professionals due to its abundance of restaurants, clubs, and nightlife.
If you choose to make this your home, you will be able to enjoy the perks of a California lifestyle without the hefty price tag.
The Bad Side
It Has the Highest Property Tax
Long Beach has one of California's highest property tax rates, weighing in at 1.175 %.
When moving to a state with higher property taxes from a state with lower property taxes or when buying a home for the first time, you will need to consider this factor.
If you own a home in Long Beach, you should prepare yourself to pay an annual property tax bill of approximately $3,938 on average.
Given that the amount of property taxes you owe is determined by your home's "fair market value," it stands to reason that the price of your house will influence the precise amount.
In addition to property tax, the city also has a sales tax rate of 10.3 %, higher than the national average of 7.3%. It also has an income tax rate of 9.3%, higher than the median of 4.6%.
Before choosing to live in the city, you must consider this.
Why Work in Long Beach? – A City Full of Opportunities
The Good Side
There Is a Growing Job Market
The city's robust economy provides numerous employment options for its residents. Regardless of your qualifications, you will likely be able to find suitable employment in the town. Multiple significant industries exist in the city, and employment estimates are optimistic.
Due to Long Beach's expanding job market, living here, you will have access to various career options in the education, aerospace, technology, healthcare, and business sectors.
Boeing and Frontier Communications, California State University-Long Beach, Long Beach Transit, and Long Beach Medical Center are significant employers in Long Beach.
Also, the Port of Long Beach is a significant center for employment in the public sector, environmental protection, and homeland security.
And if you're interested in entering the tech industry, Long Beach is home to Zwift and Laserfiche.
Living here, you need not worry about finding suitable employment because several opportunities are available.
The Bad Side
High Rates of Unemployment
Long Beach still has issues to solve, even though the number of available jobs has grown by 0.7% over the past year. One of these problems is the unemployment rate.
The unemployment rate in Long Beach is 11.5 % higher than the national average of 6%, making the current labor market may not appear all that impressive. This unemployment rate results in a greater poverty rate than the national average of 12.3%, with 16.8% living below the poverty line.
Even though this may not be what you anticipated, there are more opportunities than they appear. Being home to such a diverse economic base, it is likely that the local job market will soon experience expansion, consolidation, and improvement. The city is expecting an increase of 32.5% in future employment.
Long Beach can be a wonderful place to live. The climate is perfect, and there are many opportunities. However, it would be best if you considered the drawbacks as well.
Now that you are aware of the good and bad sides of living in Long Beach, it is up to you to decide whether or not the city is an excellent location to live in and whether or not it is right for you.