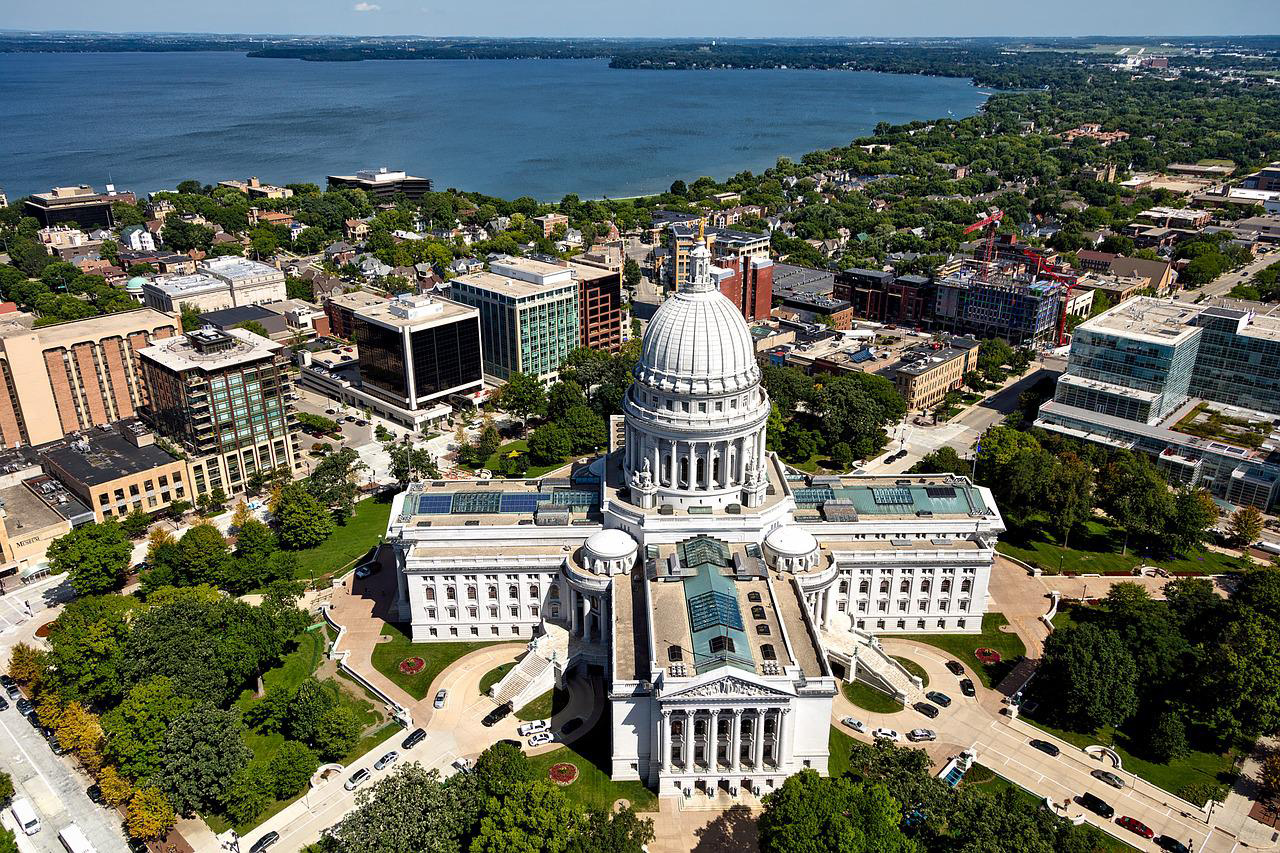 What would you think if you lived in the state capital of Wisconsin? I am sure you are wondering why Madison is another city that has gotten a lot of attention.
This metropolis of 270,000 people spread across 101.53 square miles is more than just a college town that houses the famous University of Wisconsin.
It has fantastic cultural events, a thriving entertainment scene, and a thriving economy. As a result, it is, therefore, no surprise that individuals and families choose to relocate to the Midwest.
But, before you pack your bags and head out, consider the city's advantages and disadvantages. You need to know these facts to determine whether living in Madison is worthwhile and compatible with your lifestyle.
Is Madison, Wisconsin, A Good Place to Live In? The Upbeat College Town Vibes
The Good Side
Madison's Excellent Schools
One of the most reasonable components of living in Madison is that schools are always available for you and your school-aged children. There are options available here, ranging from primary to tertiary education.
Shorewood Hills Elementary is the first in the city and the 12th in the Madison Metropolitan School District state. Van Hise Elementary is 13th in the state as well.
Also, secondary schools in the area perform well, with West High School ranking 944th nationally.
Meanwhile, Madison's reputation for having excellent colleges and universities gives it an advantage. You can enroll at the University of Wisconsin—Madison, ranked 42nd in the nation.
Edgewood College is ranked 239th in the national league, while Herzing University is ranked 119th in the Midwest Regional rankings.
As a result, no matter where you live in the city, you can get a quality education here.
The City Is Part Of "America's Dairyland"
Wisconsin earned the nickname "DairyLand" due to its abundant cheese, milk, and butter production. So cheese lovers who choose to live in one of its cities, particularly Madison, get a good supply of these delicacies.
With the city's excellent production, you can undeniably savor memorable and delicious meals topped with cheese or even dairy products you would not expect. Fortunately, the city has 946 restaurants, each with its version of a menu with a lot of cheese.
Fromagination in Madison sells chocolate cheese, also known as "Cocoa Cardona." Get the delicious mac n' cheese pizza at Ian's Pizza on State. You can try the local favorite cheese fondue at the Melting Pot, or at Lombardino's, you can order the famous Spaghetti Bolognese.
Greater Access to Nature
Living in Madison allows you to explore its beautiful woodland areas. The city has a significant portion of greenery, which will keep you busy during your free time.
The Olbrich Botanical Gardens, located at 3330 Atwood Avenue, and the Allen Centennial Gardens are both worth a visit.
If you head to Blue Mounds State Park, you will also find excellent trails and beautiful scenery. Following the park, you can continue your exploration of nature by visiting the Pendarvis State Historic Site.
Moreover, if you want to appreciate the wildlife in the city, the Henry Vilas Zoo in Madison will show you why this community-supported zoo is so famous.
You can enjoy great nature tripping here whenever you want to spend your weekends outside.
Madison's Lovely Cultural Landscape
Madison enhances its cultural heritage by preserving historical sites and maintaining its museums and galleries.
Seeing the Wisconsin State Capitol is one of the best things to do here. What is great about this location is that the architect did not align it with giant skyscrapers, allowing people to appreciate the office's space.
Another great find in Madison is the Madison Museum of Contemporary Art, which has an exhibition space and a beautiful rooftop sculpture garden. Meanwhile, the Chazen Museum of Art houses approximately 20,000 works and is another place to enjoy.
Furthermore, the Overture Center for the Arts in the heart of State Street is the place to be if you want to see live acts, programs, and other musical events.
There Are Beaches Around the Area
You will find beachfront fun with inviting waters all over Madison. It is known as "The Four Lake City" because it is close to Lakes Mendota, Monona, Waubesa, and Kegonsa.
The city has about twelve beaches, and you can enjoy more water activities here, especially during the summer.
Brittingham Beach, which offers canoe and kayak rentals, concessions, picnic tables, and a playground, is one of the best places to visit. Another favorite local hangout is Olbrich Beach, which has a boat ramp, kayak, and canoe rentals.
Tenney Beach can provide you with everything you need to enjoy the sun while playing beach volleyball. With its proximity, "boring" is not a word to describe the variety of activities available, rain or shine.
The Bad Side
Freezing Cold During Wintertime
The brutal winter is one of the things you will dislike about living in Madison. On rare occasions, the temperature in this area falls below freezing. The temperature here can reach -30 degrees Celsius at most.
This dwindling number makes it difficult to enjoy the great outdoors at this time of year. It has a five-month annual snowfall of fifty-three inches or about four feet.
According to the Current Results website, the area experiences occasional snowstorms and blizzards that can dump nearly ten inches of snow in a single day. These may be rare occurrences, but at least you need to prepare for this unfortunate thing.
Therefore, living in Madison is not a clever idea if you despise the long cold season and plowing a pile of snow on your front porch.
Lack Of Diversity
Madison's demographic is not remarkably diverse, which is a disadvantage, especially if you came from another country and are looking for a new home here.
Most of its population is white, around 86%, with the remainder being Black and Asian. A handful of people would not consider Wisconsin an ethnically diverse state unless they see evidence of European ancestry.
This situation technically means that if you are Asian or Black, you may feel intimidated living here because you expect white people to discriminate against you. However, that might not be a crucial situation here because most residents are friendly.
What Is the Cost of Living in Madison, Wisconsin? An Inexpensive City in The Badger State
The Good Side
Cheaper Cost of Living in The Metro
You may believe that living in Madison is expensive, but the truth is quite the opposite. Everything in the city is reasonably priced.
A family of four will most likely cost $3,361 without rent, according to numbeo. Groceries are also cheaper here; for example, one liter of milk costs $0.83, while a loaf of bread costs $3.43. You can find better deals and promotions at Woodman's Food Market or Aldi's.
On the other hand, you get to pay around $117.96 for your essential utilities here, including electricity, heating, cooling, and garbage collection.
Because of the reasonable living expenses that will not break the bank, living here can provide you with a good life and work balance.
Better Transportation Expenses
Madison caters to one of the best public transportation in the country, so its mass transit carrier charges reasonable fares.
Metro Transit is the city's official bus carrier service provider. The standard fare is $2 for one adult, and the youth will pay around $1.25. Regular commuters can purchase a monthly pass for $65 per month.
If you travel on University of Wisconsin campus routes 80-84, you will receive a free bus ride. Also, if you need to transfer to another bus while riding, you can ask the driver for a free transfer pass.
Regarding train service, the city also has an Amtrak station. At the same time, 6 miles from the downtown area, you will see the Dane County Regional Airport.
The Accommodation Has a Reasonable Pricing
Madison may appear to be an expensive neighborhood due to its average home value exceeding the national average. However, there are communities in this area that continue to provide affordable housing with the same beautiful amenities.
Hill farms-University is a neighborhood with a median home price of $274,000 and a monthly rental fee of $708. Meanwhile, the Nakoma neighborhood has a median price of $334,433, with a $1,434 rental fee.
On the other hand, the Vilas neighborhood, located three minutes from the University of Wisconsin-Madison, has an average home value of only $289,450, with a monthly rental fee of $1,466.
These prices are reasonable, particularly the rental fees for students from other towns who attend school here.
The Bad Side
High Taxes on The Run
Wisconsin is one of the states that impose a high tax burden on its citizens, with a tax burden of around 13%. This percentage is the highest in the Midwest and ranks fifth among other states. Thus, being in the zone, Madison also shares the same setback.
According to bestplaces.net, the property tax rate in Madison is around $21.47 per $1,000 of home value. If you own a property worth $350,000, you should expect to pay about $7,514.50 in property taxes.
So, before you go, factor these tax burdens into your monthly budget or cost of living expenses.
Why Work in Madison, Wisconsin? Diversified Job Market in The Area
The Good Side
Multiple Economic Drivers
Working in Madison allows you to find a decent job that matches your career goals. Manufacturing, services, and government are the city's main economic drivers.
Meatpacking, agricultural production, and dairy equipment are long-standing industries in the city, which is why it is among the metropolis that shares the name of "America's DairyLand."
In addition to American Family, CUNA Mutual Insurance Group, and General Casualty, the city is home to 30 insurance companies.
With around 36,000 employees, the education sector employs a sizable portion of the population, notably the University of Wisconsin. Furthermore, there are more prominent roles to fill in the federal, regional, and local government seats alone.
Working here can provide you with a broader range of industries where you can land a job with a good salary.
Favorable Labor Market
Madison's job growth has been positive in recent years. It has grown by about 1% in the last year and has a projected increase of 37.91% in the future.
These rising numbers demonstrate how well the city accommodates its working sector, ensuring they can find a respectable jobs. Based on the Bureau of Labor Statistics department report, this reduces the city's unemployment rate to 2.1% in April 2022.
These job opportunities are expanding thanks to large corporations such as American Family Insurance, CUNA Mutual Group, and WPS Insurance. Meanwhile, Crustacean Records, E-Century Publishing Corporation, and TDS Telecom are among the companies that offer jobs in the media industry.
You'll Receive Better Wage Here
Another benefit of working in a specific place is getting an excellent minimum salary which I am positive that every individual working desires. In this case, Madison can provide this edge.
This area's average per capita minimum income is $34,740, while the average household minimum income is around $59,387. These figures are all higher than the national average.
According to bestplaces.net statistics, the city's financial and insurance sector has an average salary of around $50,988. So an excellent job at UW Credit Union or Fairway Independent Mortgage can provide you with this reasonable salary.
As a result, if you want to earn more money than you currently earn, you should either upskill yourself or find the best paying industry in your area.
The Bad Side
Income Taxation Is Costly
The most significant disadvantage that a working person in Madison may face is that they are not exempt from paying a high tax on their income.
Individual income tax rates in Wisconsin range from 4% to 7.65%, depending on marital status and income. So, if you earn a high salary here, you should also expect to pay a sizable portion of your federal obligations.
As a result, you must prepare not to receive your full pay during your salary release date.
That concludes our comprehensive notes on the best and worst that Madison, Wisconsin, has to deliver to its residents and potential movers.
We hope you discovered what you were looking for, and we appreciate you taking the time to read our article.
Madison is a beautiful city with excellent features and amenities to offer its residents. There is no doubt that its growing population will continue over time. And we anticipate you to be a part of it.
Thank you, and please stay safe!