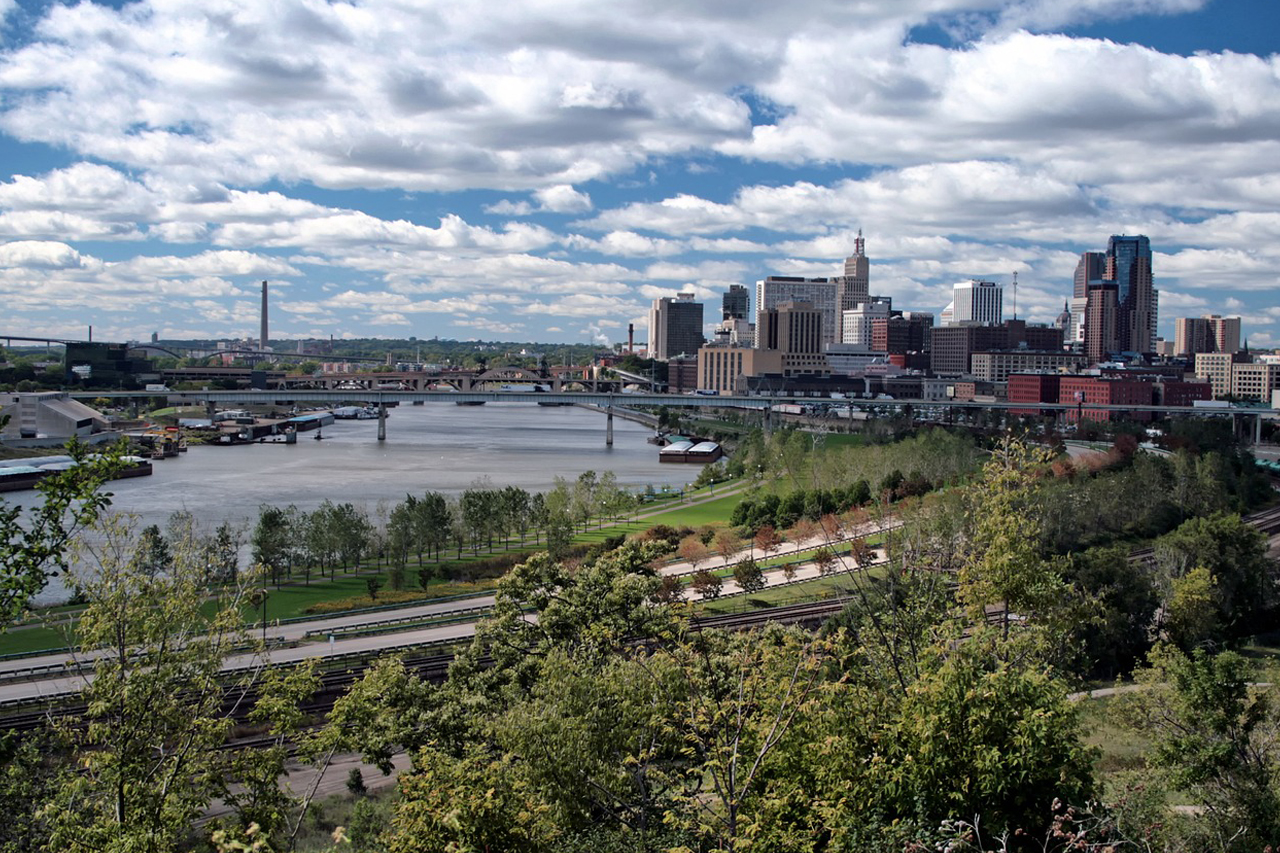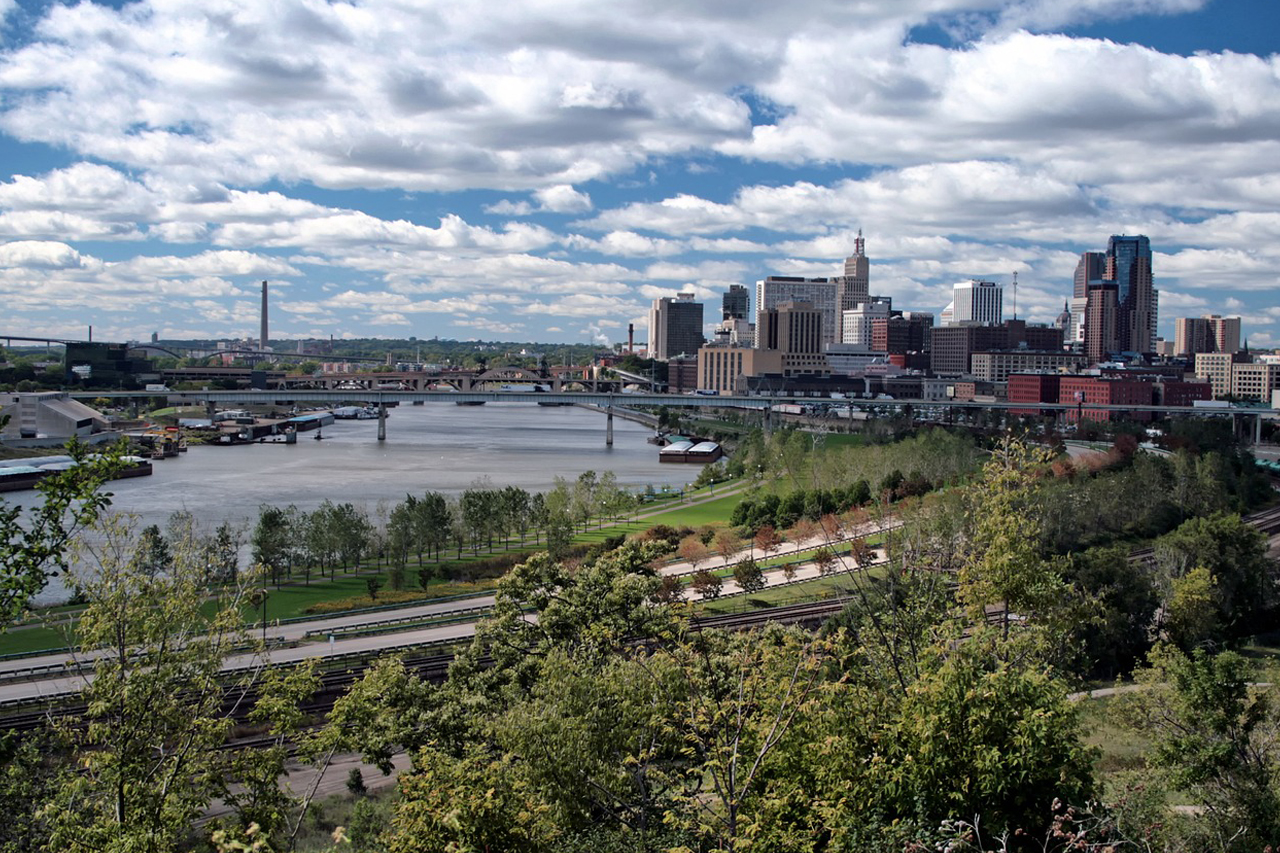 On the east bank of the Mississippi River, you will find Minnesota's capital city, St. Paul. It only has a population of 300,000, which creates a delicate balance of laid-back and metropolitan city life. St. Paul charms its visitors with its Victorian-style mansions, museums, artisan coffee shops, and stunning recreational spaces.
It is a city full of unique attractions without highly urbanized metro noise. You will see the magnificent Capitol Building that draws the attention of every passerby and the heritage homes of F. Scott Fitzgerald, listed in the National Historic Landmark.
The city is ideal for any traveler and is conducive for those who do not want to use a car. The best restaurants are within walking distance, and it has the most walkable and accessible parks.
To have a better glimpse of this city, check out this list of +12 Things to do in St. Paul without a car:
1. Cathedral of St. Paul
Standing tall on a hill overlooking the busy districts of Saint Paul is this gorgeous Cathedral of St. Paul. It is the fourth tallest cathedral in the United States, with a distinct structure of a copper dome, spire, and Roman columns. It is also the official shrine of Paul the Apostle in the country.
Visiting the cathedral will immerse you in its architectural wonder. You will immediately notice different design elements like Baroque, Gothic, and Beaux-arts on the facade. Inside the building is a stunning bronze baldachin and chapels dedicated to St. Paul's patron saints.
The cathedral has a seating of around 3,000 people, where you can view four evangelists installed around the corner. It has two Skinner organs played and performed by the Minnesota Orchestra. It serves as a pilgrimage site for Catholics in the county.
2. Harriet Island
St. Paul has plenty of parks, and Harriet Island is one of the best parks you can visit here. The city's most famous park is located alongside the Mississippi River. You can see some of St. Paul's finest amenities within the park itself, including the Clarence W. Wigington Pavilion and its 5,000 sq ft event place.
Harriet Island was under the ownership of Dr. Justus Ohage but was donated to the city government in 1900. It served as a playground and activity center for the community during its early years. You can swim, play, do health and fitness, and see animals. Dr. Ohage also used it as a venue for vaccination and other health-related projects in the city.
Harriet Island provides an incredible view of downtown St. Paul today. It also has easy access to the city river, where you can enjoy fun water activities. Within the vicinity, you can tow, paddle, and kayak. You can also attend festivals and participate in other community activities.
3. Union Depot
Union Depot is at 214 4th St E, Suite 300, Saint Paul, MN. The city's historical gem served as the railroad station and transit hub in the Lowertown neighborhood. It accommodates different modes of transportation, such as intercity rail, intercity bus, light rail, and local bus services.
Union Depot was a busy transportation center in the past, and after its renovation in 2012, it became more in demand as it can accommodate plenty of city activities. Union Depot offers a city-wide public venue for festivals, concerts, and art and cultural functions. It is a transit hub, event center, and architectural inspiration.
See impressive public installations, specifically the 'Forever Saint Paul. It currently holds the Guinness World Record for an enormous Lite-Brite. You will also see plenty of coffee shops, boutiques, and restaurants nearby.
So, book an available tour or audio tour to explore the ins and outs of Union Depot.
4. St. Paul Farmer's Market
One of the freshest things to do in St. Paul is visit its Farmer's Market.
Located at 290 E. Fifth Street, Saint Paul, MN, the Farmer's Market is an excellent venue to score succulent plants, seasonal fruits and vegetables, and colorful flowers. The city's primary source of locally grown produce and other fresh goodies in the market.
Since its establishment in 1854, the Farmer's Market has provided the community with farm-to-market products and supported local growers. Locals typically spend their weekends here to buy the freshest and most seasonal fruits vendors offer.
Explore St. Paul Farmer's Market and check out food stands that offer fun and delicious goods. Grab fresh and healthy products such as cheeses, baked goods, eggs, and bagel sandwiches. Fill in your stomach with free samples, and taste various flavors and offerings of local vendors when you visit.
5. Summit Avenue
Another excellent attraction you can find here at St. Paul is Summit Avenue. It is one of the city's two National Historic Districts and part of the Heritage Preservation Districts. Summit Avenue was also named one of the 10 "Great Streets' by the American Planning Association in 2008.
The avenue is the longest in the United States, featuring Victorian-style homes with many historic houses, schools, churches, and synagogues. The area is significant because it preserves its historical character being a monumental Victorian residential boulevard in the country. Summit Avenue stretch from the city downtown, half a mile to the Mississippi River, and ends at the Minneapolis border.
Spend your day sightseeing and traverse the US's longest stretch of Victorian houses. Stop by at the James J. Hill House or F. Scott Fitzgerald house! Enjoy a walking tour around the avenue. You can walk or bike while marveling at its beauty day or night.
6. Minnesota Museum of American Art
You will always have cultural sites and exciting art centers here in St. Paul. The Minnesota Museum of American Art is one perfect example that the city caters to the artistry and creativity of its community. The museum opens more than 5,000 artworks and pieces focusing on 19th-century contemporary art to the public.
It has the most extensive institutional collection of famous artists like George Morrison and Paul Manship. American art masters like Joan Mitchell, Thomas Hart Benton, and Louise Nevelson have works displayed in the museum.
Check out the unique collection of Edward S. Curtis photographs showcasing the passion and talent of American photographers in the present time. Discover exceptional skills and see Portrait of Clara Mairs by Frances Cranmer Greenman. Take advantage of its 1973 piece, May Steven's Big Daddy Paper Doll, the museum's finest collection.
7. Izzy's Ice Cream
Have a special sweet treat in the city, and visit Izzy's Ice Cream at 2034 Marshall Avenue, St. Paul, MN. It is a successful food chain with several branches in Minnesota. It is a family-owned and operated ice cream business that won numerous accolades and recognition because of the quality of its products.
Izzy's Ice Cream only uses the finest ingredients in its sweet treats. You will taste Nielsen-Massey's Madagascar bourbon vanilla, Callebaut's Belgian chocolate, and Guittard much perfected chocolate. You know you only get the best ice cream product from Izzy's with these exceptional ingredients.
Since its opening in 2000, Izzy's Ice Cream has become a local's favorite. Its 3/4 – ounce scoop of ice cream is so satisfying that you want to try all its flavor offerings. Try its Irish Moxie or Chocolate Caramel Superstar for a mouthwatering ice cream experience. There is also dairy-free sorbet for those who have a sensitive tummy.
8. Landmark Center
Another interesting site to visit in this city is Landmark Center. The construction of this establishment was completed in 1902 and initially became the city's Federal Court House and Upper Midwest Post Office. Willoughby J. Edbrooke designed the building and was then the Supervising Architect of the US Treasury Department.
The Landmark Center's facade showcases the architect's outstanding talent and creativity.
You will see a pink granite ashlar exterior, red tile roof, turrets, gables, and dormers exhibiting exceptional design.
You will see a well-structured courtyard, more than 20-foot ceilings, and sophisticated mahogany and marble finishes when you are inside.
Aside from its architectural grandiosity, there is much to do here at Landmark Center. You can watch dance, music, and theater performances as a dynamic cultural center. There are also special exhibitions and forums open to the public.
9. Cook
Take advantage of the charming diner Cook for those who want to embark on a food trip. Cook opened in 2014 and has been one of the top restaurants in St. Paul, serving breakfast, lunch, and dinner. It is owned and operated by restaurateur Eddie Wu and Chef Chandra Walbalt.
The restaurant is famous for its menu, made from locally sourced ingredients, to ensure its freshness and quality. Besides food, Cook guarantees excellent service from its friendly and professional staff. Its exceptional service attracts many guests from breakfast until dinner.
Visit the restaurant in the morning, and check out its Korean-inspired dishes such as the Bulgogi Benedict, Kimchi Omelette, and Korean pancakes. Or have a fantastic lunch at Cook by grabbing its Grilled Cheese and Korean BBQ Sandwich. Never miss its cold beverages like the Eddie Wu-Chai Lemonade or the House Chai specials.
10. Mississippi National River
You can enjoy nature activities like hiking, cycling, canoeing, boating, and fishing. If you want to break from the bustling urban setting of St. Paul, you can head to the Mississippi National River and enjoy the beauty of nature. The river stretches around 72 miles through the Twin Cities – Minneapolis and St. Paul.
The Mississippi National River offers opportunities to see different species of birds, such as hawks, ducks, geese, terns, and osprey. It is also an ideal place to fish various species like perch, herring, trout, and bass.
Due to its long stretch, the National Park has been divided into sections: The Wild and Scenic River, The River of the Falls, The Gorge, The Working River, and The Forested Floodplain.
The park alone can take up hours to explore. The attractions here are widespread, with tons of activities to do. Enjoy a couple of hours of wildlife viewing at the Coldwater Spring or have fun with your friends in the waters of Paddle Share. Do not let yourself go hungry, and stop by the Coffee With a Ranger for snacks and drinks.
11. Minnesota History Center
If you want to understand the splendid past of the State of Minnesota, visit the Minnesota History Center. It is a museum and library holding essential documents, historical pieces, and interactive presentations that can satisfy your curiosity about the city.
The center appeals to young and old, given that it has dedicated spaces for children and adults.
Minnesota History Center also holds significant exhibits related to the founding and development of the state. The exhibition 'Our Home: Native Minnesota' presents historical and contemporary photographs, maps, and artifacts of the State's Native communities.
On the other hand, art Speaks has more than 7,000 collections of paintings, photos, and sculptures gathered in the past 15 years.
12. Joan's in the park
At the center of the city's highland park, you will see an upscale restaurant called Joan's in the Park. The menu follows a farm-to-table concept that only serves dishes made from fresh and organic produce. The place offers a highly different experience with seasonal North American cuisine.
Joan's in the Park has a well-curated menu list involving seafood, meat entrees, steak, and desserts. They also have the best selection of cheeses and wine for those who opt for a more luxurious fine dine-in experience.
Once you visit the restaurant, the staff will offer you a four-course meal involving hors d'oeuvre, appetizer, main course, and dessert. Start your meal with Joan's Brioche, Beef Tartrate, and Farro Carbonara. Have the most satisfying dessert with Orange Butter Cake, mango ice cream, root beer caramel, and a sweet combo.
Have you enjoyed our list? Or is there something missing? Please share your comments below, as we are delighted to hear from you.