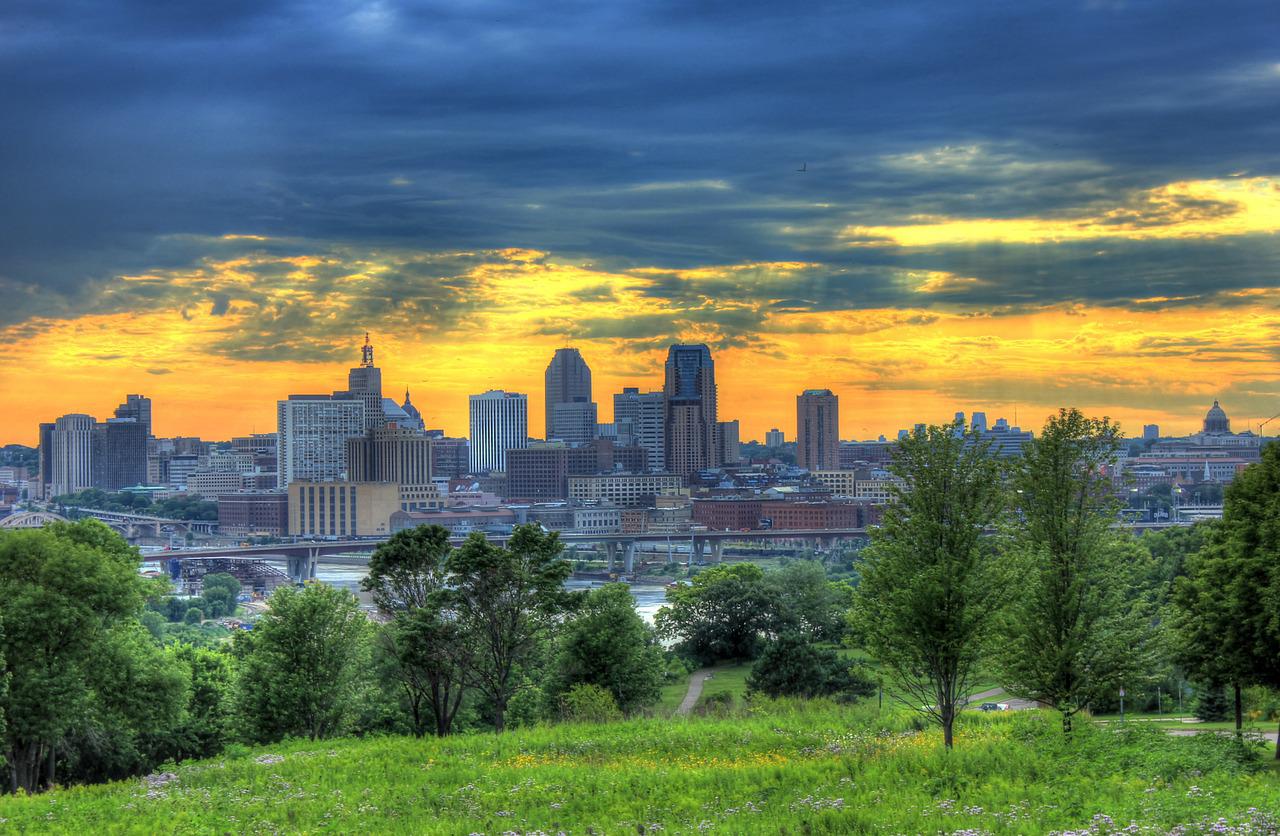 Minneapolis, also known as "The Twin Cities," is Minnesota's most populous metropolis, with 2,967,000 residents as of 2022. Since 2018, the city has been experiencing a steady increase in its population, averaging a 0.67% yearly population increase.
The metropolis has developed into a sizeable metropolitan environment with recently constructed skyscrapers and boasts hip young neighborhoods with a bonafide big city living. Moreover, within its 57.51 mi² area, the city has about 170 parks and 22 lagoons and lakes.
Locals here enjoy a unique blend of big-city conveniences, rich history, delectable cuisine, and Midwesterner warmth despite the harsh winters.
Nevertheless, before you get too carried away in concluding that Minneapolis is the perfect city to move to for you, let us first thoroughly examine its pros and cons.
Is Minneapolis, Minnesota, A Good Place to Live In? – Beautiful city surrounded by lakes
The Good Side
Enjoy the great outdoors
With its numerous lakes and parks, Minneapolis' deserves to boast great outdoor fun. There is no way you would run out of outdoor activities to do in "The Twin Cities."
You'll be surprised that the city has about 76 state parks, five national parks, and countless lakes for you to discover and spend your weekends.
One of the lakes near Minneapolis with breathtaking views is the Carver Park Reserve, where you can enjoy biking, hiking, and cross-country skiing during winters.
If you don't plan to go far from the city, you can also visit the Lake of the Isles, the quietest and most stunning lake in Minneapolis, perfect for a scenic drive, walking, and cycling.
Aside from beautiful lakes, spend your time and relax at the city's crown jewel: Minneapolis Sculpture Garden. Even the cold winter season doesn't stop locals from enjoying outdoor fun.
Shop every day at Mall of America
If you live in Minneapolis, you are closer to the Mall of America. It is a popularly enormous shopping mall built with 133,000 tons of steel. Due to its size, it's possible to fit about seven Yankee stadiums and 258 statues of Liberty.
Mall of America is also the 9th largest shopping mall worldwide, with some of the top brands for you to window shop, such as Nickelodeon Shop, The LEGO Store, American Eagle, Apple Store, Claire's, and Chanel Boutique @Nordstrom, etc.
Moreover, if you want more thrill, the enormous shopping mall has an indoor theme park filled with roller coaster rides and Sea Life Aquarium. Hence, you won't run out of fun things to do at the Mall of America.
Terrific culinary experience
Minneapolis is the perfect city for "foodies," a slang term for people who love food. Aside from being a food paradise, Minneapolis also had contenders in six of the 11 national categories in the past year.
Especially when it's winter and cold, you can have fun by visiting the various restaurants in the city offering a terrific culinary scene rather than doing extreme sports activities.
Hai Hai is a great restaurant to eat Asian food located at 2121 University Ave NE, Minneapolis, MN 55418. If you love Indian food, don't miss eating their flavorful curries and MoMos of Gorkha Palace.
On the other hand, if you prefer fancy restaurants, Erte & the Peacock Lounge is the best restaurant to spend a classy night with your partner.
Well-managed infrastructure
If well-managed infrastructure dramatically matters to you, you'll be glad to know that Minneapolis boasts this quality. The best example is the city's existing major international airport, Minneapolis–Saint Paul International Airport, in short, MSP.
MSP is very close to the downtown area and offers reasonably priced flights, making traveling convenient, especially for locals.
Additionally, Minneapolis also has plenty of great hospitals providing quality medical care.
When it comes to the winter season, the city is generally good about sending plows out when snow begins to fall.
Excellent park system
In the past few years, Minneapolis consistently occupied the number one spot for the country's best park system, beating Washington D.C.
A great example of the city's excellent park system is the Minneapolis Sculpture Garden. Also, there's the Minneapolis Chain of Lakes Regional Park, which includes three lakes connected by an extended network of paved walkways.
It's a great place to skate, jog, kayak, hike, or attend free concerts while enjoying a summer breeze.
Considering the examples above, you can imagine living in Minneapolis and enjoying every bit of its excellent park system you won't experience in other cities.
Above-average living standards
Locals here enjoy above-average living standards. Most appreciate Minneapolis's high living standards, education system, well-managed infrastructures, and top-quality medical care.
When referring to the city's education system, more than 15% of the city colleges made it to the list of the best colleges in the nation. They also have heavily funded public libraries.
Most Minneapolis residents live in condominiums and urban lofts and enjoy shopping, dining, and gathering in parks and bars.
The Bad Side
Cold and harsh winter season
You may think twice about moving to Minneapolis if you can't stand cold and harsh winters. Living in Minneapolis during winter will physically and mentally challenge you because the temperature can drop to -20°F. And yes, you read that right.
When you compare its temperature with other cities, Minneapolis is, unfortunately, colder than Anchorage, Alaska, and Moscow, Russia. A temperature of -20°F to -30°F below zero happens here, but rarely.
On average winter days, the temperature can be from zero degrees to 20°F. Also, even though that city plows diligently, you can still end up stuck at home for days because of a snow storm.
Thus, Minneapolis may not be your best bet if you hate the cold.
Mosquitoes
The summer temperatures in Minneapolis are not scorching, but they can get warm enough to invite mosquitoes. Since numerous lakes surround the city, you can expect mosquitoes to thrive since they are the perfect breeding grounds.
Because of this con, investing in insect repellent lotion or spray is best.
Reserved and private locals
Establishing a solid network is one of the most challenging aspects of moving to another city. Locals here are pretty private and reserved, making them seem standoff-ish to most migrants.
Locals here take time to open slowly to new occupants, so getting along with them might not happen fast. However, expect a loyal and fun friend once you get to befriend them.
¬Heavy traffic
Heavy traffic never seems to get solved, which is also a significant problem in Minneapolis. Traffic is likely the least of your worries if you live in the city's northern part.
However, if you use the I-94, I-394, and I-35 routes, you'll experience heavy traffic here, especially during rush hour.
What Is the Cost of Living in Minneapolis, Minnesota? – Enjoy the low cost of living
The Good Side
Low living costs
Moving to Minneapolis means enjoying an affordable cost of living. It is undeniably one of the reasons why people find relocating to Minneapolis tempting at times.
Families spend only 21% of their income on living expenses, which is relatively low. Thanks to the city's low cost of living, most inhabitants enjoy most of their income buying their wants or saving them for emergencies.
Here are some of the average fees or prices to expect in Minneapolis:
Loaf of bread: $3.54
Carton of eggs: $1.60
Energy bill: $164.82 monthly
Also, Minneapolis grabs the number one spot as the most livable city in Minnesota, beating St. Paul, Plymouth, Woodbury, and others in the ranking.
Average housing expenses
Minnesota's median home value is about $225,000, while the average rental monthly housing price is $1,500.00. The state has recently experienced an increase in home and rental prices.
To explain further, home and rent prices in Minneapolis and St. Paul alone have increased by 8% in the past few years. However, it is still relatively lower than other areas like New York City.
Minneapolis' median rent of $1,200 is lower than the state's $1,500 average monthly rent. Moreover, the city's median home price is only $392,815. It may not be too cheap, but an average housing price is not bad considering the low cost of living in the metropolis.
The Bad Side
Soaring tax rates
Minnesota is undoubtedly not a tax-friendly state, and Minneapolis taxes almost everything. Sadly, if you come from a low-tax state, the soaring tax rates of Minneapolis might throw you off.
You'll be surprised to hear that Minneapolis imposes meal taxes other than significant taxes like sales, income, and property. On the brighter side, Minneapolis has no sales tax on retail. Thus, you won't be charged sales tax if you buy clothes at the Mall of America.
You'll be shocked and weak to know that the imposed meal tax in Minneapolis is at a staggering 10.78%.
Hence, Minneapolis has the highest tax meal rate among the major cities in the United States.
While the city's cost of living is appealing, you must consider taxes before moving.
Why Work in Minneapolis, Minnesota? – Yes, to job opportunities!
The Good Side
Good employment options
There are a lot of Fortune 500 firms headquartered or branched in the Minneapolis region. Below is a sample list of Fortune 500 companies you can apply to in the city:
Ecolab
General Mills
C.H. Robinson Worldwide
3M
UnitedHealth Group
Target
Hormel Foods
Minneapolis is the birthplace of Target, making it the city's largest employer in the downtown area. Target employs thousands of workers in Minneapolis alone, providing more job opportunities and a more robust job market.
The second-largest employer in Minneapolis is Hennepin Healthcare, and the list continues.
In addition, The Twin Cities has a well-represented financial industry too. Massive financial institutions like U.S. Bank, Wells Fargo, and Ameriprise Financial are all in Minneapolis offering hundreds of employment options to the city's inhabitants.
These are the major industries dominating the market in Minneapolis:
Healthcare
Hospitality
Financial services
Another reason to move to Minneapolis is its imposed minimum wage higher than the national minimum salary. If you work in Minneapolis, you'll earn at least a minimum wage of $.9.65 per hour.
May 2022 – 2.0% unemployment rate
Minneapolis has a much lower unemployment rate than the national average and has a better unemployment rate than 75% of other states. In April 2022, the city experienced its "lowest" unemployment rate.
However, it seems that the percentage can get much lower because the city's May 2022 unemployment rate just broke the previous record. Hence, as of May 2022, Minneapolis boasts a 2.0% unemployment rate!
Jobless people in Minneapolis decreased to 61,551, while employed people increased to 3,025,356. Meanwhile, the number of persons in the labor force rose by 6,905 to 3,086,907, while the labor force participation rate climbed to 68.4%.
The Bad Side
Experiences higher income tax rate
Again, The Twin Cities is notorious for its high tax rates, including income tax. People living in any of the cities in Minnesota suffer about 5.35% to 9.85% income tax rate, wherein 7.05% is the average income tax rate.
If you choose to live in Minneapolis, you must pay an income tax rate of 7.1%. Compared to the United States' income tax rate average of only 4.6%, Minneapolis' is about 2.5% higher, which is a letdown.
Thus, if you came from a state with no income tax rate, Minneapolis' can be pretty shocking, and its taxes are its major downside that won't get low soon enough.
Like any other metropolis, living in The Twin Cities also has disadvantages. Remember that no city is perfect; it all depends on which factors matter to you most.
If Minneapolis' tax rate doesn't bother you much, living here guarantees a low cost of living plus an above-average living standard to enjoy with your newfound friends.
We hope this article gave you enough information to help you decide whether to start a new life in Minneapolis or head on to other cities that fit your lifestyle better. We are excited to know your thoughts about living in Minneapolis.