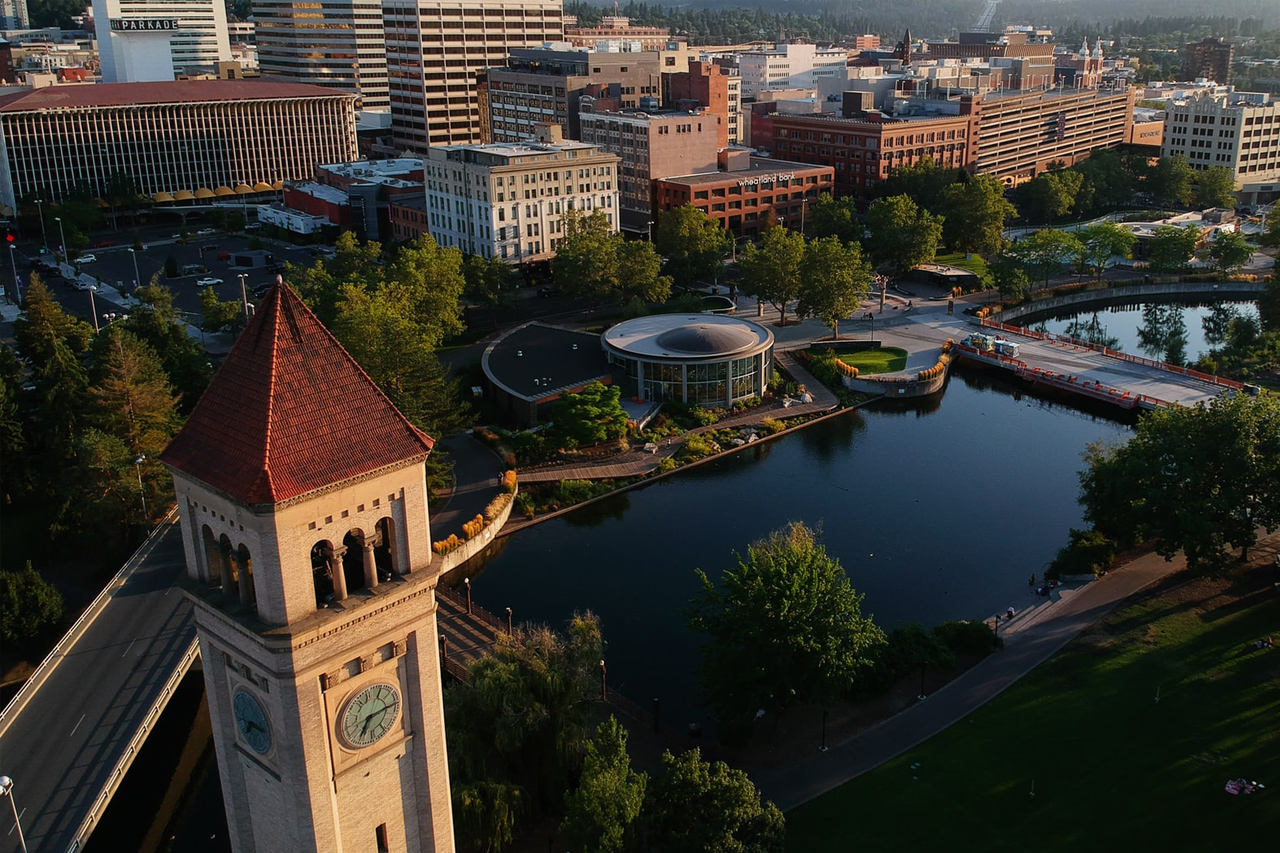 Do you want to know how people live in Spokane, Washington? Well, you've come to the right spot!
Spokane, with a population of 230,000, is the second-largest city in
Washington lies in the center of the Inland Northwest.
The city is proud of its "four-season" climate and glorious history. Its position in the center of Eastern Washington also makes it an ideal location for nature lovers who desire easy access to the great outdoors.
Spokane, like other cities, has its positive and negative aspects you should know. Here is a summary of the good and bad sides of living in this city for you to make an informed judgment if it is an excellent place to live.
Is Spokane a Good Place To Live In? – A Bustling Urban Center
The Good Side
The City Has a Lot of Things To Offer
Spokane is not a sleepy town. Living in this metropolis, you can easily walk or drive to any destination you want.
The city boasts a vibrant culture that caters to virtually all interests and ages. When you become familiar with the most significant locations here, you will never be at a loss for fun things to do because you will always have options.
Numerous parks and green places surround the city. There are multiple basketball, football, and ice hockey teams. Theaters, fairs, and exhibitions are constantly occurring here, and you can also visit beautiful lakes nearby, such as Priest Lake and Coeur d'Alene.
It also has many establishments offering various forms of entertainment, including stores, restaurants, pubs, and breweries.
Overall, Spokane has a plethora of activities and attractions for its citizens. It is the one that tends to have the most impact on individuals when discussing the pros and cons of residing in this city.
Its Climate Is Generally Lovely
Spokane is famous for its pleasant weather and four different seasons, which most residents enjoy. It is known as a "four weather" city, which is why it is considered one of the most incredible areas to start a new life.
The town enjoys over 200 sunny days each year on average. July's average high temperature is only 83° on average. Also, the humidity is relatively low, so you won't have to cope with sweltering heat when you live here.
Here, the annual precipitation is about 17 inches, significantly less than the national average of 38 inches. Even though the average temperature throughout the winter is approximately 22°F, the summers are quite pleasant.
The city is also surrounded by land, giving it a favorable climate, another advantage of its position. Tornadoes and hurricanes are not a threat in this area of the country.
Even though it suffers from tremors and flash floods by thunderstorms, Spokane is a secure location to make your home.
Spokane Contains Numerous Ski Resorts
Spokane's skiing conditions are fantastic, whether you're a seasoned pro or a beginner eager to embark on a new experience.
The city becomes a winter wonderland when the snow begins to fall. Five resorts are within a two-hour drive to the town, which is uncommon for its size.
Mount Spokane is the nearest, but Schweitzer Mountain, Silver Mountain, Lookout Pass, and 49 Degrees North Mountain are also nearby.
When you go to these locations, you can stay at one of the nearby resorts or return to your home after a long day on the slopes.
The Place Has a Decent Traffic Flow
Moving to Spokane has several advantages, one of which is that you won't have to spend as much time on the road getting to and from work.
Due to this neighborhood's light and slow traffic, you will spend more time with your family at home and save money on gas.
The city's grid-like street layout makes the city easy to navigate and reduces traffic congestion. Its average commute time is 20.1 minutes, shorter than the national average of 26.4 minutes.
If you don't want to drive in the city, 43 bus routes operate 365 days a year. When you take public transit, you will spend less time in traffic and reduce air pollution.
There's a Waterfall in the City Center
Imagine living in a city with a waterfall in the middle of the bustling metropolis.
You would be very wrong if you thought it was a small one, as it is, in fact, a large one. The height of the falls at Spokane is not quite as impressive as those at Niagara, but they are comparable.
Now, I want you to be honest: Are you excited about living in Spokane?
The Bad Side
Its Air Is Incredibly Polluted
One of the worst drawbacks of living in Spokane is the air quality.
The city is one of the cities with the poorest air quality in 2019, despite substantial efforts to improve it. It is due to both forest fires and changes in climate that humans have caused.
In summer, it is advisable to leave the area because of the significant levels of smoke, but the situation has not been as difficult.
If you wish to live in Spokane, you must be aware of the difference in air quality during certain times of the year when fires are active.
The City's Crime Rate Is Far Too High
Among the numerous things that make Spokane a desirable place to live, crime is one of the most prominent factors that make residents nervous.
Before relocating to this city, you should know that its crime rate is 90% above the state average.
The violent crime rate is comparable to the national average; the city's rate is 28.6%, while the national average is 22.7%. On the other hand, the rate of property crime is 95.3%, which is significantly higher than the average rate of 35.4% in the United States.
While Spokane's high crime rate doesn't make it riskier than other cities, you should be aware of it if you're moving from a low-crime location.
Spokane Experiences Chilly and Snowy Winters
Compared to the US average of 28 inches of snowfall per year, Spokane receives an average of 44 inches of snow each year, with the majority falling in December.
If you can't stand living in places that become cold and have a lot of snow, living in this city is probably something you should reconsider.
The Place Has Pervasive Drug Problems
Spokane has drug problems like other western communities. This area has cocaine, cannabis, heroin, and methamphetamine.
Locals can get drugs swiftly and cheaply, which causes many adolescents to become drug dependent. Most young people in this city are readily drawn to drugs and ruining their life without realizing it.
The use of marijuana is also legal in this town—people who are 21 years old or older can do so without a card.
For people moving from places where pot is prohibited, driving past a dispensary and smelling it could be a culture shock when you live in this city.
What Is the Cost of Living in Spokane? – State Income Tax No More!
The Good Side
Spokane's Cost of Living Is Relatively Inexpensive
The cost worries us when we think about living in a new city. However, if you move to Spokane, you have nothing to fear.
Compared to other western cities, the city is relatively inexpensive. Here, the cost of living is lower than in many other nearby towns. It is 15% below the national average.
It has lower costs for various goods and services, including medical care, gasoline, and food. It is mostly desert here, but nearby agriculture keeps grocery and food expenses low. Public transportation is also cheaper than in other Washington cities.
Living here, you won't have to pay hundreds of dollars for expensive specialist insurance because this region is not at risk of natural disasters.
The City Has Affordable Housing and Rental Options
It's not only the cost of living that's inexpensive in this city; real estate is, too.
Spokane has some of the most affordable rents and home listings in Washington, especially for a metropolitan area.
The city's rentals can be relatively reasonable. Spokane and a few other large cities have seen rents rise moderately, but it remains less expensive than most of the nation's central metropolitan areas.
Spokane's $1,290 typical two-bedroom rent is below the national average of $1,339. This rent is more affordable rental rates than in other major cities. For instance, the median 2BR rent in San Francisco is $2,636, which is more than double the amount in Spokane.
Spokane's real estate market is a plus if you buy a home instead. The median home price is $400,000, a year-over-year rise of 30.7%.
Despite the significant increase, prices are still lower than in Tacoma, Vancouver, and Federal Way, where the typical home price is $468,000, $425,000, and $383,850, respectively.
It Is State Income Tax-free
One of the advantages of relocating to Spokane is that you will not be subject to inheritance or state income tax.
Because of this, it has become a popular site for people to relocate to once they retire. It benefits not just retired persons but also working professionals.
As a result of not having a state income tax, the city can generate additional job opportunities, which helps prevent young and educated workers from moving to other places.
Living in Spokane, you will find that the city's inexpensive cost of living and absence of state income tax is a significant advantage.
The Bad Side
Spokane's Sales Tax Rate Is High
It just so happens that Spokane has one of the highest sales taxes not only in the state of Washington but also in the entire country of the United States.
Although there is no personal income tax here, you are subject to pay a high sales tax on practically everything you buy within the city.
This city's combined sales tax rate is 8.9%, higher than the national average of 7.3%. This rate combines the state's 6.5% sales tax and the town's 2.4% sales tax.
If you don't like the concept of paying a higher rate than other people in the country do, this is one of the top things you will dislike about living here.
Why Work in Spokane? – A Technological and Medical Innovation Hotspot
The Good Side
The City Has Decent Jobs
You will find out that the job chances in this city are relatively strong if you want to live and work here and that businesses are generally doing well.
Spokane's most popular employment categories are healthcare, retail trade, education, lodgings, food service, and manufacturing.
Top employers include the state of Washington, Spokane Public Schools, Providence Sacred Heart Medical Center, Children's Hospital, and the 92nd Air Refueling Wing.
Physicians, surgeons, internists, family practitioners, dentists, and chief executives are among its highest-paid professionals.
If you're looking for employment, you can talk to different recruiters, look at online job boards, network, and make sure your resume is polished and professional.
It's Easy To Find Work Here
Employers might not always make it to "LinkedIn's Top 20 Employers" or something like that, but obtaining a solid job in this city is typically not difficult if you have invested in the skills necessary for the position.
A smaller market also increases the likelihood of individuals being familiar with one another. You will have a better chance of finding work if you can create a reputation more quickly.
Also, Spokane has a variety of markets. Although it does not have some highly specialized occupations that a larger city will be able to support, it does have everything else, including high-tech and medical care.
The Bad Side
Spokane's Economy Lacks Diversity
Spokane's economy isn't very diverse and lacks the necessary infrastructure compared to the economies of other communities in the state.
When you live and work in this area, you will notice that the only kind of general business is those related to healthcare and technology.
Those sectors of the technology industry offer competitive salaries. However, the greatest and highest-paying positions are most likely in the healthcare industry.
Spokane is not the right place for you to live if having a diverse economy is one of the most important factors you consider when selecting a location to call home.
We hope this summary of Spokane's pros and cons has helped you decide if the city is perfect for you.
The city offers an affordable and active lifestyle. However, crime rates and air quality are worsening. Either way, you should assess the pros and cons of living in this city to see if its vibes match yours.