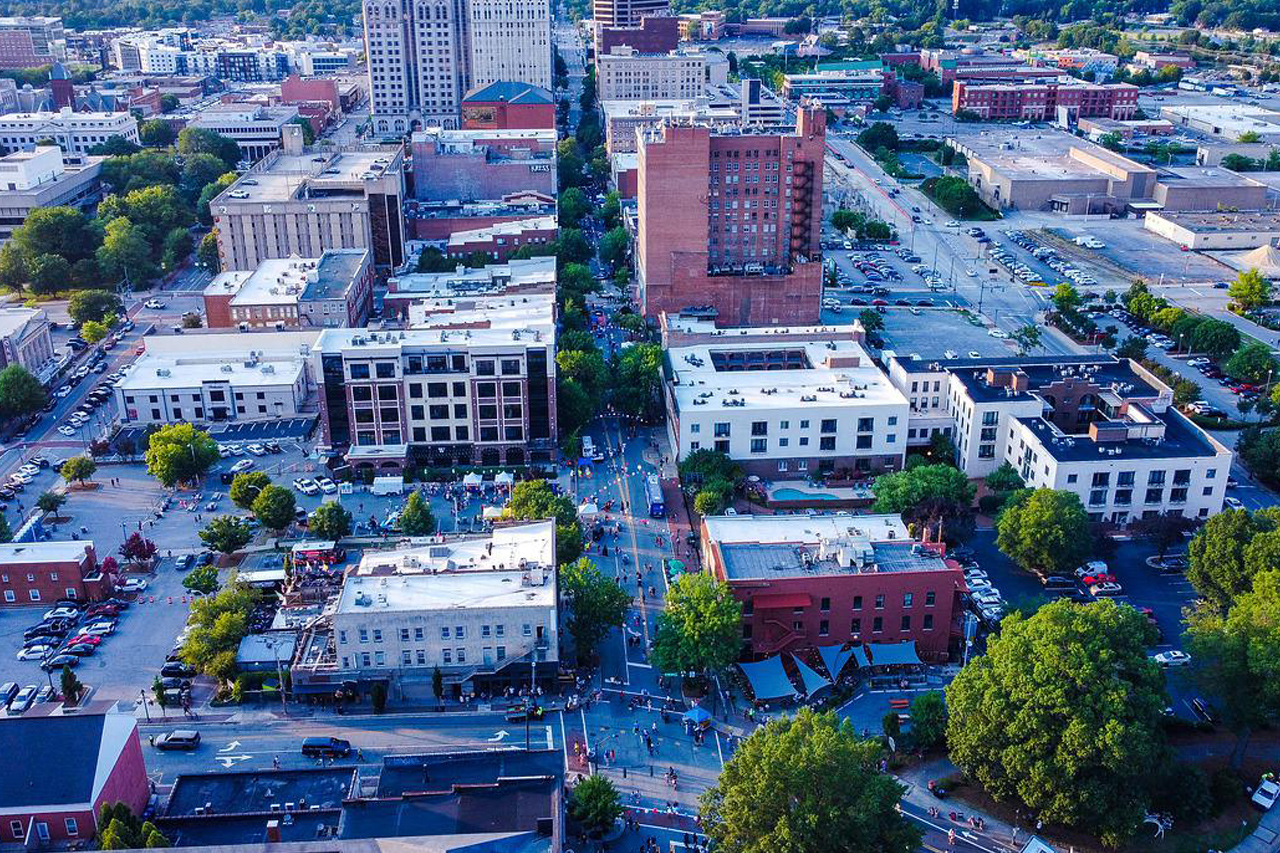 Are you considering living in Greensboro, North Carolina? If so, you should first read this blog article! Here, we'll talk about what's good and bad about living in this city.
Greensboro, affectionately known as "The Gate City," has historically functioned as a gateway to all the wonders of North Carolina and a railway center for the South.
Along with Winston-Salem and High Point, the city is a member of the Piedmont Triad, home to several excellent neighborhoods, including Thomasville.
The city is also an up-and-coming city with an expanding job market and abundant activities.
Are you curious to learn more about city life? Here is a guide on the pros and cons of living in the Greensboro area to assist you in deciding whether it is the appropriate place.
Is Greensboro a Good Place To Live In? – A Community-oriented Small Town
The Good Side
Greensboro Offers Everything
The city of Greensboro has much to offer its people. No matter your interests, there are many activities available.
Greensboro boasts nightlife and entertainment for those who seek it. If you want to do things outside, the city has that too. Living in this metropolis would never leave you feeling bored.
The city has lots to offer regarding food and entertainment, including vibrant nightlife, various restaurants, and unique festivals and events throughout the year.
Those who appreciate the arts will enjoy visiting the Weatherspoon Art Museum or attending the theater, opera, and dance performances at several performing arts centers.
This place is also great for artists. Local artists from this area participated in the city's mural project by developing one-of-a-kind art pieces that addressed various societal issues.
If you enjoy shopping, there are numerous possibilities here. The city features numerous retail establishments, such as galleries and boutiques. Four Seasons Town Centre, Friendly Center, and Harris Teeter Supermarket are among the most popular shopping destinations.
One hundred seventy public parks and gardens give you and your family various relaxing options. Also, the city hosts numerous festivals and events.
Living here, you will always have something enjoyable to do throughout the year.
It Is a Tournament Town
Although no professional sports teams exist in Greensboro, sports play a significant role in the city's culture. Similarly, sports lovers will not be disappointed with the city's options in this field.
Tournament Town is a fitting nickname for Greensboro. It hosts numerous sporting events yearly, including the NCAA basketball championship and the ACC basketball tournament.
The Wyndham Championship, one of the oldest PGA Tour events, is held annually in the area.
In the past, the Greensboro Aquatic Center has held a variety of national competitions, including the US Figure Skating Championships. You can also watch the Greensboro Grasshoppers play at First National Bank Field. This family-friendly park has a picnic area and a play park.
Since this team has the highest average home attendance in its league, it was evident that the locals support their neighborhood sports team. However, the city's sports culture does not consist solely of spectatorship. Living here, you and your family can engage in various exciting sporting events.
In the summer, Country Park has enjoyable water sports. Kayaking and paddle boating are activities that you can enjoy.
Greensboro's thriving roller derby community is another outstanding feature of the city's sports culture. This tournament features three home teams, the Elm St. Nightmares, the Mad Dollies, the Battleground Betties, and an all-star squad, the Gate City Roller Girls.
Lastly, if you enjoy dancing for exercise, you will not have to look far in this city. Whether you prefer country line dancing, jazz, or club music, you'll find something that suits you well.
If you're seeking professional sports, head west to Charlotte to see the Carolina Panthers or east to Raleigh to see the Carolina Hurricanes.
The City Highly Values Educational Excellence
Whether pursuing a degree or searching for a school for your children, you will be pleased to learn that Greensboro boasts excellent schools. This city has many public and private school possibilities, so you will inevitably find an appropriate school.
Greensboro offers something to offer nearly everyone, whether you are searching for an excellent K-12 school or college possibilities.
The public school system in Guilford County features some of the most outstanding high schools in North Carolina, with options including STEM education and Advanced Placement courses. There are also many highly-ranked charter schools and secular and religious private schools.
The town is home to several four-year institutions, including the University of North Carolina at Greensboro, Guilford College, and Greensboro College.
A significant government-financed Black university in the city is the North Carolina Agricultural & Technical State University, whereas Bennet College is an all-female institution. It is also home to Elon University School of Law and Guilford Technical Community College, founded by Quakers and the oldest coeducational institution in the whole South.
There are also numerous private day schools in this area, such as Our Lady of Grace Catholic School, Caldwell Academy, Greensboro Day School, New Garden Friends School, and many others.
Also, the city is home to the Guilford County Schools, the third-largest public school system in North Carolina.
The Area Has Friendly People
The population of Greensboro is becoming increasingly diversified and will reach 291,000 in 2019. This expanding population indicates that people enjoy city life.
Do you want to know the reason why?
Well, it's due to its welcoming atmosphere!
When you move to this city, one of the first things you will notice is that the residents are exceedingly friendly, making it a desirable area.
You will immediately sense like a member of this town due to the overall courtesy of the locals.
As a tolerant environment where individuals from all over the world are welcome, socializing is simple in this region.
Since people in Greensboro are kind and accepting, meeting new acquaintances will be simple, and it is unlikely that you will experience social isolation if you are ready to adopt local habits and traditions, at least partially.
The Bad Side
It Is Dangerous in Greensboro
People that place a high value on personal safety can be discouraged by Greensboro's crime rate, as many no longer feel safe and consider leaving the city.
Greensboro is not the most violent city in North Carolina, but neither is it the safest.
While most communities are reasonably peaceful and secure, some neighborhoods have a disproportionately high violent crime rate, even at night.
The most dangerous neighborhoods lie in the city's southern and eastern regions. Therefore if you fear becoming a victim of violent or property crime, you should avoid these areas.
The crime rate in Greensboro is greater than the national average. People have a 1 in 122 probability of becoming victims of violent crime. Also, a 1 in 27 risk of becoming a property crime victim is possible in this area.
Before relocating to this city, make sure you'll live in a safe neighborhood by conducting thorough research.
The Place Has Inadequate Public Transport Outside of the City
The suburbs and outskirts of Greensboro have inadequate public transportation, another disadvantage of living in Greensboro.
While the central area of Greensboro is relatively walkable and has several options for public transit, communities outside the city center are served poorly by public transit. Some districts have buses, but there is no subway system.
The majority of residents rely on their vehicles for travel. People who want to walk to restaurants, stores, and attractions will find it challenging to live in areas without public transportation.
What Is the Cost of Living in Greensboro? – An Affordable Place To Call Home
The Good Side
Greensboro Is a Cheap Place to Live
If you are seeking a city to live in where you can get a good place for a low price, then this place is for you!
Greensboro is widely known as an economical place to reside. In 2018, Greensboro rated second among North Carolina's five largest cities for affordable living.
If you opt to live in this city, you will discover that the cost of living is lower than in other cities in North Carolina and the United States. North Carolina is already one of the most affordable states in the US, making Greensboro one of the cheapest places to live.
This city's cost of living is 8% less than the national average. Some perceive Greensboro as a "little Charlotte" as it has the same amenities but a lower cost of living.
It Provides Reasonable Property Costs and Rents
Living in this city, you should also be aware that property prices and rents are still relatively low, and if you want to purchase a home, you won't have to spend as much on paying down your mortgage as those in more costly places.
The cost of housing is 19% below the national average. As of October 2021, the average rent in Greensboro is $1,116.
The median home price in Greensboro is $157,253, which is lower than the national average.
The Bad Side
The City Has High Real Estate Taxes
Among the major metropolitan regions in North Carolina, Greensboro has some of the highest property taxes despite having affordable home prices and a low cost of living.
This city's combined property tax rate is $1.3630 per $100 of assessed property value or $2,045 per year for a home valued at $150,000.
This property tax could be intimidating to people considering purchasing a home or investing in real estate in the city.
Why Work in Greensboro? – An Expanding Job Market
The Good Side
Greensboro Provides Good Employment Opportunities
The Triad is gaining a reputation for its expanding job market, with opportunities expanding in Greensboro and its surrounding communities.
The city has a significant presence in education, healthcare, and transportation. Its leading employers include Guilford County Schools, Moses H. Cone Memorial Hospital, Ralph Lauren, American Express, and Bank of America.
Forbes has ranked this place as one of the best cities for employment opportunities, with a rate of job growth that is the highest in North Carolina and among the highest in the nation.
Historically a hub for manufacturing jobs such as tobacco, textiles, and furniture, the majority of the city's economy is now shifting toward a service-based emphasis. Local and state incentive programs have formed unique opportunities for members of a diverse labor force interested in launching a small enterprise.
Alongside developing commercial shipping hubs that convey new business, the city has also focused on attracting jobs in the technology and logistics industries. The city's central location has made it popular for families and businesses. As a result, there are also a variety of companies relocating.
There are also many notable companies with headquarters in Greensboro.
These include Volvo Trucks of North America, Honda Aircraft Company, ITG Brands, Kayser-Roth, VF, Mack Trucks, The Fresh Market, Columbia Forest Products, Wrangler, and many more.
In recent years, it has also tried to charm new businesses in the aviation, technology, nanotechnology, and transportation and logistics industries.
The Place Offers Its Employees a Laid-back Setting to Do Their Jobs
Compared to other cities like New York City or Los Angeles, where people are frequently in a hurry, Greensboro is a more laid-back city where people focus less on their careers.
This kind of working atmosphere can be beneficial since it gives you more time to interact.
Consequently, you have more chances to engage in discussions at various moments throughout your day, which can help you learn and grow.
The Bad Side
Its Median Income Is Low
If you do not already have a well-paying job lined up, this is not the right location for you.
Working here will only provide you with low-paying service jobs that will not cover your monthly expenses.
Numerous job postings exist. However, if you apply for one, you will find the identical advertisement a month later that remains unfilled.
There will be instances in which employers will waste your time and effort by inviting you to interviews and then lying to you that they will call you back.
Therefore, you must have secure employment that will allow you to live comfortably in this city before moving here.
Greensboro is a beautiful city to live in despite its pros and cons.
It is a city with something for everyone due to its hospitable residents, low cost of living, and plenty of activities.
If you are considering moving to the state of North Carolina, Greensboro is a great place to start!