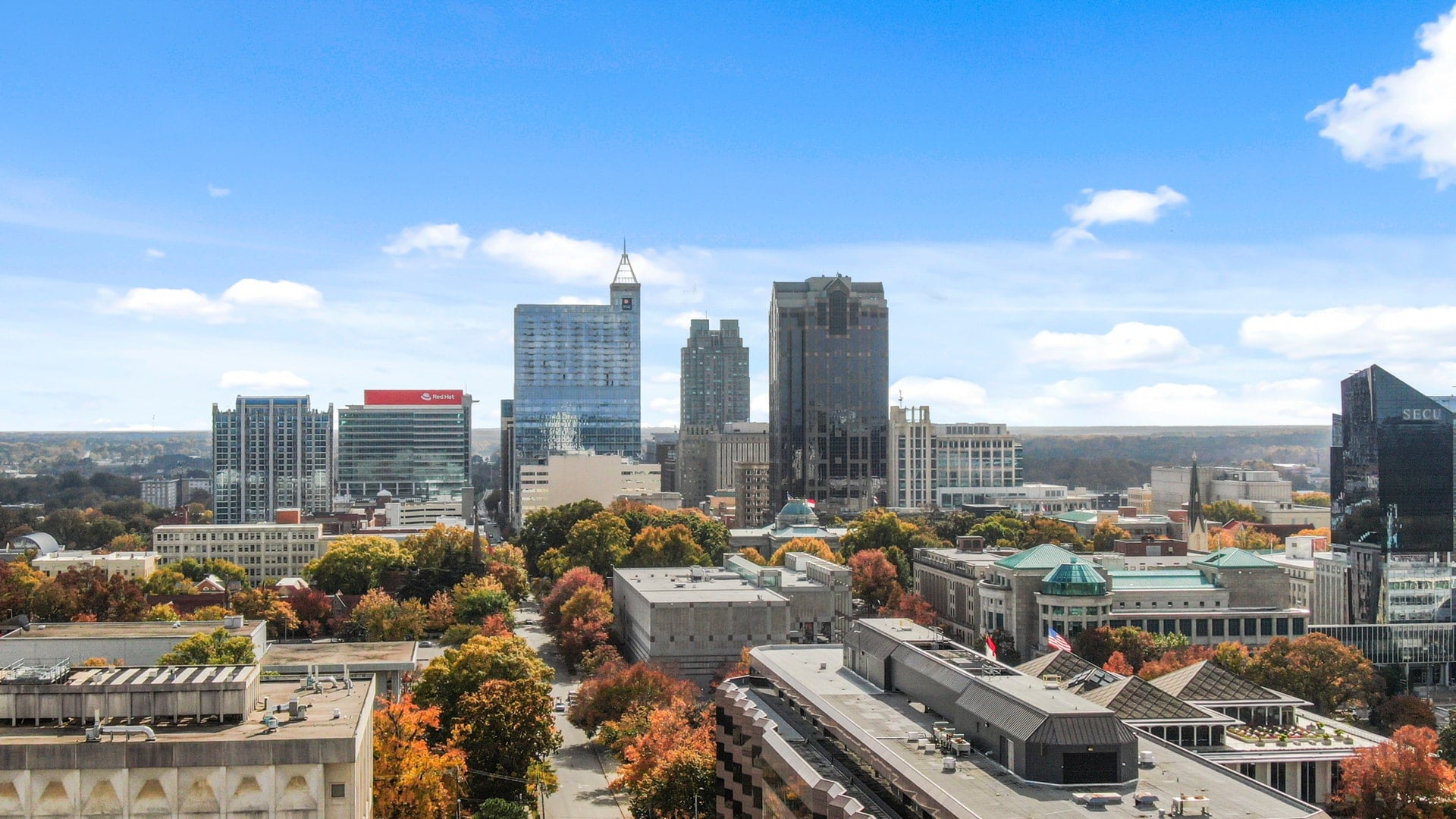 Can you imagine yourself walking through oak-lined streets? That's a beautiful thought.
Raleigh is that kind of beautiful. Popular as the City of Oaks, this part of North Carolina is that – full of oaks. Oaks line the streets in the city center.
Aside from the oaks, the city is famous for its Research Triangle Park (RTP). We'll talk more about that later, shall we?
Read on.
Is Raleigh, NC, a good place to live in? – A Small Town Kind of City
I would have to go straight to the point.
The answer is a big YES!
If you ask me, Raleigh in North Carolina is one of the best cities to live in in the US.
If you are thinking of moving to Raleigh, know that the good reasons outweigh the not-so-good ones.
The city is beautiful for a start. Its beauty keeps attracting people from all over the country. Then there's the prospect of amazing job opportunities as well as career growth.
Who wouldn't love these possibilities?
Raleigh has a population of individuals that are educated and empowered. It is diverse, with each age group well-represented.
So again, if you ask me, you wouldn't regret moving to Raleigh. Let's talk more about why you should.
The Good Side
You have more good reasons to move to Raleigh than bad. Here are the reasons why you should start entertaining the idea of moving.
A City with a Small Town Vibe
What sets Raleigh apart from most cities in the US is its vibe.
It is a city, alright. But it is a city with a strong sense of community. It is welcoming, its people are heartwarming and are at the very least, friendly.
And these things are usually found in small towns, not in big cities.
Except for Raleigh.
Raleigh is a city where you can even ask for directions and be given one without an eye roll. It is a community where most locals tend to help each other out. And this is not only in directions but "help" in all senses of the word.
The city is a perfect place for you and your family to move in. Its community is reason enough to do so.
When moving in, it takes a short while before you yourself find out that the place is perfect. At least in Raleigh, you will never have snotty neighbors.
That's for sure!
A Welcoming Community
Once you have moved to Raleigh, one of the things you would immediately notice is the welcoming vibe.
In Raleigh, you will find a friendly and diverse community. Not only that, but most of the locals are pretty much educated themselves. It is perhaps this diversity that gives the city a strong sense of community.
I am pretty sure that once you move in, there is nothing for you to worry about. You will find yourself immersed in the community in no time.
Do move in. Don't be a stranger!
Diverse Culinary Options… Plus Drinks!
I can't think of anyone who dislikes the food.
Everyone adores superior food shared with friends and family.
Moving into Raleigh is not going to be a problem in this aspect. The city provides a wide variety of options when it comes to dining. The city has restaurants and diners that are sure to fit all types of tastes.
Restaurants within the city are diverse when it comes to their cuisine offerings. It doesn't take a genius to find reasons why locals love eating out.
Plus, when you're in Raleigh, you might be interested to know that the city is home to at least 20 breweries. So, if you love your beer, I bet you will love Raleigh too.
Culture and the Arts
While each age group is well-represented in Raleigh, a big chunk of the population is made up of the young. It is the younger generation that makes up for most of the community.
What sets Raleigh apart from most cities is its friendly vibe. Whenever you are in need of anything, you are sure to get some assistance from just about anyone you find.
The city is also abundant with green spaces. These are so ideal for relaxation and picnics.
Aside from these, the city is also a hub for a thriving music and art scene. It also has family-friendly museums and world-class theaters.
And oh, before I forget, have you heard of the Marbles Kids Museum? That's something you should check out. They have amazing exhibits that are updated monthly.
In Raleigh, you get to experience culture and arts to the fullest.
The Bad Side
Life in Raleigh is fun. But what are the things that I should watch out for before moving in?
Here are a few things.
Drive! Or Else…
I would have to be blunt about this.
Raleigh does not have a transport system. If you don't have a car and don't have plans of getting one, this is not the city for you.
Residents in Raleigh tend to drive from one place to another. There is not much when it comes to public transportation.
There is the occasional bus ride, of course. There are cabs around. But getting to places can either be hard because of the bus's availability. Or it can be pretty costly because of the cab prices.
But if you have a car with you, this is not going to be any of your worries. So, go ahead. Move-in! But drive safe!
The City's Nightlife.. Or the Lack of It
If you are young and love clubbing, you will find that Raleigh is such a disappointment.
There are pubs and restaurants, alright. But Raleigh lacks the kind of nightlife you will find in cities.
It could be that the city is a bit more conservative than the others. They appreciate a drink once in a while. But parties, loud music, and party lights are certainly not their thing.
If you are fine with music festivals once in a while, Raleigh has an acceptable number of them. But if you are looking at parties and clubs, this is not the city for you. Better stay in the big city where you're from.
The Weather Problem
Raleigh has four seasons. All year long, the weather is always perfect for outdoor activities. When I say perfect, this is pool weather for the whole summer. I am also talking about mild winters with a few days of snowfall.
That description may sound perfect. But do you know that the city gets too hot during the summer? To give you an idea of how hot it is, hear this out.
During summer, there can be weeks where temperatures reach about 100 degrees Fahrenheit. Relative humidity can go to as high as 95 to 100% for many weeks.
If you are new and not used to the heat, you may have to think this over.
Because while winters are fine, the summer season can be brutal. Raleigh's summer can be terrible. That is if you compare the heat with other states like California,
What is the cost of living in Raleigh, NC? – Unbelievably Affordable
Raleigh, in general, is cheaper when you compare it with other cities.
For many years, it is only housing prices that are steady in its increase. This is because of the influx of people that move into the city looking for a better life or career.
If you are planning to rent in the city, this may be something that you have to consider. It takes a bigger chunk of your salaries. But fret not. The taxes are quite low. The salaries are a bit high. So, for me, this is fair enough.
So, how does living in Raleigh equate to your cost of living?
Read on to find out.
The Good Side
When moving into a new city, it would always be the cost that you need to find out. How much is everything compared to what I'm spending now? That's the usual question.
It's a good thing Raleigh is more affordable than most cities in the US. Here are a few major affordable commodities you should know about.
Rent… Believe it or Not.
Yep! Believe it or not, but Raleigh has rent that is quite affordable than other cities.
In fact, if you want to quantify it, Raleigh is 30% more affordable than the national average. This is when it comes to renting and housing expenses.
For example, the median rent for the city is $750 per month. This is lower than the national average. The medium home price is also pegged at $240,000.
It is not only in rent and housing that Raleigh is affordable.
Let's talk about utilities. The average electric bill in the city is about $161 per month. Phone bills are at $170 per month, while gas is about $2.30 per gallon.
All these make up for a list of more affordable living expenses. Again, you have to remember the magic word – 30%. Believe it or not, housing expenses in the city are 30% lower than the rest of the country.
Believe it or not.
World Class and Affordable Healthcare
Raleigh has some of the best healthcare systems in the country. We understand that anywhere else in the US or the world, keeping healthy is a priority. This is not just for you but your family as well.
Raleigh can ensure that you and your family stay healthy at a lower cost. It is home to international centers that focus on medical care and research.
The city is also where you will find the best hospitals in the country. An example of this is the Duke University Medical Center, the UNC hospitals, and a lot more.
Also, a great healthcare system is nothing without competent personnel. In Raleigh, you will find the best doctors and nurses the country can ever have.
So, if you have plans of moving to Raleigh, fret not. You are assured that you and your family are well taken care of.
The Bad Side
While we have a lot more affordable commodities in Raleigh, there are quite a few that are a bit more expensive.
These are those that would make you doubt whether moving into a new place is a good choice or not. Here's one major factor you have to consider before moving in.
The Price of Basic Needs – Groceries
Raleigh boasts of housing prices being much lower than the national average. But if there is one thing that is a bit expensive in the city, it is the price of groceries.
In summary, I would have to tell you that the city is 13% more expensive than the national average.
A few major examples are of your basic needs. A loaf of bread, for instance, costs $3.77. A gallon of milk is at $2.20, while a carton of eggs costs $2.05.
All these, and more, are 13% higher than what the rest of the country is spending on groceries.
And that's not a good thing.
Why move to Raleigh, NC for work? – A Biotech-Centered Industry
If you have plans of moving to and finding a job in Raleigh, you're in for a nice future.
Raleigh has a healthy economic landscape. This is so true, especially in the fields of technology, healthcare, and education.
It also has a strong market and higher pay. And because of these reasons, Raleigh is one of the best cities to work in in the country.
The Good Side
So many things work to your advantage when you find work in Raleigh. Here are a few of them.
A Healthy Economic Landscape
Raleigh remains to be one of the countries healthiest when it comes to its economy. It had been consistent in its growth over the years, with not less than 3% growth per annum. This growth rate is way ahead of the country's growth rate.
The economic situation in Raleigh is healthy. Thanks to technology and other industries, it remains to be one of America's best.
So, if you are thinking of looking for jobs in Raleigh, this is the best time to look for one. If you are planning on putting up a business in the city, go ahead. The time is perfect. The opportunities are waiting.
Great Careers Waiting
The city of Raleigh has a healthy economic climate. It is because of this that it is an ideal place for those that are planning to further their careers.
A lot of firms in Raleigh have their focus on jobs that are related to technology. Other industries are biotech and the medical industry. When looking for jobs in the city, you are assured of one. The fact that large Fortune 500 companies are in town is assurance enough.
Plus, aside from these large companies, startups have also fostered in the city. This makes the city a perfect place to grow a business or even a career in the present time.
The Bad Side
And just when you thought Raleigh is perfect, something else not so desirable comes in.
Limited Industry
Working in Raleigh is nice. You get a lot of nice colleagues with you. You also have nice-enough bosses who understand each qualm and whine you may have at work or at home.
But what would be a disadvantage when it comes to working in Raleigh?
One of the major disadvantages is if you do not have a background in technology and/or biotech.
There are jobs for everyone in various industries, yes.
But these jobs do not pay as much as when you work in biotech. Only those that are tinkering on software or whatever in biotech are paid well.
If you are not part of these industries, it would be a bit more uncomfortable living in Raleigh.
If you have plans of finding work in the city, you better have a biotech background.
Conclusion
Raleigh in North Carolina is one of the best cities to live in right now.
If you want to relocate to Raleigh, this is a perfect time. This is so true if you work in the industries related to biotech and technologies. If not, it's still a place worth moving into.
You have beautiful people around you. The housing is cheaper than most. And again, you have oaks on both sides while walking in the city center.
Where else would you be able to find that?