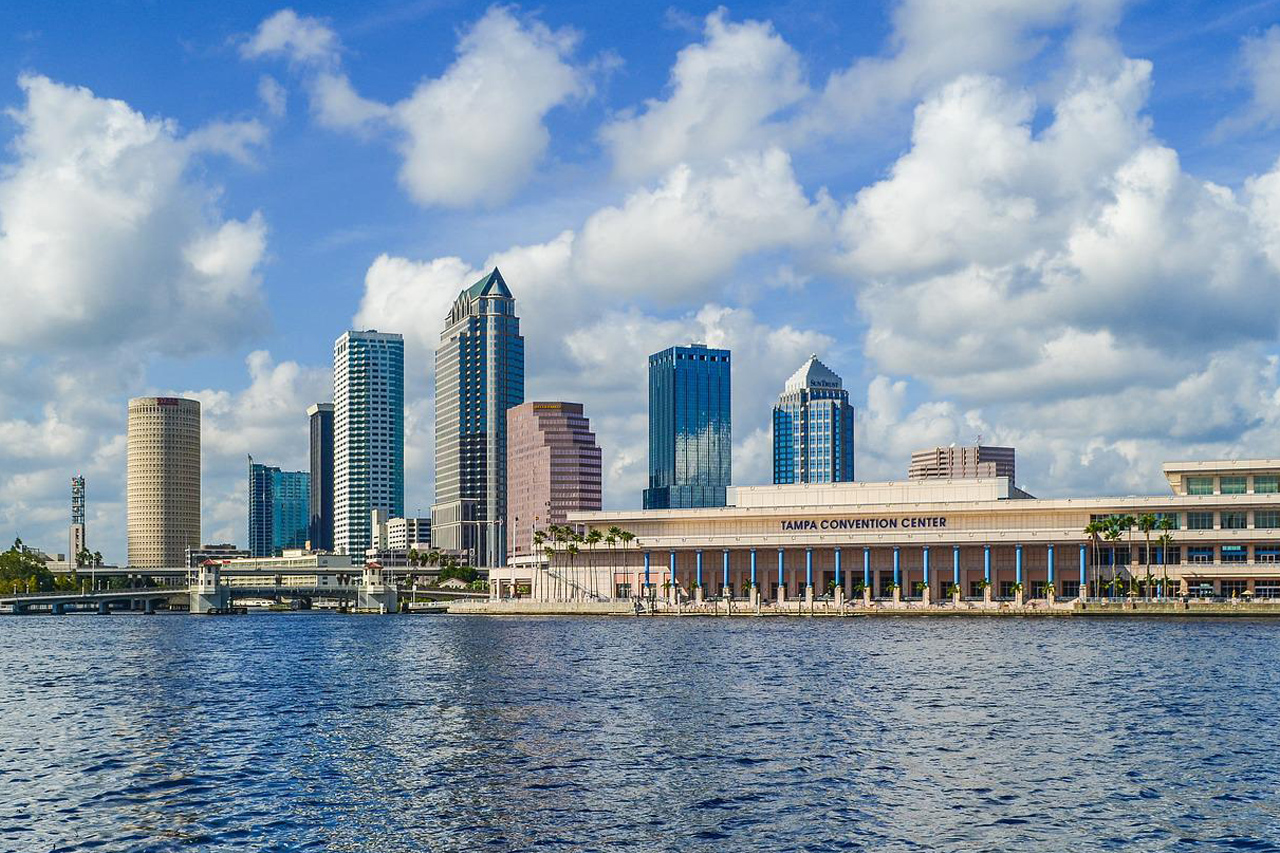 Like many people, you might have fantasized about living in beautiful Tampa, Florida.
The stunning city of Tampa, Florida, is set on the rim of the Tampa Bay region. Tampa is home to incredible beaches and a booming population, with three significant areas: Tampa, Clearwater, and St. Petersburg.
Tampa is the eighteenth largest metropolitan area in the United States, with a larger population than Miami and Fort Myers. Still, its initial expansion was slower than that of other American cities.
However, like all cities, this Florida metropolis has its share of pros and cons.
So, what can you expect when you live there? Here is a summary of the pro and cons of living in Tampa.
Is Tampa a Good Place to Live In? – A Family-friendly City
The Good Side
World-class Culinary Destination
As with any vibrant cultural city, one of the most delightful rewards of living in Tampa is the fantastic food scene.
With a wide range of cuisines, flavors, and perspectives—most notably those contributed by the city's immigrant communities—Tampa is home to several strongholds and newcomers to the local food scene.
The Cuban sandwich can best represent Tampa's cuisine. If you randomly choose five restaurants in the city, you'll probably find the sandwich in at least three.
Aside from Cuban sandwiches, Tampa also offers a wide variety of delectable ethnic foods you can sample after moving to the city.
You can easily find a place to eat with dozens of farm-to-table restaurants and food trucks. Plus, there are many restaurants with a Latin flavor, giving you a sense of what it is like to be a native Latino.
You will also access your preferred chain restaurants and corporate dining locations. Bern's Steakhouse serves lunch and dinner with French and American cuisine. As a wine enthusiast,
Berns Steakhouse will leave you thirsty. The restaurant is a wine-award-winning business that has served the community for almost six decades.
Also, it would be best to explore the food scene at Heights Public Market, as there are dozens of restaurants showcasing the region's best chefs and restaurant owners.
The City Has a Good Education System
If you wish to live in the city and have children, your children's education will be your first concern.
The good news is that in this sense, Tampa will never fail. The city contains the most prestigious educational institutions and institutes in Florida, from elementary schools to universities.
The famous Hillsborough County School District serves the Tampa metropolitan area.
Hillsborough County School District serves the whole Tampa metropolitan area. The school district is now one of the ten most significant in the United States.
The University of Tampa and the University of Florida are further options if you're looking for a higher education facility.
The City Has Its Tranquil Spots
With over 300,000 citizens, Tampa is the third-largest city in Florida. Living in the city, you will find various neighboring towns and cities inside a territory inhabited by more than 4 million people.
Even with all of this activity, there are numerous places where you can discover a property that offers a serene escape from the bustling city life.
Hyde Park, the Channel District, and Ybor City each provide distinctive alternatives. You can also discover some of the National Register of Historic Places-listed properties.
The Bad Side
The City Is the Lightning Capital of the World
In Florida, Tampa benefits from the lovely, bright weather that characterizes the Sunshine State. However, the climate is not ideal twelve months out of the year.
It is essential to know that summers are humid and hot. The hottest months are July and August, with average highs of 90°F. The air also feels dense due to the high humidity levels. If you are not used to it, prepare yourself as it can drain your energy.
Summer also delivers a great deal of precipitation. In June, July, August, and September, 5-8 inches can fall, developing an environment reminiscent of a steam bath.
However, the worst is not the hot and muggy summer weather because severe tropical storms and hurricanes frequently strike the city.
The city is known as the lightning capital of the world for a reason. The official hurricane season is from June to November, and the hazards of damage, flooding, and injury can result in higher-than-average insurance premiums.
Even so, Florida's experience with the costs of unpredictable weather has led to a united front of citizens, businesses, and local politicians.
When it comes to storm preparation and recovering from the repercussions of bad weather, the citizens of Tampa maintain a positive, cooperative, and resilient disposition.
It Is Tough To Get Around
Tampa is a large metro region with millions of residents, making commuting inside the city challenging for several reasons.
The city offers public transit; however, it is limited and inconvenient. Due to the restricted number of bridges traversing the bay, most Tampa residents find it vital to own a vehicle.
As a result, high traffic congestion is an everyday occurrence in Tampa.
According to a 2019 evaluation, the city is among the top 20 cities with the worst traffic, and commuters are stuck in traffic for 23% longer than in other cities.
Therefore, you should consider this if you want to relocate to this city.
What Is the Cost of Living in Tampa? – Affordable Beach Living
The Good Side
Housing Prices in the City Are Affordable
As the city with the eighteenth-largest population in the United States, Tampa should also be one of the most costly places to live. Surprisingly, the city does not even crack the Top 40 Most Expensive Cities in the United States.
Here, housing is 23% less expensive than in other U.S. cities. Given the quality of the city of Tampa, this comes as a surprise to many.
You can do it in Tampa if you want to live near the beach but don't have a six-figure income.
You'll also notice that the region's median home value for 2019 is $219,000, much lower than most of the country.
Florida has no state income tax, allowing residents to keep more earnings provided they manage their expenditures well.
Rental Costs Are Extremely Affordable
One of the benefits of living in the Tampa area is the city's comparatively affordable rental costs.
With an average of $1,100 monthly, you can find a one-bedroom apartment in the city. On the other hand, a two-bedroom will cost you an average of $1,340 per month.
This city's affordability means that whether you buy or rent, you will have more money each month to save or spend as you please.
The Bad Side
High Insurance Costs
When you move to Florida, there are certain costs you will not be able to avoid, one of which is the cost of insurance for your new home.
You should constantly take precautions to protect your property from water damage if you live in Tampa because the city frequently floods.
Unfortunately, this kind of insurance coverage will not cost little.
Most Suburbs Are Under Home Owner's Association
Numerous houses in Tampa are governed by an HOA, resulting in rigorous regulations, which results in additional costs when purchasing a home.
Additionally, each organization includes board members working to ensure that each resident's requirements are satisfied.
HOAs can collect a specific assessment fee to fund neighborhood upgrades and repairs. You are required to comply and pay substantial costs as a resident.
In Florida, you cannot terminate an HOA membership as you become a member when you buy a residence in its jurisdiction.
The transaction forms a contract between you and the association, so you must pay its fees, dues, and special assessments.
If you cannot pay the special assessment, the HOA can pursue this fee as a debt. It is relatively uncommon for homeowners to face foreclosure proceedings after being unable to afford an unforeseen bill.
Before purchasing a home, you'll want to examine the HOA's detailed assessment history to determine how the community utilizes its reserves.
It is crucial to consider this when relocating to Tampa and choosing a home to buy.
Why Work in Tampa? – Best Place to Work Remotely
The Good Side
Diverse and Robust Economy
Newcomers to the Cigar City will find ample options for professional development in Tampa's broad and robust economy.
Since Tampa's early days, when cigar manufacture was the main attraction, the economy has become much more diversified.
With a solid foundation in tourism, food processing, healthcare, and high-tech enterprises, the metro area is today known for more than just cigars. It serves as western Florida's industrial, commercial, and financial center.
Trade has also historically played a significant role in the city's economy, as the Tampa Bay Area is home to three seaports.
The Port of Tampa is a vital cruise port and one of the busiest cargo ports in the United States. Over 100,000 Tampa citizens are working in this industry, generating USD 15 billion annually for the local economy.
There Is a Stable Local Job Market Here
If you're trying to advance your profession, Tampa is the best city in Florida to settle down.
In Tampa, new residents with expertise in aviation, business and information systems, finance, and manufacturing can find abundant employment options.
Entrepreneurs wishing to launch a business in the city will also find that Florida's government incentives make this a viable option.
St. Petersburg and Clearwater, particularly, have flourishing hospitality and tourism businesses due to Tampa's prominence as a holiday destination.
If you have not already got employment in Tampa or the neighboring metropolitan region, your chances of doing so are favorable. Alongside real estate, retail, healthcare, and national defense, the tourist industry is a significant employer.
However, incomes in the city are slightly below the national average, so those seeking lucrative employment packages will have difficulty finding work here.
Bilingual Job Opportunities Abound
People from Mexico, the Caribbean, and other countries have made Tampa their home, contributing to its image as a "melting pot." It results in speaking many languages, principally Spanish and English.
Living here, you will discover that cultural diversity provides more bilingual employment opportunities than the national average.
Therefore, if you have a good knowledge of both languages, you will have numerous opportunities to put your language talents to use.
A Healthy Work Environment Exists
As a city in the Sunshine State, Tampa's work pace is considerably slower than that of major US economic centers such as Los Angeles, New York, and Washington, DC.
Those who hold senior positions within a major corporation will still be obliged to work long hours and under pressure to meet particular goals. Still, workplace success is not the only focus of Tampa's work culture.
Living in Tampa, you will discover that the job atmosphere is generally less competitive than elsewhere in the United States.
Numerous businesses offer wellness programs to their employees and encourage them to maintain a healthy work-life balance.
They also make a concerted effort to ensure that their employees are satisfied at work, which is advantageous for employee loyalty and retention.
Although it varies by organization and industry, Tampa has a high prevalence of flexible work schedules and remote employment options.
The Bad Side
Decent Jobs in the City Are Hard to Find
Although Tampa is becoming more progressive, it is not the most developed city in the region regarding providing new employment opportunities.
Working here, you will find that the company's corporate culture can make many available roles feel like a step backward in your career.
Ensure you have a position that meets your present and future demands before moving to this city.
The City Offers Low-paying Jobs
Most people who migrate to Tampa are doing it for the lifestyle benefits this city gives in the Sunshine State rather than the large amounts of money they can make.
While Tampa's skyscrapers symbolize strong business and good employment chances, salaries here are lower than in New York City, San Francisco, or boom towns like Austin, Texas.
The city's average per-household income is below par, despite the city's job market growing faster than the national average. Nevertheless, single-person family earnings hover slightly above the national average of $49,560 annually.
The cost of living is low than in other cities in the region, so given the right circumstances, you can do more with less. Moving without a job will force you to accept low-paying entry-level work to cover your expenses.
We hope this summary assisted you in deciding whether Tampa is an excellent area to reside. If you have other pros and cons of living in Tampa, please share them in the comment below.