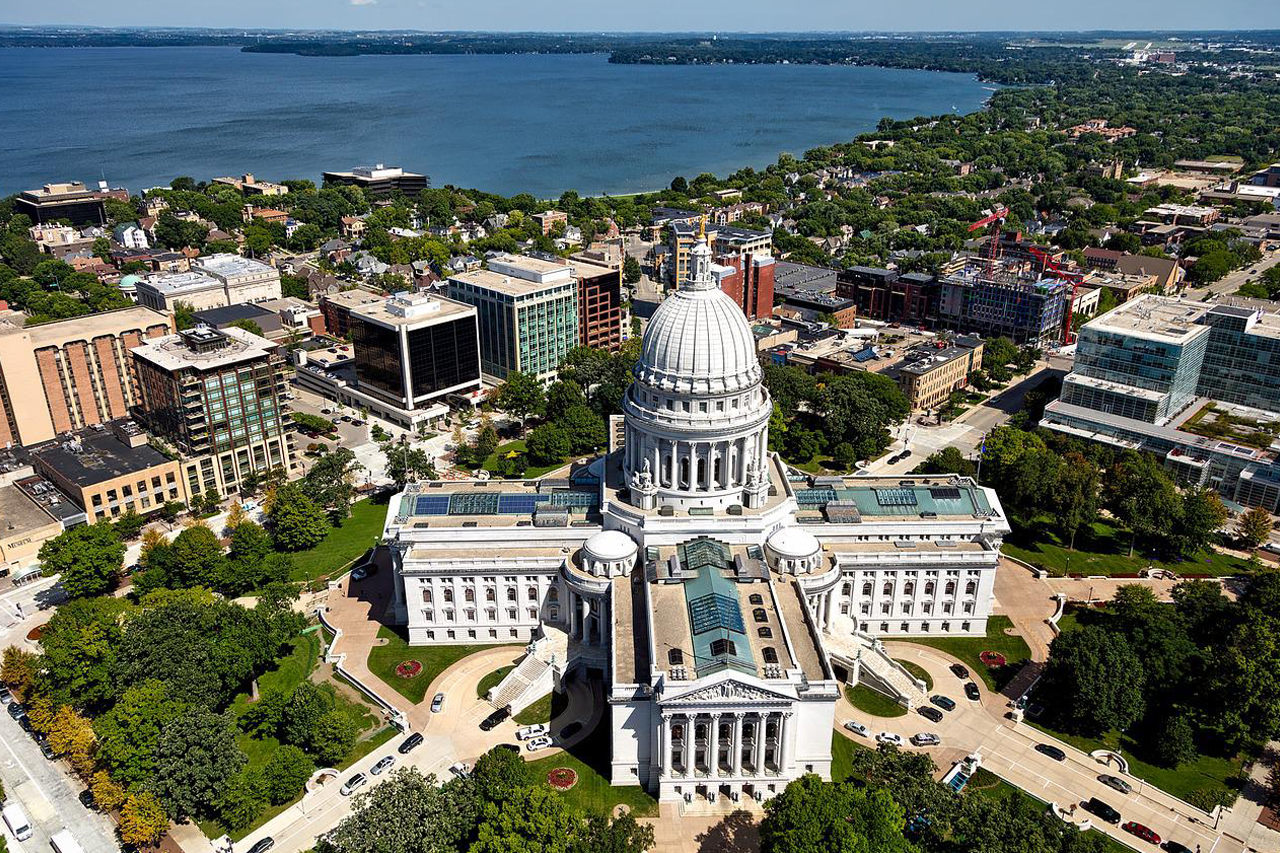 Nesting between the lakes of Monona and Mendota, the capital city of Wisconsin, Madison boasts about its great outdoors. You can paddle the city's beautiful and serene lakes and explore more nature-fueled destinations such as the Olbrich Botanical Gardens or the University of Wisconsin-Madison Arboretum.
But more than its incredibly blessed environment, Madison is full of surprises with many things to discover, even without a car. For instance, you can spend time exploring State Street or have a relaxing time at the Memorial Union Terrace.
Depending on the type of traveler you are, Madison has the right place for you!
So, dig in and check out these +12 Things to do in Madison without a car.
1. Taliesin Preservation
Let's start our checklist with the Taliesin Preservation that Madison City always boasts about. It is a National Historic Landmark declared by UNESCO. It is the only world heritage site available to the public in Wisconsin and offers an awe-inspiring landmark and architecture.
The preservation is formally known as the 'The 20th Century Architecture of Frank Lloyd Wright'.
The site is an 800-acre agricultural estate with buildings and structures showcasing every period of Wright's career.
It has a great selection of Frank Lloyd Wright works, a nationally renowned American architect.
When you check out the area, avail the Driftless Landscape Tour to maximize your visit. You will see the various landscapes surrounding the estates and their incredible style and architecture. The House Tour, on the other hand, is an excellent opportunity to see the exceptional interior, furnishings, and gardens in the vicinity. You will witness the excellent work of an outstanding architect through these tours.
2. Chazen Museum of Art
Inside the University of Wisconsin-Madison is the Chazen Museum of Art. It has a massive collection of arts and pieces, which is second to the largest in the state of Wisconsin. The museum is accredited by the American Alliance of Museums and has been a city attraction since its establishment.
There is an estimate of 23,000 artworks that holds different periods, mediums, and geographical locations. Aside from its thousands of permanent collections, it also caters to seasonal and temporary collections for its patron and community. With well-curated displays, visitors are impressed mainly by the art and galleries during their visit.
See the fantastic works of European artists like Salvador Dalí, Giorgio Vasari, René Magritte, and Barbara Hepworth at the museum. Or discover unique American talents like Andy Warhol, Alexander Calder, and David Klamen. There are also exquisite paintings from various parts of the world, like China and Japan, which the museum proudly presents to art lovers like you.
3. University of Wisconsin-Madison Arboretum
As Madison is famous for its great outdoors, you would not want to miss one of the most beautiful landmarks in the city. The University of Wisconsin-Madison Arboretum has more than 520 acres of forests and prairies you can explore during your visit. It is also a learning and research facility that focuses on ecological restoration in the country.
The arboretum is a delight for every nature lover since it features a good portion of woodlands, prairies, wetlands, savannas, and springs. It also holds a stunning horticultural collection with more than 5,000 plants and a massive display of flowering plants.
Explore the Viburnum Garden and see more than 80 different species of viburnum plants. Also, there are over 110 species of arborvitae that you will find equally interesting. The arboretum also offers around 20 miles of hiking trails, biking paths, and snowshoe routes that add to the area's excitement.
4. Lake Mendota
Of course, you would also want to experience this incredible landmark in Madison, Lake Mendota. It is a freshwater eutrophic lake and the largest lake in the city. The lake is within a 9,781 property in Dane County, offering excellent access to public city facilities.
Lake Mendota is the biggest lake among Madison's fabulous five – Middleton, Shorewood, Mendota, Maple Bluff, and UW-Madison.
It is home to several native aquatic plant species like American lotus, wild celery, and common waterweed.
Bird species also circulate the area, such as the blue jay, Baltimore oriole, bald eagle, and common loon.
There is much to enjoy in Lake Mendota, and you will never run out of water activities. Here you can discover several water adventures like ice fishing, ice hockey, cross country skiing, and snowkiting during the winter season. Then, take a relaxing time overlooking the lake, and create meaningful moments with your friends and family.
5.Allen Centennial Gardens
The Allen Centennial Gardens is a learning facility in Madison and is regarded as the artful living laboratory in the city. It serves as an outdoor classroom for the UW-Madison students and nearby communities. The garden is also within the ground of the University of Wisconsin-Madison, where the Agricultural Dean's House resides.
The 2.5-acre garden offers a place of respite for every visitor. Aside from its outdoor classroom, it gives a panoramic beauty of the stunning surroundings of the university. You can both enjoy nature while increasing your knowledge about plants and ecology.
Visiting the garden is a good training opportunity to learn plant identification and its nomenclature. It is also a rare chance to see a stunning display of Victorian house architecture through the Agricultural Dean's House. You can relax at the benches installed throughout the garden while marveling at the beauty of your surroundings.
6.Gail Ambrosius Chocolatier
If you are into sweet and chocolate adventures, the Gail Ambrosius Chocolatier is something to include in your travel list. The place specializes in creating exotic dark chocolates that attract a considerable following and customers. It has a good selection of premium chocolates that can satisfy every craving.
Gail Ambrosius Chocolatier offers you truffles and different chocolate flavors and fillings from caramel, nuts, and fruits.
Unique flavors are also available, including spices, teas, and regional cacaos.
The shop offers you a memorable chocolate experience straight from regional locations worldwide.
Learn about the various flavors of chocolate from Gail Ambrosius Chocolatier, and grab a taste of its cognac, shiitake mushroom, and sweet curry with saffron truffles. Engage your senses and smell freshly made chocolates from this shop. Make sure not to miss other variants like jasmine, espresso, and earl grey.
7. Wisconsin Historical Museum
At Madison's Capitol Square, you can find the Wisconsin Historical Museum. It is an ideal place to visit if you want to learn more about the heritage and incredible story of the city of Madison. Some exhibits center on Madison's life, agriculture, industry, and politics.
The museum offers permanent exhibits that emphasize the evolution of Madison as a community. You can check out its showrooms for First Settlers, Era of Exchange, Native Nations & Tribe, and Sense of Community. Traditional displays like artifacts, dioramas, interactive multimedia, and photographs are also available.
When you are in the vicinity, ensure that you also pay a visit to the exhibition on malted milk. It is historically associated with the state and was first made in Wisconsin. It is an excellent venue to visit because of the diversity in its displays.
8. Jordan's Big 10 Pub
A place is ideal for eating, drinking, and sports with its excellent sports venue. It is also a great event venue for corporate gatherings, group celebrations, and parties. If you are curious about the infamous Friday's Fish Fry at Madison, then you should take some time to visit Jordan's Big 10 Pub.
Jordan's Big 10 Pub is a famous hangout place among the students at the Univesity of Wisconsin. It attracts a significant following because of its mouthwatering dishes and food offerings. For instance, the ever-famous Friday's Fish Fry will serve you a whole plate of battered cod, grilled salmon, shrimp, and bluegills.
Maximize your visit to the pub, and explore its impressive beer selections on tap or bottle. You can partner it with a side of soup, onion rings, and the classic French fries to elevate the experience. Check out the site for game day to experience the largest outdoor beer garden on Regent Street in the city.
9. West Towne Mall
Try visiting the West Towne Mall for those who want a more modern city facility. It is a shopping center owned by CBL Properties in Wisconsin. It opened in 1970 and was designed by the architect Lou Resnick. The place is around 56,000 square feet, with various stalls and boutiques from different brands.
The West Towne Mall is a sister mall of East Towne Mall with anchor stores like Hobby Lobby, JCPenney, and Dick's Sporting Goods. The mall is also a huge food park with various restaurants to try. The mall is in continuous development to accommodate the highly evolving needs of the Madison community.
From famous food brands like The Cheesecake Factory and Sbarro up to city specials such as the Tacos ADY and Pancheros, West Towne Mall will not disappoint. It is an excellent place to hang out, eat great food, and attend community events on the weekend.
10. Cave of the Mounds
The Cave of the Mounds is my top recommendation for adventure seekers who want a more thrilling experience in Madison. Just 30 mins away from Madison center, the cave is the most adventurous and exciting activity you can try here. Visitors have the opportunity to explore this natural wonder and go below the grounds of the cave.
The cave was discovered in 1939 and has become a travel destination. Here, animal fossils, limestone cave formations, trails, and gardens are nearby. It is also regarded as a National Natural Landmark by the Department of the Interior and National Park Service because of its unique offerings to locals and tourists.
You can explore the Cave of the Mounds in two ways – Below Ground and Above Ground. No matter what you choose, there is a dedicated tour to assist you on the trip. The tour guide will provide you with maps and directions as you traverse the cave's vicinity. Listen and take note of the trivia so that you can learn more about its history and great offerings.
11. Lake Kegonsa State Park
Madison has a lot of great outdoors to offer. One of which is the Lake Kegonsa State Park located at 101 S. Webster Street, Madison, WI. It is a 3,200-acre lake offering both locals and tourists an excellent place to enjoy recreational activities.
The state park has swimming beaches and picnic areas, giving you an ideal place to bond with family and friends. Lake Kegonsa State Park is the perfect place to savor a peaceful atmosphere and enjoy the beauty of nature.
You can try plenty of activities here, such as fishing, boating, sailing, and water-skiing. It also offers 80 stunning campsites available for everyone. Make sure to hike and walk in the morning to maximize your stay at the park. It is an excellent treat for travelers who love to experience vast green spaces close to the city.
12. Madison Eats Food Tours
Even if you do not have a car, you can still enjoy the different flavors of Madison. The Madison Eats Food Tours is what I recommend when you visit the city for the first time. Here you can have a full day exploration of the culinary wonders of Madison and have the best food experience in town.
You can book several food tours according to your preference and budget. You have the option of a walking food tour or biking food tour, depending on how you want to maximize the activity.
It is a great opportunity to expand your knowledge and discover authentic Madison cuisine's distinct taste and flavorings. Explore the top restaurants in the city, or find the newest addition to the food listings with Madison Eats Food Tours on your visit.
Madison is not just about nature and parks. It has a diverse set of attractions that might surprise you upon your visit. May this list give you a glimpse of how attractive the city of Madison is. If you want something in mind not included in this list, you can comment below. I will be happy to hear from you.