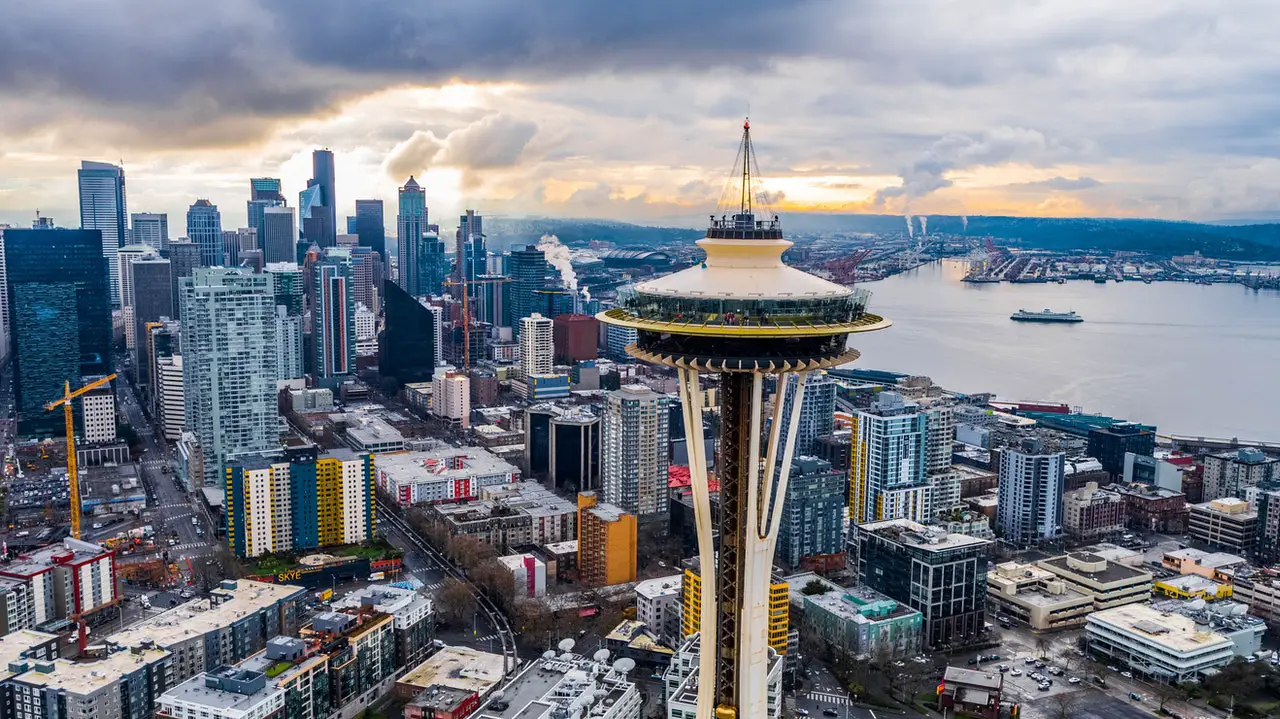 The impressive job market and top-tier education with greener spaces make Seattle a better place to live than Anaheim. On the contrary, Anaheim is accessible with lower living costs than Seattle's. Nevertheless, the town offers fewer work opportunities.
Seattle is the capital of Washington and one of the major cities in the Pacific Northwest. It is one of the most prosperous metropolitan areas in the country, with breathtaking natural wonders, a thriving local economy, and a strong cultural impact.
This city is known as the 'Emerald City for its lush vegetation.'
Aside from its well-known amusement parks and lovely cityscape, Anaheim has a wealth of intriguing information to discover. The city never ceases to impress, from its largest employer to its prominent citizens that resided in this area.
If you plan to reside in either city, it is essential to identify which advantages work for you more.
What are the Pros and Cons of Anaheim vs. Seattle?
Seattle is a pet-friendly city with excellent schools and a better economy than Anaheim, but it is home to an increasing number of homeless people. Meanwhile, Anaheim has lots of outdoor activities to enjoy and reduced pricing, but it is heavily dependent on tourists.
Living in Seattle
Pros
Way better economy than Anaheim

Although Seattle is significantly more expensive than many other places. It also features a lot of high-paying jobs. Amazon, Starbucks, Weyerhaeuser, and Nordstrom are a few Fortune 500 companies based in Seattle.

In the past ten years, Seattle added almost 220,000 private-sector jobs. The leading employers are technical, business, scientific, manufacturing, education, food services, and retail commerce.

In addition, Seattle has a lower unemployment rate of 2.60% than Anaheim, which has a rate of 4.30%.

Pet-friendly city

Seattleites might be cranky with strangers, but they adore their dogs. Seattle, by all accounts, is a pet-friendly city.

Dogs are welcome in every park in the city as long as they are on a leash, and many of those parks also provide a part where you may let your dog run free.

Pet-friendly companies provide exceptional services, such as the "Dogwood Play Park," a dog playground/bar combination. The Seattle Barkery serves delectable snacks for dogs and cakes for special occasions.

Prime education

The high-quality education provided to families with children is one of the most compelling reasons to migrate to Seattle.

Public and private schools offer excellent secondary education, and there are various colleges and institutes where you may receive a coveted degree.

The schools in the area have high graduation rates, with 56.6% of Seattle residents holding a bachelor's degree or above.

Seattle has the most significant percentage of residents aged 25 and over with a college degree – 63%. In addition, the Seattle Public Library system estimates that roughly 80% of people have a library card.

In 2018, the Central Library and its branches had 5.2 million in-person visits and over 12 million online visits.

Green spaces

Seattle residents like spending time outside, taking advantage of the pleasant weather, and taking in the scenery.

If you're moving to Seattle, Washington, soon and want to see some of the city's beautiful parks and green spaces, make a point of visiting these parks: Washington Park Arboretum, Gas Works Park, Kerry Park, and Green Lake Park.

Coffee haven

Living in Seattle is a paradise for coffee enthusiasts.

Seattle's enormous coffee culture offers something for everyone, whether it's tasting coffee history at the city's first Starbucks close to Pike Place Market or savoring a handcrafted brew at one of its numerous artisan roasting rooms.

The Emerald City boasts the most coffee producers per capita in the country, and with good reason: Seattle residents consume more coffee than residents of any other US city.

The metropolis also boasts some of the most inexpensive coffee in the country, sharing first place with San Diego, San Francisco, and Portland for the most economical and highest-rated coffee shops.

Additionally, each area in Seattle has its specialty coffee shop.
Cons
Homeless population

Every day, the homeless population in Seattle grows, and many of them are alcoholics or drug addicts. You can find homeless shelters everywhere, and this demographic may be contributing to the city's rising crime rate.

"Seattle Freeze"

It's an actual phenomenon, but it has nothing to do with the weather. It alludes to Seattleites' penchant for giving you the cold shoulder. Seattle natives, it appears, are hardly the nicest of people.

49% of them don't want to have a brief chat with somebody they don't know. Furthermore, making new acquaintances is unimportant to 40% of Seattle residents.

You can expect some difficulty meeting new acquaintances if you're relocating alone. However, Seattle might be as close to perfection as they can find in the US for introverts.
Living in Anaheim
Pros
Accessible city
Anaheim's central location is ideal for residents who work in nearby cities. Residents of Anaheim can easily travel to Los Angeles, Long Beach, Newport Beach, and Santa Ana. You can easily travel from Anaheim to any of these locations if you work in one of them.
The city's central location allows for more services and activities. Even though the town is not on the coast, access to the beach and the Pacific Ocean is still possible.
Living in Anaheim has no hassle if you plan to go on vacation to other places.
Lesser cost of living than Seattle
Anaheim has a cost of living that is 2.3% higher than the California average and 52.2% higher than the country's average.
You can expect up to nearly $4,000 in estimated monthly costs for a family of four living in Anaheim, excluding rent and housing costs.
Fortunately, Anaheim is still 12.2% less expensive than Los Angeles and 21.48% less costly than New York City.
Compared to Seattle, Anaheim is more than 11% affordable.
Professional sports team
Anaheim is home to various professional and amateur sports teams that will have you cheering in no time. Anaheim boasts a squad for every sport.
If you enjoy all things hockey, the Anaheim Ducks are a must-see. The Ducks were formerly known as the Mighty Ducks of Anaheim. The Walt Disney Company founded them in 1993.
It is also a must-see to witness a game for the Western Conference of the National Hockey League's Pacific Division, which plays at the Honda Center downtown.
Outdoors
While the rush and bustle of city life are thrilling, it is also necessary to take a break from time to time to breathe fresh air.
There are several parks, walking paths, lakes, playgrounds, nature preserves, skate parks, tennis courts, and dog parks to visit in Anaheim.
In Anaheim, spending time outside is a way of life and many inhabitants like doing so on nights and weekends. Although Anaheim is not immediately on the coast, it is only a thirty-minute drive from Huntington Beach and Long Beach for a beach excursion.
Creativity and diversity
Anaheim is known for its creativity. Disneyland and California Adventure's whimsical combine with the area's art and cultural vibrance to make it a terrific place for artists, creatives, and families.
Because it is home to Disneyland, tourism is abundant, and Anaheim inhabitants mingle with visitors from all over the globe who come to enjoy the rides and ambiance provided by the theme park.
Anaheim has a lot of diversity, with ancient downtown districts, retail centers, and affluent residential projects all around the city.
There is a vast spectrum of cultural and ethnic diversity throughout the city. Residents like having a good time and admiring other people's inventiveness.
Cons
Tourism reliant

Anaheim has about 357,000 people, but it attracts about 25 million visitors each year worldwide. That implies there are around 68,500 tourists in the city at any given moment.

This great reliance on tourism may be problematic since any unforeseeable event like the COVID-19 epidemic had a significant impact on the economy. It also affects the environment and pricing.

Anaheim has a promising economy. However, the city's reliance on tourism negatively affects the locals' businesses and the job market.

Traffic

The city's population is too dense for its small land area, which leads to overcrowding. Not only that, Anaheim caters to flocks of tourists annually.

Overcrowding is a problem that leads to traffic congestion: the more people and the smaller the area, the busier the streets. Because of this problem, the roads in Anaheim get jammed every day. You may experience traffic frequently in the city.
Anaheim or Seattle – Which is cheaper?
It is 11.7% cheaper to live in Anaheim than in Seattle. Prices of food, transportation, housing, and groceries are higher in Seattle compared to Anaheim.
| | | |
| --- | --- | --- |
| Living expenses | Anaheim | Seattle |
| Housing | 257.1% | 309.0% |
| Food & Groceries | 102.5% | 108.7% |
| Health | 95.9% | 85.2% |
| Utilities | 97.4% | 68.8% |
| Transportation | 118.0% | 137.5% |
Data is 100 = US National Average
> 100 means more expensive than the national average
< 100 means cheaper than the national average
Housing
The cost of housing in Anaheim is 16.8% less expensive than in Seattle. The median house price in Anaheim is $571,528. In comparison, Seattle has a median house price range of around $673,874.
Food & Groceries
Seattle's food and grocery prices are higher than in Anaheim. A 0.5 liter of domestic beer in Anaheim is only $2.64, compared to $3.25 in Seattle.
Health
Health-related expenses are lower in Seattle. In Anaheim, cold medicines good for one week cost $8.2. Anaheim's health prices are 12.6% more than in Seattle.
Utilities
The utility fees in Anaheim are higher than in Seattle. A 50 Mbps internet plan in Anaheim costs $74 compared to Seattle's $56.
Transportation
The transportation fees in Seattle are more pricey. A liter of gasoline only costs $3.38 in Anaheim, whereas it costs $3.85 in Seattle.
Is Anaheim bigger than Seattle?
Seattle is slightly more extensive in area and denser than Anaheim. Moreover, Anaheim has a higher unemployment rate of 4.30% compared to Seattle's 2.60%. Seattle, thus, has a better economy than Anaheim.
Seattle has an area size of 87.38 mi² as of 2022, with a denser population of 3,489,000. At the same time, Anaheim has a slightly smaller geographical area of 50.88 mi² with a less dense population of 350,986.
With only a 2.60% unemployment rate in December 2021, Seattle provides abundant job opportunities to its citizens. Unlike Anaheim, which relies on its tourism industry, Seattle has many booming industries that help employ many residents.
Thus, Seattle outweighs Anaheim's economy, population, and land area.
Is Seattle safer than Anaheim?
Seattle has a safety scale of 49.34, while Anaheim only has a slightly lower scale of 46.76. Furthermore, Anaheim has a higher crime than Seattle, making Seattle a bit safer than Anaheim.
Anaheim's crime index is 53.24 compared to Seattle's 49.34. At the same time, Seattle has a marginally higher safety scale of 49.34 than Anaheim's safety scale of only 46.76.
Both cities don't differ much from each other. Although Seattle has a lower crime, Anaheim's crime count isn't that low. Seattle also suffers from a homeless population and a percentage of poverty which influences the crime rate in the city.
For comparison, living and visiting Anaheim is still less safe than Seattle.
Therefore, Seattle is marginally safer than Anaheim.
Is Anaheim hotter than Seattle?
Anaheim has a warm climate with an 85°F average yearly maximum temperature. Contradictorily, Seattle has a lower annual average high temperature of 79°F and shorter sunny days. Anaheim is, hence, hotter than Seattle.
Anaheim has a yearly average of 280 sunny days. On the other hand, Seattle has a much lower annual average of 152 sunny days.
Summers in Seattle are brief, warm, dry, and partially overcast, whereas winters are frigid, rainy, and generally cloudy. The temperature ranges typically from 37°F to 79°F throughout the year, with temperatures seldom falling below 28°F or rising over 88°F.
The summer season in Anaheim is warm and arid. Annually, the city experiences temperatures from 46°F to 85°F.
Nonetheless, compared to Seattle, Anaheim has more extended warm weather. Seattle experiences warm temperatures from mid-July to mid-August only. Meanwhile, Anaheim is hot from mid-June to October.
Hence, Anaheim is hotter than Seattle.
Is Anaheim better than Seattle?
Anaheim is for folks looking for an accessible city with a lower cost of living than Seattle. However, Seattle is better than Anaheim. Seattle offers plenty of work opportunities, high-quality education, and greener surroundings.
Seattle offers several advantages, including a better economy with a low unemployment rate of 2.60%. Besides this, the city provides a safer and greener environment to its residents. Seattle has shorter summers and sunny days if you are not fond of the heat.
On the contrary, Anaheim has a lower cost of living and plenty of fun activities to try. Due to its central location, it is easier to travel to neighboring cities.
Nevertheless, Anaheim has a higher unemployment rate, is tourism-dependent, and has a less secure environment than Seattle.
Therefore, Seattle is overall better than Anaheim.
Seattle versus Anaheim – Where do you consider moving? Let me know your thoughts below.