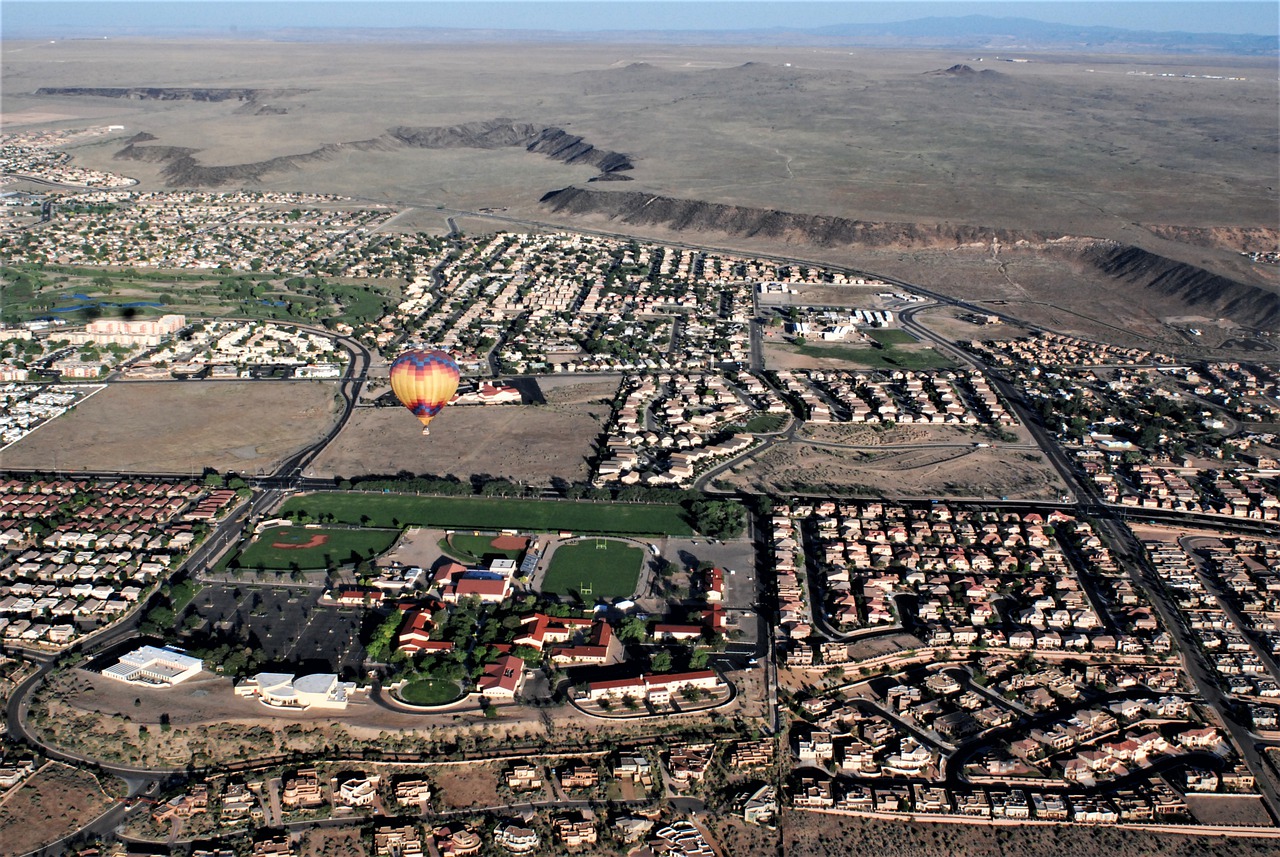 Phoenix is a better place to live in because the environment is safer, the school systems are better, and has efficient transportation. Meanwhile, Albuquerque offers a cheaper cost of living and a higher quality of life, but the high rate of violent crime is a letdown.
Albuquerque is in the high desert and the largest city in New Mexico. Despite a rise in crime and urban sprawl, ABQ attracts new people who prefer a lower living cost and a pleasant climate.
On the other hand, Phoenix is the capital of Arizona, a state located in the southwest of the United States. Phoenix is constantly growing, with thousands of new inhabitants and millions of visitors flocking to the city each year.
Although both Phoenix and Albuquerque have a developing economy, one is better compared to the other.
What are the Pros and Cons of Albuquerque vs. Phoenix?
Albuquerque is more affordable and has a pleasant climate, but the high crime rate is a huge setback. Meanwhile, Phoenix has a higher cost of living but has outstanding schools and efficient transportation.
Albuquerque Living
Pros
ABQ has an affordable cost of living

Living in Albuquerque is 5% cheaper than the national average, allowing inhabitants to enjoy a high quality of life.

Not to mention that, in addition to affordable property taxes, the state income tax in Albuquerque is 24% lower than the national average, making Albuquerque an inexpensive area to live, work, and retire.

The average rent in this area is also often cheaper than the national average.

Albuquerque residents also spend significantly less on groceries, electricity, and transportation than the typical American. In addition, Phoenix expects to pay 14% more for healthcare in Albuquerque.

Living in ABQ means a higher quality of life

While both Phoenix and Albuquerque have a much higher quality of life than the national average, Albuquerque has a far higher quality of life.

This city will not only provide you with greater purchasing power, but it will also provide you with a more pleasant climate. The living expenses in ABQ are also lesser than the national average, which makes a living there affordable.

According to US News & World Report, Albuquerque ranks 120th among the best places to live in the United States. It's also the only city from New Mexico on the list.

The journal praised Albuquerque's diverse culture, easy access to art galleries, and distinctive cuisine and brewing sector.

ABQ preserves its wealthy Hispanic and Native American culture

Native American and Hispanic cultures are also prevalent in Albuquerque, which has resulted in a fascinating blend. This city has a vibrant art culture, with several museums dedicated to Native American art.

San Felipe de Neri Church, five museums, and stores selling Native American handicrafts are among the old adobe buildings in Old Town. The Indian Pueblo Cultural Center, located nearby, chronicles the area's indigenous heritage.

It has a pleasant climate than Phoenix

Albuquerque has a narrower temperature range. Summer is always pleasant because of the low humidity, even when temperatures soar and sunny winters are relatively warm.

Despite its location in the Southwest, Albuquerque inhabitants experience all four seasons.

Housing costs in ABQ are affordable

Albuquerque, in 2020, has lower housing costs than the national average. With only $314,587 housing cost, slightly lower than the average national housing cost of $315,743.

Furthermore, 60% of the population owns their house in Albuquerque, compared to 40% who rent because of cheaper housing prices.

A thriving startup and technology community

With initiatives like the Technology Research Collaborative and the State Investment Council's Catalyst Fund, Albuquerque is the best city to launch a business, particularly a tech startup.

RiskSense, Lavu Inc, Sennheiser, APPCityLife, and Trilumina are Albuquerque's most renowned IT businesses. These brisk companies specialize in software technologies for the healthcare, government, retail, and manufacturing industries.

Old town vibe and a modest nightlife

Albuquerque has a magnificent old town filled with historic structures. Residents can also go to the National Museum of Nuclear Science or the Indian Pueblo Cultural Center.

Albuquerque's nightlife is modest by big-city standards. Still, it boasts a vibrant culinary scene that includes nationally famous wineries and breweries and native red and green chile peppers.

The Sandia Mountains, which border the metro region to the east, provide fast access to outdoor leisure like hiking, mountain biking, and even skiing.
Con
The yearly high crime rate in ABQ is a big letdown

While Phoenix may appear to have a crime issue, it pales compared to Albuquerque's crime statistics. Assault is three times the national average, while murder and rape are double the national average.

When it comes to violent crime, Albuquerque ranks sixth. Burglary and theft are twice as common as the national average, while motor vehicle theft is nearly three times as common.

If you're thinking about moving to Albuquerque, make sure you explore the best neighborhoods and places beforehand. While neither city is very safe, Phoenix is the better option.
Phoenix Living
Pros
Phoenix has outstanding schools

Phoenix is home to the country's most outstanding private and public schools. These schools consistently score highly on standardized tests. When it comes to attracting new people, education is a critical component, and Phoenix takes this seriously.

Phoenix also has several excellent higher education institutions: Arizona State University, University of Phoenix, Argosy University, and Grand Canyon University.

Mesa Public Schools is the state's most extensive school system. In Addition, Phoenix has approximately 200 public school districts and over 400 charter and private schools, serving students from kindergarten through 12th grade.

Phoenix is varied, having influences from many walks of life

Phoenix is a melting pot of ethnicities and heritages. Strong Chinese, Russian, Filipino, Irish, German, and Vietnamese are influences you may find in today's population's cuisine, art, and music.

There is also a robust outdoor feel, with many inhabitants just looking for reasons to be outside. Native American culture and history are deeply rooted in the culture, and they influence many progressive social programs.

Expect more jobs in the tech industry

Phoenix is a powerhouse for technology and software firms when it comes to technology. According to the Greater Phoenix Economic Council, operational expenses are up to 42% lower than California.

Government leaders and organizations are doing everything to attract more technology possibilities to Metro Phoenix, increasing tech jobs.

Uber, Yelp, and Shutterfly have all built operations in the Greater Phoenix region, and Amazon has a fulfillment center there.

Enjoy the bustling outdoor entertainment and nightlife

In Phoenix, there are several options for outdoor entertainment. Thanks to the numerous parks, gardens, and golf courses, residents can always find a reason to be outside.

Phoenix is famous for its high-end spa resorts, golf courses developed by Jack Nicklaus, and lively nightlife. The Desert Botanical Garden, which has cactus and other native flora, is another attraction.

In addition, the city has a vibrant nightlife and a diverse creative scene, including various art museums.

Efficient transportation

People can conveniently travel to Phoenix because it has an international airport and an Amtrak station. This city also boasts one of the fastest-growing highway networks in the country, making it easier to get there.

HOV lanes assist ease traffic congestion on the freeways during peak hours, thanks to a network of routes that loop and transverse the metro region.

Phoenix is planned out in a grid form, making walking and bicycling quite convenient. This city is ranked 15th as the bikeable city in the United States.
Cons
The cost of living is more costly in Phoenix

When compared, Phoenix is overall 19.7% more costly than Albuquerque. Groceries would be 1.4% more expensive, utilities will be 4.7% more expensive, and transportation will be 32% more costly in Phoenix than in Albuquerque.

Phoenix's average yearly salary is slightly lower than the national average. Fortunately for inhabitants, Phoenix is less expensive than coastal metro regions such as San Francisco or New York City.

The region's burgeoning tourist economy helps homeowners cut expenditures, with guest spending saving residents more than $1,000 in taxes each year.

"Hot" temperature in Phoenix is an understatement

The weather in Phoenix is more volatile throughout the year. Summers can rise over 112°F, while winters will be around 66°F. In Phoenix, there are just 33 days of rain every year.

Get out of the desert if you can't tolerate the heat. Phoenix's weather pulls many people to the city, although it may be challenging to adjust to, especially during the summer months.

Similarly, if you want a white Christmas, this may not be the spot for you. Snow is uncommon in Phoenix.

Housing costs in PHX are higher than ABQ's

The cost of housing contributes to Phoenix's higher cost of living. In Phoenix, these expenditures are around 17% greater than in Albuquerque.

Phoenix's housing cost is higher than the national average. In 2020, the housing cost in Phoenix was $383,750, while the national average housing cost is only $315,743.

The expensive housing cost in the area makes the quality of life in Phoenix lower than in Albuquerque.

Despite the rising housing expenses, around 54% of the population in Phoenix owns a home.
Albuquerque or Phoenix – Which is more expensive?
The cost of living in Phoenix is 13.8% more expensive than in Albuquerque. Thus, living expenses such as housing, food, groceries, transportation, and utilities are higher in Phoenix than in Albuquerque.
| | | |
| --- | --- | --- |
| Living expenses | Albuquerque | Phoenix |
| Housing | 88.0% | 103.5% |
| Food & Groceries | 96.0% | 97.3% |
| Health | 81.1% | 92.2% |
| Utilities | 97.2% | 101.8% |
| Transportation | 89.4% | 117.9% |
Data is 100 = US National Average
100 means more expensive than the national average
100 means cheaper than the national averag
Housing Cost
Housing expenses in Phoenix are 15.5% higher than in Albuquerque. The median monthly rent in Phoenix is now $1,035, with a median home price of $383,750 compared to ABQ's median house price of $332,426 and median monthly rent of only $892.
Food & Groceries
Phoenix's food and grocery prices are 1.3% more than ABQ's. One example is the price of 1kg of local cheese in Albuquerque, which is only $10.06, compared to $11.21 in Phoenix.
Health
Healthcare costs are 11.1% more costly in Phoenix than in Albuquerque. In Phoenix, an RX drug may cost $430.86, while a veterinary visit can cost $48.23.
Utilities
The difference between the utility costs in PHX and ABQ is about 4.5%. In ABQ, the monthly energy bill can only cost $142.85, while $152.27 is the monthly phone bill cost.
Compared to Phoenix, a monthly energy bill can cost you $161.12, while a phone bill can cost $171.75 a month.
Transportation
When riding a taxi, the standard tariff only costs $2.50 in ABQ compared to Phoenix's $3.00. In addition, the one-way ticket local transport costs $2.00 in Phoenix and $1.00 in Albuquerque.
Is Albuquerque bigger than Phoenix?
Phoenix is bigger than Albuquerque in population, land area, and economy. Thanks to its expanding population and robust local economy, it's a popular destination for everyone, from young professionals to families to retirees.
In terms of geographical area, Albuquerque is 187 square miles and is 4,500 to 6,500 feet above sea level. With a 562,540 population, this city is three times less densely populated than Phoenix. ABQ's population grows steadily from 1% to 2% annually.
In comparison, Phoenix has a population of 1,610,071 and is the United States' fifth-largest city by population. The city has an area of 450 square miles which is two times bigger than Albuquerque.
According to 2019 Census Bureau data, Phoenix drew more new people than any other city in the United States — and it wasn't just that year. The city held the title for the fourth year in a row in 2019.
Living in and around Phoenix is more expensive than in other regions of the state, although it is still less expensive than the typical US metropolis.
Compared to Albuquerque, the healthcare facilities in Phoenix are first-rate, and some of the more prominent active adult communities even have their hospitals and pharmacies. The crime rate in Phoenix is significantly lower than in Albuquerque as well.
Is Phoenix safer than Albuquerque?
The FBI saw a 7% rise in ABQ's homicide rate in 2021, underscoring the city's terrible crime problem. Albuquerque has 13.5% more violent crime than Phoenix. Furthermore, property crime in Albuquerque is 32.5% greater than in Phoenix.
People considering relocating to this huge New Mexico metropolis should stay cautious while selecting an area to settle.
A division between the posh and the impoverished is evident in Albuquerque's neighborhoods, and many of the city's sites are plain terrifying.
As per the FBI, there were 111 violent crimes per 10,000 persons in Albuquerque during the first three quarters of 2021.
Albuquerque is now one of the top ten most dangerous cities in the United States, with over 100,000 people. Homicides, of course, add to the city's image for violence.
Compared to Phoenix, the violent crime in Albuquerque is 13.5% higher. Other than that, the property crime in Albuquerque is 32.5% higher than in Phoenix, which makes it unsafe.
Is Phoenix hotter than Albuquerque?
Both cities experience clear weather all year. However, when it comes to heat, Phoenix is hotter than Albuquerque. The temperature in Phoenix can rise to 111°F, compared to Albuquerque's 103°F in 2021.
Although both cities are 418 miles from each other and share the same time zone, the other can get considerably hotter.
Weather and Climate in Albuquerque
Summers in Albuquerque are hot and dry; winters are brief, bitterly cold, and snowy; and the weather is typically clear all year. The temperature ranges typically from 27°F to 93°F throughout the year, with temperatures seldom falling below 18°F or rising over 99°F.
In 2021, the hottest temperature recorded in Albuquerque was in June with 103°F.
Weather and Climate in Phoenix
Summers in Phoenix are hot and dry, the winters are mild, and the weather is apparent. The temperature ranges typically from 45°F to 107°F throughout the year, with temperatures seldom falling below 37°F or rising over 112°F.
Despite Phoenix's history of hot weather, climate change has made it considerably worst, with temperatures still reaching 111°F last September 2021. During the summer, temperatures soared to 118°F.
As previously stated, Phoenix is hotter than Albuquerque, with a temperature of 111°F in September 2021, compared to Albuquerque's 103°F in June.
Is Albuquerque better than Phoenix?
Albuquerque is better than Phoenix regarding living expenses and quality of life. Phoenix is for people who want a safer environment and a better economy.
Phoenix's cost of living and housing costs are increasing every year. Considering Phoenix's growing economy, it is customary to see higher prices paired with increased wages.
The crime rate in Albuquerque has been consistently increasing every year, which is a prevalent issue.
Although Albuquerque's economy is improving, the crime rate in the area is rising yearly as well. In contrast, Albuquerque has a lower cost of living than Phoenix, which attracts people to move to the site.
If safety is your main priority, Albuquerque is not the ideal city for you. The living expenses in Phoenix are more costly, but the city is a lot safer than Albuquerque.
Are you considering moving to Albuquerque or Phoenix? Let me know your thoughts and concerns below.