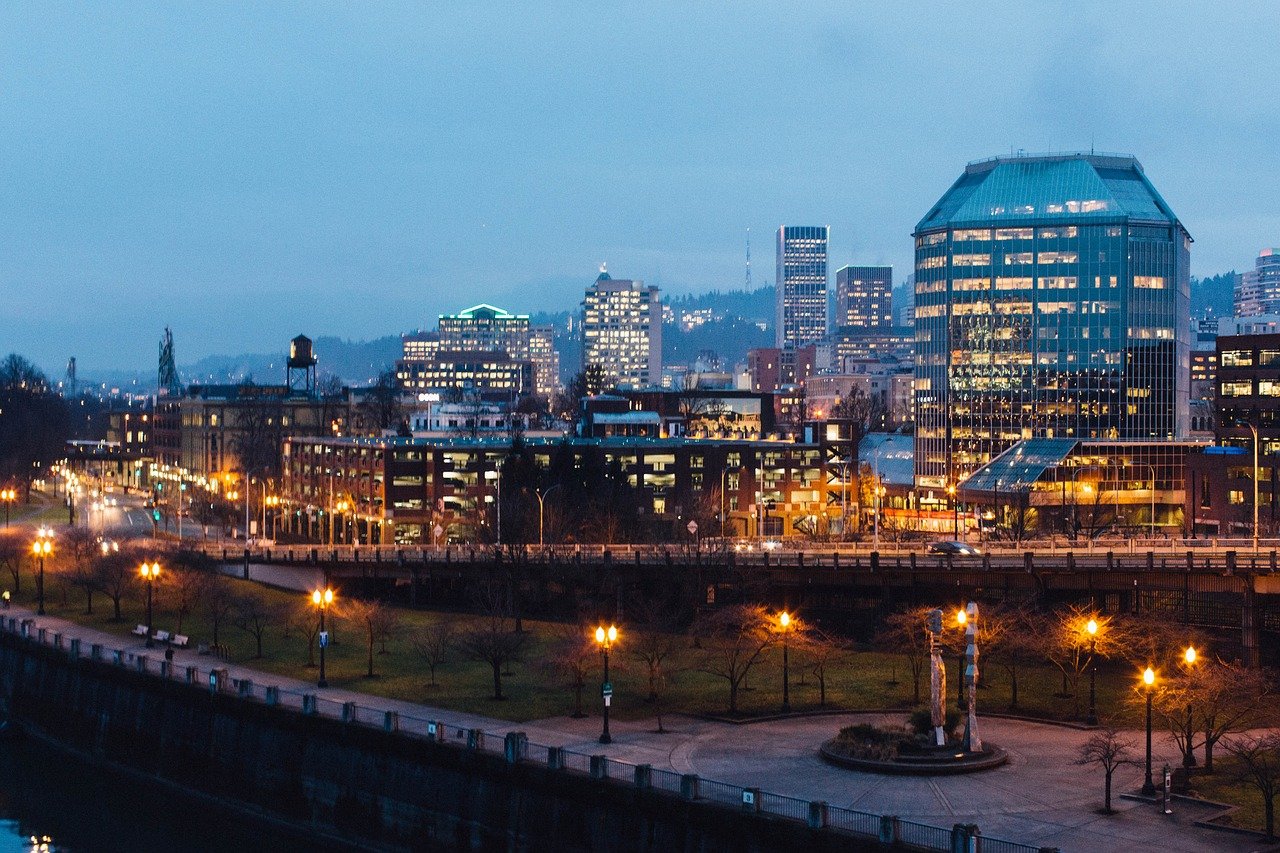 Portland, Oregon, is a better place to live than Albuquerque, New Mexico, since it is a green city with plenty of employment opportunities, a workable size, and no sales tax. The town exudes a different urban vibe and grows while Albuquerque remains still.
Portland sits in the state of Oregon has a lot more to offer. The city gives off an environmental vibe with its numerous parks and advocates for the clean and green movement. Thus, leaving the town known as one of the greenest cities in the whole of the United States.
There are numerous job opportunities in the metro where big companies are currently situated. The place is highly manageable enough to roam around and explore the wonders of the town. The neighborhood feels safe, after all.
Pleasing as it is, compared to Albuquerque, the city does not collect sales taxes. This tax-relevant information is one of the differences ABQ needs to keep up with Portland. Overall, both towns have a good reputation, but Portland edges better as a greener and cleaner city.
You can make up your mind if we compare these two cities.
What Are the Pros and Cons of Albuquerque Versus Portland?
Albuquerque gets an awesome cultural vibe, epic landscape, and manageable public transit, but the crime rate is something to improve. In contrast, Portland is outstanding as a green city, thriving job market, and no sales tax, but the bad thing is homelessness is an eyesore, and the cost of living is high.
Both cities have their advantages and drawbacks, and here we tell you how living in these two cities will meet your expectation.
Living in Albuquerque
Pros
The Cultural and Historical Sites are Dominant

There are multiple cultural and historical sites in the city of Albuquerque. They are not excluding the Old Town as one of the city's main attractions.

You can enjoy how life was back then in the Old Town walls and streets and explore the transition from old ways to new buildings like restaurants, coffee shops, souvenir shops, and museums.

When in Albuquerque, never miss the following places:

Albuquerque Museum of Art and History

The Albuquerque Museum is an excellent source of Southwest art, heritage, and historical background.

Bandelier National Monument

The museum has a threshold circuit where you can get a bird's-eye view of the area where human activity dates back more than 10,000 years.

Taos Pueblo

Taos Pueblo is the oldest of New Mexico's pueblos. The multi-story adobe buildings from the United States' oldest populated society occupied for over 1,000 years.

Georgia O'Keeffe Museum

The place is the world's largest archive of O'Keeffe's work, exhibits 1,149 O'Keeffe works of art, illustrations, and carvings dating from 1901 to 1984, including results from her time in New York before moving to New Mexico.

Albuquerque Has a Unique Geography

Albuquerque is the most elevated urban city in the United States, where its height is approximately more than 5,000 feet above sea level. The Rio Grande Valley encircle and intertwine the town with the Sandia Mountains.

Albuquerque Is a Park City

Albuquerque homes many open parks for its people. Statistics from the local government record that the park covers about 23% of the city's land area—almost 80% of its residents live in a neighborhood with open gardens.

People swarm to a different park location during the best sunny skies in the city. With that, there are multiple outdoor activities that everyone can enjoy. You will love the biking spree and picnic day-outs during good weather.

The International Balloon Fiesta

Albuquerque hosts the International Balloon Fiesta. This event is the biggest hot air balloon festival in the United States. People love the colorful and vibrant activities, mainly when the city showcases their culture through different available foods.

The fiesta lasts up to 9 days, filled with special shape rodeos and balloon shows. There are also a variety of other contests and expositions held in the fiesta, which vary throughout the year.
Cons
Crime Rate is Horrifying

Crime percentages in Albuquerque do not seem to be friendly at all. Federal Bureau of Investigation recorded a surge of almost 100 violent and property crimes in a year.

The percentages of Albuquerque's index in crime rate are always way beyond the national average. Some reasons authorities look into are that the city has a high unemployment rate, so poverty is relevant.

Job Opportunity Is Not That Competitive

The unemployment rate in Albuquerque is almost 7.4%, higher than the nation's average of 6%. This high percentage is the result of not-so-competitive job opportunities in the metropolis. There is not such a wide variety of employers in the city.

Although the University of Mexico is one of the top employers in the area, it still needs more prominent companies to relocate to create a competitive labor growth to improve their economic health.
Living in Portland
Pros
Portland is a Green City

Portland, Oregon, is the 9th greenest city in the United States. The town has enormous respect for nature, and even the state of Oregon is the pioneer in the bottle deposit campaign to reduce litter.

The city is very environmentally friendly and takes good care of nature that is has advocacy not to provide plastic bags in their grocery stores because it degrades very slow. Recycling and no littering are essential things in the metropolis.

Portland has a green tax that charges taxes to corporations, of which the fund is for energy sufficiency in the low communities. So, if you want a place to relocate where pollution and garbage are not at their peak, Portland is the place to go.

The Job Opportunities are Good

The job market in Portland is flourishing. There is a diversity of openings for job hunters that big employers offer. Some big names in the industry sit in the metropolis business district, such as outdoor and sporting companies, Nike, Adidas, Columbia, Under Armor, and Keen.

The place earned its silicon forest name because its technology industry thrives. Aspiring engineers can land good labor because Intel and Daimler are also around. This booming job market is ideal for millennials to relocate and experience a diverse community in the metro.

The Place Is Manageable in Size and Good for Millennial People

If you are a millennial person that wants to have a fantastic place to start where it is a highly walkable city to almost anything, then head your way to Portland. The area is not as big as other cities like Albuquerque or Seattle's neighboring home.

Walking and biking is good exercise for millennials too. You can go around the neighborhood with your bike. The place is accessible is likely to be walkable to many spots like parks, coffee shops, souvenir places, and even grocery stores.

No Sales Tax City

By far, the United States grants cities not to Collect Sales Taxes, and one of the chosen cities under the 5 States to enjoy the perks is Portland. The area does not impose taxes on its goods.

If you want to buy gadgets or anything quite costly, you can go to Portland and save money for those additional taxes.

Portland has an International Airport

Determining how progressive a city has an international port is a portal to many business opportunities. The Portland International Airport is one of the best airports in the country.

The airport is also one of the most efficient airports in the United States. Flying experience, as well as landing, is pleasant here. This airport can cater to almost one million passengers every year. More than 63,000 travelers pass through the airport in a single day. This figure is typically slightly higher than 51,000 per day.
Cons
Too Much Rain Creates Seasonal Affective Disorder

It is pretty accurate that Portland is a wet city. This rainy day is good to keep the green city alive but quite annoying if it keeps raining most of the time. Portland has many cafés to suffice the warm impression people need.

However, there are days that rain is just as too much. Portland receives 36.3 inches of precipitation per year, with October through May accounting for more than 88 %. You will still enjoy good days with the sun after heavy rainfalls.

High Cost of Living is Tough

Portland has a high cost of living. The median home prices in the city can cost at least $420,000. That is a lot for purchasing a decent home compared to other cities. This high price is the reason why there are people who remain homeless.

Rental fees in Portland are also costly ranging from $2,000 to $3,000 per unit. Many people opt to pay a lease than buy a new house at all.
Albuquerque Or Portland – Which Is Cheaper?
When it comes to the general price of living, Albuquerque is less expensive than Portland, and median house pricing significantly contributes to the discrepancy. Albuquerque is 31.4 % less cost-prohibitive than Portland, with 52% lower home prices.
Albuquerque is cost-effective for low living expenses in contrast to Portland. The difference is significantly more significant in the housing aspect.
Comparison Table of Living in Albuquerque, New Mexico vs. Portland, Oregon
| | | |
| --- | --- | --- |
| Living Expenses | Albuquerque, New Mexico | Portland, Oregon |
| Housing and Rent | 88% | 181.5% |
| Utilities | 97.2% | 79.9% |
| Food And Groceries | 96% | 103.7% |
| Transportation | 89.4% | 129.9% |
| Health | 81.1% | 90.6% |
| Miscellaneous | 97.1% | 113.2% |
Based on the Data of which 100 = U.S. National Average
>100 means more expensive
<100 means cheaper than the U.S. average
Housing and Rent Costs
You will pay lesser in purchasing a house or renting an apartment in Albuquerque. ABQ's housing difference is 51.5% lesser than in Portland. You can have a decent home for $257,400 in ABQ, but it will take you about $536,900 in Portland.
Rental fees also have an ample gap. The lease in ABQ for a standard house is only $1,339, while Portland will cost you $2,021.
Utility Costs
Portland will make you pay less for their essential utilities. The average monthly utility bill is about $188 for crucial power generation, heat, fuel, and trash services in Portland. Additional internet costs are $66 per month on average.
In comparison, the monthly cost of essential utilities in Albuquerque is around $232.
Food and Groceries Costs
Albuquerque is a cost-friendly city in terms of buying foods and groceries. In contrast, Portland's basic meals cost much, but there isn't too much tax to pay for our goods, thanks to no sales tax policy.
You can have a decent all-day meal in ABQ for only $33, while it will charge you around $34 to $40.
Transportation Costs
Albuquerque will charge you around $1 for a public bus ride. At times, you can avail yourself of their free ride for a year in selected routes around the metropolis. This gesture makes transportation cheaper in ABQ than in Portland.
You will likely pay $2.50 for a bus ride in Portland and $5 for a day pass. Both cities have good public transit, but Portland has many transportation modes.
Health Care Costs
Health care in Albuquerque is not that pricey when compared to Portland. Portland charges at least $100 to pay a visit to primary health care needs in their city.
| | | |
| --- | --- | --- |
| Health Care | Albuquerque, New Mexico | Portland, Oregon |
| Doctor's Visit | $108.83 | $118.57 |
| Dentist Visit | $93.49 | $101.86 |
| Optometrist | $101.98 | $111.11 |
Taxes
Even in Oregon State, Portland does not levy a sales tax. However, you need to pay a Metro tax rate of 1% of Oregon's taxable income for citizens and 1% of Portland Metro sourced income for noncitizens working in the Portland Metro area.
Combined Sales taxes in Albuquerque is 7.88% where it comprises state, district, and town sales tax rates. The current sales tax in the State of New Mexico is 5.13 %.
Is Albuquerque Safer Than Portland?
Albuquerque is not a safe place to stay when compared to Portland. The increasing rate of violent and property crimes makes ABQ unsafe in some confined areas in the neighborhood like Loma Del Rey.
Records from multiple police departments recorded that Albuquerque's violent crime increases as much as 100 cases in a year. The surge is alarming and can harm the city's good image to attract migrants and investors.
The crime index for Portland has only 21.7% in violent crime, which is lower even compared to the national average. ABQ's crime index on violent crime is twice as much as the national average. One of the main contributing elements to this increasing rate is homicide.
Is Albuquerque Bigger Than Portland?
Albuquerque has a larger land area than Portland, with 187.2 square miles compared to 133.4 square miles. However, Portland has a higher population density and an enormous population than ABQ.
Albuquerque is quite bigger than Portland. The highest elevation of Portland is 1,888 feet above sea level compared to Albuquerque's 4,954 feet. Albuquerque is home to approximately 239,166 households and 224,330 families. The population density per square mile was 3010. There were 239,166 dwellings at a concentration of 1,556.7 per square mile.
The density of population in Portland is 4,375 people per square mile. There are two people per square mile in the area where 265,439 dwellings at a concentration of 1989.4 per square mile.
Is Albuquerque warmer than Portland?
Albuquerque is warmer than Portland as its climate is semi-desert temperate. Summer in the city is long and hot, but most people find it manageable due to low humidity and temperature movement.
Albuquerque has too much sun when summer weather comes. It has approximately 100 degrees Fahrenheit at the least. The air is humid, and there are good chances that you need air conditioning to beat the heat. The climate in Albuquerque is generally bright and dry, with an estimate of 3,415 sunny hours per year.
In contrast to ABQ's steaming hot weather, Portland is mostly rainy. The city has more precipitation than other cities in the United States. As Portland lies directly in the path of the showery windward flow, its climate has cloud cover, rain, and change in weather circumstances in the fall, winter, and spring.
Is Albuquerque Better Than Portland?
Portland is a better city because it advocates for a greener metropolitan area, it has a strong economy a remarkable urban life, and the town is more workable than Albuquerque. In addition, the city has an international airport that is fully operational for flight transportation, while ABQ still stumbles to alleviate its economic growth.
Portland is a beautiful city because of its promotion to be clean and green. The metropolitan impose green taxes on big establishments and uses the accumulated funds to suffice the needs of the underdeveloped communities.
Not only is the city a no-plastic grocery supporter, but recycling is also a thing, so litter is not a significant problem. One good thing about Portland is that it has its own International Airport, which Albuquerque lacks in this aspect.
The airport gives a better impression of the town and can entice a lot of opportunities. Both cities give us a good impression, but one will genuinely stand out, and that is Portland in this battle.
Albuquerque, New Mexico versus Portland, Oregon – Where do you consider moving? Let me know your thoughts below.