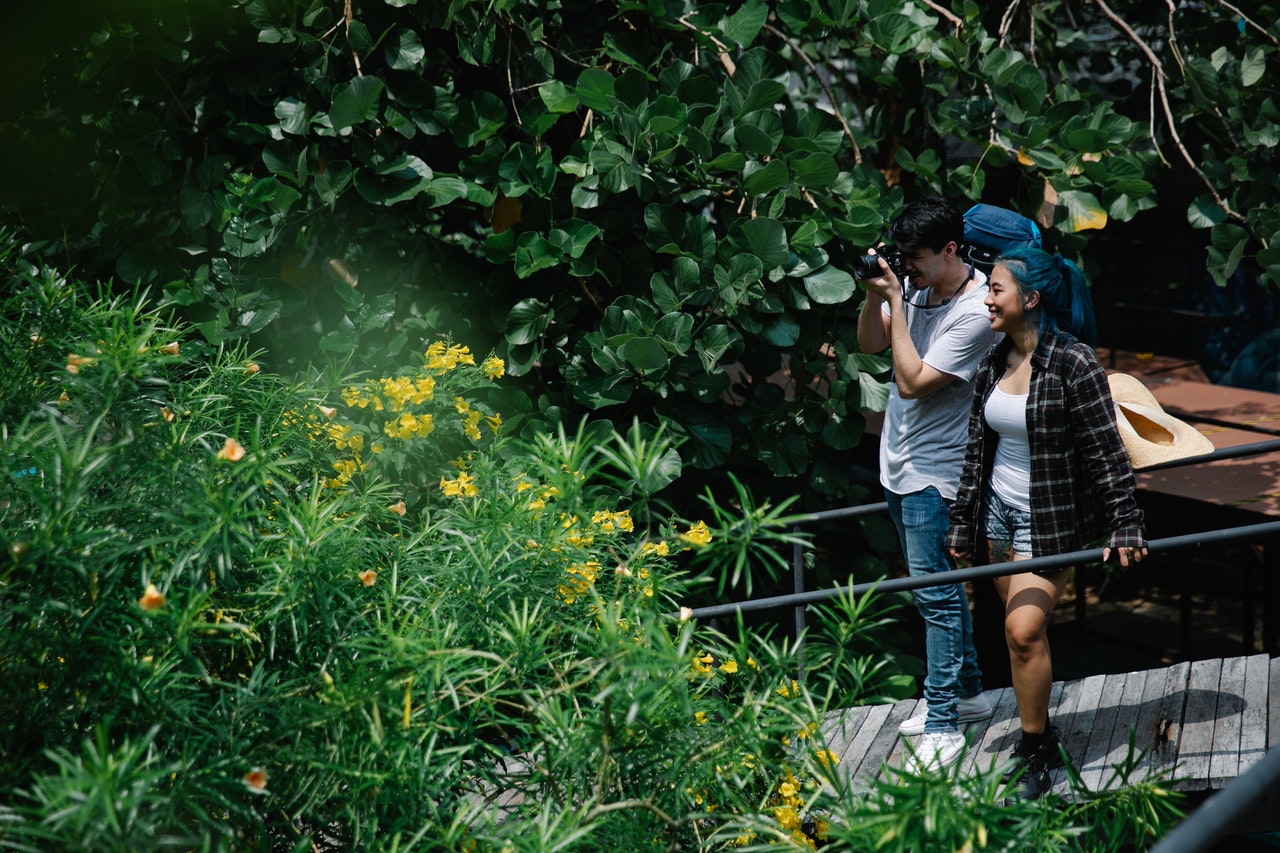 Couples, you can still take better photos while traveling. Using a tripod is an obvious choice. You can also ask somebody else to take your photo. Or better yet, hire a photographer. If not, a selfie stick (or just your hand) would do just fine.
When traveling as a couple, the goal is to enjoy and take great photos together.
But that's where the challenge lies.
How then do you take great photos as a couple?
Today, I'm going to talk about how you can achieve taking great photos together.
Let's get started!
A Tripod – Classic, but Working

Tripods are usually the most preferred among couples. Using a tripod allows you to determine the angle, composition, and everything else in between.

With a tripod, you can assure yourselves that you take the shot the way you want it.

Aside from that, tripods are also stable.

The only downfall of tripods is that they are heavy. They add weight to your luggage when traveling. Plus, somebody must carry it around.

I would understand if you are now taken aback by the disadvantage of using tripods. But then again, these days, there are many lightweight tripods available online.

But be wary of using tripods.

When taking photos in crowded places, tripods may not be of great use. The same is true in windy areas.

Some places do not allow tripods. Museums and churches don't allow tripods.

When these places are in your itinerary for the day, leave the tripods at the hotel.

In place of tripods, you can also use places where you can place your camera. For example, you can place the camera on ledges or tables. Rocks and benches also provide good enough support for your camera.

When doing this, just make sure it doesn't fall.

Ask a Stranger – Don't Be Shy

Now, this part here is when you are hesitant in carrying all that tripod weight.

You can ask somebody else to take your photo. This way, you and your partner can both be in the picture. You will also not worry about somebody bumping into the tripod.

Of course, you only ask somebody who does not appear to be in a hurry. Look for somebody approachable.

If you can, approach somebody who is also traveling. The person may be traveling with a family or a partner. In exchange, you can also offer to take their photos afterward.

Also, remember that before you ask someone to take your photos, put your camera's settings the way you want them. This way, the person taking the photo only has to aim and shoot.

And hey, in the politest way possible, don't hesitate to provide directions. You can instruct the person how you want the photo taken.

And once done, make sure to thank the stranger for the time. And as discussed earlier, be sure to return the favor.

Get a Photographer – The Amount You Pay for Quality

Naturally, this should cost you. But yes, this is possible.

While traveling, you can hire a professional photographer to take your photos.

It may be expensive, but your photos will surely be impressive.

The first thing on your list is the place you want to have your photos taken. Once identified, you can hire a local photographer.

Everywhere you go, there will always be photographers you can hire. But if you want to make things smoother for you both, you can look them up online.

You can find many services online where you can source for photographers in whichever city you are visiting. Through these platforms, you can still check out their sample photos. That way, you can get a feel of their work before you decide.

Flytographer is an example of this platform. Additionally, you can look into other services like Shoot my Travel or Pictrip.

These types of services are available for one, two, or three-hour photoshoots.

If you want professional-looking photos of your travels, this option should be your best bet.

No Selfie Sticks – It Hampers Quality

First, a selfie stick is the most obvious way to tell the world that you are a tourist. And yes, that may be fine but think of petty crimes in touristy destinations.

But with that consideration aside, the most important reason you should ditch the selfie stick is because of the quality of photos.

When using selfie sticks, you will be using the front camera of your phone. But this isn't always the best option there is. The front cameral has lower megapixels.

Find your Inspiration – Inspired but Never Copied

When you go online, you will see much content of traveling couples, whether on Instagram or somewhere else.

Find your inspiration from any of these couples. You can learn from how they pose, how they position themselves against the background, etc.

But be careful. Take inspiration from these photos. But never copy.

Use a Wireless Remote App – The Gamechangers

Some cameras have built-in WiFi. Some don't.

If your camera has built-in WiFi, use this to your advantage. However, get a wireless remote if you are using a phone or if the camera doesn't have WiFi.

There are a lot of choices online. And these wireless remotes are absolute game-changers.

Some Decent Equipment – Invest for Quality

I should be honest—the more expensive the gadget, the better the quality of photos.

You should always invest in decent gadgets and equipment. I am not saying that you should buy the most expensive.

But make sure to get a camera with more than enough megapixels to provide you with better quality photos.

Act Naturally – Spontaneity Rules!

I know this may get people around you to stare. But don't mind them.

When you have a tripod with you, act naturally. Have fun with the shoot. Walk around. Do some funny poses if you can, or just about act naturally.

The spontaneity will show in your photos.

When people stare, ignore them.

The Golden Hour – The Perfect Lighting

The golden hour is usually just a few moments before sunrise and a few minutes after sunset.

These hours are the best to take photos. One reason is that it has fewer people around. The second reason is that the light during these hours has this amazing effect on your photos.

No Rush – Patience, Patience, Patience

When taking photos, take your time.

I know you both may tire from all that traveling. But always relax and assess the environment around you.

Be patient.

There will be times when you would have to take 20 photos of the same scene over and over again. But fret not. There will always be minor differences among these photos. And one photo out of the hundreds will always stand out.

Lightroom – The Editing App of Choice

If there is one great secret you should know, it is Lightroom.

All you have to do is pay for a few dollars per month, and you can turn bland photos into great-looking ones.

You can make edits from the exposure to colors to even the angles of the photos. You can also eliminate a few things from the photos (like plants, buildings, people, etc.).

With Lightroom, it takes some getting used to. But when you and your partner get the hang of it, you will show the best couple photos ever.

Learn – Continue to Hone

Above all – always try to learn new skills.

Most photographers learned these skills themselves. There may be some help from a few mentors. But these professionals all started somewhere.

There is a lot of content online. You can search it up on YouTube. There are vloggers and bloggers around where you can learn.

Never stop learning.
How do couples take selfies?
Did you know there are different types of selfies? There is the traditional selfie, the follow-me selfie, the smoochie, and the feet selfie. As a couple, I know you would love to share these selfies online.
Doing a solo selfie is different. It is easy. But doing a selfie with another person can be a challenge.
There are many considerations to think about.
Will you both fit? How should you look like? How's the angle?
First, think about how you and your partner would want to look in the photo. Here are a few suggestions.
Traditional – this is just you taking a selfie of you both. You both look at the camera and smile as you click away.
A smoochie selfie is when you kiss your partner on the cheek while you take a photo.
Have you ever seen led-by-the-hand shots making their craze online? This is the follow-me selfie. And it is a perfect way to show your adoration to each other while silently bragging about your travels.
A feet selfie is a shot of both of your legs amidst a beautiful travel backdrop. And finally, a mirror selfie. This is when you both take photos of yourselves while facing the mirror.
How do I take photos next to my boyfriend?
When posing next to your boyfriend, try snuggling. Also, watch your shoulders and your arms. Finally, make sure to be there to guide your boyfriend into how he should pose in front of the camera.
Taking photos with your boyfriend can be challenging. You have to be careful. Otherwise, you get a bad-looking photo.
Here are a few tricks you can take into consideration. Follow these tips to look your best when with your beau.
Snuggling

Try pressing yourself into him. Doing this will create a flattering angle of you that makes you both look cozy.

Not only that, but it also makes you look slimmer.

The Shoulder

When posing with your man, make sure to relax the shoulder facing the camera.

Otherwise, this should make you look all buffed.

You'd look bigger. It is unflattering.

The Arms!

Naturally, anything close to the camera will always appear larger. This is why you have to be careful with your arms.

If you are hugging him, make sure that your arms are loose.

Try to sling your arm across his waist. Or try to wrap your arm around your boy's neck. That should make your arm appear smaller.

Never Smush

In couple photos, you always look cute with your faces close to each other.

But be careful when doing this. Do not press your faces together. It will make your and his faces appear puffy.

Why not tilt your head to him? And while doing that, turn your eyes and face the camera.

Guide

Boys are usually lost when it comes to how they should pose in photos. And believe it or not but most boys don't care how they look.

Be there to guide your man.

Coach him and let him know how he should look.
What makes a good photo?
There are three elements of a good photo. The first is always the light. The second is the subject. And the third element is the composition.
All great photos have more or less the same elements that make them look great. And these elements are never complicated.
Sure, the gadgets matter. And yes, the skills are also important.
But more important than all these are simple elements: light, subject, and composition.
Read on and learn.
Light

In photography, it is always important to have a sufficient amount of light.

Without a good source of light, your photos will never be good enough.

With each photo, there can be different sources of light. As such, there can also be different structures caused by light.

And this is basic.

Lighting (or the lack of it) can make or break a photo.

As mentioned earlier, you should make sure to take photos during the golden hour.

Subject

Most of us would take photos because something caught our attention.

That object that caught our attention would usually become the subject of the photo.

And the subject is always the first thing that comes to mind when talking about a photo. For example, you don't say you saw a blue photo. You always say about a blue building you saw in New York City.

Composition

And the third component is the composition. The composition is as crucial as the other two elements.

In simple terms, the composition refers to how you arrange the subject and all the objects in your photo.

It is beyond the angle. It is beyond the colors. It is how you emphasize one object and blur the others. It is how you tell your story through a photograph.

A good composition sends the message across. It tells your story without you ever opening your mouth.

It is never confusing. It is never distracting.

Pay attention to these components, and you will have great-looking photos every time.