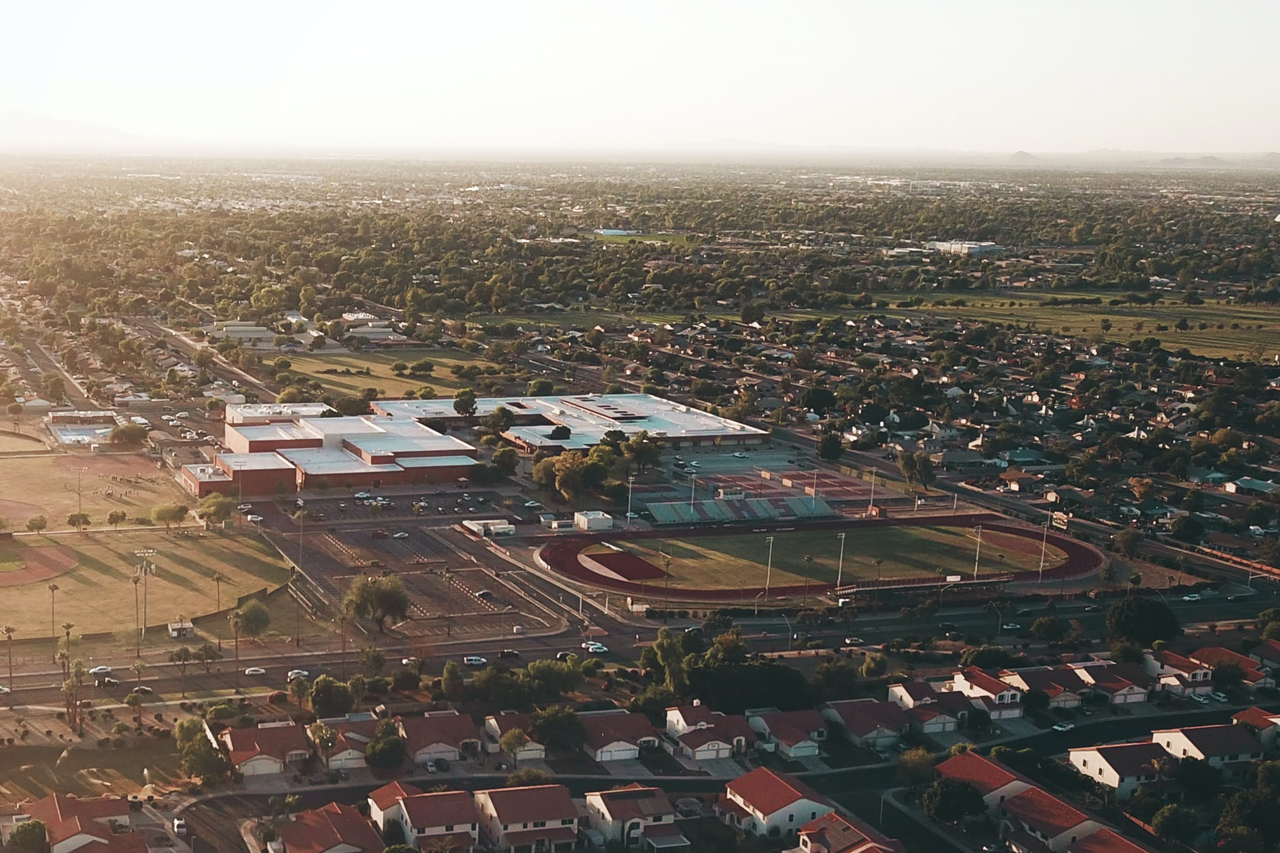 If you want to resettle in a new city in Maricopa County, Glendale, Arizona, is the place for you.
This old-fashioned city is a bustling neighborhood just fourteen kilometers northwest of Downtown Phoenix. With a population of 249,630 people, it attracts people looking for an excellent work-life balance.
This west Valley metroplex is distinct from its neighboring city, Phoenix. It is home to historical attractions such as Sahuaro Ranch Park and state-of-the-art recreation venues such as State Farm Stadium.
Whatever it is that you seek, this metroplex has several excellent features. However, like any other mid-sized town, it has drawbacks that you should think about before relocating.
Let us take a closer look at Glendale's best and worst deals. We will see if you want to come here right away or if you want to think about it.
Is Glendale, Arizona, A Good Place to Live In? A Beautiful Town in The Western Part of The Region
The Good Side
Glendale Has a Gorgeous Outdoor Space
Moving to Glendale allows you to experience its wonderful community, including outdoor spaces that will keep you entertained over the weekend.
This location is ideal for viewing a spectacular sunset over the White Tanks Mountains. In addition, Glendale's historic downtown is one of the best shopping districts in the country and is known as Arizona's Antique Capital.
Aside from that, you and your family can entertain yourselves by strolling around Westgate Entertainment District. It has unique patios, palm trees, and a handful of amenities everyone will enjoy.
If you are a sports fan, there is no way to watch a good Arizona Cardinals game at State Farm Stadium. You can also spot a hockey game at the Gila River Arena or the Camelback Ranch.
Furthermore, if you enjoy hiking and long trails, you can spend time at Thunderbird Conservation Park enjoying different courses or learning about the ways of ancient people.
For whatever outdoor things you desire, Glendale certainly has something for you.
Great Education Starts Here
If you have school-aged children, you should understand that Glendale has excellent educational institutions to nurture their minds and provide them with the best education possible.
Glendale Public Schools has eighteen elementary schools, nine high schools, and five universities and colleges.
A handful of the best elementary schools in the area are Legend Springs Elementary School, Legacy Traditional School – Glendale, and Sierra Verde Elementary. Mountain Ridge High School and Sandra Day O'Connor High School are in the secondary classification.
Continuing your tertiary education is also not a problem because there are world-class universities and colleges in the area. Arizona College – Glendale, Glendale Community College, and Grand Canyon University are nearby.
A Not So Crowded Metroplex
One of the advantages of living in Glendale is that there are not many people in the area. The metroplex covers 65.09 square miles and has over fifty-five neighborhoods.
Its population has grown to 249,630 people, but it is technically smaller than nearby Phoenix, Arizona. According to the US Census Bureau data, it has a population density of approximately 4,031.50 people per square mile.
Glendale has a more tranquil, suburban feel with easy access to the big city. The southwest section of Glendale, where many trailer home parks, is more congested. This metropolis is far from quiet or dull but offers a pleasant and tranquil way of life.
Better Weather Conditions in Arizona
Most Glendale residents will tell you they have three seasons: summer, monsoon season, and the rest of the year.
Summers in this city are scorching due to its location in a desert city with an average of 294 sunny days per year.
The hottest month is always August, with an average temperature of 104 degrees Fahrenheit. On the other hand, chilly days are in December and January. If you despise snow, you are lucky because there is none here, and the wet season averages around nine inches yearly.
Glendale is also not vulnerable to natural disasters such as earthquakes or tornadoes. However, there is a chance of larger flashfloods during the monsoon season, so you should stay updated on the emergency measures by Glendale's local government webpage.
Diverse Culinary Scene
This mid-sized town also has a thriving culinary scene. It has a variety of dining areas where you can savor what Glendale has to offer your palate.
Oscar's Pier 83 is the spot if you want delectable seafood. They have the best shrimp tacos and seafood pasta in town. If you are craving Mediterranean cuisine, Casa De Falafel's delectable shawarmas and Falafel will always satisfy your hunger.
Whatever food you desire, Glendale will provide the best options for you at an affordable price. Arrowhead Grill is the best in town for steak cravings, serving the best meat in your preferred cooking style. Do not miss Little Saigon or Pho Viet Vietnamese Restaurant for Vietnamese cuisine.
The Bad Side
Limited Public Transportation Is Unreliable
Glendale has limited public transportation, which can cause residents problems. Its public transportation system consists of two small bus services: Glendale Dial-A-Ride and GUS. There is not much of a carrier here, especially if you explore the far-flung metropolis areas.
According to statistics, 75.6 percent drive their car alone, while around 2.7 percent use public transportation. When the evening comes, there is heavy traffic on Grand Avenue and I-10 in the city. Commuting here is also higher than the national median, with an average of 27.6 minutes.
This situation is because Grand Avenue, or Highway 60, runs diagonally through the city center, where most people commute daily to work.
On the other hand, if you walk around the community, you may discover that the metropolitan area is not walkable, as it has a score of 40. Its most walkable areas are the center city, Sands Estates, and The Heart of Glendale.
The High Pocket of Criminality
If you want to reside in Glendale, you should prepare because it is not a very safe neighborhood. In terms of violence and property crimes, there is a superior level of criminality here.
The average rate of violence in this city is 27.3, while the national average is only 22.7. Property crimes, including burglary and theft, are around 72.5, compared to the national average of 35.4. The total digit of documented cases per year is 8,079.
However, the metropolis is 12 percent safer than other US cities. Arrowhead Lakes, Luke Air Force Base, and Hillcrest Ranch are some of the safest neighborhoods in town.
To avoid becoming prey to violence here, where you got a one over 221 chances, you must always stay attentive at all costs.
What Is the Cost of Living in Glendale, Arizona? Favorable Living Costs
The Good Side
Your Basic Expenses Are Not Pretty Expensive
One advantage that Glendale has over other American cities is that it has lower overall living costs. It has a 103.7 %, which is higher than the national median. However, it is still favorable compared to the larger metropolitan areas such as Chicago, San Francisco, and Dallas.
Necessities such as groceries, medical care, and housing are less expensive than the national average.
Basic groceries are less expensive at GS Supermarket and WinCo Foods. There is numerous farmers' market in the city, and Cabela's is one of the cheapest places to buy quality products. On the other hand, medical costs are low here due to the local government's free clinics.
Affordable Housing Market
Glendale has an affordable home value even for residents earning the minimum wage. The median housing market value for a single flat costs $329,400, while a monthly lease is around $901.
If you are still looking for a bargain, West Deer Valley, Union Hills Drive, College Park, North Litchfield, and West Augusta are some of the city's safest and most affordable neighborhoods.
If you want to be near everything while keeping the home value or rent within your budget, Downtown Glendale is the place to be.
Medical Clinics That Are Free or Low-Cost
As previously stated, Glendale provides its residents free and low-cost medical care. This feature is one of the best discoveries for migrants looking for lower healthcare costs, particularly older people.
These free clinics are government-funded and welcome people of all ages, particularly those who do not have insurance.
Glendale Family Health Center, for example, is one of the clinics available to you here. Banner Health Clinic on North 67th Avenue and the Banner Rapid Care Clinic are open for a free consultation and medication.
This city's average doctor's visit fee is $109.77, while a dentist consultation is $93.87. If you see an optometrist, you will pay $101.67.
Buying A Property Is Beneficial
Buying a home in Glendale is one of the best investments, whether you are a resident or a business owner.
The property tax in this metroplex is 0.62%, which is lower than the state and federal medians. So, if your home is worth $350,000, you will pay $2,170 in annual property taxes.
This venture is advantageous because most people in the city choose to rent their homes, and renters account for 38.8 percent of the Glendale population.
Because the housing market in this area is also affordable, it is an excellent investment to buy as many properties as your budget allows. Furthermore, having a property lease for your other income is a profitable idea.
The Bad Side
Higher Taxes in The Metro
The other taxes will hurt your pocket when the property tax in Glendale is low. The combined rate for general retail sales taxes is 9.2%, higher than the state's median.
Food and drinks, on the other hand, are taxed in the city, unlike in other metropolitan areas. Even if you buy your groceries at Safeway or Albertsons, there is a 2.5% sales tax. Meanwhile, if you decide to eat at Ajo Al's or the Yard House, expect that there will be an additional 10.2 % sales tax on your invoice.
Why Work in Glendale, Arizona? A Rising Job Market in Arizona
The Good Side
The Better Economy
Glendale has a thriving economy that has been expanding in recent years. Glendale is home to significant aerospace companies and other industries such as healthcare, manufacturing, education, and tourism.
Glendale residents benefit from an excellent median annual salary of $42,413, while the median household income is $56,991. Based on the report made by the Bureau of Economic Analysis, the total Gross Domestic Product of Arizona in 2021, where Glendale, is $411,191.8 million.
The Growing Job Market
Glendale's rising economy expands job opportunities for residents and others looking for work in the area. The metropolis's job transition over the last few years has been on a positive note of 3.3%. Furthermore, future job growth predicts at 46.1 percent over the next ten years, which hits above the US average of 33.5 percent.
There are a handful of job openings here, and if you are specific about your industry, there is bound to be something for you.
Top employers in the area include Luke Air Force Base, which employs 5,100 people. Next is Banner Health, with over 3,000 individuals, and Walmart, which hires 2,175.
Aurora Behavioral Health System, Arizona College, Ace Building Maintenance, and Vet-Sec Protection Agency are job providers in this area.
The Bad Side
The Job Competition Is Tough
Because of Glendale's rapid job growth has created a challenging environment for new hires to find work. Numerous companies are looking for new employees; however, if you want to land an excellent job, you must upskill and outperform your competition.
Management, business, finance, and engineering industries offer a high salaries and employ better candidates. The current state minimum wage is $12.80, higher than the national median of $7.25 and a good starting salary.
That summarizes our pros and cons for moving to Glendale, Arizona. We hope you have learned everything you need to know and gathered all the facts you need to make an informed decision.
Glendale is a lovely mid-sized city with various amenities that is always worthy of being your next home.
Thank you, folks!