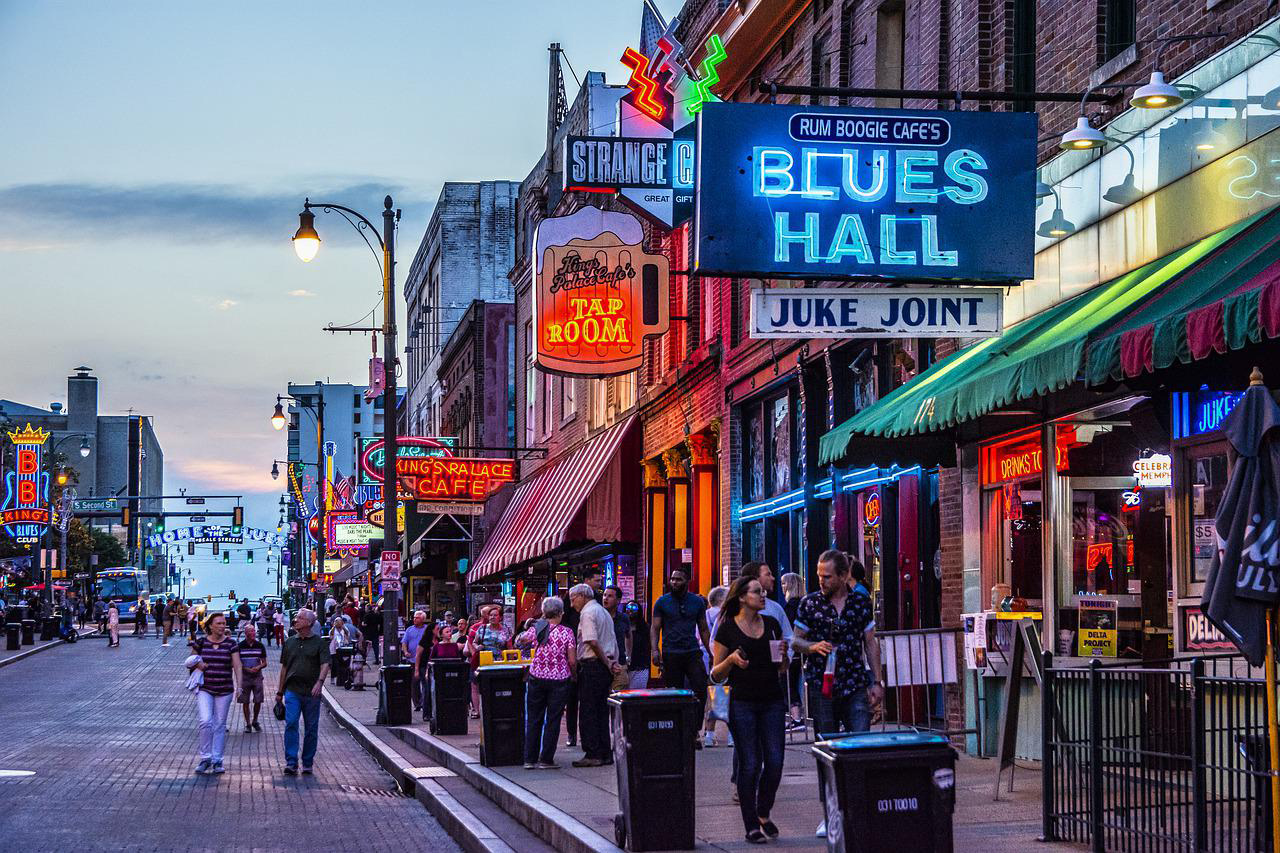 Did it ever occur to you to live in a city where all the music and culture are?
If this thought crossed your mind, Memphis might be the perfect city for you.
Memphis is the second-largest city in Tennessee. Not only that, but it is also the birthplace of rock and roll. Plus, it has affordable housing, excellent schools, and some of the best barbecues in the country.
And so, if you are thinking of moving here, why not?
But before that, I want you to be sure.
I'll go over some reasons why you should relocate here. Also, I will tell you about a few things you must know (and accept) before the move.
Are you ready?
Let us start.
Is Memphis, TN, a good place to live in? A City with Rich Musical Heritage
Memphis is a fantastic city, especially if you are moving for work opportunities.
Aside from this, the city has a low cost of living. Plus, the music is always fantastic.
The barbecue is delicious, and the pace of life is slow, laid-back, and relaxed.
Here, we will discuss the pros and cons of living in Memphis, TN.
The Good Side
Aside from the music, the city offers a variety of top-notch schools. And if you are moving with your kids, this could be a great advantage.
Of course, there is a low cost of living to consider. Plus, the food and the many activities the city can offer.
Let us look at the reasons why Memphis is the place to be.
Amazing Schools
Are you moving with your kids?
Or are you moving alone but planning to take your masters anytime soon?
If you are, then Memphis should be perfect for you.
Numerous colleges and institutions are available in the city.
About 290 private and public schools in the area rank high in terms of quality of education.
If you are looking for private schools, you may want to consider St. Mary's Episcopal School and the Memphis University School.
Both of these educational institutions have an excellent graduation rate of 100%.
Or, if you want, you can also check out White Station High School.
White Station High School is a public school with excellent quality of education. Out of the more than 300 public high schools in the state, White Station High School sits at number 7 in terms of quality.
Outdoor Activities for the Family
What I like about Memphis is the availability of several activities for you and your family. Your kids will surely enjoy the many attractions Memphis has to offer.
For example, the Children's Museum of Memphis is a decent place to be in on weekends. You can also ride the Grand Carousel with your kids. Or you can even try digging dinosaur bones.
And if you are into history, you might want to check out the Pink Palace Museum. The museum is in Midtown Memphis and displays a shrunken head inside.
If you love the outdoors, you will also like it here. The Bass Pro Shops at the Pyramid is one of the places you could visit when in Memphis. Everybody loves this place.
Here, you can explore a pyramid that is an aquarium. The area measures around 535,00 square feet and has an interactive wetlands museum, a bowling alley, a 103-room hotel, an archery range, and a nautical-themed restaurant.
A City of Music
One of the things you should expect in Memphis is the music.
You are living in the city of rock n' roll and soul. Here, you will discover that several musical pioneers who started their trends in the music industry were from the city.
You can visit significant places for big names like Charlie Rich, Johnny Cash, and even Elvis Presley.
You will also find that Memphis houses the many jumpsuits worn by Presley.
You might also want to swing by the Stax Museum of American Soul Music if you love soul music.
A Feast to the Palate
Memphis is well-known for more than just music.
Something else is as popular as the city's music. And this is the smoky aroma of barbecue as it fills the streets and neighborhoods of Memphis.
Everywhere you go, there will always be a barbecue in the city.
However, if you want something divine, head to Payne's Original Bar-B-Q. Their sandwich with chopped pork is amazing. Also, you can head over to Cozy Corner and get a plate of their BBQ spaghetti.
Aside from these two, other places in Memphis are noted for their barbecue. Central BBQ is also one of the best there is.
Try checking out Food Network and Travel Channel if you don't believe me. These two featured Central BBQ in one of their episodes.
Festivals!
It appears that the residents of Memphis will always find a reason to celebrate something.
The city has several festivals that you should not miss.
Downtown Memphis and the Memphis Medical District are the usual venues of several food and drink festivals.
During these festivals, you can fill yourself with hordes of eggs, bloody Marys, and bacon. All these, you can devour during the annual celebration of the Breakfest.
Also, the Cooper-Young Beerfest is something you should check out.
During this festival, you can try beers from more than 30 breweries in the region.
Finally, be sure to be present during the Rajun Cajun Crawfish Festival. This festival is perfect if you are into crawfishes, cocktails, and everything Cajun.
Culture and the Arts
Did you know that the residents celebrate all forms of art and culture in Memphis?
Walk through the city neighborhoods and find different murals and paintings done by local artists.
Head over to the Broad Avenue Art District. You will find the city's largest and most unique art displays here.
You should also check out the Water Tower mural. This mural is the tallest piece of art in the city.
You can also check out the Dixon Gallery and Gardens if you love art. The gallery has all the French and American impressionist paintings you could ever want.
Aside from these, the gallery also has several German artifacts on display.
If you are into the performing arts, try checking out the Orpheum Theatre and Cannon Center. These two venues host different Broadway shows like Hamilton and Anastasia.
The Bad Side
Of course, you will always have to consider a few things before moving here.
Will these factors affect your decision?
Read on before you finalize your move.
Bad Weather
One unfortunate factor you must consider when moving to Memphis is the severe weather.
During the rainy season, you will find that it lasts until around the early parts of summer. Those who live in low-lying areas would have to be ready for floods.
Also, once in a while, the city would see a tornado or two pass by. These tornadoes can visit the city at any time of the year.
You can be thankful that Memphis is not part of a tornado alley. However, it is a part of the Dixie Alley, an area at higher risk of tornadoes.
It is common to experience severe thunderstorms, hail, and hurricanes in Memphis. All these can be destructive at times.
Limited Options for Public Transportation
Another major concern you need to deal with when in Memphis is the limited transportation option.
As a resident, you have to accept that public transportation may not be able to bring you to the destination.
The city is also a bit spread out. This reason is enough for you to get a car. And if you do not have a car, that can be an issue.
However, if you have a car yourself, there is another problem. And that problem is the heavy traffic, which we will discuss later.
However, if you compare Memphis with other major cities like New York or Chicago, Memphis is not that bad.
Crime Rates and High Poverty Numbers
The city has a reputation for fixing. And that reputation has something to do with the high number of crimes.
One recent study found that Memphis is the 2nd most dangerous big city in the US.
And as always, when there are high poverty rates, there will always be heightened crime rates. About one in every four residents in Memphis live below the poverty line.
However, I should say that not all of Memphis is dangerous. You only have to choose the location that is right for you.
If I may suggest, you can go with the Eastern parts of the city. In the fringes of Germantown are decent and safe neighborhoods you can explore.
What is the cost of living in Memphis, TN? A City that Offers Affordability
Memphis has a low cost of living. When you compare the city with the national average, it is 24% lower. Your money will come a long way if you live here.
The Good Side
If there is one thing you have to know right now, it is that the housing costs in Memphis are way below the national average.
As of this writing, housing costs are 62.9% more affordable than the national average. That equates to a median home cost of US$123,800. This amount is lower compared to the national average of US$291,700.
The same is accurate with food, groceries, transportation, and utility costs.
Food and groceries are 6.7% cheaper here compared to the national average. Transportation costs in Memphis are 5.5% more reasonable, while utility costs are 3.7% more affordable than the national average.
The low cost of living in Memphis is one of the primary reasons people move here.
The Bad Side
Now, this may not be overly bad.
The cost of healthcare is still lower in Memphis than the national average.
However, if you take a look at the numbers, it is about 1.6% lower than most major cities in the country. It only means that with the rising prices due to inflation and world events, this can go beyond the average in a few years.
Why work in Memphis, TN? A Strong and Healthy Economy
There are many reasons why you should work in Memphis.
A significant reason is the lower cost of living. When compared to other places, Memphis allows your monthly contribution to go a long way.
Here, we will discuss the reasons why you should work in Memphis.
The Good Side
We can start with why working in Memphis is a great idea.
The Low Cost of Living
You can point out several other places in Tennessee that are cheaper. However, no other major city can be as affordable as Memphis.
Well, you can look at smaller towns. However, if you are planning to move to a bigger city, Memphis is the best choice in the state.
Take a look at home prices in Memphis.
As discussed earlier, the median home value in the city is much cheaper than the national average. And by the numbers above, the rates here are affordable.
The other costs are affordable, too.
Looking at the groceries, healthcare, and utility costs, you will realize that working and living here will suit your finances.
Tax-Friendly
Usually, people do not even consider the concept of taxes when moving to a new city.
Good thing Tennessee is a tax-friendly state.
What does this mean?
Did you know that in Memphis, the city does not collect individual income taxes?
I would have to clarify it. There is no state income tax on all individuals working in Memphis. The city collects zero income tax on earnings from your job. The same is true when it comes to your investments.
And this reason alone is a big help to your finances.
If you plan to work (or retire) in Memphis, you will be sure to stretch your dollars further. It is because of the savings you get from zero income taxes.
A Strong Economy
The city has a steady and healthy economy, thanks to the many local programs encouraging business development.
In the past few years, Memphis has made it to one of the top three metropolitan areas for job creation. It means that because of the steady and healthy economy, the city can generate more jobs for its people.
The steady stream of jobs also attracts people from other cities to come here. Also, unemployment in Memphis is lower than the national average.
Jobs in Memphis are mostly related to manufacturing and transportation. The assignments related to government and education follow.
You'll also discover that the city has ample jobs for healthcare professionals.
The Bad Side
Of course, there will always be a few things that should concern you.
Here are a few of them you need to know.
Car-Dependent
As you already know, the public transportation system in Memphis is not as reliable as you would like it to be.
For this reason, you need to have a car for your convenience.
But as discussed, even if you have a car, you will also have to worry about the heavy traffic.
The city is car-dependent. Also, you have to have a lot of patience when it comes to commuting.
When you reside a few miles away from the workplace, be ready.
—-
Memphis is a good place to live in Tennessee.
However, there are a few things you have to consider before moving here. One of these is the severe weather the city experiences regularly.
Also, the city sees heavy traffic from time to time.
But if you can get past all these major hurdles, you will realize that Memphis is a great place to live.
It has activities, music, and the arts. Plus, would you ever give up on all those barbecue places?
Never would I!
How about you?
Are you moving to Memphis anytime soon?
Let me know.