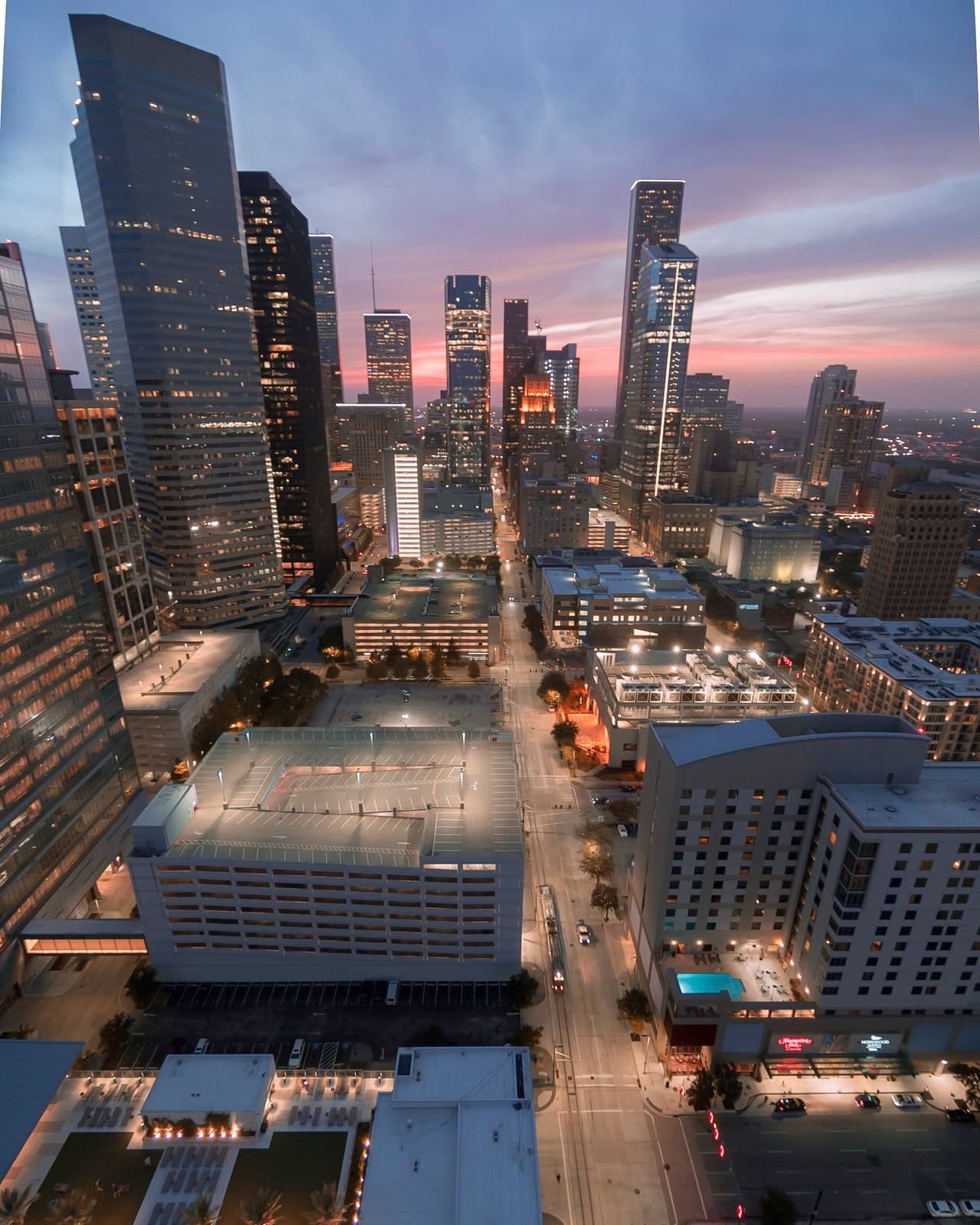 Houston is a city that's not hard to love. It possesses a growing job market. It has a lower cost of living compared to NYC. Plus, you also get to have sunny weather all year long. This is so unlike the city of New York. In NYC, the weather is always a problem. Job opportunities may be teeming, but the cost of living is sky-high. It is no wonder that a lot get attracted to move to Houston than NYC.
Houston is an ideal place to build your life and family. On the other hand, the city can be too hot for some. Hurricanes also frequent Houston, and the commute can be tiring for some.
Here, we talk about which city is ideal for you.
Is it Houston? Or New York City?
Find out more.
Is it better to live in Texas or New York? – A Less Dense City
There are so many reasons why Houston is better to live in than NYC. For starters, Houston is uncongested while New York is crowded and busy. Houston has better schools and amazing food scene. Also, while New Yorkers work more and play less, self-care is an essential part of Houston's culture. This, in turn, provides the city with locals that are less-stressed. Houston residents have perfected the balance between work and personal life.
New York maintains a reputation for fast-paced living. The neighborhoods are dense and could be a place not ideal to socially break-in. It is always a struggle in NYC to make space for oneself, whether it is physical space or not.
Houston in Texas, on the other hand, is the complete opposite. Individuals with college degrees can easily land a job in Houston. This is with far less competition. The pay in Houston may be lesser than that of NYC, but your money lasts longer.
There are a lot more reasons why Houston is better than NYC. Here are a few more.
Access to the Top Universities
Comparing Houston with New York, the former is ahead by leaps and bounds for education. The quality is better. There are also far more options in Houston compared to NYC.
Depending on where you are in Houston, there are a lot of universities that you can consider. School districts are in every corner of the city. The Houston Independent School District (HISD) is the city's largest. It is also the state's biggest, with 283 schools under its operations.
The larger the district you are in, the more options you have for your students.
Primary education is top-notch in Houston. Most secondary educational institutions are found in nearby locations. Despite this, the University of Houston provides an amazing quality of education.
Top-rated universities are everywhere. Universities in Houston and in neighboring cities provide discounted in-state tuition rates. This is a big help to Texans who aim at getting their degrees.
Population Density
When it comes to its population density, Houston is winning in this category. Population density is a measure of how cramped or spread out a city's residents are. An area with a high population density is overpopulated.
As one would already know by now, overpopulation poses problems to the city. This is especially true if the city has underdeveloped infrastructures.
NYC has a population of more than 8 million. This is about 6 million inhabitants more than Houston. Population this much means that there are too many people congested in a very few square miles.
As such, one could expect to always wait for everything when in NYC. For every event, one can almost always expect to see long lines that could stretch for blocks. Every restaurant in NYC can always be full. This is despite the city having thousands of restaurants to choose from.
The story is quite different in Houston. With a lesser population than NYC, Houston is uncongested. One can always have the personal space he or she craves except, of course, during Black Fridays. But that happens once a year. It is something one can always forgive.
New York City, however, has a much younger population. While Houston has an average population age of 37.1 years old, NYC's is 1.6 years younger at 35.5 years old. In a city or country, a much younger population means better development perspectives.
This is brought about by the young's more dynamic and creative mindset compared to the older ones.
Transportation Woes
There is much to develop in Houston's mass transit system. Just when New York is a city where you can walk to almost everywhere, Houston is different.
The city of Houston has restrictions when building subways. This is primarily because of the fact that the city is built from swamplands. The soil would be too loose for subways. It is natural for a Houston resident to always get a car to get around.
New York City is better when it comes to the transport system. NYC is a city where you can always walk to your destination. If it is too far away, you can always take the subway. If it is not within the metro system, there are taxis to take you to places.
New York City is winning when it comes to transportation options. But it does not mean the options are actually good. One must admit that the quality of NYC's transport system is something that needs to be improved.
In most cases, NYC's subways are always delayed. There are also repairs that happen once in a while that eventually impacts one's commute. New Yorkers seem to have adapted to this type of system. For somebody moving in, this is something one should always know about.
The Economic Landscape
For a lot of reasons, New York has a stronger economic landscape than Houston. One of the most probable reasons is the infrastructure that is available in New York.
Compared to Houston, New York City has a higher GDP. NYC also has a lower unemployment rate. Its economy is healthier, as well.
Gross Domestic Product (GDP) is a measure of a city's (or country's) value and productivity. It is a measure of a place's market value produced in a year. This would already include products as well as services.
Houston's GDP is pegged at $341 billion. This is $939 billion lower than that of New York. This means that New York's GDP is healthier than that of Houston's. While this may not be a clear reflection of both city's economic standing as a whole, this is, in part, a good metric.
NYC's unemployment rate is at 4.3%. Compared to Houston's, it is lower by 1.3%. Houston's unemployment rate stands at 5.6%. This equates to more people having more job opportunities in NYC than in Houston.
This is because NYC has more infrastructure. These can support thousands of thriving businesses that provide jobs. While Houston's is not at all that bad, NYC is winning in this category.
Is Houston more expensive than New York? – Cheaper by the Housing
Houston is more affordable than New York City. For starters, housing and rent in Houston are cheaper. The same goes for food and groceries. And while the average salary in Houston is lower by about $600, Houston's price of commodities is lower. In general, NYC is 94% more expensive than Houston.
Another Transportation Woe
The cost of transportation can sometimes make or break a budget. Public transport in NYC is more available than in Houston. This makes NYC a lot cheaper than Houston.
Houston is a car city. This means that while public transport is available, it is not as feasible as that of NYC. This results in its inhabitants resorting to cars. This is a better option than taking public transport.
But when talking about the cost of public transport in each city, NYC is leading. Quality of transport aside, NYC's monthly transport ticket is at $46.38 on average.
When you compare this amount to that of Houston's, one can easily see the difference. A monthly public transport ticket in Houston can cost around $116 per month on average.
NYC has a more affordable ticket. The public transport in NYC is extensive and covers most parts of the city. This allows New Yorkers more chances to move through the city without spending so much.
Rent
The average cost of a single-bedroom unit in the city center is an essential detail. This allows one to gauge the amount of salary that should be given to rent expenses. This is also a good benchmark of a city's cost of living standards.
Houston is much cheaper than New York City when it comes to renting. The average cost of a 1-bedroom apartment right at the city center in Houston is $1,285. New York's cost of the same is $3,001.
The price difference puts Houston at an advantage. With a 42.8% difference in housing costs, most would resort to moving to Houston than to New York. Aside from the cost, the quality of properties for rent in Houston provides more space than in New York.
One-bedroom apartments in New York give you cramped spaces. Houston's sometimes even come with a backyard or other amenities. These are those one does not easily find in New York.
Housing Costs
Low taxes, schools, and a great transport system are important factors to consider. But there is another concern one should always look at.
When planning to move to another location, how expensive is it to own a house? Houston's housing costs are significantly more affordable than that of New York City.
But what makes this so? Houston is cheaper because it also takes less money to build homes in Houston than in New York.
A clear example would be the building of a 2,000 square foot dwelling in Houston. This can range about $120,000 to $150,000. If one should include a developer's profit and land cost, this could amount to about $140,000 to $200,000.
We also know that housing depreciates as time goes by. This presents another opportunity for people who move to get it cheap. Middle-class families are moving to Houston resort to purchasing older houses. They are mostly priced at below their construction costs.
To supply housing in New York is a different story. It could cost one so much. For a 1,500 square foot unit, the construction alone can cost at least $500,000. On top of that is the profit for the developer and the cost of land. This catapults housing prices in NYC to higher levels.
Salaries and Wages
New Yorkers have a higher average salary than those from Houston. NYC's average salary stands at $4,370.90, while Houston's is at $3,798.79. The average salary of NYC may be higher. But this does not mean New Yorkers live pretty well compared to those from Houston.
This is because NYC is more expensive. While the average salary may be higher, the price of commodities is also on the upper level. This allows people from Houston more leeway when it comes to spending.
The lower cost of living in Houston provides more space to cover other needs. This is an important reason for people to move to Houston rather than to New York.
Conclusion
Houston is a better place to live in. The city's lower cost of living as compared to that of NYC is the primary reason. Plus, when it comes to population density, one can easily breathe in Houston than in NYC. The job opportunities are slightly lower. But its economy can provide for its residents.
On the other hand, NYC is great. There are a lot of job opportunities. The city is teeming with younger and more creative minds. It also has a lot of options when it comes to recreation.
But there are far more reasons why one should choose Houston over New York City. Life in Houston is better for the reasons stated above.
If you're wealthy, NYC may be a reasonable option for you. But if you are working stiff, choose Houston.