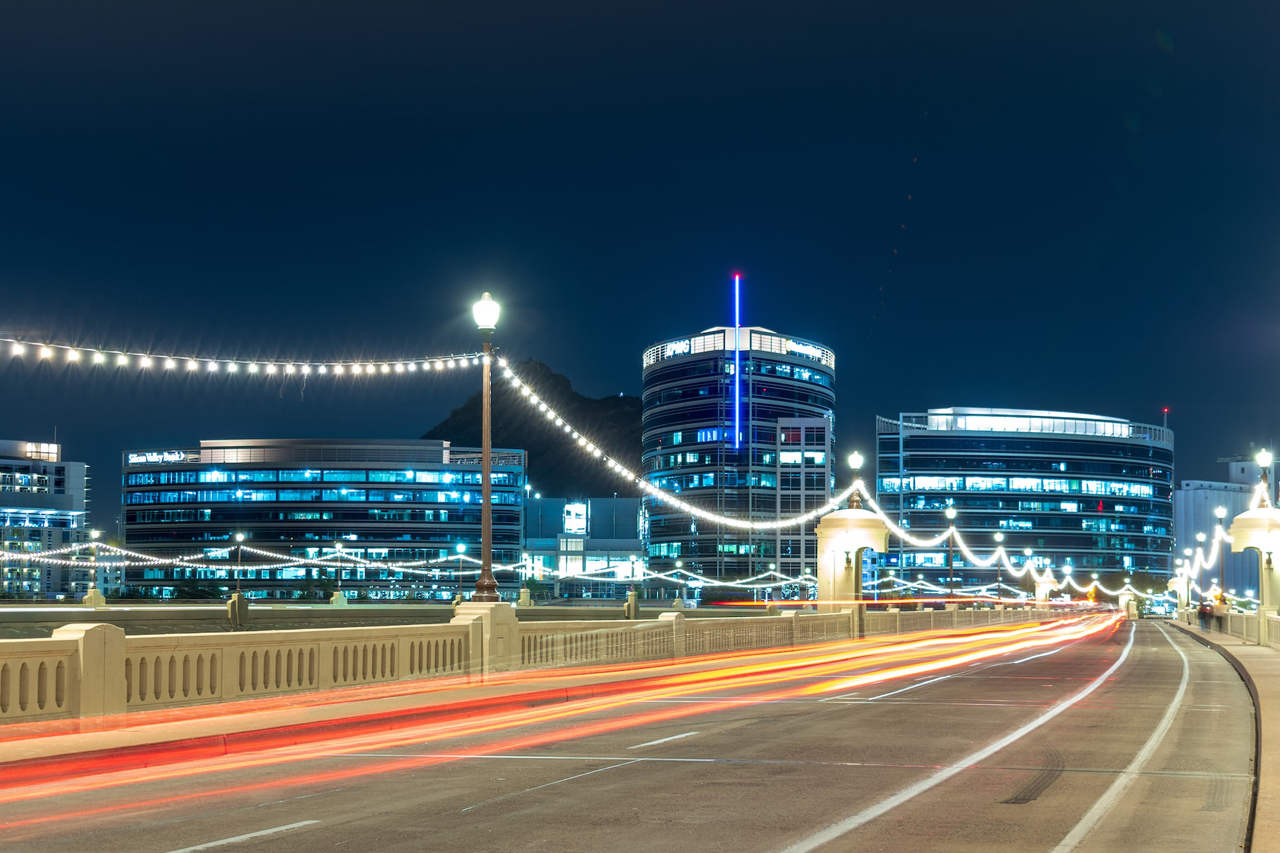 Tempe City, Arizona, is a thriving metropolis about a 20-minute drive from Phoenix. This suburban town located between Phoenix and the East Valley is an ideal place to call home.
The neighborhood has a population of over 185,000, is still growing, and has good features and amenities. One of the bases you will love this place is the fine line between having a laid-back vibe from a thriving area.
It has a vibrant personality, evidenced by its beautiful outdoor spaces, friendly people, excellent education, and flourishing economy.
But, like any other thriving town in Arizona, it has a dark side that you should be aware of before relocating.
Fortunately, we created this article for everyone's convenience. We have shredded all the essential facts you need before settling in Tempe.
Is Tempe, Arizona, A Good Place to Live In? The Laid-Back Town in The Phoenix Metropolitan Region
The Good Side
Tempe's Perfect Location
The advantage of living in Tempe is visiting other Phoenix Metro Area towns on a day trip. It will only take 12 minutes to get to Scottsdale to see the TPC. Meanwhile, you will only need about 20 minutes to get to Phoenix for work or leisure.
Tucson is about an hour and 48 minutes away by car. Furthermore, exploring the beauty of Nevada, particularly the Red Rock Canyon National Conservation Area, takes only four to five hours.
Other enjoyable activities are available outside of Tempe, such as enjoying the bright lights and adult life on the Las Vegas Strip. You will enjoy the benefits of hopping from one good city to another without sacrificing a day for travel.
Lots Of Weekend Trips
After a long week, you will undoubtedly want to take some time off to relax and have fun. You might not be stuck at home because Tempe has activities and places to see and enjoy.
Mill Avenue is the place to be if you want to enjoy the fantastic nightlife. This area serves as the town's entertainment district, attracting young adults and university students.
If loud music isn't your thing, you can still enjoy the Arizona State University Art Museum and the Tempe History Museum. There is also an excellent way to be one with nature at the Hayden Butte Preserve Park and Kiwanis Park.
Do you want to run an errand? The Tempe Marketplace is your one-stop shopping destination. This shopping and dining district will undoubtedly fill your weekend.
Going to the Sea Life Aquarium is another family-friendly attraction. So, whether you want a loud or a serene activity to check off your list, Tempe can provide you with what you need.
Academic Institutions of Excellence
Tempe is a college town due to the presence of Arizona State University, Tempe Campus.
However, this city is more than its excellent tertiary educational institutions. The metroplex's school system is perfect, with a high ranking in the state. From preschool to graduate school, there are excellent options here.
Ward Traditional Academy, Fuller Elementary School, and Hudson Elementary School are among the best elementary schools in the area.
It is also possible to earn access to an excellent secondary educational facility. Corona Del Sol High School, Mcclintock High School, and Marcos De Niza High School are among the best in the area.
Aside from ASU, you can also pursue an associate degree at Rio Salado College, University of Advancing Technology, or Southwest Institute of Healing Arts.
Traveling In and Out of The City Is Easy
Thanks to Arizona's extensive interstate highway system, you will appreciate how easy it is to get into and out of Tempe. You can take Interstate 10, which runs through the city's western outskirts and connects to I-17, which leads to the city's heart.
Valley Metro Rail is the area's most efficient and effective public transportation system. The average one-way commute here is only 20.9 minutes, less than the national average of 26.4 minutes. The Valley Metro also provides bus routes throughout the city.
Prefer to be healthy while saving money? Biking is another alternative for getting around the location. Within the city limits, there are over 215 bikeways.
Furthermore, the League of American Bicyclists awarding Tempe a Gold level demonstrates how effective biking is in Tempe.
The Gastronomic Environment Is Appealing
Tempe may be an older town, but that does not mean it cannot provide excellent value, particularly in its culinary scene. The town's diversity reflects in its multiple eateries around town.
Chuckbox in the downtown area is a must-try if you are looking for a great burger. The Vincitorio's Restaurant on the Royal Palm Plaza is the next stop for authentic Italian cuisine.
However, if you are looking for a favorite local pub and happen to be on 8th street, stop by Four Peaks Restaurant. When you dine here with your friends, pair some cold beers with their Street Chicken Strips.
Are you looking for some Asian treats? Then you want to try Thailand's famous Pad thai. Yupha's Thai Kitchen, a local favorite, serves one. Meanwhile, Chen's Noddle House offers you an authentic Chinese meal.
In addition to these dining options, there is the well-known Culinary Dropout, where you can listen to music while eating their house specialty 36-Hour Pork Ribs.
Cravings satisfied? If not, Tempe has a plethora of pop-up local eating establishments that are well worth a visit.
The Bad Side
The Unlikeable Crime Statistics
Tempe may not be the best option if you want a crime-free city. According to Sperling's Best Places data, this town's property and violent crime scores are higher than the national median.
Especially in property crime, where the metroplex has a score of 62.7, nearly double the national average. According to Neighborhood Scout, the annual crime rate in this area is 8,702.
However, not every street corner in this town is dangerous. There are more neighborhoods with high safety ratings. Communities include Arizona State University, Los Tesoros, Raintree, and Optimist Park.
If you move here, always be cautious so that you do not get a 1 in 24 chance of being a target of theft.
Hot Days Are Scorching (You Think You'll Get Burned Here)
Tempe has 300 sunny days per year but scorching hot days that you will not enjoy.
The average feverish temperature in this area is 115 degrees Fahrenheit. This temperature can still increase and can go as high as 120 degrees. This scorching heat makes you want a good air conditioner in your home or wherever you want to go.
The coldest month here is December to January, with an average temperature of 68 degrees Fahrenheit. In addition, the annual rainfall here is only 9 inches. Even snowfall is uncommon, if not non-existent.
So, if you are considering moving to the metropolis, prepare for the hot pavements during this extreme heat.
What Is the Cost of Living in Tempe, Arizona? The Affordable Town in The Phoenix Metro Region
The Good Side
You Can Afford to Live Here
In Tempe, your living expenses can be kept low. The overall cost of living is 8% higher than the national average; this does not mean that some aspects are out of your price range.
The grocery is one of the most affordable features here. You'll pay less here if you buy quality, fresh produce at the Tempe Farmers Market or the Sprouts Farmers Market. A wide range of choices will be available to you at reasonable prices.
Meanwhile, transportation costs are also within your budget. If you are a commuter, you can pay a reasonable fare for your Valley Metro bus ride. A single trip costs $2 for a regular adult, while a full-day journey costs $4. A monthly pass will also cost you $64.
Favorable Accommodation Pricing
You are lucky if you are looking for a cheap place to stay in the Phoenix Metro Region. Tempe's housing costs half as much here as Scottsdale or Paradise Valley.
The average median home value in Tempe is around $402,500, with a single flat rental fee of $957. However, there are still cheaper houses in the town's other neighborhoods.
Alta Mira is one of the more affordable communities, with homes starting at $340,000. The Dava-Lakeshore area is next in line, where you can buy a house for $267,000 or rent for around $1,100 per month.
There is also affordable housing in Cyprus-Southwest, where the average home value is $320,000, and the rental fee is cheap at $888 a month. Getting your lodging here allows you to take advantage of its proximity to other larger towns.
Your Medical Care Pricing Is Feasible
Another attractive advantage of living in Tempe is that you can afford its healthcare costs. According to PayScale data, medical expenses in town are approximately 7% lower than the national median. This reasonable pricing includes a physician consultation fee of $109.77 and a dentist visit fee of $93.87.
Medicaid gives a free or low-cost medical scope to eligible needy individuals in Arizona. There are also community centers that offer high-quality services at reasonable prices in the city of Tempe.
Mountain Park Health Center Tempe and AZ Shifa Free Clinic are two of the town's low-cost clinics. They occasionally provide free services to deserving residents.
The Bad Side
There Is a Higher Tax Rate in This Area
One disadvantage is that the tax rate in the city of Tempe is unfavorable. The foremost thing to regard is the applicable sales tax rate.
According to the sales-tax website, the total sales tax here is 8.1%. Tempe's rate is 1.8%, Maricopa County's is 0.70%, and Arizona's is 5.6%.
The city's property taxation comes next. When you buy a home in town, the federal government requires you to pay 0.80% in property taxes. For example, if you spend $350,000 on a home, you must pay $2,800 in taxes.
A reasonable income tax rate ranges from 2.59% to 4.54%, depending on your salary range. Some states in America do not collect this kind of tax, including Nevada and Washington. Sadly, Arizona is not one of them.
Why Work in Tempe, Arizona? The City's Growing Job Market
The Good Side
Tempe's Booming Labor Sector
There is no denying Tempe's popularity among Phoenix Metro Area job seekers. The labor market has expanded by 3.3% since last year.
The predicted job growth over the next decade is also 45%. This increase is beneficial if you want to get your dream job here.
Healthcare, biotechnology, technology, advanced manufacturing, business services, and tourism are the fastest-growing economic drivers in the region. The expanding sector employs thousands of people within and outside the metroplex.
Arizona State University, State Farm Insurance, Salt River Project, and Wells Fargo are among the city's largest employers. So, if you want to work here, know that there are options for you to choose from.
Landing A Job Is Easier
Tempe's job market is thriving, resulting in a low unemployment rate of only 2.4%.
According to the Reno Gazette-Journal, only 2,987 people are unemployed from the city's labor force of approximately 125,303. The lowest rate recorded here, 2%, was in 1998.
Nonetheless, because of the city's abundance of businesses, finding a job here is also easier. Tempe has the Equal Pay Business Designation, which makes working here even more appealing.
Landings Credit Union, GoDaddy, Architekton Inc. , Mulligan's Manor, and Mountain Park Health Center are among the companies that have received this commendation.
The Bad Side
Worksite Competitiveness
You can get an excellent job in Tempe, but keeping it is not easy because of the competitive environment in the workplace.
The city's average annual salary is $48,183, making it even more enticing. As a result, people from the Phoenix metro area and surrounding towns choose to work here.
So, to make a good living here, you must upskill and be the best version of yourself.
This article concludes our compilation of living in Tempe's positive and negative aspects. We expect you can now make an informed conclusion based on this knowledge.
We thank you for taking the time to finish reading our piece. It is a joy to notify you of the information you necessitate in advance.
Tempe is a fantastic big city with a suburban feel to it. It has benefits that can outweigh its drawbacks.
We hope to see you here soon.
Stay safe, everyone!