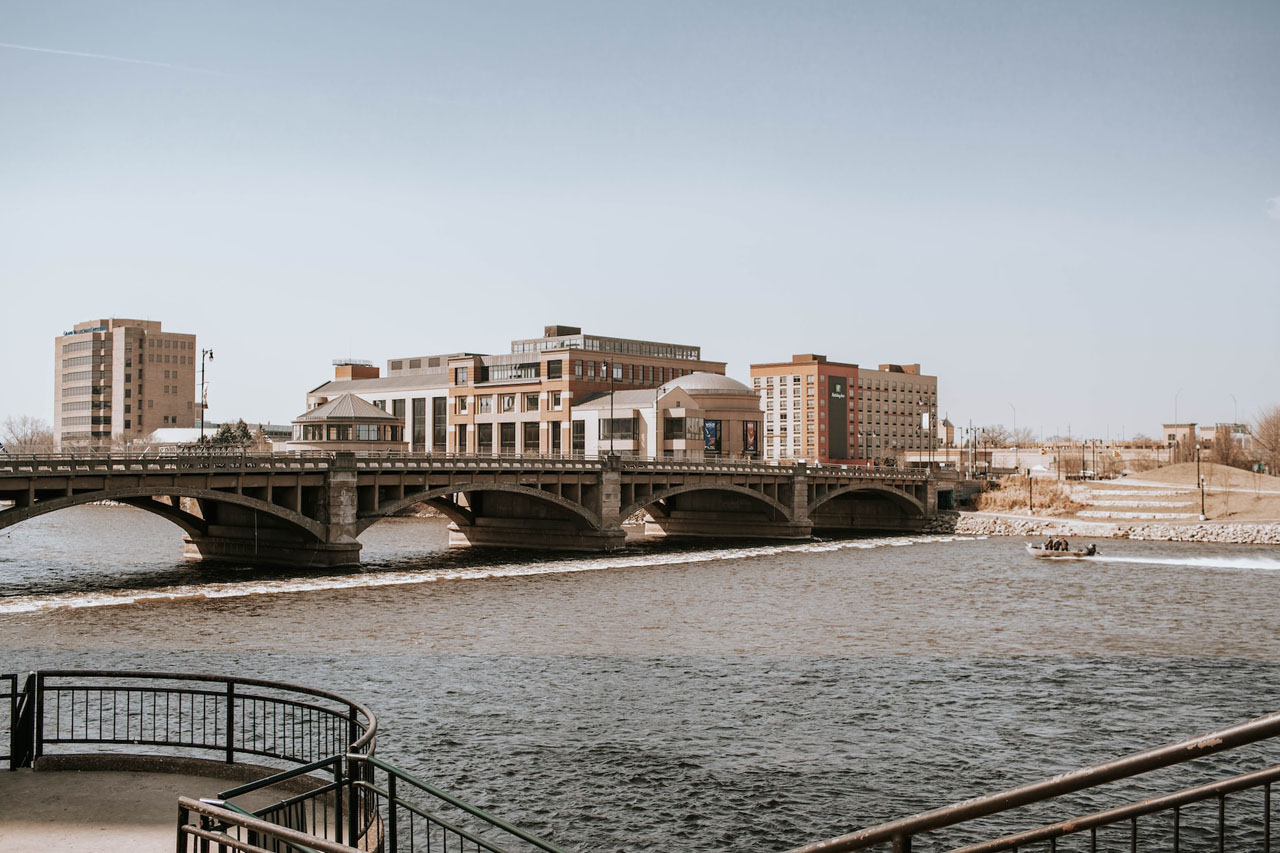 Grand Rapids, with one of the best craft brewery scenes in the United States, is the second largest city in Michigan. It is both the economic and cultural hub of West Michigan and has the fastest growing economy in the Midwest.
It evolved from a furniture hub in the 19th century into a modern-day urban town in the region. The city is a worthy metro to consider for relocation. Grand Rapids provides a healthy environment for the family, young professionals, veterans, and retirees.
It offers an affordable cost of living, great outdoor recreational activities, and a competitive job market. Living in Grand Rapids means enjoying a comfortable and fulfilling life in a large metro with a small-town vibe.
However, there are plenty of things you should learn about this city before moving. It is crucial to weigh its corresponding pros and cons and see what it is really like to live in Grand Rapids, Michigan.
Is Grand Rapids an excellent place to live in? A Perfect Place for Young and Old
The Good side
A Green City in the State of Michigan
If you want to enjoy the fresh air and a healthy and clean environment, there's no other place in the United States like Grand Rapids. The city is one of the greenest metros in America, giving value to carbon emission reduction, environmental protection, and sustainability.
Rapid's transportation system employs hybrid electric buses and green roofs in the Rapid Central Station. The said undertaking is part of the city's measures to eliminate net carbon emissions by 2050.
Aside from that, some businesses are converting to more environmentally friendly buildings with LEED-certified structures. Several of its art museums, microbreweries, transit station, schools, and churches are embracing the go-green initiatives.
You will also observe that the city government prioritizes cycling. The biking scene is also on the rise in this part of Michigan. Bike paths and friendly areas allow cyclists to enjoy a safer biking lane.
Sun, Sea, and Sand
There are many things to appreciate about Grand Rapids; the city has plenty of beaches nearby for those who love soaking under the sun's heat. You can have a great time at some of the country's top beaches around Lake Michigan.
The beach is consistently at the top spot for the best beaches in the United States. It has crystal blue water, fine white sandy beaches, impressive picnic spots, and huge parking. For instance, you can head straight to the Oval Beach in Saugatuck.
Grand Rapids offers you the best spot to enjoy water activities. You can also visit Grand Haven for a more private swimming environment. It is a remote beach town with less crowd. Then, check out some of Michigan's famous lighthouses in the city dotting the shoreline of Lake Michigan.
Art, Music, and Creativity
There is a budding art scene in Grand Rapids. You can take a whole day touring around its museums, galleries, and art centers. For instance, the Grand Rapids Art Museum has more than 5,000 collections of art pieces from the Renaissance to contemporary art.
Outside the city hall is the 43-foot Alexander Calder sculpture, La Grande Vitesse, installed in 1969 and has become an art symbol in the city. Then, there is the Urban Institute for Contemporary Arts, which fans of modern art can always visit.
You can try the Grand Rapids Public Museum to learn more about natural sciences and history. It has a massive collection of artifacts, well-conceptualized galleries, and regular exhibits. The Grand Rapids African American & Archives is also worth seeing, where you can learn more about black history in Michigan.
Grand Rapids greatly values art and creativity; if you check out Downtown Grand Rapids, you can see the largest venue for art festivals across the globe – ArtPrize. Your work can be recognized and rewarded with a whopping amount of $250,000.
All artists above 18 years old can submit their works and have a chance to win the cash prize. Thus, it becomes a vast gathering of artists of around 1,500 and more than 500,000 patrons.
A Bustling Downtown
Downtown Grand Rapids is the metro's center for cultural and commercial activities.
Endless venues are dedicated to dining, shopping, drinking, and fun.
You can explore the area easily given its free transit system – DASH.
When you visit the area, do not miss Downtown Market, where you have plenty of options to try the town's specialty food, unique boutiques, and other food startups. There are also coffee shops and lounge areas such as the Madcap Coffee and Stella's Lounge.
Just by visiting this busy metro area, you have loads of things to discover, and there will be no room for boredom, too!
A City Perfect for Families
Moving to Grand Rapids with your family is a breeze. Aside from being an affordable place to raise a family, plenty of sites are dedicated to this group.
You can see the Grand Rapids Children's Museum, with more than 15 exhibits, if you have children. Your children can enjoy the area's bubbles, dinosaurs, art classes, and magic shows.
Then, there is the John Ball Zoo, housing over 1,800 animals. It has its aquarium, aviary, and exciting animal exhibits. On the other hand, the TreeRunner Adventure Park is a great place to bond with your kids.
The city indeed offers you a place for fun, entertainment, and adventure. It has an obstacle course, zip lines, and suspension that your kids will undoubtedly enjoy. You can also tour the area with your bicycle and traverse its 100 miles of biking trail.
The Bad side
Harsh Winters
Grand Rapids is located in the middle of the region where the Arctic wind passes. With this situation, the city demonstrates shallow temperatures reaching freezing point. If you hate the cold season, you might want to reconsider moving to this city.
Along with freezingly cold temperature, it also comes with a snow-heavy phenomenon. You have to deal with the cold and snow during the winter seasons here.
What is the cost of living in Grand Rapids? Everything is Affordable
The Good side
Decent Amount of Cost of Living
The cost of living in the metro is slightly below the national average. The figure is around 92.2%, meaning you are paying the same living expenses as most cities in the country. You can live comfortably in this city if you have a job with an average salary package.
Housing Cost Below the National Median
It is possible to become a homeowner in Grand Rapids. Real estate prices are below the US median rate, and if you have a job with a competitive salary, you can earn easily and buy a house.
There are many neighborhoods with plenty of housing options you can consider. Several developers are building potential residential spaces for its populace. The standard price for a one-family house is $230,000.
Rent is also reasonable here. A one-bedroom apartment can cost $1,200, while a 3-bedroom house is around $1,900. If there are two of you earning for the family, you can live a comfortable life here.
Cost of Utilities 25% Below the US Median Rate
Another thing to appreciate about the cost of living in this metro is its affordable utilities. The Energy, Lighting, and Communications Department of Grand Rapids directly manages its electricity and energy consumption.
With intelligent operation and management, an average resident only consumes 676 kWh monthly for electricity. It is 25% below the consumption of most cities in the country.
Affordable Food and Grocery Cost
Buying your necessities here will never be a financial burden. Things are typically affordable here. You would be paying for food and grocery costs lesser than the national average. Plus, there are dependable supermarkets within the neighborhoods, so you can also save for transportation when buying your groceries.
Transportation Cost
Grand Rapids is a green city with eco-friendly transportation options for commuters. If you live here, you rarely pay for gasoline because there is a reliable transit option.
You do not need a car or pay for insurance and fuel. It is also a bike-friendly city where you can use it for short-distance rides.
Healthcare Expenses
Of course, getting a good health care package for you and your family is crucial. In Grand Rapids, your health is a significant priority. The government and employers ensure that individuals receive good health coverage and are adequately covered.
Michigan State also offers the lowest healthcare costs in the United States. You only have to pay the standard premium of $347 per month in health care when you live here. It is lower than the average of $452.
The Bad Side
Increasing Housing Prices
Of course, there are drawbacks to living here in Grand Rapids. Since there are plenty of people interested and attracted to moving to the city, the housing industry has become competitive. There has been an impressive growth in the housing rate over the past year, and it will continue to follow the upward trend.
Currently, housing prices may be affordable and slightly lower than the average, but this will be expensive in the future based on the current projection.
Why work in Grand Rapids? Great City to Live and Work
The Good side
Great Economy
You have a bigger chance of landing a job in Grand Rapids because of its promising startup industry. The city has become a staple in the startup arena, and plenty of entry-level jobs are available.
The unemployment rate in Grand Rapids is lower than the US median rate. There is only a 5.8% unemployment rate in Grand Rapids.
You can also earn a good salary in the city, given that it has a median household income of $60,103. With this amount and a very affordable cost of living, you can indeed have a comfortable life in the city.
Center for Manufacturing
Aside from the startup industry, the manufacturing sector is thriving here. It is one of the best places to relocate if you want a career in the manufacturing industry.
The city is home to Steelcase and Herman Miller. These are the key employers of the metro that generated thousands of jobs. GE Aviation Systems, an automobile and aviation company, also has a station here.
Jobs in the Healthcare Sector are available.
It is home to Spectrum Health, the most prominent healthcare network in Western Michigan. It is one of the key employers in Grand Rapids. You can also land a job here if you have a background and experience in healthcare services.
Diverse Industries
There are various industries employed in the city.
Big names like Amway and Alticor, Bissell, SpartanNash, and Meijer have headquarters here.
They are from the retail, marketing, and finance sectors.
Also, America's largest independent bookstore, Schuler Books & Music, is in Grand Rapids. It is also home to numerous Christian publishing houses such as the Our Daily Bread Ministries, Baker Books, and Kregel Publications, among others.
The Bad side
Additional Flat City Income of 1.50%
Take note that Michigan collects the maximum marginal income tax rate and the highest rate in the United States. It is a top-up tax to the Michigan state income and Federal income tax. If you are going to work at Grand Rapids, you have to expect an additional flat city income of 1.50%.
Grand Rapids is a perfect place for young professionals and retirees. Given its affordability and a competitive job market, you can build a comfortable life here. Aside from that, you can enjoy plenty of complimentary city amenities, such as beaches, parks, and trails.
Moving to Grand Rapids may be an intelligent decision for you and your family, so if you plan on moving here but have more queries, please let me know your thoughts. I would be happy to hear from you.