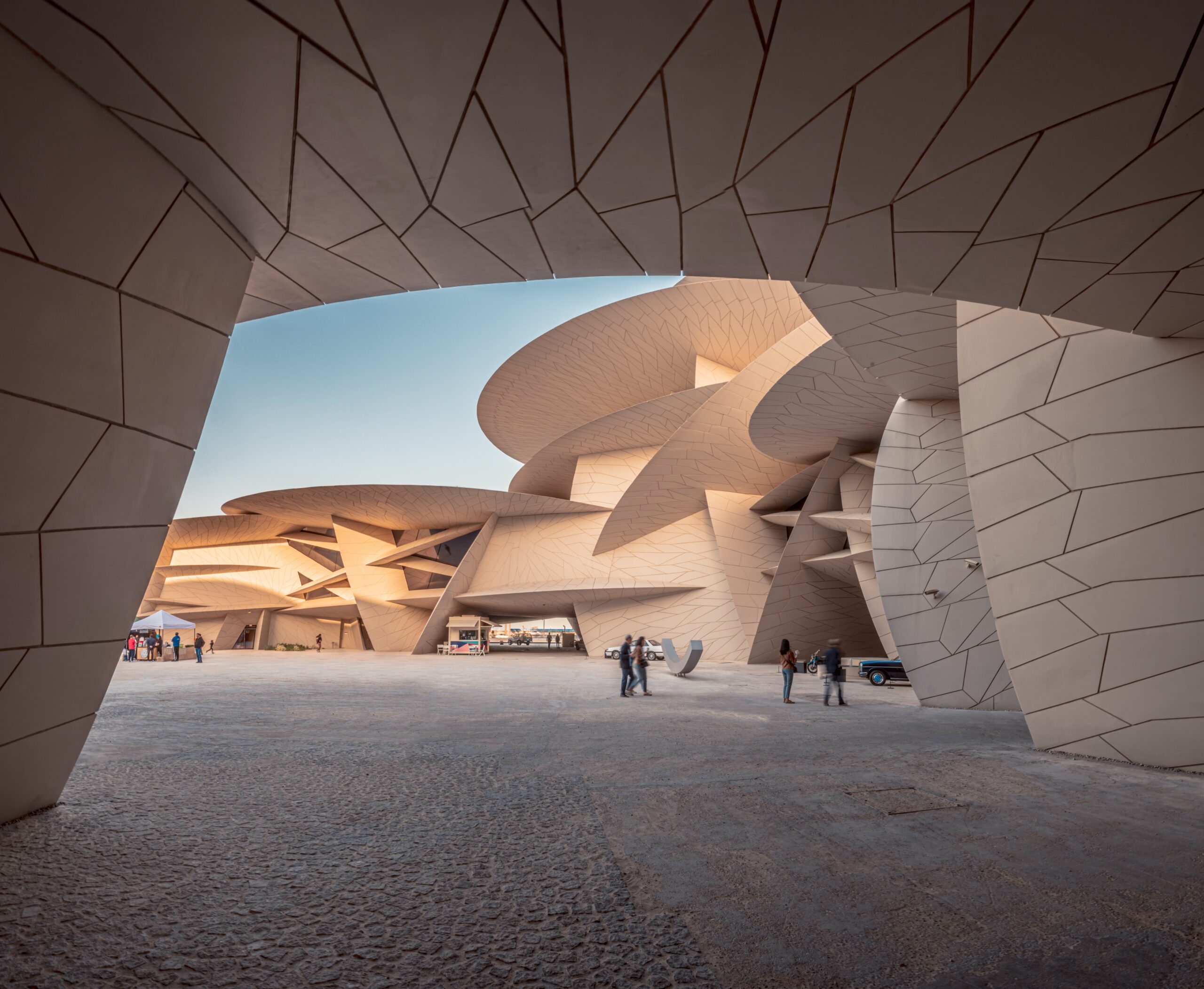 People visiting Qatar are usually surprised that the small nation in the Persian Gulf is so cosmopolitan! The country has culture, history, and traditions stretching back centuries. It also offers dynamic cities with skyscrapers and modern facilities. Visiting Qatar can be an enriching experience for both adults and children alike.
So, if you are planning for your next trip as a family, consider Qatar as your next destination.
Here are the top best places to visit in Qatar with family:
1. Souq Waqif – The Great Marketplace of Doha City
Souq Waqif is among the most famous Souqs in Qatar. The area is about 1 kilometer long, and it takes around 1 hour to see the whole place. It offers traditional clothes, jewelry, souvenirs, and spices at affordable prices. There are also some traditional restaurants where you can have authentic food from Qatar.
One of the establishments which you can visit in Souq Waqif is 'Waqif Theater.' It has a specific program for children and families showing different traditions in Qatar. The theater is near the Souq Waqif security gate, so you can go straight to the place.
Children can also take part in cultural performances. For example, they will see the Dabke, a traditional folk dance that has its origins in the Middle East, performed by locals.
The best time to visit Souq Waqif is during the winter months when families are out enjoying the sunshine.
2. Museum of Islamic Art – The Offshore Museum of Doha City
The Museum of Islamic Art is in Doha, Qatar. It contains over 3,000 exhibits from six centuries. The museum is a beautiful building previously used as a palace in the mid-1700s by the ruling Al Thani family.
The museum is one of the excellent attractions for your whole family to enjoy. If you are visiting this museum with your family, you can do many activities together.
Here are among the exciting activities that you can enjoy:
There will be an activity where children will use crayons and paint pictures of animals, people or nature. Adults can enjoy this activity with children by helping them to draw their portraits. Everyone should feel free to take part in this easy yet enjoyable activity.
The whole family can try Arabic calligraphy workshops. Children will be encouraged to use a wooden stick and ink on paper to make Arabic calligraphy during this session. This activity can help kids improve their writing skills while understanding its importance in Islamic culture.
You can try activities that stimulate creative thinking and problem-solving, such as treasure hunts, puzzles, and other things like that. Adults should use this opportunity to make sure that the whole family works together as a team.
The museum also offers arts and crafts workshops for adults to attend to do things like ceramic painting. Adults can use this activity to do with their children or socialize with other adults.
Another activity that the whole family might enjoy is a tour of the museum. The curator will show you around and tell you interesting facts about the art on display there. This activity is an excellent way for family members who don't feel like doing arts and crafts to enjoy the museum and cultural activities.
3. National Museum of Qatar – Demonstration of Nation's Heritage and Culture
The National Museum of Qatar is in Doha, and this fascinating museum offers visitors a chronological look at the history of Qatar, stretching back 7,000 years. In addition, there is a dinosaur exhibit that children will surely love to explore.
National Museum of Qatar is a place where kids will prefer to come again and again. This museum has numerous activities for both children and adults separately. For instance, there are special workshops for schoolchildren on the history of Qatar. There are also special activities aimed at adults during weekends.
The museum is one of the places where you can learn about Qatar's history. You can see pictures and videos on life in Qatar just over 100 years ago. You can also listen to audio recordings that tell the stories about people living in Qatar back then.
If your kids are more hands-on, they will love these workshops for children, which offer them a glimpse of Qatari culture. They will learn how to make traditional handicrafts and how to play classic games.
You can also join your kids in traditional handicraft making. Learning this together can be a great way; the activity can be great bonding even at home.
4. Katara Cultural Village – Self-styled Village
Katara Cultural Village is located just outside Doha. It's an open-air museum that brings together traditional Qatari landmarks in a unique way. Katara means 'dagger' in Arabic, which reflects the design of this stunning venue.
Building number 16 is one of the attractions in Katara Cultural Village. The site hosted several exhibitions and workshops. The most popular of these are the children's workshops. Here, your kids can watch hands-on demonstrations on making paper or pottery, then try creating the craft themselves.
Another family activity that has become very popular in Katara Cultural Village is ATV riding. You can enjoy this thrilling trip around an off-roading course. This activity is available to all people of all ages, but you must drive a car to participate.
Katara Beach is another site where you can relax on the white sands or splash around in the shallows with your children.
When it's time to eat, you will find plenty of options at Katara Cultural Village. There are several restaurants and cafes to choose from, as well as juice stands throughout the village.
5. The Pearl – Fascinating Manmade Island
The Pearl Qatar is a family-friendly neighborhood in the municipality of Al Khor City, about 55km north of Doha. It is a manufactured island on Doha's waterfront. It has luxury hotels, shops, and restaurants. The place also has plenty of outdoor spaces for you to enjoy together with your loved ones.
Your children will love the sheer size of this area. There are plenty of attractions to capture their imagination, including a beachside promenade, restaurants, and cafes.
It offers great activities that the whole family can enjoy. Here are some of them:
Family Activity Center. The Pearl has a family activity center near stores and restaurants. It has a variety of play areas for your kids, including sandpits, jungle gyms, slides, swings, and more. It hosts outdoor concerts at night as well to entertain families while they unwind after a busy day.
Beach Park. The beach park within the neighborhood of The Pearl Qatar has many fun activities for the family. BBQ pits with shaded seating, paddleboats rentable, and horse riding. Also, the playground is truly one of a kind – it has separate play areas optimized for more minor children and bigger kids.
Go for a stroll in Medina Centrale. The Medina Centrale is a popular choice for many families, an open-air shopping mall that looks like a traditional Arabian village. Activities like painting, Duwala making, and a range of craft classes, making this area an excellent place for your family to enjoy.
Gaze at the fountains. The fountain show at The Pearl is what makes this destination a popular choice for many. But the fountains are just one of the multiple attractions – illuminated buildings, street performers, and al-fresco dining all contribute to making the place for a family outing.
The Pearl has outdoor cafes everywhere and an abundance of delicious restaurants. So, you can dine outdoors and experience the site's fantastic atmosphere, enjoy a delightful meal and unwind after a busy day of activities and fun.
6. The Corniche – A Relaxing Beach to witness a Good Sunset
The Corniche is the waterfront promenade that runs along the seashore in West Bay, a district of Doha. Many people visit the site every day to walk, jog, cycle, and take strolls.
There are also volleyball competitions, paddleboat races, and beach soccer, among other activities during weekends and holidays that the whole family can watch.
While you are at The Corniche in Qatar, you can visit the beaches where your children can enjoy the water slides. You can also go fishing or relax on a bench and watch the waves roll in.
There is also a play area suitable for all ages, and it has water features, trampolines, and swings. They designed the site for families, so expect to enjoy the place. There are lots of tables surrounding the area if they get tired. There are several cafés as well where you can rest or have refreshments.
A visit to The Corniche is well worth doing when you're visiting Qatar with your family. Not only that it has plenty of areas for outdoor activities, but it also has a lovely spot for a picnic– the perfect place to spend time for family bonding.
7. Al Khor Park – Qatar's Most Extensive Park
Al Khor Park in Doha is the largest park in Qatar. Its location is next to many malls and shopping areas. It offers a variety of picnic spots for families; It also has an amusement park inside the park with rides for all ages.
It features creatively designed gardens with a variety of bird species. It includes restaurants where you can dine with your family and enjoy the serene ambiance. There is also a museum in the park, green pathways along with many fountains and water borders.
The park offers seasonal fun activities for adults as well as children, which include:
festivals held throughout the year.
Live shows performed by famous artists.
Horse riding, rides, and pony riding lessons.
Amateur archery, drum shows, and more.
8. Villaggio Mall – Premium Shopping Mall for Family
Villaggio Mall has everything that your family needs. From entertainment centers for kids to food options like restaurants and cafes, the mall is the perfect place if you want to spend time with your entire family.
It has an indoor kids' city, a virtual world that only your children can experience. It features experiences for them to interact with their imaginations in a fun way. Your kids can also play video games, slides, and ball pools.
When in Villaggio Mall, you can enjoy movies in the IMAX Center, go-karting with kids, or bowling at the bowling alley. You may also try Gondola boat rides or ice skating and hockey at the Gondola Ice Arena.
9. Purple Island – Island of Natural Wonders for exploration
The Purple Island is a recreational park where all family members can spend their time and have fun. The whole family will enjoy the wide range of activities available on the island, such as fishing, cycling, biking, kayaking, and bird watching.
You can go for a bike ride with your kids on the paved cycle path past Purple Island. If you are into kayaking, the kayaking center in Purple Island offers hourly and daily packages for this activity.
You can also enjoy fishing at the waters of Purple Island. This activity is also a form of entertainment and a good bonding experience between parents and their children. The beach in the area is ideal for sunbathing or just relaxing and spending time with your family.
The Purple Island will allow you to explore Doha's wildlife and nature. You can easily spot a variety of birds during bird-watching sessions that take place every morning and evening. Other than that, the island is also home to numerous other animals, which you can enjoy spotting during your visit here.
10. Aspire Park – Lush Green Garden for Family Picnic
If you're visiting Qatar with your family, Aspire Park has many things that everyone will love! There are rides, playgrounds, an aquarium including a shark tunnel, and even a golf range!
The rides are designed especially for younger children, so if you have a little one in, it will be easy to find something fun and exciting without spending too much time dodging thrill-seekers or avoiding the more extreme attractions. However, if your children are older, they'll still enjoy riding some of the rides meant for bigger kids and adults.
Golf enthusiasts will enjoy hitting some balls on the driving range or putting their skills to the test with miniature golf for an outdoor adventure course. The courses aren't overly complicated, so it's an excellent way for adults and older kids to work on their games without too much pressure.
The Aspire Park has a vast space for a picnic that you can enjoy during the summer. You can pack a picnic, or you can order food from the nearby cafe. If you're planning to stay for the whole day, there are plenty of tables and benches where you can relax while your kids are playing.
11. Sheikh Faisal Bin Qassim Al Thani Museum – House of over 30,000 Artifacts
The Sheikh Faisal Bin Qassim Al Thani Museum is a family-friendly museum that offers many activities for families to enjoy during their stay.
It has a play area designed for children under five years old and features a ball pit, slides, a child's ride on a camel, and a stroller rental service.
The museum offers documentaries about the history of Qatar, which you can see in its multimedia theater, where they show films every half an hour. There is also a Qatari handicraft shop that features souvenirs made by local women and a cafe that offers traditional Qatari cuisine.
If you have kids ages five to 12 can take art and history classes and Arabic classes to learn about Qatari culture and history. There is also an educational tour for school groups where children can see the beautiful artifacts in its 29 galleries.
There is a game room on the second floor where your kids can play football and table tennis. In addition, you can enjoy chess, backgammon, or billiards in the game room.