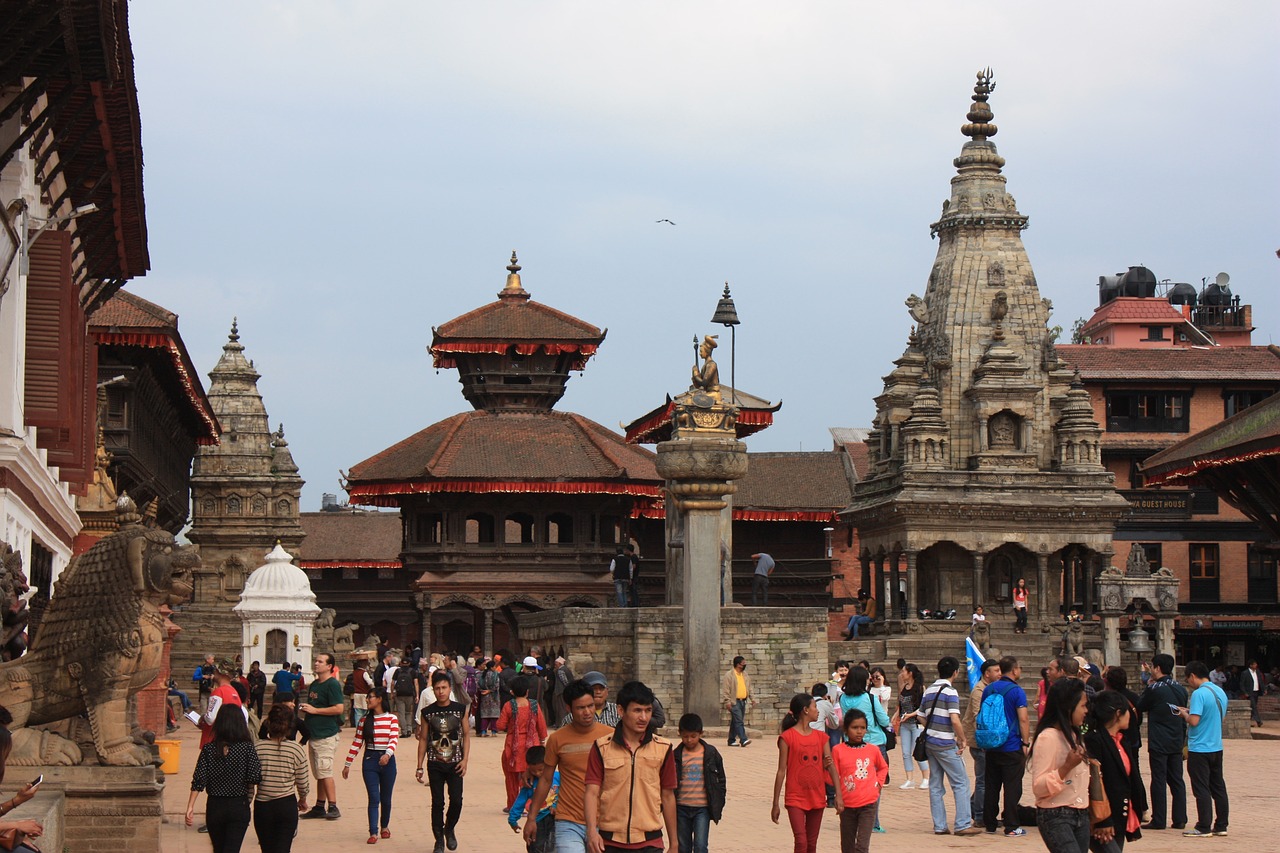 If you are looking for a beautiful place in South Asia, Nepal is the country you should visit. Aside from impressive mountains, and the Himalayas, Nepal is the home of Bhaktapur.
The place is undoubtedly the most stunning royal town in the country of Nepal. Within its vicinity are endless temples adorned by unique sculptures, making Bhaktapur enjoyable. Going around it enables you to marvel at its spiritual energy.
The architecture and carved balconies manifest that there are stories behind its beauty. But, of course, every street you walk on and every structure you see showcases the town's glorious past.
You will never run out of fascinating temples to visit or sights to behold. This small town, located less than an hour away from the capital, has many things to offer.
It is a well-preserved area in Nepal. The sights and temples you visit remain untainted from modern touch. More than that, the town is car-free, allowing you to walk on the cobbled streets freely. The city is a living museum where arts and style blended well with its spiritual vibe.
Of course, embarking on a trip to Nepal and seeing Bhaktapur is worth your visit. You will experience the tremendous Nepali culture and know a lot of cultural heritage in Bhaktapur.
What was the old name of Bhaktapur?
Before delving into the town's cultural offerings, let us get to know what the name stands for. Then, you will appreciate the city and connect with its structures and historical sites.
Bhaktapur is a small town in Newars, formerly called 'Khwopa.' The oldest name of Bhaktapur is 'Khwopring.' It is a non-Sanskrit name that evolved multiple times. Bhaktapur was initially called Khwopring, then Khwopa, and even Bhadgaon.
Many inscriptions provide evidence that the Bhaktapur has existed since 477 BCE. It means that Bhaktapur is one of the oldest settlements in the Kathmandu valley. Moreover, it is a classic town, given the evolution of its name alone.
However, in recent times, people of Nepal still call it Khwopa, while some Bhadgaon. Nevertheless, whichever one calls it, Bhaktapur is an ancient town worth visiting.
In this royal town, cultural heritage and historical sites are still on display. Once you see it the first time, you will see the simplicity of Nepali life. You will see how the people are deeply connected with their past.
Why should people visit Bhaktapur?
Then, why do tourists are naturally drawn to Bhaktapur? What makes it worth visiting? Well, we have listed our top reasons why people should visit Bhaktapur.
Aside from Nepal's beautiful landscapes, this small town has so much more to offer:
Structures and architectural designs

If you want to explore one of the oldest architecture in Asia, Bhaktapur is the place to be. The Bhaktapur Durbar Square demonstrates impressive architectural designs one would like to see. It showcases the unwavering skills of most Newari artists and artisans. From the pagoda and shikhara temples, the dedicated hands of its people are shown. You will see in the square the perfectly blended architectural pieces. It highlights the talents and skills of ancient Nepali.

Ancient cultural heritage

The UNESCO World Heritage site recognizes many structural sites in Bhaktapur. Most of these structures are exhibiting traditional Newari designs and architecture. Just by going around the town, you can see buildings with intricate patterns and designs. The Nyatapola Temple, for example, has a five-tier roof demonstrating class and sophistication. Even the infamous Durbar Square will show you how intelligent and gifted the Newari are.

Arts and culture

Going to Bhaktapur means immersing yourself in endless arts and culture. Wherever you go, you will see plenty of sites and corners with impressive aesthetics to offer. There are various crafts that people create, including pottery. This century-old art form is still being practiced in Bhaktapur. You can visit the Potters' Square for unlimited pottery creations. Or spend an hour or two at Nepal's National Art Gallery. You will see artifacts and paintings that speak about the colorful culture of Nepal.

Spirituality and devotion

Bhaktapur, famously known as the City of Devotion, is a scared town for most Nepalis. Nevertheless, it is customary to see men women wearing devotional attires before visiting temples. Most of them carry offerings for the gods and goddesses they are devoted to.

You will see the locals buying marigolds from street markets to offer to shrines and gods. You will observe that the ancient beliefs are still being practiced in Bhaktapur. The town itself encourages locals to be spiritually devoted.

Food

If you want to have a grab of the most authentic Nepali dishes, then you head to Bhaktapur instantly. This small town offers traditional and flavorful Nepali cuisine. More than the arts and crafts, the people of Bhaktapur celebrate life with food. Locals will offer your homemade meals, which you cannot resist. Most of the food is specific dishes only found in Bhaktapur. Among the food, you should try is yogurt in clay pots. It is naturally made of buffalo milk, making the dish more flavorful and tasty.

People and festivals

Another thing that makes Bhaktapur so interesting is how people celebrate colorful festivals. There are plenty of festivals being celebrated throughout the year. For example, if you visited in April, the Biska Jatra is celebrating the Nepali New Year. The festival is vibrant, with a parade going around. Of course, it would help if you also experienced the Dashain festival, another exciting activity to witness.

Paati' games and entertainment

Being a small town in Nepal, people are often gathered for some form of relaxation. So they usually go to paati where they can chill out and relax. There are plenty of paati you can also visit in Bhaktapur.
How many temples are there in Bhaktapur?
Bhaktapur, the town itself, is an ancient religious site. Just by going around the city, you will see several temples where locals go for devotion. It is undoubtedly a UNESCO World Heritage Site because of several temples and historical sites. It is one of the many reasons why people are attracted to visit the place.
There are 12 temples that you can see in Bhaktapur. The temples are well-preserved and frequently visited by tourists. Thus, here is the list of temples present in Bhaktapur:
Nyatapola Temple

Among the most visited temple is the Nyatapola Temple. It is an 18th century-old temple and considered the tallest temple in Nepal.

The religious site was built in the year 1702 for Goddess Siddhi.

The temple's sanctum Sanctorum is not open for tourists, only the temple priests. But, on the bright side, the rest of the surrounding area is available for visitors.

Changu Narayan

Another popular temple in Bhaktapur is the Changu Narayan. It is 12 km east of Kathmandu and is considered the oldest temple in Nepal. The temple exhibits the classic Newari architecture with its brick-red edifice. It is a stunning temple you can see in Nepal.

Doleshwar Mahadev Temple

If you head 20 kilometers away from the country's capital city, you will see this temple. The temple was constructed explicitly for the God Shiva. Tourists and locals pay a special visit to the temple to wash off their sins with the help of Lord Shiva.

Bhairavnath temple

Another interesting sacred site you should not miss is the Bhairavnath temple. It is located inside the Bhaktapur Durbar Square.

You can quickly identify the temple because of its pagoda style and structure.

It is made for Lord Bhairav. The temple is a three-story structure that stands high inside the square.

Taleju Bhawani Temple

Also inside the Durbar Square is the Taleju Bhawani Temple. The temple stands elegantly and dedicated to the Goddess Bhawani. It was specifically built to ward off the evil spirits circling Durbar Square. It is exquisite construction as it showcases a 'Mandala' inspired design.

Dattatreya Temple

You will find the Dattatreya Temple at the center of the Bhaktapur Durbar Square. It is a 15th century-old temple that proved to be well-structured and robust. It has unique carvings with erotic images in its three-story pagoda-style building. At the entrance of Dattatreya Temple are two statues guarding it.

Pumpkin Temple

The pumpkin temple is another unique kind in Bhaktapur. It has different images of animals like lions, elephants, and cattle.

These creatures guard the temple since its foundation.

Another exciting feature is a white-domed shrine on its edge.

Wakupati Narayan Temple

Another temple for the god Vishnu is the Wakupati Narayan Temple. It is one of the most visited, as people will pay tribute to the great god, Vishnu.

Chandeshwari temple

The Chandeshwari temple is a 17-year old temple found in Bhaktapur. It is built to honor the goddess Parvati for her win over the demon Chanda. The temple has a fascinating story that travelers are drawn to it. You can see a mural showing the battle between the goddess and the demon.

Pashupatinath Temple

It is the most well-known and most visited site in Bhaktapur. Locals, devotees, and tourists across the world would pay a visit to this temple. Several rituals and activities are being conducted in the temple, too.

It adds to the charm of the temple.

Indrayani Temple

The Indrayani Temple is one of the most miniature temples you can see in Bhaktapur. It is being adorned by colors, pomps, and lights, especially when celebrating festivals. Even though the temple is small, people still pay a visit.

Siddhi Lakshmi Temple

Another temple guarded by different animals is the Siddhi Lakshmi Temple. It is one of the most damaged temples during the 2015 earthquake that happened in Bhaktapur.
What is so special about Bhaktapur?
The country of Nepal is more than the mountain ranges and icy-capped mountains we know. It is an important country in South Asia where Hinduism proliferated. More than that, it is the birthplace of Buddha. The country is a must-visit destination to learn about ancient religions. It offers you a learning experience about old beliefs and spirituality.
The small town of Bhaktapur, with its limited area covered, offers visitors plenty of things. It is one of Nepal's hidden gems, and the place is worth visiting. You will not only learn about ancient religion and practices but about Nepal itself.
Bhaktapur is a very special town in Nepal. Bhaktapur showcases Nepal's finest offerings, from impressive architecture and present-day way of living.
You will see in the people how traditional practices are ingrained within them. It is a great town that was able to withstand the pressure of technology and modernity.
By visiting Bhaktapur, you will appreciate Hinduism more. And way it has been being practiced until today. Bhaktapur is genuinely a fantastic travel destination; thus, it is worth visiting.