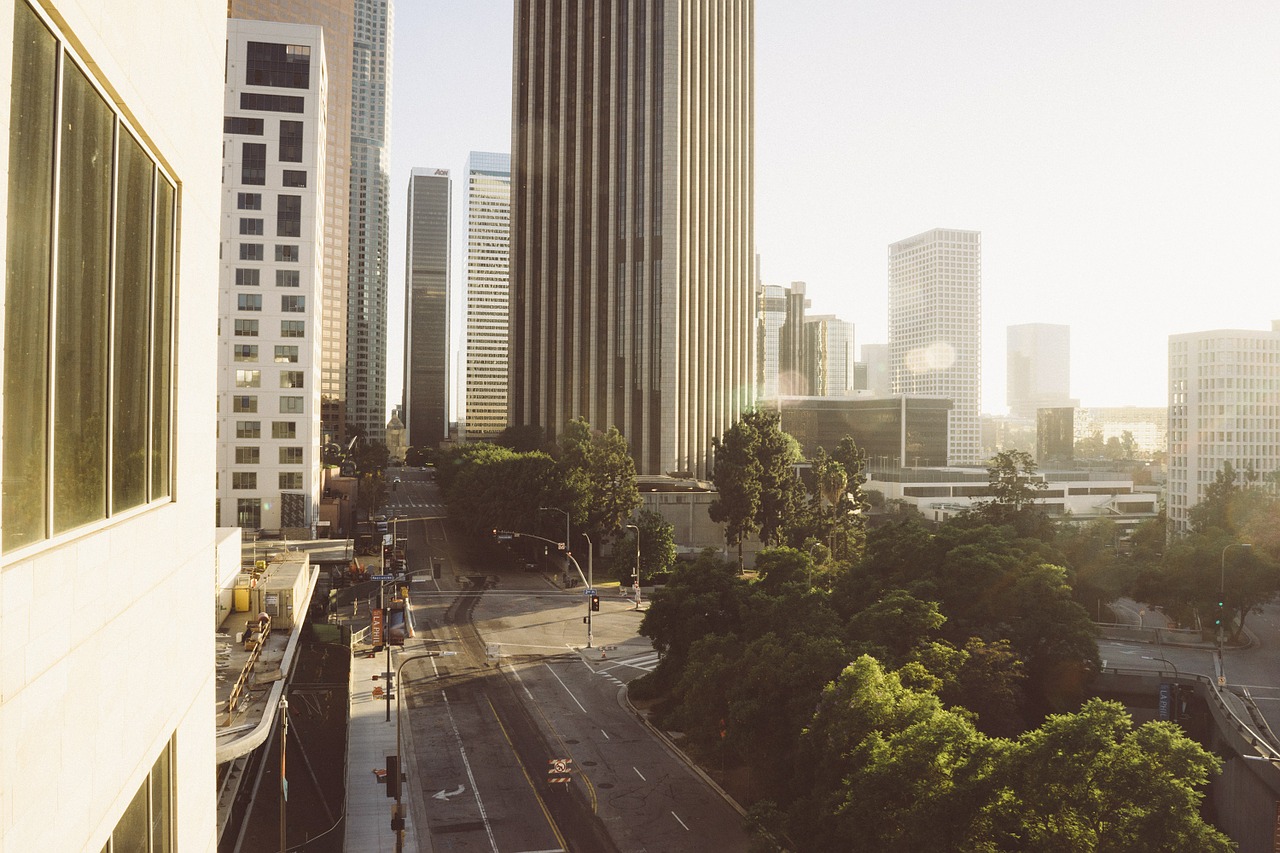 Albuquerque, New Mexico, has affordable houses and a lower living cost than Los Angeles, Southern California. Thus, Albuquerque is the best choice if you want to save more and invest in real estate.
Albuquerque has so much to keep you active from day to day when you live here. Those interested in culture and history will appreciate spending time in the Old Town neighborhood or visiting one of the numerous Native American historical sites nearby. There's also a zoo, an aquarium, gardens, and other areas where the whole family can enjoy some fun activities.
Meanwhile, Los Angeles is a large city in Southern California that serves as the heart of the country's film and television industry. Visitors who like the outdoors can enjoy everything from its pleasant Mediterranean climate and world-famous beaches to the steep highlands and stunning deserts.
Are you considering moving to these cities? Which one is ideal for you? We've done in-depth research to collect information for you to study and decide which has more to offer, is budget-friendly, and is safer to live.
What Are the Pros and Cons of Albuquerque vs. Los Angeles?
You will be happy living in Albuquerque because of its fun activities, arts and culture, and manageable traffic; however, the high property crime rate and incompetent K-12 education system are alarming. In Los Angeles, employment opportunities and transportation networks are fantastic, but the nightmare traffic and earthquakes will scare you.
Living in Albuquerque
Pros
Less expensive to live in

The city's cost of living is around 5% cheaper than the national average, enabling citizens to live comfortably. Albuquerque and the state ranked 33rd place for most affordable house value. The average cost of a property in this area is $185,000. It is a cost-effective area to start a family and settle down.

Fun activities

During the summer, Balloon Fiesta Park hosts spectacular festivities to commemorate the country's independence as part of the city's Freedom 4th celebration. The popular event has a nightly fireworks show and a variety of entertainment performances. Rock walls, face painting, and jump houses are among the activities available.

You can also find several natural beauties and interesting places to visit in Albuquerque and New Mexico. You can go on an extraterrestrial search in Roswell, see the beautiful Carlsbad Caverns, or visit the Chaco Culture National Historical Park. In the winter, you can go skiing.

Manageable traffic

Despite the city's size, your journey on the major roadways isn't as unpleasant as it is in some of the world's other megacities. It may get crowded, but it usually flows along nicely. Most of the time, you'll have a smooth trip if any occurrences or problems don't disrupt it.

Arts and culture

If you're interested in traditional Pueblo Indian culture, visiting the Indian Pueblo Cultural Center is an excellent place to start. The one-of-a-kind collection of ceramics and paintings depicting the Pueblo people will captivate you.

There are also several hands-on activities inside the facility and traditional Native American dances honoring Mother Earth. You can learn more about gourd painting or attend a pottery lesson.

In addition, Albuquerque is known for having one of the best art scenes in the country. Artists use galleries like the 516 Art Gallery to stage shows, participate in events, attend seminars, and listen to lectures.

The Richard Levy Gallery alone conducts over 700 events every year, ensuring that you will always find something to your taste. Because of the city's numerous vivid murals and public art exhibitions, you can also find art just by walking the roads.
Cons
Property crime is at an all-time high

Albuquerque has a persistent crime problem. No matter where you reside in town, crime is constantly from the luxury foothills to the historic center. Theft of property and automobiles are a concern.

The property crime rate is at an all-time high in New Mexico, almost half from Albuquerque. Albuquerque accounted for 47 % of all property crimes recorded in New Mexico in 2016. The number of socio-economic issues in the city, including poor educational levels, a high unemployment rate, and a high prevalence of drug misuse, contributes to this problem.

Incompetent K-12 education system

In the current state of the world today, economic production and education are often connected.
And Albuquerque doesn't do itself any favors here. Since this city is poorly ranked for K-12 education.

If you have school-aged children, you'll have to keep a careful check on your children's development if you live in Albuquerque.

Don't rely on the instructors to help you because you might get disappointed. If you want an excellent K-12 education system, you should consider setting aside money for your child's education at a private school.
Living in Los Angeles
Pros
Lots of employment opportunities

If you're seeking a job right now, Los Angeles is a land of opportunities. Whatever your line of expertise, you will find an open job waiting for your application.

The number of openings in certain areas, mainly production and entertainment, is sufficient to allow you to break into any industry you choose. Even if you just started your profession, the hotel sector pays well enough to provide you with a place to live in most cases.

Housing apartments with free-of-charge amenities

Los Angeles provides you with additional room, private parking, and access to a communal swimming pool for a similar price as a tiny apartment in Manhattan. There are usually public amenities on the grounds as well, such as a picnic area, grills, and pet areas where your pets can run off-leash.

You need to go to Pasadena or San Fernando to take advantage of this benefit, but this is something to consider if you want to relocate to LA soon.

That isn't to say that all of the city's residences are inexpensive. Even Anaheim and Santa Ana are growing more costly; having a private house here is not out of the question when you may not have that luxury elsewhere.

Several outdoor activities

Los Angeles has a unique blend of trails, beaches, and typically decent weather. You are always welcome to take advantage of all that nature offers.

Even if you don't want to spend a day in the sun, you can go to events like the California Strawberry Festival, take advantage of the city's free museum days, or spend an evening at the Santa Monica Pier. There are also hundreds of parks to visit, including the huge Griffith Park in Los Feliz, spanning over 4,300 acres.

Improve transportation networks

Los Angeles' public transit system has suffered significantly in recent decades, but the city strives to fix the situation. On a good day, the trip from Pasadena to Hollywood can be completed in 30 minutes using the metro system.

You'll also have access to LAX, a major international airport from which you can travel practically everywhere in the globe.
Cons
Expensive Property

When you plan to relocate to Los Angeles, you will be moving to a city where living costs are 50 % more than the national average in certain areas.

The most significant difference that visitors encounter throughout the migration process is housing. Renting can be your only alternative, and even then, the expenses can be far greater than you anticipate.

Nightmare Traffic

The traffic troubles in Los Angeles are notorious, particularly if you happen to be driving during rush hour. INRIX analyzed data from major cities in 38 nations and discovered that traffic in this city is the worst in the world. Every year, you will waste over 100 hours of your life sitting in traffic. There's no reason to believe that this issue will go away any time soon.

Larger neighborhoods

Los Angeles is vast on a scale that you won't believe unless you see it yourself. The city's neighborhoods are far more extensive than those seen in typical urban locations. When you factor in the fact that most individuals have a lengthy commute, it's no surprise that most people keep their social commitments as close to the vest as possible.

Earthquake

The San Andreas fault extends the West Coast through Los Angeles's most heavily inhabited regions. If a complete eruption occurs, this indicates that the possibility of a big earthquake might cause a severe emergency scenario.

It is known as "The Big One," and it is something that every city in the Ring of Fire considers on some level. According to the USGS, there is a 46 % possibility that a 7.5-magnitude earthquake could strike California in the next 30 years, with the epicenter most likely in the state's south.

Even if such a catastrophic disaster never happens, the area is prone to earthquakes. If you aren't accustomed to this kind of natural occurrence, living in Los Angeles can put you at a significant disadvantage in this respect.
Albuquerque or Los Angeles – Which Is More Expensive?
Based on the overall index without the taxes, Los Angeles, California, is 94.1% % more expensive than Albuquerque, New Mexico. The most significant component in the cost of living difference is the median home cost.
The table below shows the cost-of-living indices written in percentage:
| | | |
| --- | --- | --- |
| Living expenses | Albuquerque | Los Angeles |
| Housing | 88% | 298.2% |
| Food & Groceries | 96.0% | 104.1% |
| Health | 79.8% | 90% |
| Utilities | 97.2% | 93.7% |
| Transportation | 89.4% | 165.3% |
Data is 100 = US National Average
> 100 means more expensive than the national average
< 100 means cheaper than the national average
Housing Cost
Los Angeles' housing cost is 238.9% higher than in Albuquerque. Los Angeles' median home cost is now $883,400, while Albuquerque has only $257,400.
Albuquerque's median home cost is 70.8% less expensive than in Austin, saving up to $626,000.
Utility Cost
The cost of utilities in Los Angeles is 3.6% less expensive than in Albuquerque. For the 60 Mbps of internet, Los Angeles has only $65.71 compared to $80.46 of Albuquerque.
Food and Groceries Cost
The cost of food and groceries in Los Angeles is 8.4% higher than in Albuquerque. The 1-kg rice costs $4.76 in Los Angeles, whereas Albuquerque has only $3.06.
Transportation Cost
Los Angeles' transportation cost is 84.9% higher than in Albuquerque. For example, gasoline per liter in Albuquerque is only $0.70 compared to $1.15 in Los Angeles.
Healthcare Cost
Los Angeles' healthcare cost is 10.2% higher than in Albuquerque. In Los Angeles, you will spend an average of $135 for visiting a doctor, while in Albuquerque, that is only around $86.3.
Is Albuquerque Bigger Than Los Angeles?
In terms of total area, Los Angeles has 502.7 square miles, more extensive than the 189.5 square miles of Albuquerque. It means that Los Angeles has a larger human population carrying capacity than Albuquerque.
About 189.5 square miles, Albuquerque has 564,559 people, making it the 32nd most populated city in the United States and the 4th biggest in the southwest. It is the largest city in the Albuquerque metropolitan region, with 916,528.
Also, Albuquerque has one of the highest altitudes of any metropolitan city in the United States, with heights varying from 1,500 m above sea level along the Rio Grande to approximately 2,000 m in the Sandia Heights and Glenwood Hills foothill districts.
Because the city and the county are geographically, culturally, and economically intertwined, any discussion of Los Angeles must include both entities to some extent. The population density varies widely across the metropolitan region, from one person per square mile in hilly areas to 50,000 per square mile in downtown Los Angeles.
But in 2022 data, the city boundaries of Los Angeles cover 502.7 square miles and have a population of 3.91 million people, with a density of nearly 8,485 people per square mile.
Is Albuquerque Safer Than Los Angeles?
Los Angeles has a crime index of 13 compared to 1 of Albuquerque (100 = safest), with crime rates of 29.96 per 1,000 and 63.28 per 1,000, respectively. Therefore, Los Angeles is safer than Albuquerque.
Albuquerque routinely ranks on lists of the most dangerous cities in the United States; it placed 9th in 2020. Albuquerque's reported crimes on average are 35,723, with 7,552 in violent crimes and 28,171 related to property.
Meanwhile, according to the FBI, Los Angeles has "the biggest drop in crime of any major American city" compared to other large cities in the US. It is the 5th safest big city in the nation.
Is Albuquerque Warmer Than Los Angeles?
The average temperature in Albuquerque ranges from 27°F to 93°F throughout the year, whereas Los Angeles has 48°F to 85°F. Thus, Albuquerque is warmer than Los Angeles.
Summers in Albuquerque are hot and dry, and the winters are brief, frigid, and snowy. The weather temperatures are seldom falling below 18°F or rising over 99°F.
Summers in Los Angeles are almost similar to Albuquerque: hot, dry, and transparent. However, the winters are lengthy, cool, moist, and partially overcast. The temperatures are rarely falling below 42°F or rising over 93°F.
According to the tourist score, the perfect time to visit Albuquerque for warm-weather activities is from late May through late September, whereas Los Angeles is from late May to mid-October.
Is Albuquerque Better Than Los Angeles?
Based on the most recent data, Los Angeles has more international visitors having 7 million each year compared to 6.2 million of Albuquerque. Thus, Los Angeles is better at attracting more visitors than Albuquerque, considering the things you can enjoy.
One of Albuquerque's most prominent sectors is tourism. The city's fun activities, arts and culture, manageable traffic, and cost-effectiveness attract 6 million tourists annually. Leisure and hospitality are among Albuquerque's major private sectors, earning about $2 billion in yearly revenue and employing over 44,000 people.
On the other hand, over 7 million international visitors visited Los Angeles in 2019, accounting for 56% of all tourism expenditure and contributing to the city's economic development for the eighth year in a row. With over 500,000 employment supported by the leisure and hospitality sectors, the tourism industry is one of the most significant employers in Los Angeles County.
There you have it! It's now time for you to decide between these two lovely cities. Both cities undoubtedly possess several benefits and drawbacks. It is now how you will handle them to maximize your stay and enjoyment.
Have you made your decision already? Where do you consider moving to? Let me know your thoughts below.