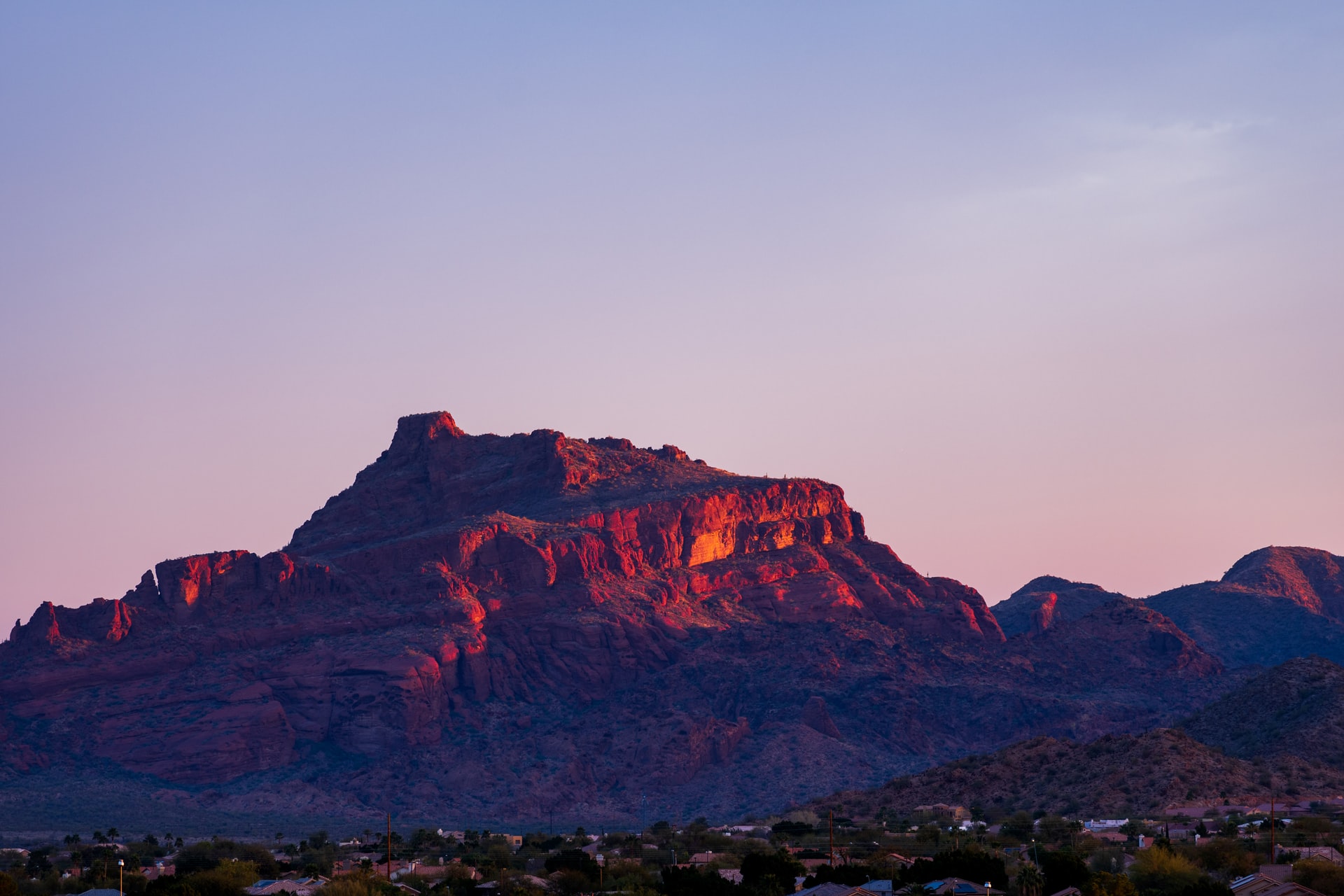 Albuquerque, a low-cost city, is ideal for starters seeking inexpensive taxes and affordable housing options. However, Mesa has a higher livability score than Albuquerque, offering great job opportunities, excellent schools, and a pleasant public transit system.
Albuquerque, in New Mexico, boasts a cheap cost of living and is conveniently located near many of the Land of Enchantment's magnificent natural wonders, historical attractions, and outdoor activities. Because of its trolley system, the city also offers a great urban community with shorter travel times. In this city, arts and cultural preservation are also important.
Meanwhile, Mesa, a city in Maricopa County, Arizona, is one of the greatest cities to retire to for many reasons why snowbirds migrate to the area: beautiful weather and an active lifestyle that includes golfing, hiking, and horseback riding. Its closeness to Phoenix also enables retirees to enjoy the significant city more easily while living in the countryside.
If you intend to relocate to one of these cities, this article is for you! We've researched in-depth to provide you reliable information you need. As you go through, you will learn each city's drawbacks and benefits, cost of living, population, crime rate, weather temperature, and livability score.
What Are the Pros and Cons of Albuquerque vs. Mesa?
Aside from low living expenses, you can achieve your fitness goals and access several historical sites in Albuquerque However, its crime rates and scarce employment opportunities might affect your decision to live here. Meanwhile, Mesa has excellent career opportunities and schools, but the tap water and neighboring pests are disappointing.
Living in Albuquerque
Pros
Low housing and rentals

When it comes to affordability in the United States, the city is ranked 33rd, and this is a point that you should never overlook.
Low housing expenses are one of the significant benefits of relocating to Albuquerque. It has lower house costs than the U.S. national average.

If you want to buy a property, you will only spend as little as $180,000. Not only that, but compared to the rest of the nation, rental expenses are also cheaper. A 900-square-foot apartment, for example, could be rented for roughly US$800 per month.

Several historical sites

Albuquerque is one of the most attractive places to live, with a diverse range of cultural and historical attractions. The property has various heritage sites, including the Old Town, which depicts the lives of native Albuquerque residents in the past.

The following are some of the most well-known Albuquerque landmarks and places to visit:

Rio Grande Nature Center State Park
Rainbow Ryders Hot Air Balloons
Albuquerque Museum of Art and History
Pimentel & Sons Guitar Makers
Indian Pueblo Cultural Center

Great place for fitness

Albuquerque, being one of the healthiest cities in the United States, can assist you in achieving your fitness goals. Albuquerque is great for sprinters, bike riders, hikers, and sports fans of all ages since it has over 22,000 acres of open space, yards of hikes leading up into the mountains, and lovely weather.

Never miss out on great outdoor activities that will keep you active and healthy throughout the year.

Low taxes

Albuquerque's tax rates are modest, and if you relocate from this city, you'll likely save money.

The city property tax rate is 0.96%, lower than the national average of 1.21%.

The state income tax rate in the city varies from 1.7% to 4.9%, depending on your tax bracket. State income taxes are 4.6 % throughout the country; thus, Albuquerque's rate is near the scale base.
Cons
An increase in crime rates

Due to cycles of poverty, low salaries, and a general lack of opportunities for many families, crime can be a serious worry in the city. The number of crimes increases with the number of people living in poverty. Most of it is drug-related, so you're dealing with many property crimes.

Not only that, Albuquerque's violent crime rate is higher than the national average. According to federal statistics, the city is rated 5th for violent crime.

Albuquerque has experienced an uptick in crime in recent years. You should consider this if you want to move.

Scarcity of jobs

The state of New Mexico has a higher than average unemployment rate. According to a statistic, the unemployment rate is roughly 6 % but has grown these previous years. Unemployment in Albuquerque peaked in July 2020 at 12.2% and has since fallen by 6.7 %.

Albuquerque's 5.5% unemployment rate remains high compared to the national average of 4.2 %.

If you're trying to work in Albuquerque, New Mexico, you may run into some difficulties. Don't settle here without a job waiting beforehand! It's a highly competitive work market.
Living in Mesa
Pros
Great job opportunities

Living in Mesa provides the door to various job opportunities in a wide range of industries. Aerospace is one of the most important businesses in the region, with corporations like Marsh Aviation based here.

The Boeing Company has a sizable presence in this city, with ambitions to grow. Banner Health and Mesa Unified School System are two other significant employers with various healthcare facilities. Bingham Equipment Company and Empire are based in Mesa and have many job openings for anybody looking for work!

Excellent schools

If you're considering starting a family in Mesa, you're in luck since the city has some excellent schools.

Because Mesa is Arizona's most effective school system, families have various options, including a Distance Learning Program. In addition, there are several excellent higher education options in the region.

Visit Mesa Community College, the most prominent community college in the Maricopa Community College District, or Benedictine University Mesa, a satellite campus of Lisle, Illinois's main campus.

For individuals interested in engineering, management, technology, or education, Arizona State University Polytechnic Campus offers a four-year program, or you can go to ASU's main campus in Tempe, which is just 15 minutes away.

A pleasant public transit system

Mesa's public transit system makes getting about the city and the surrounding Phoenix neighborhoods a breeze! The Valley Metro Rail system connects northwest Phoenix, Tempe, and East Mesa, allowing commuting a pleasure.

The Mesa Downtown BUZZ is a free community bus connecting passengers to major bus lines and local attractions, such as the Mesa Arts Center, Downtown Mesa, and the Mesa Public Library. If you need to go farther, take a flight from Phoenix-Mesa Gateway Airport or drive 20 minutes away to Phoenix Sky Harbor International Airport.

Many outdoor activities

Getting outdoors is one of the most incredible things to do in Mesa. Exciting outdoor activities, including hiking and kayaking, abound here, so don't miss out!

Nature hikes, outdoor picnics, and horseback riding are popular activities in Usery Mountain Regional Park, while kayaking, paddle boarding, and whitewater rafting are available at Saguaro Lake.

Do you want a surge of adrenaline? With Stellar Adventures, you can rent an ATV and explore the desert on wheels. For a relaxing and picnic-filled day with the family, travel 40 minutes northeast to Butcher Jones Beach.
Cons
Season of the monsoons

The monsoons arrive in July and August. These strong thunderstorms that arise quickly can be gorgeous and awe-inspiring, but they can bring flash floods and hail.

Unpleasant tap water

Mesa's tap water is drinkable, though not very pleasant. It has an unpleasant flavor, and many households desperately need water delivery services.

Pests

Mesa inhabitants occasionally share their houses with desert creatures due to the city's location in the desert. Snakes, tarantulas, black widows, tarantulas, and scorpions are among the pests on this list you can encounter.
Albuquerque or Mesa – Which Is More Expensive?
The overall cost of living index (excluding taxes) reports that Mesa is 19.4% more expensive than Albuquerque. The most significant component in the cost of living difference is the median home cost. The median home cost is 37% higher in Mesa.
The table below presents the cost-of-living indices written in percentage:
| | | |
| --- | --- | --- |
| Living expenses | Albuquerque | Mesa |
| Housing | 88% | 108.7% |
| Food & Groceries | 96.0% | 97.2% |
| Health | 79.8% | 92.5% |
| Utilities | 97.2% | 100.1% |
| Transportation | 89.4% | 114% |
Data is 100 = US National Average
> 100 means more expensive than the national average
< 100 means cheaper than the national average
Housing Cost
Mesa's cost of housing is 23.5% higher than in Albuquerque. Mesa's median home cost is $353,800, whereas Albuquerque has only $257,400.
Utility Cost
Mesa's cost of utilities is 3.0% higher than in Albuquerque. The essential utility for electricity, water, cooling, heating, and garbage for an 85 square meter apartment is $166.46 per month in Mesa, whereas it is only $140.94 in Albuquerque.
Food and Groceries Cost
The cost of food and groceries in Mesa is 1.3% higher than in Albuquerque. The 1-kg of white rice costs $3.88 in Mesa, whereas Albuquerque has only $3.06.
Transportation Cost
Mesa's transportation cost is 27.5% higher than in Albuquerque. To see the difference, the price of gasoline in Mesa is $0.77 per liter, whereas it is only $0.72 in Albuquerque.
Healthcare Cost
Mesa's healthcare cost is 13.7% higher than in Albuquerque. In Mesa, you have to spend $108 on visiting a doctor, while in Albuquerque, that is only around $86.3.
Is Albuquerque Bigger Than Mesa?
Based on the 2020 data, Albuquerque is 10.68% bigger in population than Mesa. Albuquerque is 26.18% more extensive than Mesa based on the city area.
Albuquerque is New Mexico's biggest city, with 188.87 square miles, and is the most populous state. As of the 2020 census, Albuquerque has a population of 564,559, making it the 32nd largest city in America and the 4th largest in the Southwest.
With 139.42 square miles of city area, Mesa is the most inhabited city in the United States without a significant downtown. After Phoenix and Tucson, it is the 3rd-biggest city in Arizona, the 37th in the United States, and the biggest city that is not a county seat. According to the Census Bureau, the city has 504,258 people as of 2020.
Is Albuquerque Safer Than Mesa?
With 100 to be safest, Mesa is much safer than Albuquerque. Mesa has recorded a crime index of 21, which is significantly higher than 1 of Albuquerque. The crime rate in Mesa and Albuquerque per 1000 residents is 23.20 and 63.28, respectively; thus, you have a lower probability of being a crime victim in Mesa.
Albuquerque has reported 35,723 crimes, comprising violent and property offenses. The city's probability of being a violent and property crime victim is 1 in 75 and 1 in 20, respectively. The city has a higher likelihood than its state.
Meanwhile, Mesa has an annual number of crimes of 11,697, mostly property offenses. You have a chance of 1 in 52 to be a crime victim here. Regarding crimes related to violence, the city has a lower probability (1 in 257) than its state (1 in 199).
Is Albuquerque Warmer Than Mesa?
The average temperature in Albuquerque ranges from 27°F to 93°F throughout the year, whereas Mesa has 43°F to 106°F. Thus, Mesa is warmer than Albuquerque.
Albuquerque has warm, dry summers alternate with short, frigid winters often blanketed with snow. Albuquerque has essentially bright year-round skies. The average yearly temperature ranges from 27°F to 93°F, with just a few occasions when it falls below 18°F or rises to 99°F.
Meanwhile, temperatures in Mesa are hot and dry in summer, but the winters are mild, and the sky is typically cloudless year-round. The average annual temperature ranges from 43°F to 106°F, with lows of 35°F and highs of 111°F being very unusual.
It is worth noting that Mesa is located in the desert, which means temperatures can reach dangerously high levels throughout the summer. In July, the average temperature is 106°F, with a record high of 119°F.
Mesa and Albuquerque are best visited from late August to late September and from late May to late September, respectively, if you're seeking warm-weather activities.
Is Albuquerque Better Than Mesa?
Mesa got an "exceptional" rating in the livability index, while Albuquerque scored poorly. Mesa is better than Albuquerque, considering housing, neighborhood, transportation, environment, opportunity, health, and engagement.
Albuquerque is rated #24,548 in the U.S. and #290 in New Mexico for livability, with a 59 score over 100. It is not a favorable ranking since this score is among the lowest in the country. Albuquerque may not be a nice place to live. However, looking at each component within the livability score, you can see that Albuquerque receives better marks than the national average.
Mesa could be a fantastic place to live! Mesa has a livability rating of 77 out of 100, placing it in the 88th percentile of all cities in the U.S. In contrast to other cities, this is a relatively high ranking.
Albuquerque or Mesa – Where do you consider moving? Let me know your thoughts below.