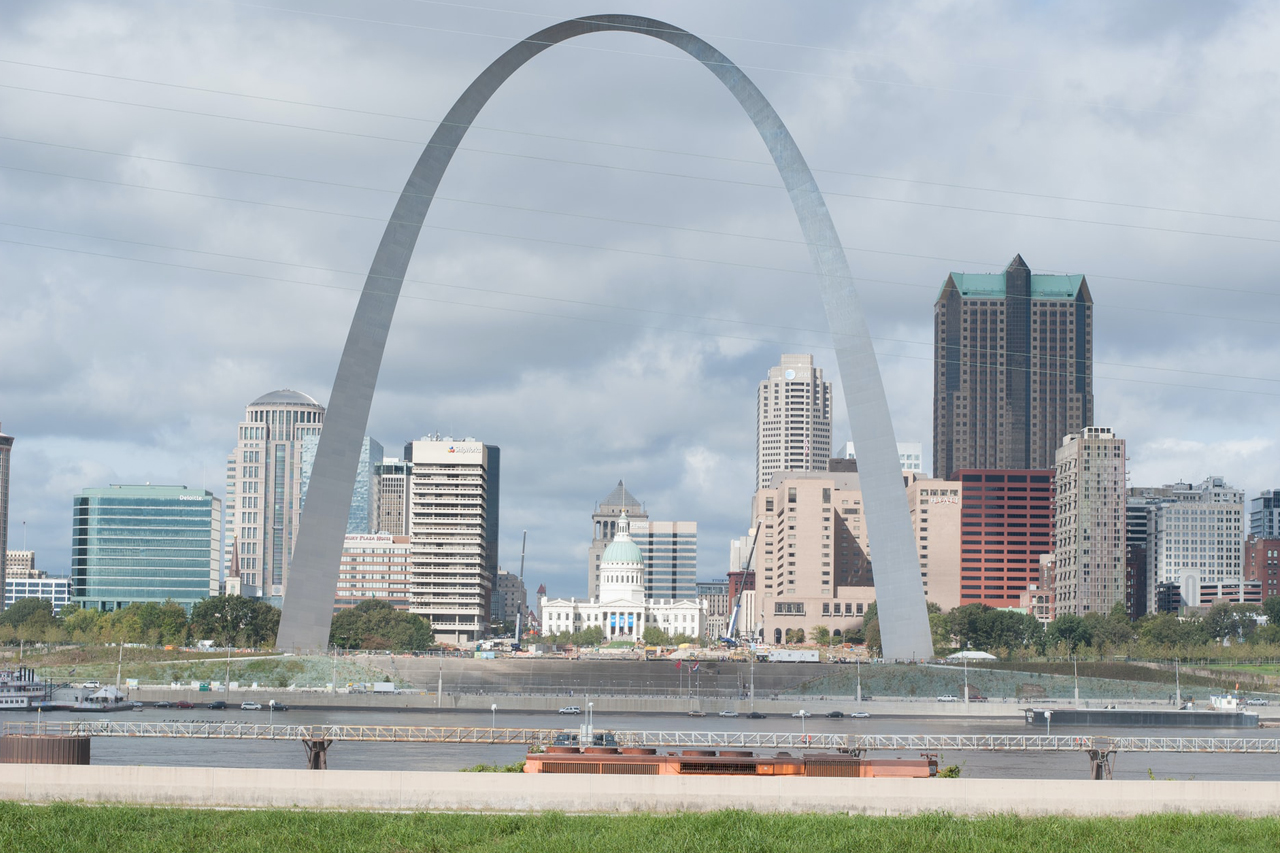 For every curious traveler under 21 years old, St. Louis, Missouri, is an excellent destination. The city sits on the western bank of the Mississippi River, where you can witness the flourishing Native American Mississippian culture. St. Louis also underwent massive colonization, where you can see French and Spanish influences from the 16th century.
St. Louis is not stuck in the past despite its historical background, as it offers modern attractions for every traveler below 21. There are skyscrapers, cinemas, theaters, and world-class restaurants for you to explore. With these loads of interests, you will never run out of exciting sites in St. Louis.
1. City Museum
The City Museum is located at the former International Shoe building in the Washington Avenue Loft District in St. Louis. It opened in 1997 and was recognized as one of the great public spaces by the Project for Public Spaces. Since its opening, the city museum has received international accolades as a top destination in the United States.
The museum is a 600,000 square-foot property with a ten-story building.
It is an ultimate family venue with a children's playground, pavilions, and funhouse.
You can see the architectural masterpiece of world-renowned artists Bob and Gail Cassilly.
Learn about the story behind this massive shoe warehouse constructed in the 1930s. Plan your visit to the city museum and check out its permanent and special exhibitions. Also, take some time to taste its unique food offerings with Patio Grill, The Lizard Lounge, and Circus Cafe'.
2. 360 St. Louis
According to Premier Traveler, 360 St. Louis is one of the best rooftop bars in the world. You will find it at Hilton St. Louis near the Ballpark, Three Sixty. When you get to 360 St. Louis, you can enjoy a bird's eye view of the Busch Stadium.
The 360 St. Louis soars as high as 400 feet with an impressive interior to give guests the most comfortable experience. Its posh interior displays a stunning two-story waterfall and a glassed-in VIP seating for private parties. The rooftop venue is perfect for celebrating special occasions and family gatherings.
Try its mouthwatering menu and its delicious assortment of small plate meals. Once you reach the rooftop, you will have the chance to see the Gateway Arch and the Mississippi River. Bring your friends with you, and marvel at the beauty of the city lights and a great view of the Busch Stadium.
3. Missouri Botanical Garden
When you pass through the Shaw Boulevard in St. Louis, you should make a short detour to the Missouri Botanical Garden. It is an excellent herbarium and houses more than 6.6 million plant species. The garden is considered the second largest botanical garden in North America after the New York Botanical Garden.
Missouri Botanical Garden became part of the Metropolitan Zoological Park and Museum Garden in 1983. It is the center for botanical research in Missouri. With its 79 acres of land, the garden has a Japanese strolling garden, dome conservatory, children's garden, fountain area, and Osage Camp. You have plenty of things to explore in this old property of Henry Shaw.
Roam around its massive compound and see its splendid display of horticulture. Here you will find the Chinese Garden, Ottoman Garden, English Woodland Garden, and the Temperate House. Marvel at the beauty of the different plant species, and never miss some of its unique and iconic displays.
Participate in its annual cultural festival, including the Japanese Festival and Chinese Culture Days. Grab some food and satisfy your thirst at its in-house cafe' called Cafe' Flora.
4. Ballpark Village
If you want to combine all the fun and extraordinary experiences in St. Louis, you should make the Ballpark Village at the top of your list. The Ballpark Village is a 30,000 square foot three-story building and home to the St. Louis Cardinals Hall of Fame Museum and Cardinal Nation Restaurant. It is a dining and entertainment district found at 601 Clark Ave St. Louis, MO.
It is the ultimate destination for everyone under 21 years old. You can almost experience everything at the Ballpark Village, from exceptional restaurants, cultural venues, and world-class sports events.
Have a taste and glimpse of a traditional cowboy bar and enjoy PBR St. Louis southwestern style food menu. Dance the night away and take this opportunity to listen to live country music performances, too! Check out the Bally Sports Midwest Live, a marketplace where you can score local and international brands.
5. Flamingo Bowl
For those looking for a place to play bowling, you should head straight to the Flamingo Bowl. It is an exciting bowling lounge where you can enjoy a beautiful view of Washington Avenue downtown. The setting is full of art deco and vibrant designs to make it youthful and friendly.
Flamingo Bowl is open for those under 21 years old until 7 PM. You can play with your friend or family and experience its state-of-the-art bowling lanes. It is ample time to fully experience the venue, engage in an unlimited bowling spree, and enjoy its delicious food offerings.
Grab your bowling shoes and reserve your spot at the Flamingo Bowl. Spend time at its pool table or have a relaxed meal at its lounge. Make sure that you get a bite of its house specials, including the Nachos Flamingo, Chicken Tenders, and Pretzel Bites.
6. Kemal's Chophouse
The Kemoll's Chophouse has already built its reputation as one of the oldest and top-notch restaurants in St. Louis. It has been in the business for almost nine decades and has been known for serving delicious Italian food. The restaurant only uses fresh ingredients to enhance the flavor and aroma of its dishes.
The Chophouse has a long history and started from a one-room confectionary business. The founder, Mrs. Kemoll, upgraded the company and moved to deliver delicious Italian food. Mrs. Kemoll ensures that the recipes are made with tested and refined ingredients to satisfy every guest.
It is an excellent opportunity to visit this legendary restaurant and grab some of its specialty dishes. Order its house specials such as the Cannelloni Alla' Toscano or Alla' Cream and Veal Parmigiana. Customize your dining experience by choosing one of its great selections of sauces from meat sauce, marinara sauce, or cream sauce.
7. Broadway Oyster Bar
The Broadway Oyster Bar is a premium restaurant and music venue in St. Louis.
It offers a New Orleans restaurant-style and its seafood menu and entertainment offerings.
The restaurant has fantastic offerings of fresh Gulf and Blue Point Oysters, shrimp, Prince Edward mussels, crabs, and scallops.
The Broadway Oyster is the top recommendation if you are looking for the perfect place to have the best seafood experience. Aside from its fantastic food options, it is a live music venue where you can listen to different musical genres. The Broadway Oyster Bar frequently plays bluegrass, reggae, rock, blues, and funk.
Visit the restaurants with an empty stomach and fill it with mouthwatering seafood dishes. Try its Blue Crab Cakes for appetizers, and experience a variety of oysters from Blue Point to Gulf Oysters. Order its specialty, mainly white cheddar-filled shrimp & grits, or its chicken and seafood gumbo.
8. Six Flags St. Louis
For a day full of fun, you should not miss the Six Flag St. Louis. It is a giant amusement park that displays the different characters of Warner Bros. You will find it in Eureka, Missouri, a suburb of St. Louis. Here you can see Looney Toons, DC Comics, and the Scooby-Doo.
Inside the park are several attractions offering rides and unique activities. You can check the 1904 World's Fair, Gateway to the West, Chouteau's Market, or the Studio Backlot. Each attraction has a distinct theme to provide visitors with various experiences.
Head straight to Six Flags St. Louis' central area, the 1904 World's Fair, and had a shopping spree at the Mall of the Mid-Americas. Make sure to glimpse the Gateway to the West and marvel at the old colonial period in Missouri State. Check the Studio Backlot and have an interactive movie experience by watching Little Shop of Horrors, Maverick, Bonnie, and Clyde.
9. Gateway Arch
One of the most iconic landmarks you should not miss in St. Louis is the Gateway Arch. The Gateway Arch stands as tall high as 630 feet and is considered double the size of the Statue of Liberty. It is a living symbol of the city's massive white western migration.
Gateway Arch demonstrates excellent engineering with its stainless steel construction and is designed in the form of a weighted catenary arch. This legendary landmark is also the tallest arch globally and the state's tallest building. It is regarded as a National Historic Landmark and a famous symbol of St. Louis.
Embark on a historical tour through St. Louis Gateway Arch. Witness the city's art, history, and culture by spending a few hours touring the vicinity. Take a tram ride to the top and be amazed at its 43,000 concrete and steel construction tons. Learn the history of Missouri, and engage in an education tour inside the Gateway Arch Museum.
10. Forest Park
You can head to Forest Park if you seek a perfect place to chill and hang out without spending a dime. It is more than 1,371 acres of property and about 45% larger than Central Park. Forest Park is the most significant green space in St. Louis and even in other cities in Missouri.
There are plenty of things to explore and try here at Forest Park. It has tennis courts, a golf course, a boathouse, and an ice rink.
It is a popular venue for community gatherings and hosts the 1904 World's Fair and Summer Olympics.
There are free museums within the vicinity, including the St. Louis Art Museum and St. Louis Zoo.
Appreciate the beauty of nature by strolling around Forest Park. Here you will see stunning landscapes, nature reserves, lakes, and streams. You will feel closer to your heart if you spend some time inside the park. Be athletic and try its sports venues such as green golf courses and tennis courts. One day is not enough to maximize your visit here at Forest Park.
11. Union Station
St. Louis is full of historic landmarks, and one of the must-see attractions here is the Union Station. It is a National Historic Landmark that opened in 1894. It is one of the largest train stations in the world and provides tracks and passenger service to everyone.
Union Station is not just a historical heritage but a commercial center. Since its construction in the 1980s, hotels, entertainment complexes, and shopping centers have been attached to it. It is also a link to the modern trail system in St. Louis, connecting the light-rail Metro Link Blue and Red Lines.
Appreciate the construction and fantastic architecture of Union Station. It is a grand structure established in 1894 and continues to be an iconic landmark in St. Louis today. Enjoy the stunning presentation of a 3D light show at the Union Station's Grand Hall or be amazed at its nearby lake's fire and light show. There is plenty of stuff to explore at Union Station, from food, music, and entertainment.
St. Louis is a must-visit city in Missouri. You have so many reasons to make this city your next travel destination, from entertainment centers to legendary historical attractions. We hope that we were able to provide you with a comprehensive list of the top places to visit and do in St. Louis.
If we ever miss out on something we want to include, this page is open for comments and suggestions. Let me hear your thoughts.