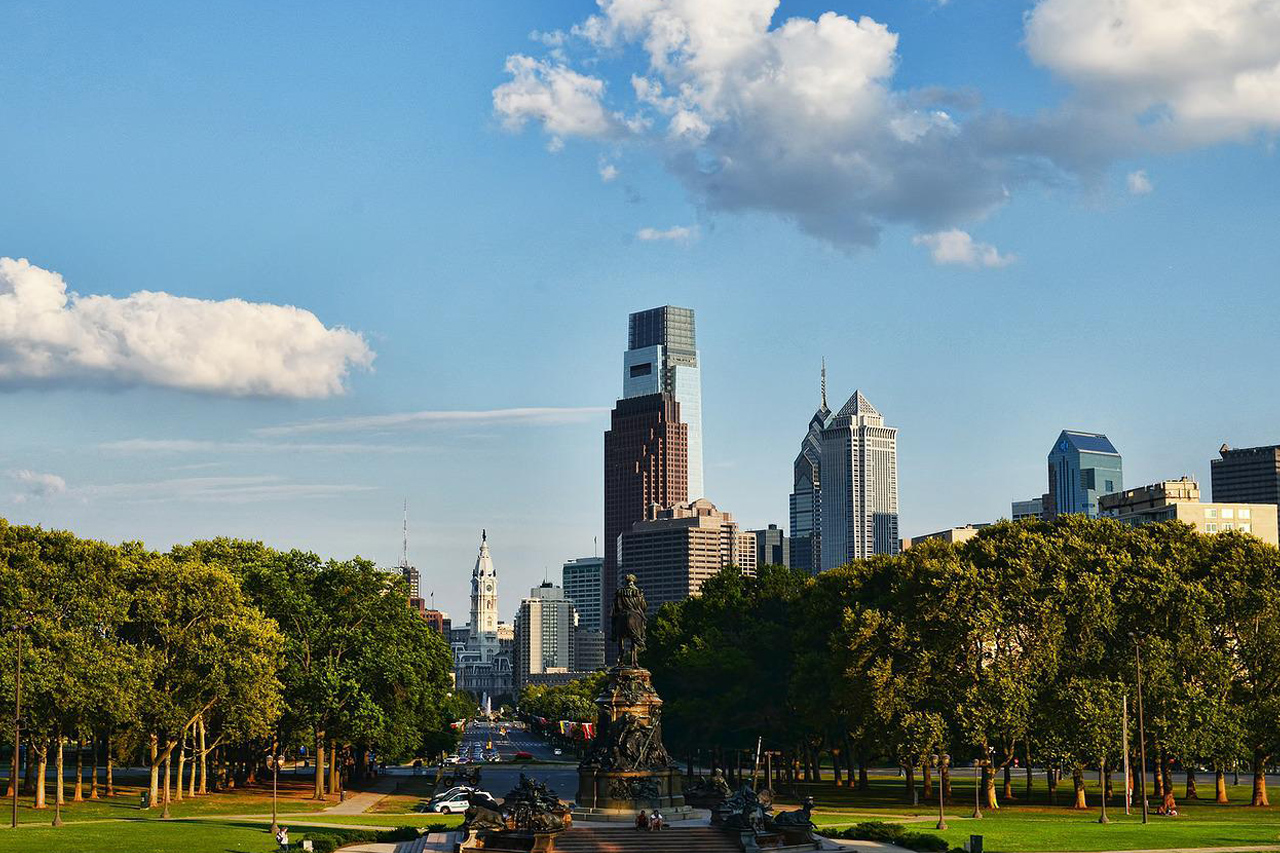 If Philadelphia is on your list of potential cities, you're likely wondering, "Is Philadelphia a good place to live?"
Philadelphia, popularly known as Philly, is the largest city in Pennsylvania. The city is often known as The City of Brotherly Love and is famous for its deep historical roots, diverse entertainment options, and charming residential areas.
In addition to being a prominent tourist location, the city has numerous features that attract sports lovers. This city offers various activities, from restaurants to museums to live entertainment.
Philadelphia is an inexpensive city with extensive access to greenery. Like any other city, Philadelphia is not flawless and has numerous issues one must consider before considering living here.
The following list of pros and cons of living in Philadelphia can help you decide whether or not this city is an excellent place to live.
Is Philadelphia a Good Place To Live In? – The City of Neighborhoods
The Good Side
Philadelphia Is Rich in History
Philadelphia is the place to be for history enthusiasts.
The city has had a significant impact on American history. Native American tribes initially settled it before William Penn founded it in 1682.
The colony was a tremendous success, quickly becoming one of the vital shipbuilding centers in the territories.
Philadelphia also served as the nation's capital following the Revolutionary War. Philadelphia was the location of the First Bank of the United States and the first U.S. Mint, and the United States Constitution was drafted there in 1787.
Living here allows you to experience preserved history, such as Independence Hall and the Liberty Bell.
Visit institutions such as the Museum of the American Revolution, the National Museum of American Jewish History, and the African American Museum, residing in two of Philadelphia's historic neighborhoods, Old City and Society Hill, for a more intimate experience.
Philadelphia's history is never dull, and today many people live here or visit the city to enjoy its iconic landmarks and landscapes.
Philadelphia Has a Diverse Neighborhood
You've probably heard a few nicknames for Philadelphia by now (Philly, The City of Brotherly Love, and the Birthplace of America), but here's one more: The City of Neighborhoods.
Philadelphia features 25 unique neighborhoods, and finding a community you adore will be effortless. And if you wish to live in this city, these are some neighborhoods you should consider!
Northern Liberties – This place was formerly a thriving industrial zone, but in the 1990s, local artists began relocating here due to its charm and affordable studio space. Since then, more individuals have moved to the neighborhood, which now has pubs, restaurants, boutiques, and mixed-use complexes like The Schmidt's Commons.
Fishtown– This up-and-coming popular area was formerly a hotspot for commercial shad fishing. You can find this community in Northern Liberties, an area of Philadelphia. You can see row houses, pubs, restaurants, and art galleries filling the landscape of the streets in this neighborhood.
Manayunk– The area's name is a Native American name that means "place we go-to drink," referring to the neighborhood's closeness to the Schuylkill River or its many pubs. The community is notable for its steep lanes lined with Victorian and turn-of-the-century row houses and for Main Street, which is teeming with various shops, restaurants, and music venues.
The Gayborhood– This place is famous for the many LGBT–friendly bars and clubs. If you plan to visit, The Gayborhood is in the Washington Square West district, which you will recognize by the rainbow-colored crosswalks.
Philadelphia Is Commuter-Friendly
In most large metropolitan cities, it is tough for commuters to get around, but this is not the case in the city of Philadelphia.
The average one-way commute time in the city is about 50 minutes, and approximately 26% of Philadelphians travel through public transportation.
SEPTA regional rail operates 13 lines to and from every corner of the city, including Market East, Logan Square, and University City, the three busiest Center City hubs. And in certain areas, walking is faster than driving.
Philadelphia was the seventh most accessible city for pedestrian commuters, with several jobs within a 10-minute walk of residence.
Philadelphia Is Home to Prestigious Universities
If you live in this city, you will have access to prestigious universities.
For a good reason, Philadelphia has the fourth-largest university population in the United States; the city is home to several colleges and universities, including Temple University, the University of Pennsylvania, and Drexel University.
These institutions have had a substantial effect on the economy; over the past quarter-century, Drexel University has donated $2 million annually to various community organizations and raised $95 million in local and diverse procurement.
In addition to these universities, there are numerous other institutions of higher learning in the Philadelphia area, such as the University of the Sciences, Saint Joseph's University, Pierce College, La Salle University, and others.
These universities and colleges emphasize not only law but also a variety of other fields. This city is home to numerous Law and Art schools, making it possible for students to pursue a major in these fields. In addition, this city provides adequate education for students who wish to specialize in any other field.
Each year, students from all over the world earn 90,000 degrees in Philadelphia. Students tend to remain in the area after graduation, making Philadelphia one of the cities with the fastest-growing millennial populations.
The Bad Side
Philadelphia Has Congested Roadways
If you choose to live in this city, you should prepare yourself to spend a significant amount of time sitting in traffic.
According to a survey, Philadelphia is the 18th most congested city in the United States, with drivers spending approximately 70 hours per year in congestion and residents spending 112 hours per year in their automobiles.
This city and its citizens are primarily affected by traffic congestion due to the large number of automobiles owned by its businesses and residents.
If possible, I recommend taking public transportation, biking, or walking to your location.
Philadelphia Has High Crime Rate
The highest drawback of living in Philadelphia is its high crime rate.
Philadelphia has the highest crime rate in the United States, with 40 crimes per 1000 residents. This city ranks 22nd in the United States in terms of the most dangerous cities.
These rising crime rates in Philadelphia are primarily attributable to unrestricted drug use and explicit videos.
Even while the crime rate is comparable to other cities of relative size, there are specific neighborhoods you should avoid. However, keep in mind that there are safe neighborhoods in Philadelphia.
What Is the Cost of Living in Philadelphia? – The City With a City Wage Tax
The Good Side
Philadelphia Is Quite Affordable
Despite being the largest city in Pennsylvania, Philadelphia is quite affordable. It is one of the East Coast's least expensive places to live.
Despite being a vast metropolitan area, Philadelphia is surprisingly inexpensive. With a cost of living index of 101.2% (slightly higher than the national average), Philadelphia is one of the East Coast's most affordable cities.
Depending on where you live in the city, you could find a one-bedroom apartment for as little as $1,317 on average.
Philadelphia Offers Affordable Housing
Comparatively to other cities of comparable size, housing in Philadelphia is relatively affordable.
The average property price in Philadelphia is $163,000, around 25% less than the national average of $217,500.
The average price of a property in Philadelphia is $163,000, approximately 25% less than the average price of a home in the United States, which is $217,500.
On the other hand, the average rent in Philadelphia is $1,042, which is also less than the average rent in the United States, which is $1,062.
The Bad Side
Philadelphia Has a City Wage Tax
The cost of living in the city is relatively high because Philadelphia is a country that requires people who live in the town to pay city wage tax.
Are you wondering what a city wage tax is?
This kind of tax is a tax on earnings, wages, commissions, and other types of income. Both Philadelphia citizens and non-residents employed in the city are subject to pay this tax to the government.
Residents must pay a wage tax of 3.8712% on their earnings, regardless of where they work. On the other hand, non-residents only need to pay a wage tax of 3.4481% on their payments.
Philadelphia Has Parking Permit
It isn't easy to get parking in Philadelphia, so read all the signs carefully if you manage to do so.
Parking in this city will be costly for you to do so as the city's population is continuously expanding at a tremendous speed. As a direct result, the construction of brand-new residential buildings has started.
Because of this, the Philadelphia Parking Authority has decided to turn some locations that formerly offered free street parking into zones that require a permit.
A parking permit fee in this city will cost you $35.
Why Work in Philadelphia? – The Center of Economic Activity
The Good Side
Philadelphia Offers Various Job Opportunities
Living in his city will also give you many available work opportunities.
Philadelphia is home to many successful businesses, including Wyeth and GlaxoSmithKline (GSK), Rohm and Haas Chemical Manufacturers, Boeing Rotorcraft Systems, and many others.
The Philadelphia metropolitan area is also home to the headquarters of ten top law firms in the United States and twelve Fortune 500 organizations, including Comcast and Crown Holdings.
The East Coast operations of the United States Mint and a division of the Federal Reserve Bank are located in the surrounding area, giving the federal government a significant footprint there as well.
In addition, the city is home to one of the most extensive health education and research centers in the United States.
The average after-tax monthly salary in this city is $3,400.
This city offers a wealth of employment opportunities to anyone who possesses the necessary skills and education to compete for them.
Philadelphia Has Good Work Culture
In Philadelphia, as in many East Coast cities, individuals frequently work long hours. This kind of work culture comes with a "work hard, play hard" mentality, making the most of their free time.
Accordingly, business professionals in Philadelphia value a positive work environment. It includes flexibility and perks, including health insurance, paid leave, and paternity leave.
Philadelphia residents place a high value on a pleasant work environment. Due to this, companies are obliged to change to retain their employees, resulting in many companies in Philadelphia with positive work cultures and proud employees.
Similar to the rest of the United States, business in Philadelphia is less formal and hierarchical than in many other nations.
Although the approach to professional attire and communication tends to be somewhat laid back, the specifics of this might vary greatly depending on the company.
The Bad Side
Philadelphia Lacks Diverse Job Options
Even though Philadelphia offers various job opportunities, you will have little trouble finding work in the following fields: healthcare, education, the legal system, office administration, or architecture and engineering, as there is a lot of competition.
There can be a point where one will find fewer and fewer opportunities. The education and medical fields account for one-third of all job prospects in Philadelphia; as a result, residents commonly refer to their coworkers as "meds" or "eds."
Don't get me wrong—if you choose to make this place your permanent residence, you won't have any trouble landing the job of your dreams in the big city—but always keep in mind that it might take you a little longer to do so.
Living in Philadelphia is an exciting experience, but one must accept both the good and positive sides.
On the good side, you have access to tremendous employment possibilities, quality education, and a low cost of living. However, factors such as a high crime rate and traffic congestion diminish the city's attraction.
Do you know the other good and bad sides of living in Philadelphia, Pennsylvania? If yes, share in the comment box below!