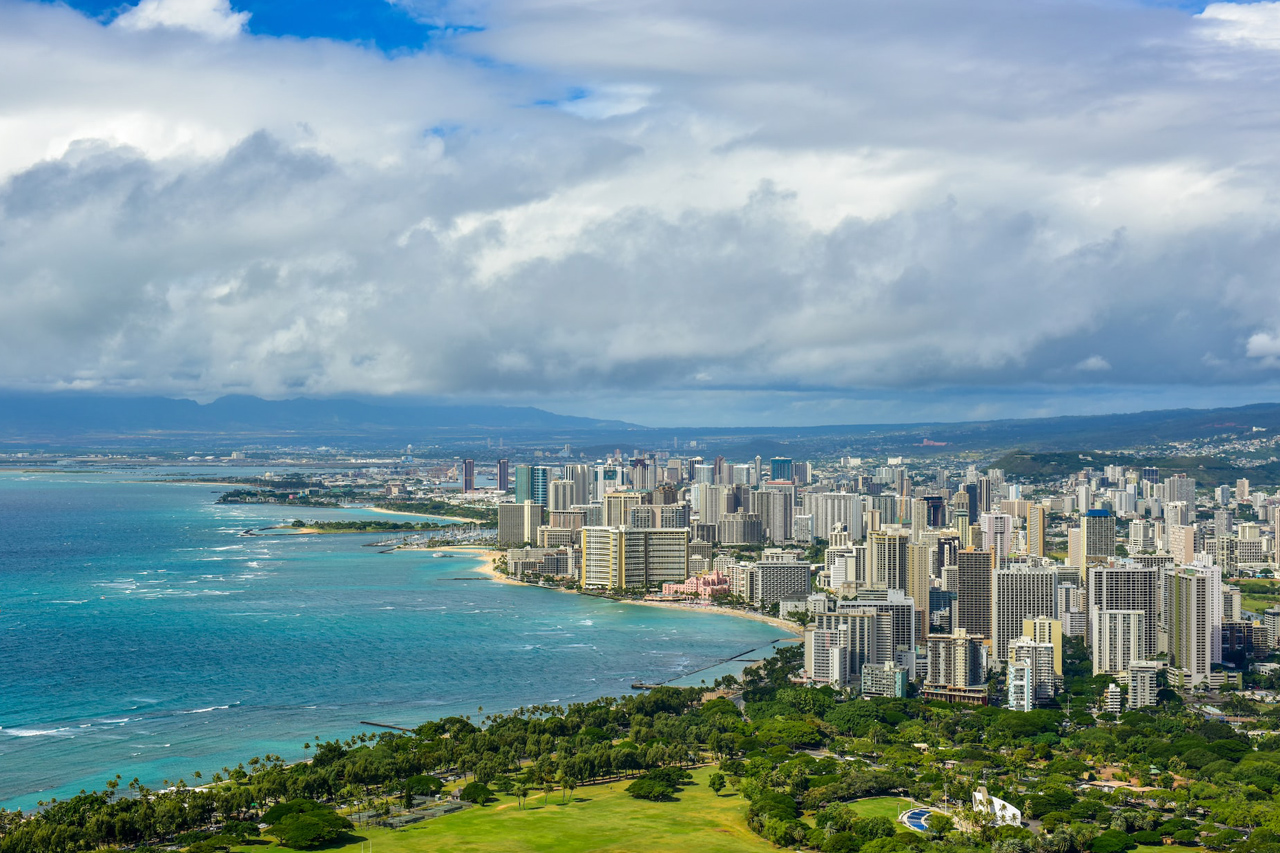 Tourists find millions of reasons why they love visiting Honolulu, Hawaii. It is the ultimate summer destination with white-sand beaches, clear blue skies, and pink umbrella drinks.
The grand island in the Pacific offers a great mix of activities, from surfing to trail hiking.
You have so much to see and discover on this incredible island without needing a car. Hike up to Manoa Falls or get a glimpse of Honolulu's rich history by visiting the Bernice Pauahi Bishop Museum. There are loads of attractions and diversity to choose from, making the city more attractive.
So, read on and let me present these +12 Things to do in Honolulu without a car:
1. Oahu Surfing
Honolulu is home to the world's best-surfing spots. When surfing conditions are ideal, professional surfers flock to the area and experience its exceptional waves. They are up for the Vans Triple Crown of Surfing, a globally recognized surfing competition in Hawaii.
Amateurs and professionals will not miss the great waves the Honolulu beach creates. Thus, try Oahu Surfing to experience a great big wave. Or if you're going to learn the sport, there are available surfing schools around.
You can start as a 'grom' or surfing newbie and progress to a Big Kahuna in just a few sessions. If you want calmer waves, Waikiki Beach is waiting. You can tackle minor waves in this spot and build more confidence to deal with large swells at Waimea Bay.
2. Manoa Falls
The city has several bodies of water to boast about.
You should take a visit to its 100-foot-tall waterfall, Manoa Falls.
The falls are around 5 miles northeast of downtown Honolulu which is accessible through hiking. The hike is an excellent opportunity to experience the rainforest of beautiful Honolulu.
Manoa Falls is a favorite movie scene location, including Steven Spielberg's Jurassic Park and Lost. Here you will see the natural beauty of Hawaii with its giant trees and stunning display of falling waters. The trail is full of ferns and snaking roots of banyan trees.
Embarking on a hike to Manoa Falls is an adventure of a lifetime. You will encounter a muddy trail and slippery surface, but all your tiredness will be relieved once you reach the falls. The view alone will surely take your breath away, especially when you visit it during sunrise or sunset.
3. Ala Moana Center
If you are tired of hiking, swimming, or surfing, a modern city amenity is waiting for you in Honolulu – Ala Moana Center. It is a commercial center considered the largest open-air shopping center globally. The place has over 350 shops, diverse restaurants, boutiques, and 160 dining options to try and explore.
You will feel a different vibe when you enter the Ala Moana Center. There are four-story shopping complexes with boutiques ranging from luxury to mid-range brands. It is like transporting into a new city full of modern-day commercial spaces.
Eat, drink and shop in the Ala Moana Center. Shop for your surfing gear or casual wear from its wide range of retail brands. Check out some souvenir stores, and buy memorabilia you can bring back to your home country. Then, conclude your day is eating by at its finest eateries and restaurants.
4. Diamond Head Crater
Hawaii is full of natural wonders. Aside from stunning beaches and gorgeous waterfalls, it is also home to Diamond Head Crater. The crater is one of the most iconic volcanic formations globally that serves as an impressive backdrop to Honolulu's skyline. It was formed 300,000 years ago and has become a favorite tourist destination in Hawaii today.
Diamond Head Crater is a site of worship and reverence for native Hawaiians. They conduct religious ceremonies in the area, such as animal sacrifice. It is also a strategic location in Hawaii and serves as a defensive lookout for the military.
It is a US National Natural Monument and has been a tourism landmark. The crater is close to Hawaii's world-class resorts and hotels and is a popular destination among travelers. It is also a venue for essential celebrations in Honolulu, such as the Diamond Head Crater Festival and the Sunshine Festivals.
5. Shark's Cove
If you love Honolulu's beautiful waters, you should not miss Shark's Cove. It is a hotspot for scuba diving and the 'Top Twelve Shore Dives in the World.' You will find the Shark's Cove at the North Shore, part of Pupukea Beach Park.
It is a great destination to maximize your visit to Hawaii. Here you will see diverse species of fish that made Sharks Cove their home. The place is an 80-acre marine life conservation park blessed with reef and marine life.
Shark's Cove is the ultimate place to do your snorkeling, with many secret places to explore. There are caves, tunnels, and crevices full of tropical fish. You will find the area promising as it becomes every snorkeler's paradise in Honolulu.
6. Kaka'ako
For those who would love to embark on a great city adventure, you should stop at Kaka'ako. Honolulu's fashion and entertainment area is full of galleries, fun clubs, eateries, and impressive public art. People interested in getting to know the city's pop culture always visit Kaka'ako.
The entertainment district was formerly an industrial town but became a cultural tourism hub. You can see cutting-edge art, contemporary dining options, novelty shops, and retail areas here. People, young and old, can find their own space at Kaka'ako.
Have a meaningful stroll in this urban island neighborhood, and explore the district's vibrant food scene. You have to check out the Highway Inn when you visit the place. Here you can experience a delicious serving of authentic Hawaiian food.
7. Waiola Shave Ice
Have the ultimate summer experience in Honolulu, and get a taste of its infamous Waiola Shave Ice. It is a popular food store serving colorful and classic shave ice flavors in the city. The Waiola Shave Ice also serves authentic Hawaiian treats such as the lilikoi and li hing mui.
The shave ice is famous not only among tourists but also locals. Due to its intense popularity, thousands of flavors, toppings, and juices became available. It is a delight and classic treat people in Honolulu keep coming back for more.
After a day of surfing and swimming, stop by the Waiola Shave Ice and pick your favorite flavor. There are passionfruit, haupia, mango, cherries, green tea, and mochi. Elevate your experience by mixing and matching different flavors from the selection.
8. Chinatown
If you are looking for diversity and want a change of scenery, you can visit Chinatown in Honolulu. It is at the North Beretania and Nu'uanu Streets, with a vast Chinese American community gathering. The district is where you can find authentic Asian dishes such as Chinese, Malaysian, and Vietnamese.
Here you can witness a good mix of Asian culture through its varied and highly diverse restaurants and cuisines. There are also traditional Chinese shops offering old fashion Chinese medicines. Local produce vendors, tea shops, and herbal stores can also be available here.
Once you step into the area, discover popular marketplaces selling exotic fruits. Visit the Oahu, Aloha, and Maunakea Marketplaces to explore different seafood, fruits, and other items. Do not forget to check out its shrine and temple, which can also transport you to an East Asian setting!
9. Honolulu Beerworks
Honolulu Beerworks is owned and established by Geoff Seideman and his wife. It is one of the most popular craft brewery places in Honolulu, offering unique and locally sourced ingredients used for making beers. You will find the Honolulu Beerworks at the center of the Kaka'ako district.
The craft brewery has maintained its leading position in the beer industry in Honolulu. Its microbrewery is almost five years old and can create 14 beers instantly. Locals and tourists frequently visit the area to have fun and get a source of entertainment.
Honolulu Beerworks is a local favorite, especially during weekends. The open-air brewpub's communal seating makes the place conducive to group gatherings. People spend happy hours and enjoy the fantastic flavors of craft beers.
10. Dolphin Quest Oahu
Another exciting activity you can experience here in Hawaii is the Dolphin Quest Oahu. The place opened in March 2000 under the management of the Kahala Mandarin Oriental Hotels. It showcases a spectacular dolphin lagoon where you can encounter these charming creatures closely.
The Dolphin Quest Oahu houses a dolphin lagoon full of natural saltwater to make it safer for these mammals. The water came from the ocean to mimic the natural habitat of dolphins. Here you can have close encounters with the dolphins while you swim with them.
Aside from that, the attraction also has separate lagoons for other sea creatures. It houses different species of reef fish and even the protected Hawaiin green sea turtles. You can also have the chance to interact with them based on the package you will purchase.
11. Leonard's Bakery
Leonard's Bakery is a local hotspot and one of the top places in Honolulu if you love sweets and desserts. The Bakery is a low-profile eatery located in the low-class areas of the city. It serves hole-less doughnuts, malasadas, pies, and other pastries.
The Leonard's Bakery offers a different experience with an authentic and classic Hawaiian feel. Locals and tourists never miss grabbing a bite of its delicious pastries. It is a must-try in Honolulu and should be at the top of your places to visit when you arrive in Hawaii.
Try malasadas, a cultural touchstone in Honolulu, and be surprised with their flavorful fillings. Eat like a local, and try malasadas, a delightful dish any tourist must not miss.
12. Polynesian Cultural Center
If you want to learn about the rich heritage of Honolulu, Hawaii, you should spend time exploring the Polynesian Cultural Center. It is a 42-acre tropical land, which introduces the rich heritage of the Pacific Islands. Here you have a glimpse of the vibrant and colorful culture of the Hawaii people while you traverse different villages in the vicinity.
There are six islands to see representing the various island nations in the Pacific. It includes Samoa, Fiji, Hawaii, Aotearoa, Tonga, and Tahiti. Every island is unique and has its charm and appeal.
Spend your day exploring the Polynesian Cultural Center. Explore its 42-acre of land, and participate in various adventures and traditional Hawaiian activities. Get the Circle Island Tour Oahu to maximize your tour here. Dine in at the Luau restaurant or buy memorabilia at the Hukilau Marketplace.
Honolulu is a part of every seasoned traveler's bucket list. Its sun-soaked beaches and high-rise commercial establishments attract millions of tourists every year. Aside from its natural wonders, there are many activities to try here.
With these overwhelming options, I could narrow it down and provide you with the top best list. Nevertheless, if I miss out on something and you want a place in mind, you can always share your thoughts and comment below. Let me hear from you soon!