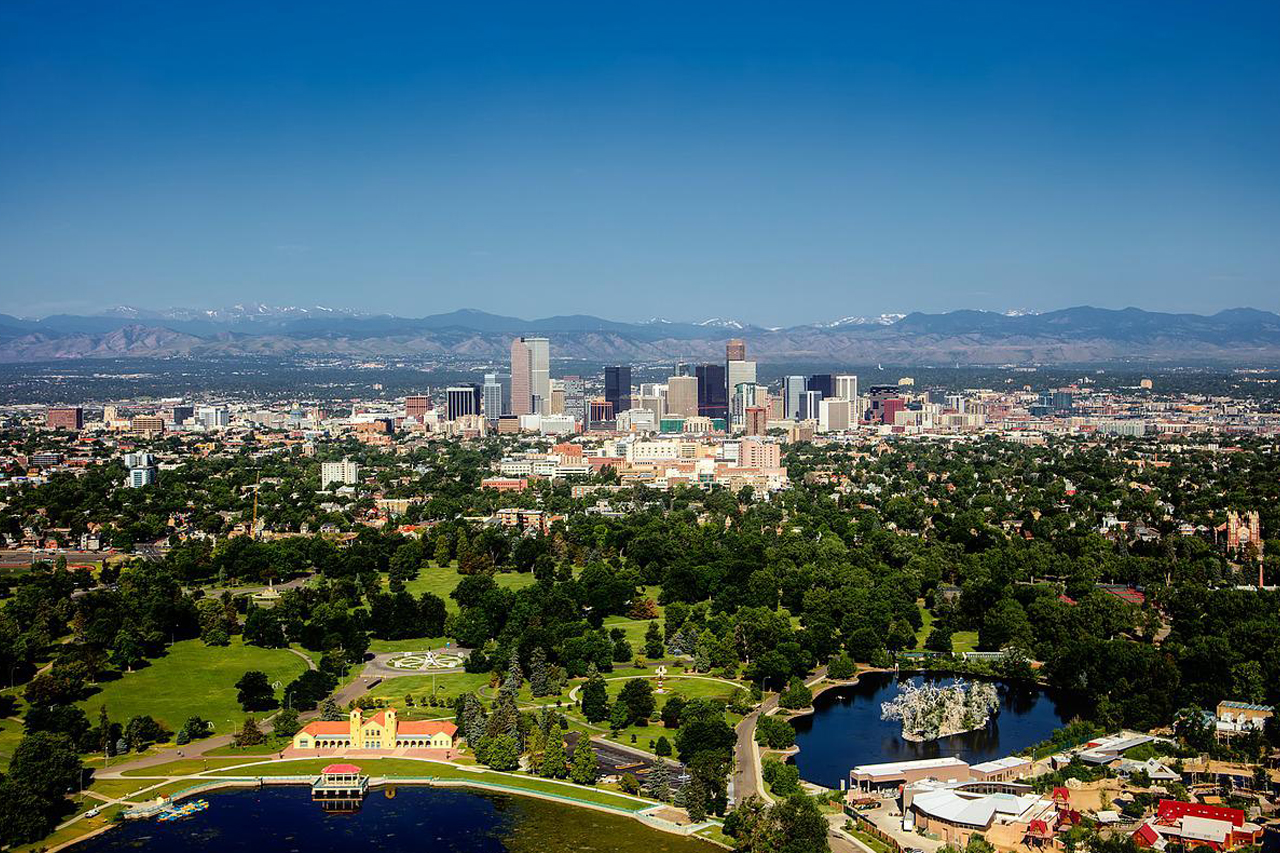 Denver sits at 5,280 feet above sea level, earning its moniker, "Mile High City." Located at the base of the Colorado Rocky Mountains, the metropolis experiences a friendly climate with 300 sunny days annually. During the cold winter season, warm sunshine is still present in the city.
The Mile High City boasts an excellent park system and is among the top green cities in the USA. It has over 200 city parks, while the neighboring Rocky Mountains have about 20,000 acres of parkland, including the famous Red Rocks Park & Amphitheatre. From outdoor to modern attractions await individuals under 21 of age in this elevated city.
It may take some time to get used to Denver's high altitude. However, this does not prevent visitors from enjoying Mile High City's unique destinations. For those under 21, there are more than just outdoorsy activities that Denver offers. Our list provides a varied list of attractions to explore in Mile High City.
1. Red Rocks Park and Amphitheatre
Denver's iconic Red Rocks Park and Amphitheatre was known as "Garden of the Angels" in the 1870s-1906 and "Garden of the Titans" from 1906 to 1928. In 1928, Denver acquired the place and opened it to the public on June 15, 1941. Despite the frequent name change, the area has always been called "Red Rocks." The site is at an elevation of 6,450 feet, encouraging people to drink plenty of water due to its high altitude.
The Red Rocks Park and Amphitheater is Denver's must-visit hiking spot and event area. Even though they prohibit rock climbing, it offers five hiking trails: The Mt. Vernon Creek Trail, The Red Rocks Trail, The Geologic Overlook Trail, The Funicular Trail, and the Trading Post Trail. Moreover, the vast majority of paths are under 3 feet wide.
Aside from hiking, don't miss the chance to witness your favorite artists in this historic landmark. Its arena is the major highlight of every guest's visit because of its geologically formed surroundings that consist of two 300 foot monoliths. Other theatres are incomparable to this popular music venue that hosted even the biggest names in music for years.
2. Meow Wolf Denver | Convergence Station
Situated at 1338 1st Street, Denver, CO 80204, a 90,000 square foot massive narrative art exhibition is built to arouse and inspire creativity in people. Based on the notion of quantum travel, Meow Wolf Denver is a one-of-a-kind exhibit that attracts individuals worldwide. Its Co-Founder, Sean Di Ianni, reveals the creation of the establishment is proof of the power of imagination to transform words.
Upon entering Meow Wolf Denver, four floors of interactive activities and a tale of cathartic converged multiple universes await you. About 70 installations, rooms, and portals to explore are all designed by over 300 creatives; one hundred ten of these creatives are from Denver. You can also find a fast-casual restaurant and gift shop in the establishment.
Your experience in Meow Wolf won't be complete without uncovering the secret to the disappearance of four fictional women. Timed messages, newspapers, posters, and several hidden clues will guide you to discover the mystery while being astonished during your exploration of the area.
3. Mayan Theatre
The Mayan Theatre is among Denver's declared historic landmarks. The movie house first opened its doors in 1930 under the Fox Intermountain Theatre and Fox Theater Corporation. You can find the Mayan Theatre in the Baker District, in the center of Central Denver, among a plethora of restaurants, art galleries, and vintage clothing boutiques.
They show the finest independent and foreign films in the Mayan Theatre. It has an Art Deco Mayan Revival style design and is among the three remaining cinemas in the USA with this design. The Mayan Theatre also has three screens to help cater to many locals and international visitors who want a historical theatre experience in Denver. Due to its proximity to a bevy of stores, you can have an ideal stroll and late-night snack in the Baker neighborhood after watching a movie.
Aside from its list of independent films on the play, the Mayan Theatre caters to events showing films from other organizations like the Royal Shakespeare Company. Furthermore, the historic site features a cafe upstairs and a seating area.
4. Denver Museum of Natural Science
In 1868, begins the story of the Denver Museum of Natural Science. It started when Edwin Carter started to pursue his passion for the scientific study of the Rocky Mountains' birds and mammals. Fast-forward to 1900 is the museum's first incorporation, previously known as the Colorado Museum of National History. It then changed its name to what is now the Denver Museum of Natural Science.
Besides being America's largest natural history museum located between Chicago and the West Coast, the Denver Museum of National Science serves as a resource for informal science education in the Rocky Mountain. The museum has approximately 4.3 million collections of ancient rocks, Indian artifacts, animal remains, and many more. Other things you can discover inside are its IMAX Theatre in Phipps Auditorium, Gates Planetarium, and the Museum Shop.
If mummies intrigue you, the Denver Museum of National Science offers an exhibit of Egyptian Mummies. Results from the CT Scans, isotope analysis, and radiocarbon dating are available in this exhibit. There are also animal mummies and tomb artifacts introduced during the exhibition.
5. Voicebox Karaoke
Scott Simon, the founder of Voicebox Karaoke, worked for Cisco Systems as a hardware engineer. Before establishing Voicebox, he took inspiration from the private-suite karaoke during his stay in South Korea when he was 26. When he moved to Portland, OR, he realized the need for Asian-style private karaoke lacking in the city and soon built the first-ever Voicebox Karaoke.
Denver's Voicebox Karaoke is the perfect place to sing your heart out, privately or in front of total strangers. Voicebox Karaoke won't disappoint you if you don't mind singing to a room full of strangers, and they offer rooms for those who want to sing privately. You can visit Voicebox's website to see the songs to expect.
For individuals under 21, Sonic Youths is a must! It's the perfect area for 21 years and below to party like pop stars. Desserts, beverages, and food are available to consume in Sonic Youths. Don't miss out on the fun that this exclusivity offers that people your age can enjoy.
6. Bluebird Theatre
Another historic theater to visit in Mile High City is the Bluebird Theatre. Built-in 1913 and renamed in 1922, this 500-person capacity venue was originally a vaudeville theater, turned into a movie house in the 1960s. Presently, the place caters to special events and exclusive concerts and is in the heart of East Colfax Avenue.
Vising the Bluebird Theatre will give you a memorable modern and historical experience. A three-tier theatre with a balcony overlooking the entire area gives off a vintage feel to its guests. Even though the Bluebird Theatre is more than a hundred years old, it is also a unique filming location and caters to virtual events, meetings, and live broadcasts.
Another thing to look forward to in the Bluebird Theatre is the roster of artists that holds their concert and events in the area. You can check their calendar of events page to look out for the following artists to perform in this historic Bluebird Theatre. Some of the artists that recently performed are Tom Odell, Sicard Hollow, and Allan Rayman.
7. Podium Karting and Events
Formed on August 12, 2016, Podium Karting and Events is a new tourist destination in Denver. Located at Unser Racing, 7300 Broadway, Denver, CO 80221, the indoor kart-racing venue is owned by Summit Motorsports Management. Podium Karting and Events is only one of SMM's sports and racing businesses.
Kart racing is the establishment's primary activity. There are two karting categories that Podium Karting and Events offer to its guests: Adulting Karting and Junior Karting. The Adult Karting is exclusive for ages 14 and up. Meanwhile, Junior Karting caters to kids ages 6 to 13 only. Besides indoor go-kart activities, they also have an eatery, ax throwing, tic-tac-toe, and mini bowling & pool that you can try.
Do not miss their ax-throwing bar called "Axelrods." Here, instructors will show you an essential guide on using standard axes so you can hit the target. In this session, you will be able to channel your inner lumberjack capabilities. Axelrods is suitable for 60, 90, or 120 minutes depending on how long you want.
8. Denver Art Museum
Located on the south side of downtown in the Denver Civic Center is one of the largest museums in the USA, the Denver Art Museum. The founding of the Denver Artists Club in 1893 led to the soon inauguration of the Denver Art Museum in 1923. The museum will reach its 100th year in 2023.
There are over 70,000 thoughtful works in the Denver Art Museum. It also houses artifacts and arts dating back from the pre-Colombian era. The Denver Art Museum is the perfect site to immerse yourself in the history and culture of the city. The displays feature films, collections, and installations from worldwide.
The Untitled: Creative Fusions is Denver Museum's much-awaited collaboration with various artists and creatives. Several artists will showcase their talents at the Untitled: Creative Fusions event. They will introduce their works in a hands-on performance. It features their works and shares their techniques and thoughts, making it an interactive event that you should not miss.
9. Denver Botanic Gardens
Denver Botanic Gardens is a 23-acre park located in York Street, Denver, Co. The Denver Botanic Gardens began as a small team of horticulturists in 1951 and has developed into a notable civic organization. Aside from being an excellent tourist spot, it is also a research institution with a mission to learn more about sustainability, biodiversity, and conservation.
Inside this 23 acres, there are 50 gardens, some Japanese and South African. As you explore the area, Denver Botanical Gardens have art sculptures scattered in the area. You can also take pictures and enjoy its rotating exhibits and events. The DBG has seven different themed gardens for its living plant collections. You can also spot a section of desert-dwelling plants, water-retaining plants, and aquatic plants.
If you plan to learn more and engross yourself, do not miss the museum's Science Pyramid Exhibition. The exhibit yearns to educate its guests on the connection between humans, animals, plants, and water. You will be able to learn more about our bond with nature. Human artifacts and digital stories are also in the Science Pyramid Exhibitions.
10. Molly Brown House Museum
A lasting emblem of Denver's turn of the 20th century, the Molly Brown House Museum is the home of the "Unsinkable" Molly Brown. She is a survivor of the infamous Titanic and Denver's well-known socialite. After the sinking of the Titanic, Molly decided to live for years in Denver until her death. Her activism and philanthropy earned her a symbolic status.
The Molly Brown House Museum is a historical site, especially for those big fans of the famous legendary movie, The Titanic. The museum welcomes more than 50,000 visitors, including 10,000 students. You'll learn of Margaret "Molly" Brown's acts of philanthropy, activism, and passion during your visit. They offer stewardship, exhibits, and educational programs to their guests.
If you want to discover more of Molly's story connected to the Titanic, don't miss the opportunity to attend their upcoming commemoration titled, "Heroine of the Titanic." Since 110 years after the sinking of the infamous ship, they will be introducing never-before-seen family records and rare artifacts of the Titanic.
11. Dinosaur Ridge
It started with a discovery made by the Colorado School of Mines professor named Arthur Lakes in 1877. He discovered 150 million years old fossils that existed during the Jurassic Period. Years later, they uncovered dinosaur tracks located east of the Dinosaur Ridge. It is Denver's ultimate place for a view into the past of over a hundred million years ago, with more and more dinosaur relics and discoveries.
Touring the Dinosaur Ridge is an excellent experience for inquiring minds intrigued by the life of the dinosaurs. The Dinosaur Ridge offers a 45-minute guided bus tour around the area that highlights the relics and provides in-depth information and stories. It is possible to take a guided walking tour as well. However, you are not allowed to take any amber for genetic cloning.
Their Dinosaur Ridge Trail and Triceratops Trail are a must-try to explore the Dinosaur Ridge fully. Among the two trails, Dinosaur Ridge Trail is America's number one dinosaur track site, with 300 dinosaur tracks found. Meanwhile, the Triceratops Trail has several four-toed triceratops tracks and an enormous three-toed T-REX track.
Denver's unusual mile-high elevation entices travelers worldwide who are curious about the activities available. The Mile High City isn't only known for its hiking trails and panoramic views and caters to various people, even those under 21.
Perhaps, this is your cue to book that trip to Denver. Do you have any points you might want to add to the list above? or do you think visiting Denver is bucket-list worthy? We would love to hear from you soon! Don't hesitate to express your thoughts below.